East Bay Stonewall Dems honor Lee
Wednesday Sep 11, 2019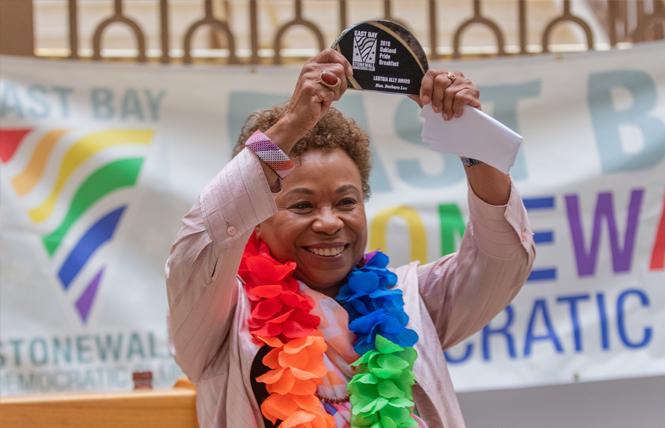 Congresswoman Barbara Lee got a standing ovation at Sunday's East Bay Stonewall Democratic Club's Pride breakfast, as she said she would continue to fight for equality for all.

Lee (D-Oakland) received the club's LGBTQIA Ally Award during the September 8 event in the Rotunda building near Oakland City Hall. A vice chair and a founding member of the LGBT Equality Caucus in Congress, she told attendees that years ago, the old East Bay Lesbian/Gay Democratic Club's endorsement of her campaign for a state Assembly seat was one of two she valued the most. (The club later changed its name to the East Bay Stonewall Democratic Club.)

She pledged to continue fighting roadblocks from the Trump administration.

"We need to move forward on our Equality Act," she added, referring to legislation that passed the House of Representatives earlier this year but has not been scheduled for a vote in the Senate. The Equality Act would amend the Civil Rights Act of 1964 to prohibit discrimination on the basis of sexual orientation and gender identity in employment, housing, public accommodations, public education, federal funding, credit, and the jury system.

In a brief interview with the Bay Area Reporter as she was taking selfies with attendees, Lee said she is in support of congressional investigations against President Donald Trump that could lead to an impeachment inquiry. It was reported this week that Congress intends to broaden its impeachment inquiry. On Monday, House Judiciary Chairman Jerrold Nadler (D-New York) issued a news release that the panel will consider procedures for future hearings on Thursday.

Lee stated in May that impeachment should not be taken off the table.

"I'm fighting to make sure we move forward," Lee told the B.A.R. "No one is above the law."

Rebecca Kaplan, a lesbian who is president of the Oakland City Council, told the crowd that when she was first elected as the at-large representative on the body, there was no Oakland Pride event and no LGBTQ community center. Today, there are both.

"Now, we've achieved a level of support," she said, even as the city must address issues like homelessness, including LGBTQs who are unhoused, immigration, "and everyone being targeted by this right-wing administration."

James Aguilar, the gay 19-year-old San Leandro school board member, received the club's Emerging Leader Award.

"One of my role models, Barbara Lee, is in front of me," he said during his remarks. He asked audience members to "think of the amazing impact school board members have" on students' lives.

As the B.A.R. recently reported, Aguilar would like his school district to follow Berkeley's lead in doing away with gender-specific terminology. At its August 6 meeting the school board asked the staff to include the idea in its deliberations over a new strategic plan it will be adopting.
Gay business and life partners Sean Sullivan and Richard Fuentes received the club's Business Building Community Award. As owners of the Port Bar in downtown Oakland, Sullivan and Fuentes have held various events for politicians and community causes.

The bar celebrated its third anniversary this year.

Gay Dublin City Councilman Shawn Kumagai received the Trailblazer Award. The East Bay town made national news in May when the council at first declined to fly the rainbow flag during Pride Month after being met with homophobic comments from members of the public.

At a subsequent meeting in early June, the council voted unanimously to raise the Pride flag through July 3. Many other Bay Area cities also flew the rainbow flag in June this year.

Kumagai said that he learned from the experience that "there is still a lot of work to do."

Tracy Nguyen, Sal Tran, and Vivian Liang, from Sunkissed Productions, received the club's Artist for Change Award.

The multi-media independent film collective is based in the Bay Area and is led by queer and nonbinary Asian American artists.

Tiffany Woods, a trans woman who is the Northern California co-chair of the California Democratic Party's LGBT Caucus, attended the breakfast before marching in the Oakland Pride parade.

"I think it's well-done and empowering," she said of the event, "and the right time to recognize everyone, from Barbara Lee to the school board. As Democrats and LGBTs, we need to run for every office, and every office helps move that work forward."
Comments on Facebook