Thousands participate in jubilant Trans March
Tuesday Jul 2, 2019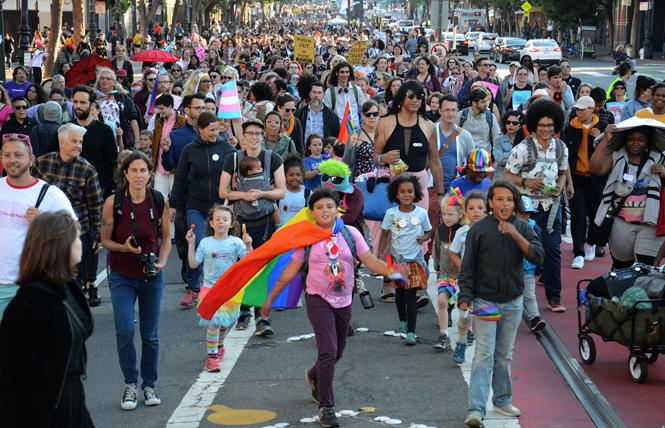 With a focus on housing, thousands of transgender people and their allies took part in the annual Trans March Friday, June 28.
After an afternoon of socializing and checking out community resources, marchers left Mission Dolores Park in the early evening and walked to Vicki Mar Lane (Taylor Street) in the heart of the Compton's Transgender Cultural District.
Transgender patrons of Compton's Cafeteria faced constant harassment from cafeteria employees and from the police. In August 1966, members of the trans community picketed Compton's, one of the first demonstrations against the police by trans people. When a police officer attempted to arrest a trans woman, a riot broke out, with dishes and furniture getting thrown and a cafeteria window getting smashed, according to Wikipedia. The riot continued for a second night. The Compton's Cafeteria uprising preceded the Stonewall riots by three years.
Participants at the Trans March were young and old. Nicole Stiltner, 27, a trans woman, attended the march with her mother, Denise Tannous, who declined to state her age.
"I'm here to be with my community and to celebrate Pride," said Stiltner. "It means acceptance to be able to live out and proud and to live without hiding. I brought my family to show support, not all parents are bad. I'm very thankful to have a family like that."
"I'm here to support my daughter," added Tannous, who is a straight cisgender woman. "I feel honored to be here. I think that trans people need even more support in the community and that's why I'm here. I love her so much and I'm so proud of her."
Stiltner had a message for other transgender people who are struggling with coming out.
"Don't be afraid of who you are," she said. "There will always be someone who supports you. If you don't have a family, a family will find you."
As the march began, many participants chanted for a variety of trans-related causes. "Black trans lives matter!" chanted one group of marchers, as other participants cheered.
Organizations represented at the march included TGI Justice Project, a nonprofit that advocates for transgender and gender variant people inside and outside the prison system. Other organizations present included El/La Para TransLatinas, which had a banner that stated "We Need Housing."
Earlier Friday during a news conference at Dolores Park, Mayor London Breed announced that the city's new budget includes $2 million in rental subsidies for trans people.
Other marchers were also glad to take part.
"I'm here to feel good about being trans," said 61-year-old Lynn Riordan. "And to celebrate. It's to counteract all the discrimination I felt my whole life. It's lovely to feel pride instead of societal shame."
The march seemed to grow in size as it made its way down Market Street, with marchers taking up several blocks. Police stood alongside, but there were no clashes as participants and the police both remained peaceful. Spectators stood on the sidewalk cheering and applauding the marchers.
"What do we want? Justice! When do we want it? Now!" one group chanted in both English and Spanish.
The San Francisco Lesbian/Gay Freedom Band greeted the march at the corner of Market and Octavia streets. The band was playing the hit Abba tune "Dancing Queen."
There was a short program at the end of the march.
"This has been a long time coming," Pride community grand marshal Ms. Billie Cooper, a transsexual woman, told the crowd. "I'm grateful and blessed and I just want to say that I've lived in this community for 35 years. I'm holding back tears — this is my neighborhood. I'm so glad to be part of the cultural district. I stand on the shoulders of the many trans people who came before me and on the shoulders of those standing here."
The new executive director of El/La Para TransLatinas also spoke.
"Fifty years after Stonewall trans Latinas and black trans women are still facing the same discrimination," said Nicole Santamaría, who is trans and intersex. "Imagine that sanctuary where everyone is safe and everyone is welcome. If we can imagine it we can do it. We are here to stay. We are here to resist violence and hate with love."
Santamaría also translated for a woman who was introduced only as Victoria, and who spoke in Spanish.
"Welcome everybody," Victoria said. "I would like to thank everyone here because we are united, working to build our safe trans home in San Francisco. Because we are men and women visible and we've been fighting many years to do this work. We need to create the safe space that we all need."
Anjali Rimi, co-founder of Parivar, a collective for queer and trans people of color who belong to the South Asian diaspora, also spoke. She shared that Parivar holds a number of support groups, social events, and does social justice work. There is never a charge to attend a Parivar event.
"With inspiration and love, Parivar continues to forge the community and spare the lonely from further isolation and suffering," Rimi said. She also shared why being in the Bay Area means so much to her.
"This is truly home coming to me to be safe, stable, and in community," she said. "Coming from India I couldn't stay here when I first came to America due to immigration. After more than 10 years, I was able to finally come back to the San Francisco Bay Area and call it home forever. The belonging is true where I am most visible when I am authentic and myself. I didn't feel like I belonged or have community in any of the 11 cities and four countries I nomaded before coming back here."
The crowd was as jubilant during the speaker's program as they were during the march itself, with each speaker being met with wild applause.
The Reverend Dr. Megan Rohrer, a trans person who's pastor at Grace Lutheran Church in San Francisco, told the Bay Area Reporter that they were delighted with the outcome of the march.
"The Trans March is one of the few days that individuals who live in fear of changing politics, policies, and health coverage can show off their scars and celebrate the embodied imagination of their trans siblings," Rohrer said. "I celebrated with trans elders who paved the way, individuals taking their first step in public in the clothing of their choice, and hugged a sobbing spectator who was overwhelmed by the six blocks of support for the trans community."
Comments on Facebook