Buttigieg faces critical test over police shooting
Wednesday Jun 26, 2019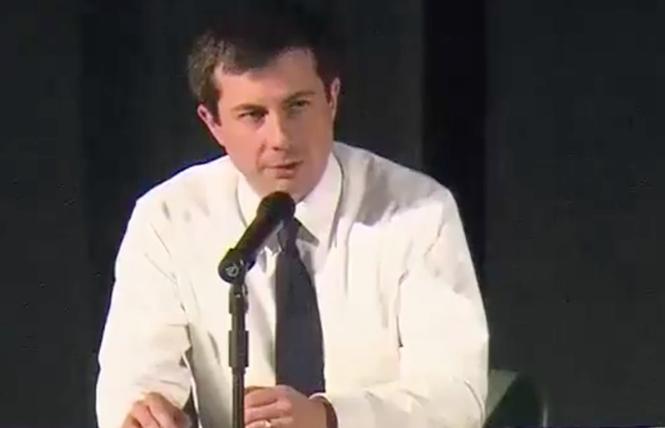 Gay South Bend, Indiana Mayor Pete Buttigieg's meteoric campaign to become a top-tier contender for the Democratic presidential nomination has been shaken by a metaphorical earthquake that will test his fitness to address one of the nation's most divisive powder kegs: racism.
A South Bend police officer shot and killed Eric Logan, a black man, June 16. The officer, who is white, did not have his body camera turned on but claimed the man lunged at him with a knife.
The community outrage over the killing compelled Buttigieg to abandon some of his presidential campaign schedule and return home to address a long-standing concern that some white police officers in South Bend not only harbor racist feelings, but act upon them. The outrage also brought the glare of national media attention to the issue throughout the country of white police officers shooting black people.
How Buttigieg, 37, handles this crisis in his city — along with a tornado strike and bar shooting that killed one and injured 10 the following Sunday — could propel his presidential aspirations to even greater heights or drop his campaign to the remote depths in a very crowded Democratic field.
National media coverage this week has been abounding in video of outraged South Bend residents shouting angrily at Buttigieg — at spontaneous rallies and at a June 23 town hall organized by the local NAACP chapter. The videos have shown Buttigieg to be a careful listener and thoughtful responder to most questions hurled his way. In other moments, his voice, eyes, and words have seemed to reveal churning emotions — frustration at someone questioning his commitment to black lives, hurt at the expressions of distrust, and sorrow over the lives lost and damaged.
Just weeks before the shooting in South Bend, the national political media had been quizzing Buttigieg about how he planned to win over the black vote in the 2020 Democratic primaries. It was discussed against a backdrop of polling that seemed to indicate former vice president Joe Biden has a hold on the lion's share of black support, including 52% in the critical early primary state of South Carolina. (Biden has since been struggling to explain his brag at a private fundraiser June 18 that two segregationists in the U.S. Senate when Biden was there "never called me 'boy.'")
Days before the South Bend black community exploded in anger over the shooting, gay journalist Jonathan Capehart published an essay in the Washington Post noting that Buttigieg had jumped from "zero percent of black support" in South Carolina to 6%. The leap put him between the two African American candidates for the Democratic nomination: Senators Kamala Harris of California (with 11%) and Cory Booker of New Jersey (3%). Capehart credited Buttigieg's quiet outreach to the black community and his clear grasp of issues of priority to the community.
First big test
Others said this latest incident is a challenge for Buttigieg.
"You learn a lot about candidates from how they deal with trying circumstances," Keith Boykin, a gay man who's a regular commentator for CNN and co-founder of the National Black Justice Coalition, wrote in an email.
"Bill Clinton had Gennifer Flowers in 1992. Barack Obama had Jeremiah Wright in 2008. Hillary Clinton had emails in 2016," Boykin, a former aide to then-President Clinton, added. "The police shooting of Eric Logan is the first big public test for Pete Buttigieg. It's important to watch how candidates perform during these tests, especially for previously unknown candidates. Remember, most people had never heard of Pete Buttigieg, or even knew how to pronounce his name, a few months ago."
David Johns, executive director of the National Black Justice Coalition, said Buttigieg is in an "incredibly difficult position."
"By virtue of his position he has to be responsive to, and responsible for, a great deal of pain and trauma," Johns said in a phone interview Tuesday.
But Johns said he thinks the town hall Sunday was a "misstep" because the local community became frustrated with outside advocates dominating much of the conversation. He credited Buttigieg with recently hiring an African American woman, Nina Smith, on his communications team, but he said it is "really too early to tell" where the black LGBTQ community support will go in this presidential election.
"I want to see him do more," said Johns, including more to "lead the discussion in debates and on the campaign trail about identity politics and intersectional experiences.
Johns noted that there have been six black transgender women murdered nationwide in just the month of June.
"There are few talking about it," said Johns. "I'm expecting him to talk more and offer solutions. We don't expect for Mayor Buttigieg to completely understand or experience our pain, as black and black LGBTQ and same-gender-loving people, but we expect empathy and we expect him to acknowledge it."
Buttigieg skipped a big event in South Carolina, a fish fry hosted by prominent black Democratic Congressman James Clyburn, to return to South Bend and meet with furious constituents. At a widely-covered anti-gun violence rally on Friday, one female protester calmly asked Buttigieg, "Can you say to us today, in front of all these cameras, that black lives matter?"
Buttigieg, holding a portable public address system, spoke into the microphone and responded, "Did you just ask me whether black lives matter?" His voice sounded incredulous.
"Just say it!" yelled a different woman, as other voices chimed in.
"Of course, black lives matter!" said Buttigieg.
"Then fire your cop!" yelled a man in the crowd, setting off a cacophony of exasperated voices from the crowd.
Buttigieg stood stiffly silent, taking in a barrage that seemed to crescendo with a woman yelling, "What matters about a black life to you, Mayor Pete? What matters about a black life to you?"
"The same thing that matters to me about my own," said Buttigieg.
A second piece of CNN video from the same rally showed Buttigieg reading from a piece of paper and saying, "I do not have evidence that there has been discipline for racist behavior in the case. ..." The people at the rally interrupted with expressions of unhappiness with the statement. As the crowd expressed its anguish, Buttigieg stood silently, looking at the piece of paper in his hand.
According to the South Bend Tribune, Buttigieg stayed at the two-hour gathering and spoke with Logan's mother. Photos from the gathering show Buttigieg's spouse, Chasten, also attended.
Two days later, Buttigieg and the city's white police chief appeared before the large and emotional crowd at the town hall. In prepared remarks, Buttigieg said he heard from the community that many people would like an investigation by the U.S. Department of Justice. He said "the city agrees" and that he would send a letter to DOJ's Office of Civil Rights to request such an investigation. He also addressed concerns expressed by community members who indicated they did not have confidence in the county metro homicide unit to adequately investigate the incident and who asked that an independent investigator be tasked to that investigation. Buttigieg said he agreed with that idea, too. The audience applauded.
On Monday it was reported that a special prosecutor had been requested.
Buttigieg told the audience about various programs that have been underway for some time, the removal of some officers for misconduct, recruiting a more diverse force, and to have police use body cameras. He bluntly acknowledged that the efforts to recruit a more diverse police force and to have police use body cameras "have not succeeded."
"And I accept responsibility for that," said Buttigieg. He asked for help in the recruitment of a more diverse force and he promised "action" on the implementation of body cameras.
But emotion in the town hall audience was boiling over. South Bend NAACP President Michael Patton tried hard to keep the discourse civil, but several audience members repeatedly shouted comments and questions, the interruptions turned into a raucous free-for-all during a question-and-answer session, with audience members shouting over each other and spontaneously expressing outrage. Among the complaints that could be heard were ones to "get the racists off the streets."
Buttigieg thanked the audience member for her comment and said, "If anyone who is on patrol is shown to be racist ... that is their last day on the street."
At an impromptu news conference following the town meeting, Buttigieg said, "This problem has to get solved in my lifetime. I don't know of a person or a city that has solved it, but I know if we do not solve it in my lifetime, it will sink America. And if nothing else, I hope people know I am motivated — not out of some theoretical concern or some political imperative but as somebody whose city is hurting — seeing people who I've known for years anguished, frustrated, upset, angry — angry at the city, angry at me — and I'm angry too ...
"As somebody who loves this city, whose job it is to cheerlead everything good that happens in this city, who is proud of this city," said Buttigieg, "to also be here when that kind of hurt is being poured out, to know that part of my job is to be there for them, to listen, to have that poured on me, to have even people with whom I agree with hurl all of their anguish and frustration at me because I represent the city and the city has not solved this problem."
Police problems
As noted by the Tribune, Buttigieg frustrated some in the black community years ago, during the first months of his first term, when he refused to publicly release audiotapes that purportedly recorded four white police officers using racist slurs. Buttigieg contended then, and now, that the Federal Wiretap Act prevents him from making the illegally produced tapes public.
Later that same year, three white police officers arrested — and used a stun gun on — a 17-year-old black teen who had been misidentified as the subject of an arrest warrant, and the same officers harassed a 7-Eleven clerk who tried to report a drunk driver. The following year, a white police chief appointed by Buttigieg (to replace the black police chief who had been accused of making the illegal recordings) allegedly ignored a call for back up from a black police officer outside a building where the new chief was attending a gathering. Buttigieg refused to release a report on the investigation into that incident.
"I think it's good that Mayor Pete is meeting with his constituents in South Bend about the police shooting," Boykin wrote. "Police misconduct is a long-standing problem in America that predates Pete Buttigieg. Even Stonewall was a rebellion against police brutality. But the black community members who are angry in South Bend appear to be expressing frustration that started before the police shooting.
"The mayor refused to accept calls for a citizen review board to be established. The mayor pushed out the black police chief after he made allegations of racism in the police force. And the number of black police officers was cut in half in the past five years," he added. "To have all that history, and then to have a white police officer shoot a black civilian, only compounds the problems that existed before."
The Reverend Al Sharpton told "Meet the Press" that he thinks Buttigieg has "an uphill battle" in trying to win African American votes, "but I think he could, if anyone could at this point, climb that uphill battle." Sharpton said Buttigieg was "well received ... almost mobbed" during his visit to a popular Harlem restaurant with Sharpton earlier this year.
"Went to every table, no negatives, because he seems comfortable in his own skin, he seems well-informed and he started reminding people that 'I know how it feels to be the outsider,'" Sharpton said.
Comments on Facebook