Pride 2019: Making a rainbow out of cloth
Tuesday Jun 25, 2019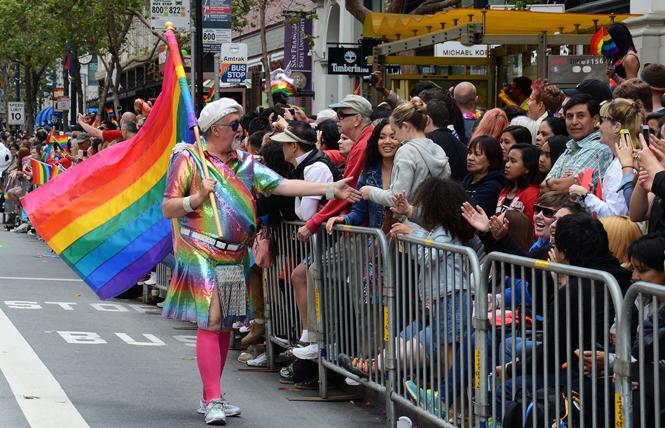 The morning of June 25, 1978, the San Francisco Gay parade.

A gay attorney named Walter Caplan owned a small wedge of a building that faced directly onto United Nations Plaza. He was Harvey Milk's lawyer and had some other city connections, and I had asked him to help me get access to the flagpoles. The ropes were on the inside of the pole so vandals wouldn't be able to cut them. Walter was waiting for us when I arrived with Cleve [Jones] and a few friends. He held a little crank handle in his hands, mysteriously delivered to him by the Parks and Recreation Department.

Each flag was raised by means of a small wind-up spool that was behind a small locked door set into the base of the flagpole. Walter cranked the tiny ratchet as everyone held the first flag close to the pole. It was starting to blow open and you could see Faerie's [Rainbow] field of tie-dyed stars, exploding overhead. Walter kept cranking. It went up higher and higher and got more impossible to hold onto. When the first breeze came up, it sailed out of our hands and rippled open.

Though fifty feet up the flagpole, the rainbow banner was still touching the ground, slashing back and forth across the brick pavement. We let it go so we could help Walter crank it up to the top. It took the combined strength of all of us; there was a blur of hands in a wild rowing motion as the flag began its ascent. The ratchet gizmo burned our hands.

The Rainbow Flag began snapping loudly in the wind. I never imagined a flag could make such a sound.

...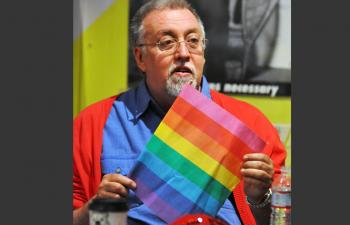 People looked skyward to see the Rainbow Flags, their hands reaching up and their mouths open in astonishment. The winds blasted the banners so they strained against the cables. I expected them at any moment to blow away and go sailing up Market Street through a canyon of skyscrapers.

Our feet were dancing on air as we swirled our way up Market Street to where the parade was about to start. Church bells rang out at eleven o'clock as a roar of motorcycles erupted from the Dykes on Bikes contingent, scheduled to lead the parade to city hall. We were so stoned, we could feel the sound waves hitting us. There were hundreds of lesbian bikers, including Glenne McElhinney — wild women having a good time on the ultimate symbol of machine sexuality, the motorcycle. Some of them were topless. The butch factor had hit a new zenith, offset by a few Cinderellas and lipstick goddesses.

As we sashayed through the middle of them, the Dykes on Bikes whistled their appreciation for our sartorial splendor. Then they revved their engines into a crescendo and roared off. We just screamed our lungs out.

Suddenly, we were swept up in a tide of flesh. Celeste Newbrough and the parade committee came pushing up from behind. Cleve Jones and sex worker rights advocate Priscilla Alexander were both dressed in white, like suffragettes. They were carrying a large banner I'd created with Cleve that read, "A Simple Matter of Justice." Behind them was a contingent of marching fists thrusting up to a chant of "The people united will never be defeated," loud enough that the windows vibrated on the buildings. Off in the distance, we could see City Supervisor Harvey Milk sitting on top of a convertible, draped with garlands and Hawaiian leis.

We opened up the piece of flag that had been cut away when we patched in Faerie's field of stars. As we carried it down the street, the crowd began tossing money at us and making wishes. A bizarre barrage of glittering coins flew all around us, some splashing onto the street. Drag queens approached and spread flowers in front of our footsteps. All these people understood what we had worked so hard to create and what it was all about. We laughed until we cried.

We made our way slowly through the throngs and got to United Nations Plaza, where we looked up to see the Rainbow Flags flicking and flying out over Market Street, like giant tongues of color licking the crowd. We listened to them crackle and pop. The Chinese muslin was thin enough to be slightly transparent in the sun. We had made a rainbow out of cloth.

...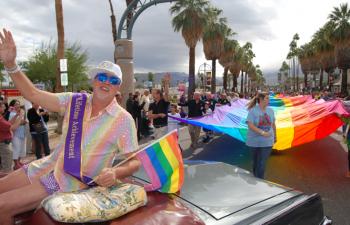 Around three o'clock, we joined Cleve as Harvey got up to speak on a flower-lined stage set up in front of city hall. He talked about a kid from Altoona [Pennsylvania] who had called his office, desperate for support. Harvey reminded us how too many young people were trapped in desperate lives that ended in suicide. Harvey said we have to live our lives openly to inspire those suffering under oppression. "You've got to give them hope and hope and hope," he cried out. We believed him.

Cleve and I climbed on top of a big white truck and smoked a joint just as Sylvester took the stage. Sylvester was a big black drag queen who had a voice to rival Aretha Franklin. He had begun singing Billie Holiday songs as one of the Cockettes but then went disco. As he began singing his national hit, "You Make Me Feel (Mighty Real)," Cleve and I danced along.

"You know this is really fucking great, Gilbert," Cleve said, suddenly getting serious.

"Yeah, well, it is pretty fabulous. All these people, Harvey, and everything."

"No, I mean what you've done is beautiful. It's history. A gay flag. Harvey's really proud of you."

"I'm proud of you, Cleve. It would never have happened without you and all the others." I hugged him and Cleve hugged back. "Brothers, then?"

"Brothers in arms!" Cleve shouted skyward toward the Rainbow Flags flying in the distance. He lit up another joint with great flourish and handed it to me, pledging, "Comrades! The people united will never be defeated." ...

Editor's note: This is a condensed excerpt — Chapter 5: Stitching a Rainbow — from Gilbert Baker's posthumous memoir, "Rainbow Warrior: My Life in Color," published this month by Chicago Review Press. Used with permission.

To purchase the book, visit https://www.chicagoreviewpress.com/rainbow-warrior-products-9781641601504.php
Comments on Facebook