Political Notebook: More cities fly the rainbow flag
Wednesday Jun 12, 2019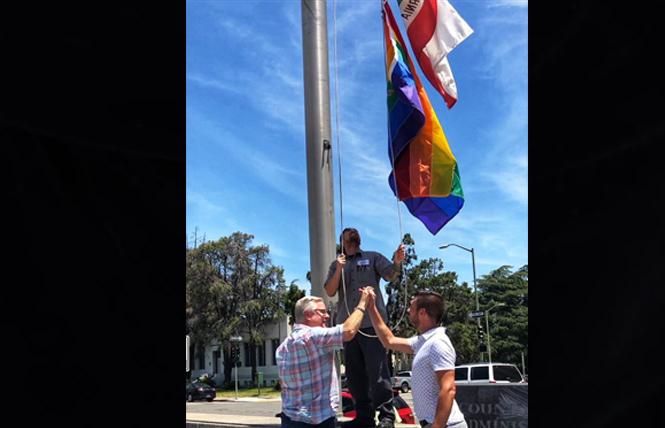 Three more Bay Area cities are now flying the rainbow flag for the first time in honor of Pride Month, as is the government office for Alameda County.
Tuesday night (June 11) the city councils in Hercules and Antioch both voted to raise the LGBT symbol. Their doing so means that every city in West Contra Costa County is flying a rainbow flag, according to local LGBT leaders.
On the Peninsula the city of San Carlos in San Mateo County hoisted the rainbow flag last week in honor of Pride Month and will host a formal ceremony later this month.
The decisions by the city and county leaders come after flying the Pride flag became a national issue when a divided Dublin City Council in late May voted to reject a request from gay freshman City Councilman Shawn Kumagai to do so. The resulting controversy led the East Bay city's mayor and two council members who had initially voted not to switch course last week and join with their two other colleagues in unanimously adopting a flag policy for the city's three flagpoles and to fly the rainbow flag through July 3.
As was the case in Dublin, it was freshmen out council members in Hercules and San Carlos who brought forward the requests to fly the flag. In 2016 Roland Esquivias became the first LGBT person to serve on the Hercules City Council.
Now serving as his city's vice mayor, Esquivias worked with the Lambda Democratic Club of Contra Costa County in bringing forward the request to fly the rainbow flag.
"It is great to have this opportunity to be a voice for my LGBTQ community but to have your colleagues listen and support you just throw the ball out of the ballpark!" Esquivias wrote in a Twitter post shortly after the council vote.
San Carlos City Councilwoman Laura Parmer-Lohan, elected last fall, told the Bay Area Reporter that she believes this June marks the first time her city has flown the rainbow flag in honor of Pride Month. The first LGBT person to serve on the council, Parmer-Lohan and her wife are raising their two teenage sons in the city.
She had brought up the idea of flying the flag earlier this year during a strategic planning session when she also asked that the concept of inclusivity to be added to San Carlos' vision statement.
"At the same meeting I expressed my hope, that at some point in the future, San Carlos raise the Pride flag as a demonstration of our city's values, and that it will be one of many efforts we will undertake to show that everyone in our community is valued," explained Parmer-Lohan.
The city will host a Pride Month ceremony at 4:30 p.m. June 21 in front of its City Hall at 600 Elm Street. San Mateo County Pride Center Executive Director Lisa Putkey and San Mateo County Supervisor Dave Pine will be honored, as will gay former Santa Clara County Supervisor Ken Yeager.
"San Carlos declared itself a Welcoming City in March, 2017, because we believe a key foundation of civic life is the acceptance of all who abide by our laws and, more importantly, wish to build a better life for themselves and others by living and working together peacefully and respectfully," wrote City Councilman Mark Olbert in an invite to the Pride event.
Olbert, the council's current chair, added that recognizing Pride Month "is another way of expressing those same values. It also serves as a reminder to everyone that someone's identity, whatever it may be at a particular point in time, is irrelevant when it comes to being part of a community. We are defined by how we act, and how we behave towards others, not by how others may choose to label us."
In Alameda County, the Board of Supervisors raised the rainbow flag Monday, June 10, for the first time at the request of Supervisor Scott Haggerty. He did so after learning that the East Bay county had never flown the flag when he inquired about it in light of what happened in Dublin, which is part of his First Supervisorial District.
#PRIDE in @AlamedaCounty! A a truly historic day! pic.twitter.com/PB3LcQaq4A— Scott Haggerty (@scott_haggerty) June 10, 2019
In a statement to the B.A.R. Haggerty said what happened in Dublin "definitely played a role, but a very small role. The bottom line for me is that members of the LGBTQ community live in this county, work in this county, raise families in this county and contribute to this county, so why not acknowledge them for what they do and the contributions they make!"
He added that raising the flag was one of his proudest moments as a county supervisor.
"Furthermore, in all honesty, raising that flag yesterday and showing my support to a community that feels so disenfranchised, especially with the vandalism (of an LGBT youth space in San Jose) that was reported this morning and some of the nasty testimony I heard in recent weeks, made me, as an elected official, proud," stated Haggerty, who is in his sixth four-year term on the board. "Proud that I have the ability to set policy that makes a community proud and puts a smile on their faces."
Normally flown in September when Oakland holds its Pride event, Mayor Libby Schaaf raised the rainbow flag this week on the roof of City Hall. In a tweet following the Tuesday ceremony, she wrote, "We recognize, celebrate and honor the wonderful + beautiful LGBTQ+ members of our community. Happy National Pride Month!"
Today we raised our inclusive Rainbow pride flag on top of City Hall in honor of National #PrideMonth ??????????! We recognize, celebrate and honor the wonderful + beautiful LGBTQ+ members of our community. Happy National Pride Month!
?????????????? #Oakland pic.twitter.com/KhPsymBY0Q— Libby Schaaf (@LibbySchaaf) June 12, 2019
SF mayor, D5 supe races set for November
San Francisco Mayor London Breed appears headed for an easy re-election this fall as six little known opponents filed to run against the popular leader by the June 11 deadline to do so. Elected last June to fill out the remainder of the late Ed Lee's mayoral term following his sudden death in December 2017, Breed is now seeking a full four years leading the city.
Breed's former aide whom she appointed to her District 5 supervisor seat, Vallie Brown, is fending off a strong challenge on the same ballot from tenants rights activist Dean Preston. Whoever wins will serve out the remainder of Breed's term through 2020 and will need to run next November for a full four-year term.
Two other candidates qualified for the race Tuesday — film producer Nomvula O'Meara and Ryan Lam — while Ryan Solomon, a gay man who is a bartender at the Castro district bar Badlands, ended his bid to represent the Haight and Western Addition neighborhoods.
Candidates in the fall races for city attorney, district attorney, public defender, sheriff, treasurer, and seats on the school district and community college boards have until August 9 to qualify for the November 5 election.
Web Extra: For more queer political news, be sure to check http://www.ebar.com Monday mornings for Political Notes, the notebook's online companion. This week's column reported on the June 18 groundbreaking for the leather-themed Eagle Plaza in San Francisco.
Keep abreast of the latest LGBT political news by following the Political Notebook on Twitter @ http://twitter.com/politicalnotes .
Got a tip on LGBT politics? Call Matthew S. Bajko at (415) 829-8836 or e-mail m.bajko@ebar.com.
Comments on Facebook