Editorial: Police and Pride
Wednesday Jun 12, 2019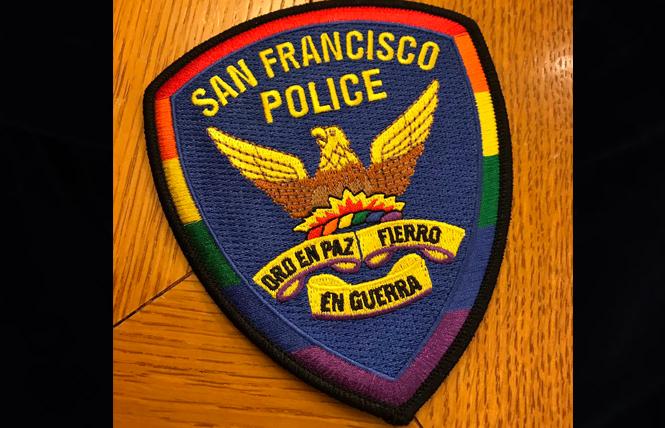 Until recently, LGBT Americans regularly suffered harassment, abuse, and worse at the hands of law enforcement, an oppression justified by religion and criminalized by the government. The LGBT liberation movement was forged in violent confrontations with police at Compton's Cafeteria in San Francisco and the Stonewall Inn in New York.

San Francisco erupted in the White Night Riots against the police in 1979 when LGBTs reacted to the lenient sentence Dan White, a former cop and supervisor, received for the assassination of Supervisor Harvey Milk and Mayor George Moscone. The police soon responded by descending on the Castro, clubbing and injuring citizens, and raiding and destroying the Elephant Walk (Harvey's). In the Castro Sweep Police riot of 1989, over a seven-block area of the Castro was declared an unlawful-assembly zone on a busy Friday night when about 200 police rushed down Castro Street, indiscriminately clubbing and arresting people on the streets, and preventing patrons and residents from exiting buildings for over an hour. This action was the police response to a small, peaceful protest of the AIDS activist group ACT UP San Francisco.

Despite the mistrust of the police that still lingers among LGBT activists — many of whom have joined with groups like Black Lives Matter to protest in solidarity with African Americans against police misconduct, including questionable officer-involved shootings — there are signs that law enforcement is willing to work with the community in constructive ways.

New York City Police Commissioner James O'Neill's public apology last week for officers' actions 50 years ago during the Stonewall rebellion was an important event and a hopeful signal for change and healing. LGBT activists had been waiting for years for the NYPD to formally acknowledge that it had inappropriately raided the bar. As the city prepares to celebrate World Pride and Stonewall 50, they heard that unequivocally from O'Neill. "The actions taken by the NYPD were wrong — plain and simple," O'Neill said during an event at police headquarters. "The actions and the laws were discriminatory and oppressive, and for that, I apologize."

The LGBT community center in Sacramento, which produces that city's Pride events, had initially barred police officers from marching in uniform in the parade in order to protect queer people "who experience fear and anxiety provoked by the uniform," a Sacramento Bee article reported. People remain angry over the 2018 police shooting death of Stephon Clark, an African American man who was unarmed. While Clark was not gay, many LGBTs cited that incident as the cause for feeling unsafe with police participation in last weekend's Pride parade. A few days later, after meeting with police officials, the center reversed its decision, and declared that officers, including LGBT members of the police department, could march in uniform. A bigger victory, however, resulted from discussions over the issue. The department agreed to name the first LGBT liaison in its outreach unit and create a standing LGBT community advisory committee to recommend better policies and to "remove all barriers" for the community to interact with law enforcement, according to a news release from the police department and the center. The department will also co-create a new training program that "elevates the voices of marginalized LGBTQ community members and discusses the role of implicit bias," the release said.

According to the Bee, the department and the center also agreed to start hosting community forums with Police Chief Daniel Hahn, LGBT center officials, LGBTQ officers, and interested LGBTQ residents, and to create a program within the center for community members to report crimes and complaints to the police.

This is a big deal. The fact that law enforcement is willing to reach out and form these advisory bodies will open up communication and hopefully lead to better training and fewer negative interactions with the LGBTQ community. Unlike 50 years ago, many LGBTs in law enforcement are out at work and proudly serve their communities. That must continue if real progress is to be made and maintained. It is by working in these agencies that LGBT officers can help change attitudes and break down stereotypes from within police departments.

Improving the community's relationship with law enforcement is an ongoing process. In San Francisco, where the head of the police union is a gay man, the department issued a special Pride patch for officers to wear, and yet managed to misgender a trans crime victim in the daily log that is sent to reporters. And it wasn't too long ago that police text messages were discovered to regularly contain homophobic slurs.

Progress is made in small steps too. The city's Office of Police Accountability, headed by a gay black man, recently won approval for a series of changes making it easier for the public to report alleged wrongdoing by officers. Now, forms will be made available at every police station, instead of only at the DPA office. Additionally, a new quarterly disciplinary board will hold meetings between DPA and SFPD to identify and address disciplinary trends and training deficiencies.

It's gratifying to see positive change during Pride Month and as the Stonewall riots turn 50. Ultimately, we are a better, safer community when law enforcement works with us, by learning from their past mistakes and generally working toward improvement together.
Comments on Facebook