Our Family Coalition ED to depart
Wednesday May 15, 2019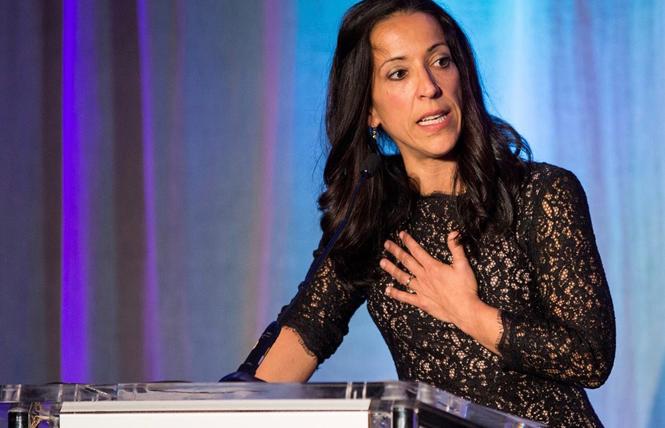 Our Family Coalition Executive Director Renata Moreira announced Monday, May 13, that she is resigning from the organization to spend more time with her family.
Moreira, a queer Latina, has led the LGBTQ family nonprofit for three years. Prior to that she served as acting executive director and held other positions in the agency.
She is expected to leave OFC at the end of June.
While Moreira was not specific in her announcement, other than to say she needed to "devote some much-needed time to my own family," she posted on Facebook March 29 that her older sister, Isabela de Lima Garcez Moreira, 43, had died in Brazil.
In a news release from the coalition, Moreira, 42, remarked on the particular challenges of her tenure.
"My work as executive director coincided with [Donald] Trump's election," she said. "From day one, I have been so moved by the fierce community response. For every gut-punch to our democratic process and to decency, I've seen resilience and solidarity.
"Particularly for a family-driven agency like OFC, we have had to remain alert and responsive to near-daily attempts on the part of this administration to roll back legal gains, or to isolate, separate, and persecute the most vulnerable among us," she added. "Yet at the same time, we draw inspiration from our love of our families, and maintain the values of compassion and justice in our work. For our sake and theirs."
OFC states its mission as "advancing equity for lesbian, gay, bisexual, transgender, and queer families with children through support, education, and advocacy." The coalition has achieved significant goals during Moreira's tenure, including helping to pass Assembly Bill 960, the Equal Protection for All Families Act, by Assemblyman David Chiu (D-San Francisco). This law, signed by former Governor Jerry Brown, updated California's assisted reproduction laws to ensure equal protection for all families, including LGBT citizens who had been previously excluded. OFC and other organizations co-sponsored the bill, held rallies, and raised community support.
Moreira also spoke out against Brown's veto of the broadly-supported Assembly Bill 2153, which would have allocated funds for annual training sessions for educators in the state on supporting LGBTQ students in grades seven through 12. Gay Assemblyman Todd Gloria (D-San Diego) has reintroduced it this year as AB 493, the Safe and Supportive Schools Act. He enlisted the support of new state Superintendent of Public Instruction Tony Thurmond, a former assemblyman who wrote the first bill.
OFC's budget is about $1.2 million, according to its 2015 annual report, the most recent on its website.
In an email to OFC members, Renata mentioned some of the accomplishments during her tenure. The agency received the Jose Julio Sarria History Maker Award from San Francisco Pride in 2018, which honored the group for its work leading the coalition to ensure that the FAIR Act is thoroughly implemented throughout California. The Fair, Accurate, Inclusive, and Respectful Education Act went into effect in 2012.
She also stressed the expansion and innovation of OFC's programs and said it has produced over 250 playgroups, workshops, and community events impacting nearly 4,000 LGBTQ families and allies annually.
Polly Pagenhart, OFC policy and communications director, said in a phone interview that the agency is sorry to see Moreira leave.
"I'm really sad to see her go, but also very proud of the work she's done in the last seven years, particularly the new directions she's taken us in," Pagenhart, who is 56 and genderqueer, said. "She's done stellar work at one of the hardest times in our organization's history. It's bittersweet to lose such fierce leadership, but we're excited to open the next chapter for the organization."
Steve Disselhorst, co-chair of the OFC board of directors, said via phone, "We are incredibly grateful for the inspiration and dedication Renata has shown this organization, really just the love she has for people. We're already working on finding someone to take on this role so that the coalition can move forward."
According to a news release, OFC is now leading a search for an interim executive director to lead the agency through the end of the year.
To reach the interim executive director search committee, email ied@ourfamily.org. For a job description, go to at https://tinyurl.com/OFC-IED-2019.
Comments on Facebook