Harris to hold Oakland rally for prez race
Wednesday Jan 23, 2019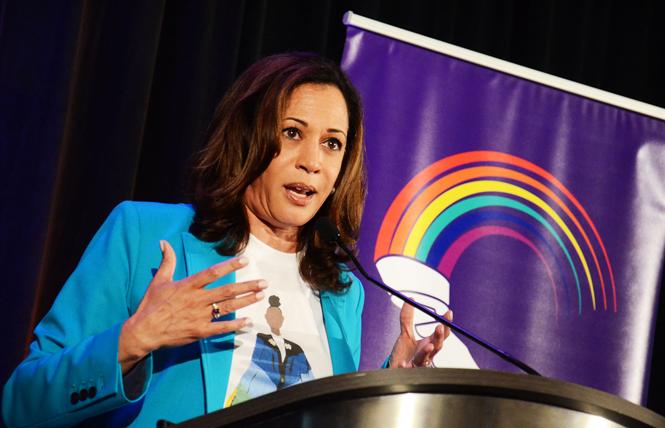 Supporters will join Senator Kamala Harris in Oakland this weekend to kick off her 2020 presidential campaign to defeat President Donald Trump.
Harris (D-California) announced she was running for president on Martin Luther King Jr. Day during an appearance on ABC's "Good Morning America."
"I'm running for president of the United States," she told interviewers Robin Roberts, a lesbian, and George Stephanopoulos.
"I'm very excited about it," she added.
On Friday, the Baltimore Sun reported that Harris has settled on Baltimore for her campaign headquarters. The paper reported that Harris chose the city because of its diversity, proximity to Washington, D.C., and because it's in the Eastern time zone.
According to her campaign website, Harris will be in Oakland for the rally Sunday, January 27, at Frank Ogawa Plaza, Broadway and 14th streets.
Brendalynn Goodall, former president of the East Bay Stonewall Democratic Club, told the Bay Area Reporter that she was thrilled Harris entered the race.
"Yes, I'm excited that she's a candidate for president," Goodall wrote in an email Tuesday. "I supported her for state attorney general and Senate. She's about truth, justice, and equality."
Gay BART board President Bevan Dufty wrote on Facebook, "I'm there," under a post promoting the rally.
Harris, 54, was born in Oakland. She is a graduate of Howard University and earned her law degree from UC Hastings College of the Law.
Following her announcement on Monday, Harris went to Howard University in Washington, D.C. and made brief remarks.
She started out her career as an Alameda County assistant district attorney, where she specialized in prosecuting child sexual assault cases. In 1998, she joined the San Francisco District Attorney's office, where she led the Career Criminal Unit. She also served as the head of the San Francisco City Attorney's Division on Children and Families.
She ran for San Francisco district attorney in 2003, knocking off two-term incumbent Terence Hallinan. She was easily re-elected in 2007.
While she was DA, she convened one of the first conferences to tackle the so-called panic defense, in which defendants claim to have been driven to murder someone because they panic when they find out their victim is a transgender person.
Harris ran for California attorney general in 2010 and narrowly won. She was re-elected four years later.
Harris is a longtime ally to the LGBT community. As state attorney general, she refused to defend Proposition 8, the state's same-sex marriage ban, setting up years of litigation that ultimately decided the measure was unconstitutional. Same-sex marriage became legal in California in June 2013, and Harris was in San Francisco City Hall on June 28 to marry the plaintiff couple in the federal lawsuit, Kristin Perry and Sandra Stier.
In that position, she also received national attention by fighting Wall Street banks and winning $20 billion for homeowners who were facing foreclosure during the Great Recession. She helped thousands of families stay in their homes and passed one of the nation's strongest anti-foreclosure laws, her campaign website noted.
As AG, Harris did fight a federal judge's order that the state provide gender confirmation surgery to a trans prisoner. At the time, Harris told the B.A.R. that she was representing her client, the California Department of Corrections and Rehabilitation in that case. Later, the state announced a historic settlement that should allow trans prisoners to access the care they need while incarcerated. Harris said she agreed with the case outcome. However, media reports in recent years have said the state is struggling to comply with new rules for transgender inmates, including the prisons to which they are assigned.
In 2016, Harris ran for U.S. Senate, after Senator Barbara Boxer (D) announced she would not seek another term. She easily won the race. As a member of the Senate Judiciary Committee, Harris has sharply questioned Trump judicial nominees, including Supreme Court Justice Brett Kavanaugh.
On Tuesday, after news that the U.S. Supreme Court granted the Trump administration's request to temporarily vacate two national injunctions that have prevented a ban on transgender people in the military from going into effect, Harris criticized the decision.
"Transgender military members have the courage to serve our country and deserve to do so," Harris wrote on Twitter. "We have to fight back to reverse this."
As senator, Harris introduced or co-sponsored legislation to provide sweeping tax cuts for the middle class, address the high cost of rent, raise the minimum wage to $15 an hour, make higher education tuition-free for the vast majority of Americans, reform the cash bail system, protect the legal rights of refugees and immigrants, and expand access to affordable, quality health care with Medicare for All.
Harris is married to Douglas Emhoff and stepmother to Ella and Cole Emhoff.
Observers have said Harris, who is African-American and Indian, is a formidable presidential candidate. With her January 21 announcement, which was expected, she vaulted to the top tier of Democrats who want to defeat Trump.
Harris joins a crowded field of fellow Democrats that is expected to swell in the coming weeks. Massachusetts Senator Elizabeth Warren was the first major candidate to enter the race in late December. Others who have announced they are running or exploring a run include New York Senator Kirsten Gillibrand, former Housing and Urban Development Secretary Julian Castro, former Maryland Congressman John Delaney, Congresswoman Tulsi Gabbard (Hawaii), former West Virginia state senator Richard Ojeda, and former tech executive Andrew Yang.
On Wednesday, Pete Buttigieg, the gay mayor of South Bend, Indiana, announced he was forming an exploratory committee for a presidential run.
Sunday's rally will start at noon. To sign up, visit www.kamalaharris.org.
Contact the reporter at c.laird@ebar.com.
Comments on Facebook