Facebook issues continue for G News
Wednesday Jan 23, 2019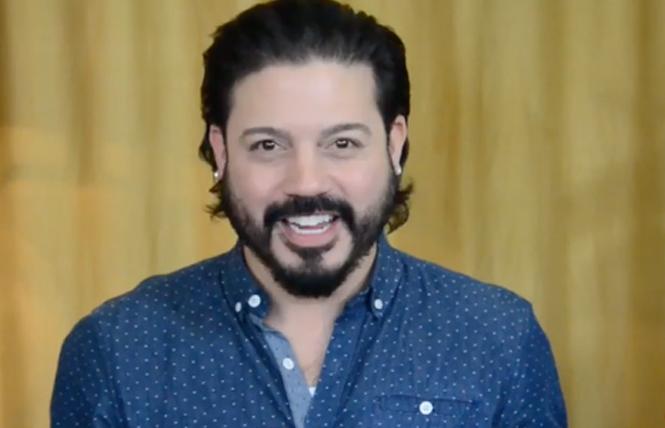 A gay married couple continues to have issues with Facebook and could not boost its Christmas episode of G News in time for the holidays.
G News is a gay news and entertainment series that Chris Knight and Celso Dulay produce under the umbrella of Glitter Bomb TV, a company they co-own.
It was a year ago that G News had similar issues with Google-owned YouTube when the couple were stopped from boosting episodes on the video-sharing site. At the time they were told that the show was barred from boosting due to its "shocking content," though the YouTube issue was eventually resolved in G News' favor. Ironically, it was also a Christmas episode that YouTube took issue with.
"On G News we cover a variety of topics of interest to the global LGBTQ+ community," Knight told the Bay Area Reporter. "From Hollywood, the music charts, pop culture, celebrities, politics, news of top interest to our community, local and international events, and more. Of course, with the current divisive political environment and the attacks on our LGBTQ+ rights, politics is a more frequent topic we cover these days."
Knight explained the issues G News was having with Facebook.
"During the last three months we've been denied the ability to boost views of G News via Facebook because we've been told 'your ad was not approved because your page has not been authorized to run ads related to politics and issues of national importance,'" he said. "The two previous times we appealed that decision via Facebook's online interface several times, and our ads were eventually approved."
Dulay said they think Facebook is targeting LGBT content.
"We do, in fact, believe that our LGBTQ+ news content is being singled out by Facebook's algorithms, or potentially from its human workforce that the social media giant has beefed up due to the Russian interference scandal that's been highly covered and criticized around the globe," said Dulay. "Because LGBTQ+ topics are highly politicized and are a hot-button issue for Russian bots to divide the country, our theory is that Facebook and other social media companies are treating it differently, and this has amounted to censorship because we can't promote the programming, and hence that limits the show's views."
G News' 123rd episode was denied the ability to boost even on appeal. Knight said that they uploaded a passport and provided a physical address to Facebook, which is part of the registration process for boosting political posts. Facebook responded by saying that G News could not be approved to boost posts with the documentation provided. Eventually the men received a passcode to enter into Facebook's ad center for Glitter Bomb TV. Even after entering the passcode there was a 10-day delay for the ad block to be lifted. By the time G News' "HoliGays" episode was boosted, Christmas had passed.
"The weird part in all that is that we purposely avoided any political stories for that episode, but we were still unable to promote the show," said Dulay. "We're a weekly news program, so the news stories become dated after awhile."
Knight noted that the GLBT Historical Society has had similar issues with Facebook.
As the B.A.R. reported last August, the historical society, which operates the GLBT Historical Society Museum in the Castro, was banned from boosting a post on Facebook. It was the second time in less than a year that the nonprofit had issues with Facebook postings.
"We find that to be quite alarming," Knight said. "That proves there could be a more widespread issue with LGBTQ+ content being censored by social media giants today. If that's the case, it seems that there could be potential for a class action lawsuit."
Moving forward, G News expects to now be able to post content "of a political nature or of national importance."
"We're taking a short break to build our Glitter Bomb TV website where we'll be posting our new episodes, censorship free, beginning in February," said Knight. "We'll still make short promo clips of shows to be promoted on social media to drive traffic to the website, but we'll no longer be beholden to social media giants to control what we say or what we cover on the show."
Facebook representative Devon Kearns provided the B.A.R. with a link to the page where content producers can apply to post political content. She noted that one of G News' episodes was denied a boost "because the video advocates for a piece of legislation, the Equality Act, which would fall under our ads related to politics or issues of national importance policy."
Kearns did not comment further, though she did provide a link to Facebook's Ad Help Center, which states the full policy language: https://www.facebook.com/business/help/214754279118974.
"If we were able to speak to [CEO] Mark Zuckerberg, [COO] Sheryl Sandberg, or other powers that be at Facebook, we'd tell them they need to step up to the plate to help save media and journalism, a vital pillar of our democracy, that they've been quite active in disenfranchising," said Dulay. "I'd also tell them they should spend more money on providing appropriate infrastructure and customer support for creators on the platform spending money to promote the content on a regular basis. Like many Americans we've become less of a fan of Facebook."
Comments on Facebook