Up, up & away!
Tuesday Dec 10, 2019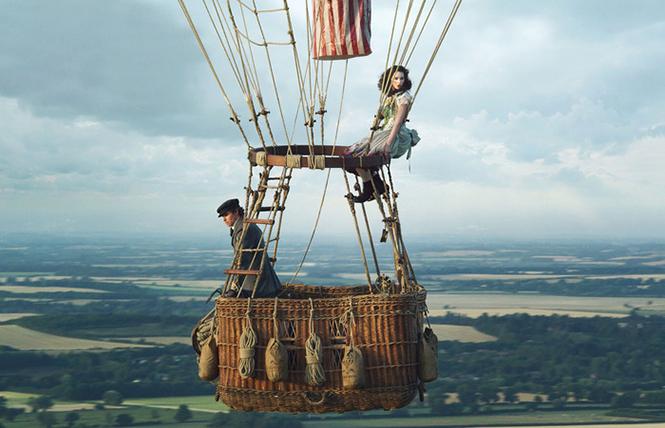 At the Castro Theatre the other night I watched actors Eddie Redmayne and Felicity Jones soar into the sky over jolly old England, circa 1862, in the breathtaking new Amazon Studios feature "The Aeronauts." I remembered that the feat depicted was the 19th century's version of space travel, and that I had thrilled as a boy to another version of this high-soaring adventure, Mike Todd's multi-Oscar-winning, three-hour epic "Around the World in 80 Days."

"The Aeronauts," which should certainly be viewed on a big movie screen, illustrates a cinematic version of what was once called future shock. In 1904, some patrons of the primitive Nickelodeons were frightened by a shot of a steam locomotive seemingly speeding straight at them. In 1956, audiences gushed and Oscars flowed at the sight of a British aristocrat (David Niven) and his manservant (comic actor Cantinflas) clowning their way across the globe in a widescreen take on Jules Verne's classic tale of man over nature. "The Aeronauts" director Tom Harper has to pack far more thrills into a much tidier package, a mere 101 minutes in 70mm widescreen, to get the buzz that all award-season releases demand these days.

Spoiler alert: The balloon is piloted by a woman (Jones' character is fictional), while Redmayne's role is based on pioneering scientist James Glaisher, determined to reach the clouds in a bid to invent modern weather-forecasting. Redmayne steals the film as a beautiful guy who nearly freezes to death for the sake of science. His fans should be grateful that their guy has returned from Harry Potter Land to give a 21st-century star turn.

Jones delivers as a young woman who shrugs off 19th-century naysayers to pilot the balloon. We get some truly hair-raising scenes as the pair nearly freezes to death at the top of the then-known airspace, leading to a nail-biting crash to earth. With a large supporting cast that includes veteran actors Tom Courtenay and Himesh Patel, "The Aeronauts" will appear both on big screens and on Amazon streaming through the holiday season.
Comments on Facebook