Marquee moments
Tuesday Nov 5, 2019
Out There had a real "filmie" kind of week, including full immersion in the world of immortal filmmaker Francis Ford Coppola at Café Zoetrope, enjoying two knockout films in current release, and attending opening night of SFFILM's 2019 "Doc Stories" festival.

Director Roger Ross Williams was in the house when "The Apollo" opened SFFILM's "Doc Stories" weekend last Friday at the Castro Theatre. The nonfiction film traces the history of the legendary Apollo Theater in Harlem, studded with clips of great African American musicians and entertainers who have performed there. As Williams said from the Castro stage, it was most appropriate to show his film, "about a temple of music, here in a temple of cinema."

"The Apollo" is worth seeing just for its samples of Billie Holiday singing "Strange Fruit," James Brown electrifying the audience, and Ella Fitzgerald winning an Amateur Night competition in 1934. We also got to see President Barack Obama singing "I'm so in love with you" from the Apollo stage, then admitting he was no competition for Al Green; and rehearsals for, then a snippet from a staging of Ta-Nehisi Coates' "Between the World and Me," with Jason Moran and his band accompanying. Plus Smokey Robinson, Eartha Kitt, Aretha Franklin, and many more.

The screening was preceded by a short set from Bay Area musician Fantastic Negrito, who soulfully sang what his grandmother calls "black roots music"; and was followed by a Q&A with director Williams and producer Lisa Cortes.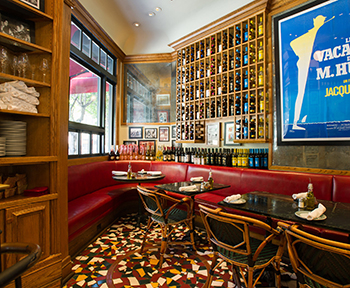 Greek party

The historic Café Zoetrope in North Beach, owned by Francis Ford Coppola, is celebrating its 20th anniversary this month. Out There was invited to an intimate dinner party in honor of Coppola world. FFC was not there (his winery was in the fire zone), but we got to visit his private screening room and the editing lair where he worked on classic films like "The Godfather" and "Apocalypse Now."

Café Zoetrope's week-long celebration will feature themed menus, happy hour specials and limited-edition giveaways. Each day of festivities is inspired by a different Greek muse: Mon., Nov. 18: Urania, the Muse of Astronomy; Tues., Nov. 19: Melpomene, the Muse of Tragedy; Wed., Nov. 20: Erato, the Muse of Erotic Poetry; Thurs., Nov. 21: Terpsichore, the Muse of Music and Dancing (with live music); Fri., Nov. 22: Thalia, the Muse of Comedy and Idyllic Poetry; Sat., Nov. 23: Clio, the Muse of History; and Sun., Nov. 24: Polymnia, the Muse of Sacred Hymns and Harmony (with a San Francisco choir).

"Café Zoetrope is very personal to me," said Coppola. "It is a monument to my joy that it exists." We enjoyed classic Italian repast there, served family-style: fresh burrata e prosciutto, porcini mushrooms and broccoli rabe sautéed in olive oil with garlic and shallots, tiramisu with layers of mascarpone drenched in espresso. The Coppola wine flowed, and we love it that Francis names his potent potables after his loved ones: "Eleanor" for his red wine blend, "Sofia" for his brut rose. If OT made a wine, we'd name it "Pepi," a pinot noir: light, trim, but dark and peppery. For more information, visit www.cafezoetrope.com.

Heart & Seoul

Director Rupert Goold's La Garland vivisection "Judy" is worth seeing for Renee Zellweger's affecting portrayal alone, if not for her tepid vocalizing; but also for its bringing back to life the men in Judy's life: Finn Wittrock's slick & slippery Mickey Deans, Rufus Sewell's dark & deep Sidney Luft, and Gus Barry playing Mickey Rooney as sex object! The power of illusions!

Director Bong Joon Ho's "Parasite" truly is one of the best films of the year. It's not only a spirited comedy of social manners and modern life, and a gripping crime story and horror film, it's the best cinematic demonstration we've seen yet of what happens when Grotesque Inequalities of capital and wealth distort a society. It's South Korea's cautionary tale for Trumpian America.
Comments on Facebook