Viewing classics for the holiday season
Tuesday Nov 26, 2019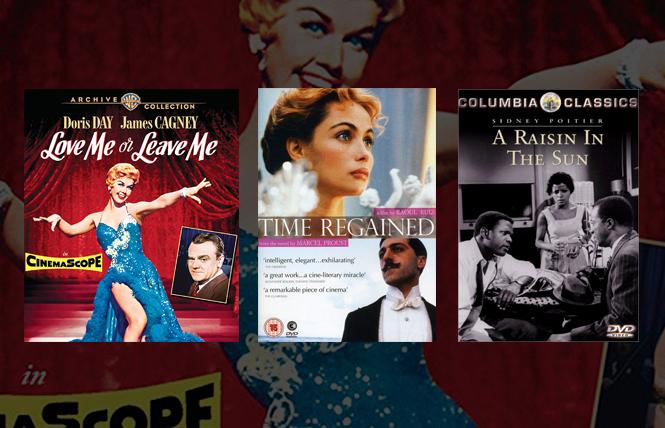 Those seeking DVDs as holiday gifts for movie buffs will find a fascinating trove of classics to please even the most demanding fans.

Doris Day's death this year at age 97 sparked assessments of her singing and acting. The latter focused on popular comedies opposite Rock Hudson and Cary Grant in which she primly guarded her virginity. They haven't held up well. But 1955's "Love Me or Leave Me," a fictionalized biography of 1920s jazz vocalist Ruth Etting and her tortured relationship with gangster Marty Snyder (James Cagney), reveals Day at her best. Her singing is exquisite. Etting began as a taxi dancer, and Day's hoofing is impressive. Snyder ruthlessly promoted her. Cagney's performance as a violent, manipulative, self-pitying abuser is extraordinary, earning him a Best Actor Oscar nomination. Day was overlooked but holds her own. Etting's growing resistance to Snyder's controlling her is strikingly revealed. With Cameron Mitchell. Directed by Charles Vidor, from a screenplay by Daniel Fuchs and Isabel Lennert, based on Fuchs' story. The terrific costumes are by Helen Rose.

Chile's Raoul Ruiz (1941-2011) had the vision, courage, and ability to film "Marcel Proust's Time Regained" (1999). Drawn from the seventh volume of Proust's epic roman a clef, adapted by Giles Taurand and Ruiz, it's lush, complex, and superbly acted by a glorious cast. Marcello Mazzarella is Proust, observing, remembering, incorporating earlier events into the present or anticipating the future. A radiant Catherine Deneuve is Odette at many ages; Emmanuelle Bejart is Gilberte; Vincent Perez, Morel; Pascal Gregory, Saint-Loup; Chiara Mastroianni, Albertine; Marie-France Pisier, Madame Verdurin; and the openly, unapologetically homosexual Baron de Charlus is memorably portrayed by John Malkovich. The scenes in Jupien's (Jacques Pieiller) infamous male bordello, patronized by Charlus and where Proust indulges his voyeurism, are outstanding. Swann (Bernard Pautrat), however, is a minor character. Those familiar with the masterpiece will easily follow the film. Those who aren't will be transfixed and tempted to read the novel. The fluid color cinematography is by Ricardo Anovich. Caroline de Visvaise and Gabriella Pescucci designed the ravishing costumes. The original score is by Jorge Arriagada. In French with English subtitles.

Lucille Ball hailed Ann Sothern as "the best comedienne in the business, bar none," and recalled, "I got all the parts Ann Sothern turned down" when they were at MGM. Best remembered by Boomers for her two successful TV series, "Private Secretary" (1953-57), in which she portrayed the small screen's first professional, unmarried woman; and "The Ann Sothern Show" (1958-61); she had been in movies for over 20 years before turning to television. An excellent singer, a fine dramatic actress, she was popular with audiences. Critics lamented her often-poor films. Sometimes, as in 1949's "A Letter to Three Wives," she got a good part in a top movie and excelled. In 1950, she made her last MGM picture, the suspenseful "Shadow on the Wall." Sothern plays Dell Faring, whose mean, selfish sister Celia (Kristine Miller) is accidentally murdered. Dell knows what happened. So does Celia's stepdaughter (Gigi Perrau), but the traumatized child can't discuss it. Zachary Scott, her father, is charged with the killing. Nancy Davis (two years before marrying Ronald Reagan) effectively portrays a child psychiatrist, although her treatment methods will raise modern eyebrows. Sothern, beautiful and soignee, gives a superb, subtle performance as the tormented Dell. Perhaps because the role was different from what moviegoers expected of her, the film failed. Today's viewers will appreciate it. Directed by Pat Anderson. Adapted by Lawrence P. Bachman and Hannah Lees, from their "Death in a Doll's House," and William Ludwig. Crisp black-and-white cinematography by Ray June. Irene designed the elegant costumes.

In 1959, lesbian Loraine Hansbury (1930-65) made history with "A Raisin in the Sun," the first play by a black woman to run on Broadway. It earned her the prestigious Drama Desk Award. She adapted it for the 1961 film, helmed by Daniel Petrie. (Columbia Pictures rejected the stage director, Lloyd Richards, because he was black.) Walter Lee Younger (Sidney Poitier); his mother, Lena (Claudia McNeil); his wife, Ruth (Ruby Dee); their little boy, Travis (Stephen Perry); and his sister, Beneatha (Diana Sands) share a cramped apartment in Chicago's South Side. The drama hinges on the impact that a substantial insurance payment following the father's death has on this poor family. Lena and Ruth want to buy a house in suburban Clybourne Park. Walter wants to purchase a liquor store, believing the income would mitigate their poverty. Beneatha wants to enroll in medical school. These conflicting desires threaten to damage the family. Racism appears in the form of a "liberal" white resident of Clybourne Park. The resolution is moving and ironic. Petrie gets excellent, multi-dimensional performances from Poitier, McNeill, Dee, and Sands, all from the original cast. Ivan Dixon, also from the Broadway production, is splendid as a smart, well-educated Nigerian who courts Beneatha. With Louis Gossett reprising his original role as Beneatha's spurned suitor. The movie's occasional staginess is easily overlooked, given the play's significance.

In "Judy" (2019), Renee Zellweger gives an arresting performance as Judy Garland. That uneven film features flashbacks to Garland's tenure at MGM, where she made 27 movies in 14 years, ending with "Summer Stock" (1950). It's about a Broadway-bound musical forced to rehearse in a barn before opening. The familiar plot has a twist: the production's leading lady is Gloria de Haven. Garland plays her older sister, who is drafted to replace her when she quits the show. Garland's weight fluctuates from scene to scene, but she and co-star Gene Kelly, in their third pairing, have great chemistry. Her final number, "Get Happy," is justly famous. Slimmed down and looking superb, flashing her gorgeous legs, she sings and high steps joyously. It's a brilliant, bizarre farewell to Leo the Lion. With Phil Silvers, Eddie Bracken, Marjorie Main, and Carleton Carpenter. Directed by Charles Waters.
Comments on Facebook