French twist
Tuesday Jan 8, 2019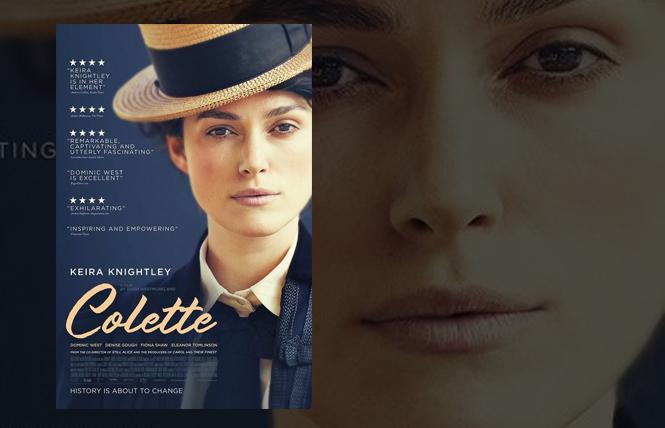 Colette (1873-1954) was a renowned bisexual French novelist, journalist, and actress best remembered for her 1944 novella "Gigi," about the training of an adolescent courtesan. It was the basis for the 1958 Oscar-winning musical film, and nominated for the 1948 Nobel Prize in Literature. When she died, she was the first female author to be given a state funeral. Born Sidone Gabrielle "Gaby" Colette, her early life is recreated in the film "Colette" (Universal DVD), centering on her relationship with her first husband, publisher-impresario Henry Gauthier-Villars ("Willy"). Gay director Wash Westmoreland helmed the project, and wrote the screenplay with his late husband Richard Glatzer, who died of Lou Gehrig's disease in 2015. One would think so, but despite its subject and co-creators, it's not a strongly centered LGBTQ film.

The film chronicles Gaby's (Keira Knightley) transformation from a rural (Burgundy) bumpkin. At 20 she marries Willy (Dominic West), 14 years her senior, and they start their new life in Paris. Gaby quickly realizes she's married a libertine gambler with many mistresses ("I can read you like the top line at an optometrist's office.") At first distressed, she decides to accept this open marriage so she can explore her own relationships with women. She becomes a member of the aristocratic set, with friends like Proust and Sarah Bernhardt. Willy is constantly on the verge of bankruptcy, using ghostwriters whose work is printed with his name. Needing to stave off dire financial straits, he goads Gaby into writing a roman a clef about her adolescent experiences, some with lesbian overtones, published under his name, as "no one reads female writers." To his shock, the "Claudine" book becomes a best-selling sensation, making Willy wealthy and notorious. He wants Gaby to write more Claudine stories, and locks her in a room until she starts writing a sequel. The ensuing three novels are huge successes.

Meanwhile Gaby has affairs with an actress portraying Claudine on the stage, and with Missy (Denise Gough), a crossdressing aristocratic woman who wears tuxedos. They perform together on stage. Their kiss at the Moulin Rouge causes street riots. She sleeps with Southern American heiress Georgie Raoul-Duval (Eleanor Tomlinson), and so does the jealous Willy. The last is the final straw for Gaby, who not only wants a separation but also demands that her real name, Colette, be put on her work. Willy refuses to cede the copyright, and sells it to an independent publisher. Colette goes to court and wins the right to publish under her own name.

With its promotional hashtag #Colette Too, the film attaches itself to the #MeToo movement. Colette discovers her own voice and lives her own truth as a cultural upstart. But regarding her sexuality, the film isn't as daring. For such an unconventional life (Colette had three husbands, multiple women lovers, and promoted crossgenerational romances, including one with her teen stepson), Colette deserves an unconventional film. But here she is given a standard biopic that meanders over a 12-year period, yet is linear in its storytelling, her riotousness tamed. Colette is given equal billing with her smarmy husband, who, in spite of his caddish behavior and professional betrayal, comes across as energetic and fun.

Keira Knightley gives the best performance of her career. Knightley has matured in her craft with each successive film. She is more than matched by Dominic West, who has perfected his villainous persona as Willy. Their chemistry is so sizzling, Colette's women lovers are diminished in comparison. The film dazzles with fin de siècle Parisian production design, gorgeous costumes, and sumptuous music, yet the real Colette never ignites. Perhaps a French actress in a French film could portray the wildness that's missing here. Colette reminds Willy that "the hand that holds the pen writes the history," yet despite a valiant effort we only see its intriguing shadow in this movie.
Comments on Facebook