Dame Olivia's smockery fetches big $
Tuesday Oct 22, 2019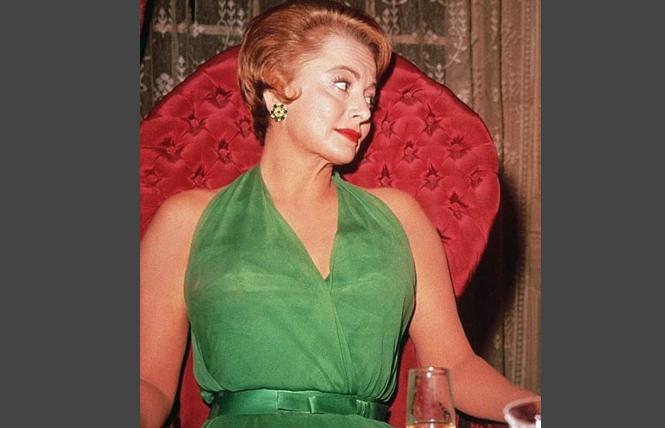 The Chicago fine art auction house Hindman announced the results of its Haute Couture and Luxury Fall Fashion auction last month. The highlight was a collection of 37 Parisian haute couture and Hollywood designs worn by Dame Olivia de Havilland from 1954-89. Dame Olivia is still alive and kicking at 103.
"All of the 37 lots sold, exceeding estimates and realizing a total of $85,000," according to Hindman. "The collection was popular with private collectors and museums alike, with Dior Heritage, the archive of the fashion house of Christian Dior in Paris, taking home nearly all of the lots. The top-selling highlight from the sale, a Christian Dior by Marc Bohan haute couture dress, inner bodice and shoes, Spring-Summer 1964, worn by de Havilland in the 1964 movie 'Hush...Hush, Sweet Charlotte,' surpassed its presale estimate of $2,000-$3,000, selling for $8,125.
"Another highlight from the auction was a Christian Dior by Marc Bohan haute couture ensemble, Spring-Summer 1961, worn by de Havilland in the photograph on the cover of her 1961 book 'Every Frenchman Has One' and for the press reception in March 1961 in Atlanta for the special showing of 'Gone with the Wind' in honor of the Centennial of the Commencement of the Civil War. The ensemble sold for $6,250 against a presale estimate of $1,000-$1,500."
Other sales surpassing presale estimates include a Christian Dior by Yves Saint Laurent haute couture dress and shoes, Spring-Summer 1958, which realized $5,000 against a presale estimate of $1,200-$1,800; and a Christian Dior by Marc Bohan haute couture ensemble, Spring-Summer 1961, worn by de Havilland in the 1962 movie "Light in the Piazza" that sold for $5,500 against a presale estimate of $1,500-$2,500.
Hindman Director and Senior Specialist in Couture Timothy Long said, "It was an absolute pleasure to work with Dame Olivia de Havilland on this exciting collection. The compelling provenance connected to many items gave the garments a broader historical and cultural dimension, attracting major museums and collectors from around the globe. It is thrilling to know that a majority of the items are going back to their 'birthplace' at Dior in Paris."
A Dior coat was worn for her role in the Broadway production of "A Gift of Time" (1961), while other Dior designs were worn by de Havilland to the premieres of her movies "Proud Rebel" (1958) and "Lady in a Cage" (1964).
Andy does Joni
Star of stage and screen Andy Mientus' cabaret show at Feinstein's at the Nikko a few weekends back was everything it promised to be, a faithful reenactment of Joni Mitchell's classic album "Ladies of the Canyon" from start to finish. Mientus was backed up by two female singers, piano and guitar, but put his own gay male spin on the material, effortlessly singing Joni's vulnerable lyrics to male lovers and putting his own brilliant spin on the songs. Suddenly the lights dimmed, and a recording of a familiar voice came over the sound system.
It was youth activist Greta Thunberg's instantly famous speech at the U.N. Climate Action Summit: "This is all wrong. I shouldn't be up here. I should be back in school on the other side of the ocean. Yet you all come to us young people for hope. How dare you!
"You have stolen my dreams and my childhood with your empty words. And yet I'm one of the lucky ones. People are suffering. People are dying. Entire ecosystems are collapsing. We are in the beginning of a mass extinction, and all you can talk about is money and fairy tales of eternal economic growth. How dare you!"
The cabaret players then segued seamlessly into Mitchell's "Big Yellow Taxi," proving that the ancient album still speaks to our debased times, and that Joni was the Greta Thunberg of her time, calling out environmental destruction and capitalist greed even in the days when they weren't glaringly obvious. "Don't it always seem to go,/that you don't know what you got til it's gone? They paved Paradise, and put up a parking lot!"
Dame Olivia de Havilland, many years ago, wearing a Christian Dior by Marc Bohan haute couture dress that sold at auction for $8,125. Photo: Courtesy Hindman
Comments on Facebook