Gibson, an elegant eatery in the theatre district
Tuesday Sep 17, 2019
Now that the fall theatre season has begun in earnest, the search is on to discover new places to go to dinner close to San Francisco's downtown theatres. Noting that the "theatre district" is often little more than our city's charming euphemism for the Tenderloin, Out There was lucky to find Gibson, a civilized and sophisticated restaurant and bar housed in the boutique Hotel Bijou on Mason St. We were invited to sample the supper-club dinner experience there last week.

OT and convivial consort Pepi were greeted at the door by the restaurant's anchor Adam Chapman, who oversees Gibson's innovative cocktail program. Chapman immediately began working his mixologist magic on us at the bar. His Clear Bloody Mary blends concentrated early-girl tomato essence with spirits, shoyu, seven-year barrel-aged fish sauce, and pepper oil. Safe to say it's unlike any other Mary you may have had in your mouth.

OT is a dedicated gin drinker, and that exalted spirit finds fond expression in the Bijou, which weds gin with sweet white vermouth, cardamom, saffron, bitter dandelion and orange oil. A Manhattan put brown buttered whisky together with leather aged vermouth, peach and walnut bitters. Pepi, incredibly, doesn't drink alcohol, but he was presented with enticing drinks every bit as complicated and interesting as OT's liquor caprices. Unusual just begins to describe this beverage program.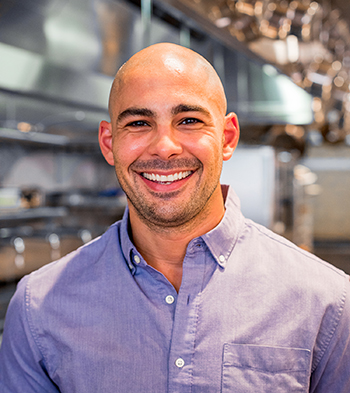 But we were there primarily to celebrate the appointment of the dynamic Louis Maldonado to the position of executive chef. We watched from a front-seat table as Chef Maldonado and his staff worked their spells in a large open kitchen. There are no walls between it and the dining room, and the chefs leave their cooking stations to deliver what they've prepared directly to diners. It's an intimate and friendly operation.

A procession of small plates delighted and surprised us. Oysters in mignonette and chive oil; a zesty Beef Tartare; Chilled Prawns with charred tomato in Pilsner foam; Halibut and Manila Clams in tomato broth. Piece de resistance: White Sturgeon "Classic" Caviar (5g) served atop Bomba Rice with Leek Butter and Parsnip. Wowsa!

Ingredient-driven preparations continued with a Saffron Ravioli filled with Duck Confit, and a Smoked Duck Breast & Leg with Crispy Almonds, Honey and Slow-Roasted Stone Fruit. Dessert brought Fig Leaf-Baked Brie with Honey, Marcona Almonds, Ciabatta and Summer Fruits. Gibson serves all this family-style to encourage sharing. Chef says these dishes are interpretations of French-inspired cuisine with a minor Italian influence, hearty and rustic. We say our tastebuds were constantly stimulated.

Mid-repast, Chapman reappeared and admitted, "Now I'm finally giving you what you want," uncorking and pouring us a glass of Domaine Eden Chardonnay. This storied wine is from an estate winery in the Santa Cruz mountains whose Mount Eden Estate Chardonnay was named by The Wine Spectator one of its Top 100 Wines of the Year five times in seven vintages over the last 15 years. That's impressive, and quite understandable after a single glass.

Our night at Gibson did impress us. The staff's attention to detail and nuance was refined but not fussy; the experience was elegant but not formal. We'll return, but not necessarily when there's a curtain to make at the nearby ACT or Curran. There was enough dramatic panache to be found in the cocktail glass and on the serving plate.

Gibson is open for dinner service Tuesday through Saturday. For more information or to book a reservation, visit www.gibsonsf.com or call (415) 771-7709.
Comments on Facebook