Peace & Concord, CA
Tuesday Jun 11, 2019
Concord, CA, is a city of 130,000 that's 20 miles east of San Francisco. Their tourism bureau invited Out There to come visit as part of our ongoing series on Bay Area Staycations. In this case all we had to do was board a BART train in SF, and 45 minutes later we stepped out into the Contra Costa sun, just a few blocks from the town's central Todos Santos Plaza.

On Thursday nights this summer through Oct. 3, the 31st annual "Music & Market" series in Concord's charming town square offers a Farmer's Market and free concerts in the park from 6:30-8 p.m. We were there to hear the Concord High Jazz Band open for the Blue Devils brass band. The downtown plaza is also home to many cute restaurants and bars; we pub-hopped from the Hop Grenade to EJ Phair for drinks before enjoying a deluxe dinner at Lima Peruvian restaurant.

Todos Santos Plaza was also the site for the Rainbow Community Center's Concord Pride festival on Sat., June 1. The day before, Concord's City Council had raised the LGBTQ Pride flag over City Hall. During a meet-and-greet reception at the Plate & Vine restaurant in the Concord Hilton, OT chatted with Concord Mayor Carlyn S. Obringer, who was looking forward to appearing in the city's Pride festivities.

The Concord Historical Society, in a Masonic Temple intended to become its permanent museum, was the site for our introduction to "Java & Jazz," a live music-enhanced lecture on the history of jazz in Concord, and there's plenty. This year marks the 50th anniversary of the Concord Jazz Festival, which began as the Summer Music Festival. Concord is the birthplace of Dave Brubeck (b. 1920), and thus of "cool jazz"; his Quartet's 1959 "Time Out" was the first instrumental jazz album to sell a million copies. Now the CJF is hosted by the Concord Pavilion, "the house that jazz built" by architect Frank Gehry, the first outdoor theatre in N. Cal., with 12,500 capacity and a full square-acre roof. The Concord Records label is now the fifth largest record company in the country.

Our city tour of 31-sq.-mile Concord took us to the 1955 children's amusement park Pixieland, still in vintage condition; Six Flags Hurricane Harbor; Buchanan Field airport; and lunch at Los Rancheros taqueria, where we were serenaded by Mariachi Mexicanismo, led by trumpeter Raymondo Coronado. Then it was time for a Wine & Chocolate class at Rachel Dunn Chocolates, led by chocolatiers Rachel and Michael Dunn. Our handmade bonbons turned out surprisingly good; and fortunately our office-mates enjoyed our final project, a huge chocolate caramel Fuji apple wrapped in almonds. Dinner at Mona's Burger's and dessert at Out the Dough stuffed us to the brim.

Next day found us on a guided hike through Mount Diablo State Park, 3,849 feet above sea level at the summit, where you can see for 150 miles and 32 counties. A picnic lunch at Markham Park & Arboretum led to a nature walk during which Pepi found a fine example of his favorite tree. Finally we were given a tour & tasting at the 50% women-owned and -operated Epidemic Ales, apocalyptic-themed beers brewed in Concord such as Zombrew; a further tasting at Concord Taphouse; and dinner at Puesto, a Mexico City-type high-end Mexican restaurant whose tasty dishes included a superb ceviche.

So OT doesn't put our nose up at the suburbs anymore. Some cold & foggy Thursday night this summer, you might just find us sneaking off on BART to attend another free concert in Todos Santos Plaza. There's warmth and light there.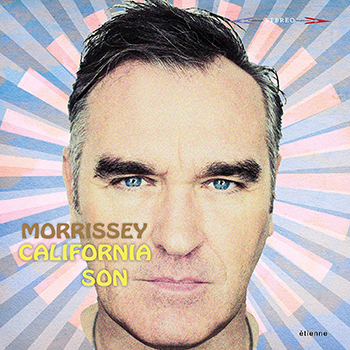 Moz covers

The best tracks on Morrissey's new album where he covers other people's songs, "California Son" (Etienne), are the ones where he proves he's not afraid to sing a verse originally sung by a woman. On "Don't Interrupt the Sorrow" he's got Joni Mitchell's idiosyncratic phrasing down pat, though his velvet crooning produces very different results. "You need a heart like Mary's should your man get weak."

On Laura Nyro's "Wedding Bell Blues," he exclaims, "Bill! I love you so, I always will, and in your voice I hear a choir of carousels. But am I ever going to hear my wedding bells?" It sounds different sung by a man.

The Moz doesn't neglect male songwriters Jobriath ("Morning Starship"), Bob Dylan ("Only a Pawn in Their Game"), Phil Ochs ("Days of Decision"), Roy Orbison ("It's Over") and Tim Hardin ("Lenny's Tune"), and he does a bitchin' "Lady Willpower" (Gary Puckett and the Union Gap). But it's with his covers of immortal women that he truly impresses: Buffy Sainte-Marie ("Suffer the Little Children"), Dionne Warwick ("Loneliness Remembers What Happiness Forgets"), Carly Simon ("When You Close Your Eyes"), and he closes with "Some Say I Got Devil" by Melanie. We can see heads exploding from here to Berkeley.
Comments on Facebook