By the beautiful sea
Tuesday Feb 5, 2019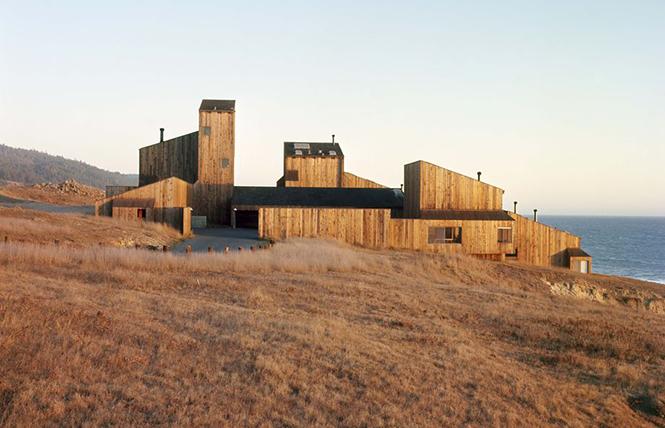 It's one thing to study The Sea Ranch, the modern residential community on the Sonoma coast, as a model of mid-20th-century architecture, as Out There did in an Art History class. It's a different level of engagement to explore what the project meant as a manifestation of the Northern California mindset. You get to do the latter in "The Sea Ranch: Architecture, Environment, and Idealism," a small but vital exhibit at the San Francisco Museum of Modern Art, on view through April 28.

Conceived in 1964 by developer Al Boeke and a group of Bay Area architects, landscape architects and graphic designers including Charles Moore, Joseph Esherick, William Turnbull, Lawrence Halprin and Barbara Stauffacher Solomon, the project was conceived as an alternative to suburban subdivision hell. Living units were consolidated or clustered together to preserve open space. The rugged landscape gave cues as to materials, design (houses that hugged the terrain) and color (washed-out redwood). The design, as an integrated whole and in its individual component parts, is a testimonial to the countercultural ideal of "living lightly on the land."
Ironically, given its communitarian ethos, by sprawling over 10 miles of rugged California coast, Sea Ranch gave rise to the watchdog California Coastal Commission and its onus of making sure the entire state coastline remains open and accessible to the public. The exhibit features archival and contemporary photographs, original drawings and sketches from the project's designers, and a full-scale architectural replica. Landscape architect Lawrence Halprin made sure large portions of meadow remained unsullied; the natural beauty and sense of place on the Sonoma coast were driving forces of his design.

Against these progressive, proto-agrarian aesthetics, the architect team "enlisted graphic designer Barbara Stauffacher Solomon to create the project's distinctive branding and graphic identity, as well as interior supergraphics in the common buildings." These bright, oversized graphics, rendered in heroic architectural scale, had an outsize influence on 1970s taste and design, and the museum exhibit brilliantly uses these elements in its own design.

Even having studied this project as architectural history, OT found a lot to learn and explore about Sea Ranch in this curated display. For example, in a brief film on offer, one of the project architects notes that redwood is a forgiving material, as it naturally reverts to a neutral gray tone upon exposure to the salt air. Even if there were a mistake in design, it would soon become understated, naturally. That's beautiful.

Dinner on the go

The Spanish tapas restaurant Canela Bistro & Wine Bar partnered with Swirl on Castro, Poesia and Finn Town to host a Progressive Dinner in the Castro District late last month, inviting Out There to be part of it. We were happy to accept, with the always-game Pepi in tow. A Progressive Dinner Party has nothing to do with one's politics. Rather, it's a meal where one "progresses" from one location to the next, with each site hosting a different course. So we got a chance to sample some of the best of each establishment.

First stop was Swirl on Castro, a wine shop with a lively happy hour tasting. They put out popcorn with assorted flavored salts, which were the perfect accompaniment for the Roederer Estate sparkling wine they poured. It was a delightful appetizer combo.

Next we headed down 18th St. to visit the cozy upstairs dining room at Poesia for our first course: purple cauliflower in handmade pasta with butter and sage, paired with a refreshing Nerello Mascalese from Sicily. Italian wines always put us in a good mood, and this was no exception. Ciao bella!

Then it was time to make our way to chef/owner Mat Schuster's Canela Bistro & Wine Bar for a delicious entrée of Cocido de Bacalao that made us feel we were back in Catalonia: a stew of wild cod filet, chickpeas, chorizo, fish Fume and Bacalao a la Romana. To drink: Pincelo, Diego de Lemos Branco, and Godello, Ribeira Sacra (2015). Bring us our castanets!

Finally, the last course was just across Market St. at Finn Town, but getting there we were drenched in a torrential downpour. Dessert was our compensation: Blum's coffee crunch cake parfait, shots of Da Mayor (vodka, Kahlua and vanilla) and dessert wine.

Our verdict: all four places were well worth the visit, and we liked the format of the Progressive Dinner very much. We met more of our fellow diners by changing tables for every course, and the burden of our appetite (and thirst) didn't fall on any one establishment. Restaurants and bars ought to consider teaming up for more of these.
Comments on Facebook