Staycation in the lap of luxury
Tuesday Jan 8, 2019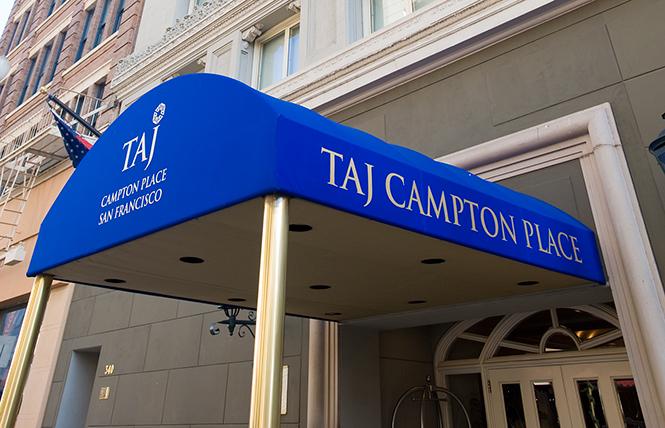 Before the holiday season was over, Out There was offered an overnight stay at a landmark San Francisco hotel to add to our continuing investigation into excellent places to indulge in a Bay Area staycation. This time we were invited to decamp at the luxurious Taj Campton Place, right off Union Square, during the height of the Christmas shopping days.

Upon check-in we were upgraded to a deluxe accommodation on one of the hotel's upper floors, which meant that we had a resplendent view of the Union Square Christmas tree sparkling in multicolored lights in the center of the square. Inside, the room was spacious and elegantly appointed, impeccably clean, and easily comfortable in everything from the king-size bed to the instant hot-water shower. The adjustable reading lamps on both sides of the bed were a nice touch for a bookworm.

Because the Taj is a hotel group based in India, there are subtle Indian touches from the Subcontinent to be found in unexpected places: a bamboo shoot rising from a planter in the bathroom; a masala omelet flavored with green chilies, coriander and turmeric for breakfast at the Campton Place restaurant. That Michelin-starred eatery helmed by Chef Srijith Gopinathan is also responsible for turning out happy-hour petit fours for guests in the lobby, so the offerings are a cut above the usual treats: broccolini batter-fried to dip into aioli, butternut squash soup, panna cotta studded with fresh fruit, all washed down with fine French champagne.

Thanks to the Taj Campton Place for extending their excellent hospitality to us. To give a small sense of the experience: our floor comprised only four rooms but two sets of elevators, one for service. So when Pepi called down to the desk to request his shoes shined, by the time he opened our room door to leave the shoes in the hall, an attendant had already arrived to pick them up. Now that is a luxury hotel that knows its business.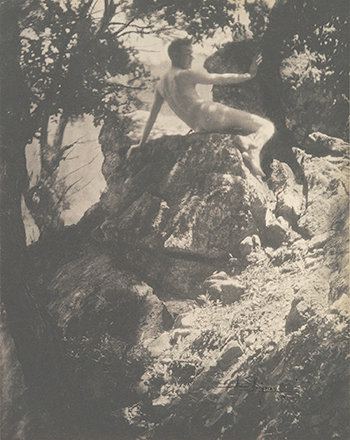 Vision quest

We were lucky enough to catch the landmark Anne Brigman exhibit during our holiday visit to the Nevada Museum of Art, because it will close on January 27, and will not travel to other museums. But in case you can't get across the Sierra Nevada by then, the show's ample catalog is a good second-best, and was recognized by The New York Times Book Review as one of the notable art books of 2018.

Brigman (1869-1950) was a visionary modern photographer well ahead of her time, and can be seen from a century later as the very essence of an early feminist artist. She posed herself and other women models (plus a few men), nude and lightly costumed, as mythological figures set against wilderness landscapes in the High Sierra and elsewhere. Her interest in pagan myth, untamed nature, and dramatic expressionism were cutting-edge for the dawn of the 20th century, and she moved in high bohemian circles in Oakland, where she lived, and across the country. Her artistry was recognized by Alfred Stieglitz and other (male) arbiters of the nascent artform of Pictorialist photography, and was given a solo show in his famous NYC gallery. For their nudity and fearlessness, her portraits were often censored. "My pictures tell of my freedom of soul," she said in 1913, "of my emancipation from fear."

"Anne Brigman: A Visionary in Modern Photography," a masterwork by NMA curator Anne M. Wolfe (Rizzoli/Electa), comprises two volumes: a large book devoted to her photography and importance in art history, and a smaller book including a reproduction of her poetry chapbook "Songs of a Pagan."
Comments on Facebook