The Covered Wagon bar hosted the 1972 Mr. Cowboy contest, but things didn't go well, as reported in the B.A.R.'s May 17 issue. Many in attendance were "stirred into a frenzy of accusations, charges and counter-charges of fraud, fake fix and cheat."
Viewing 1 thru 12 of 1636 Stories
Several projects celebrating the leather and kink history of San Francisco's South of Market neighborhood are inching along.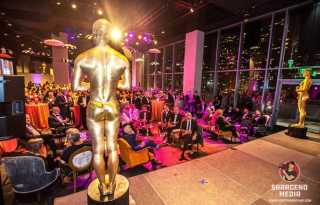 The stylish crowd that usually enjoys watching the Oscars at the Academy of Friends gala in San Francisco won't be noshing on hors d'oeuvres or sipping bubbly this year.
Plenty of outdoor and distanced events are worth joining this, week. But you'll pardon our recusal from 4/20, the marijuana party. Now that's legal, it's not so radical, and more like Muffin Monday. Going to bars feels more speakeasy-esque these days.
The building that houses The Eagle, a South of Market leather-themed LGBTQ bar, is still for sale, according to one of the real estate agents.
On April 22, SF Gay Men's Chorus will present their 15th annual Crescendo: Voices Rising, an online gala with guest-stars LeeAnn Rimes, Jake Shears, Shangela, Rita Moreno and others.
Spring has quite sprung and many arts, nightlife and community organizers and producers have emerged from their Zoom caves. Chirp, chirp.
As we continue to celebrate the Bay Area Reporter's 50th anniversary, each week we'll take a nostalgic look at a highlight from each year's issues. In May 1, 1971 , a plumaged party seemed like a lot of fun.
As we continue to celebrate the Bay Area Reporter's 50th anniversary, let's look to arts nightlife and community groups that share our collective history. Long-running theater companies and even new online forums span the decades.
With more than 900 articles penned for the Bay Area Reporter, I feel a strong connection as the newspaper celebrates its 50th anniversary this week. I thought to share some behind the scenes tales as well.
In honor of the B.A.R.'s 50th anniversary, let's look back on the past five decades of local leather seen through the lens of the paper, which is admittedly but a smidgen of the entirety of local leather history.
Our veteran erotica reviewer reminisces about the early glory days of gay porn on film, vintage B.A.R. coverage, and porn's rise, (ahem) in popularity before changes made into VHS and online formats.
The Bay Area Reporter has never shied away from expressing and exploring every aspect of the community, including sexuality. A look back at the 1990s peak of escort ads leads to bit of erotic nostalgia.
Viewing 1 thru 12 of 1636 Stories