The giant leather pride flag that flew over the nearly finished Eagle Plaza in San Francisco's South of Market neighborhood was so frayed by the wind that it was quietly removed late last year.
Viewing 1 thru 12 of 1591 Stories
'Chickaboom!, the 2020 album by Tami Neilson, the self-described "hot rockin' lady of country, rockabilly and soul," Reigning queen of hip-hop soul Mary J. Blige's new remixes and other women musicians are bringing new and classic sounds.
No one who's lived in Richmond, Virginia during the past fifty years will ever forget Dirtwoman. Donnie Corker was a colorful, counter-culture drag character in a town that is filled with counterculture eccentrics.
The members of a San Francisco supervisors' panel are recommending that their colleagues start the process to landmark a gay-owned bar in the city's South of Market district.
Celebrate the winter of our new content; arts, nightlife and community events to amuse, perplex and enrich your days and nights.
A decision on whether the two South of Market leather-themed street fairs will proceed in person in 2021 will be made following a meeting next week between the San Francisco Municipal Transportation Agency and Folsom Street Events.
Inaugurate your new year with arts, nightlife and community events online, or go outside to stroll/roll through a park. you deserve it.
Despite our astoundingly difficult times, fans and patrons of LGBTQ Bay Area bars and nightclubs were extraordinarily generous to multiple fundraising efforts in 2020, donating nearly $400,000. You can still donate to help your favorite venues survive.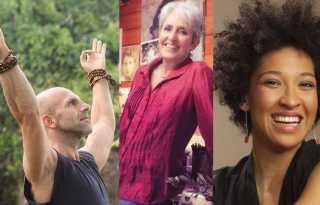 Amid tumultuous terrifying times, find relief, get informed, or just amused for a while, with arts, nightlife and community events.
The opportunity to see Marlene Dietrich in person came 23 years after her U.S. film dbut. In 1953 the Sahara Las Vegas offered her $30,000 per week to perform. And so her career as a cabaret singer was born. The film star later performed in San Francisco.
From dazzling debuts (Izzy Heltai, Katie Pruitt) to familiar faces (Bob Mould, Indigo Girls), in 2020, musicians produced a treasure trove of awesome audibles.
In events that have been harshly criticized, hundreds of gay men, many from California, traveled to circuit parties near Puerto Vallarta, Mexico and in Atlanta over the New Year's Eve holiday week.
Enjoying the new year yet? While most online events carried over from the 'annus horribilis,' some new events in arts, nightlife and community should cheer you.
Viewing 1 thru 12 of 1591 Stories