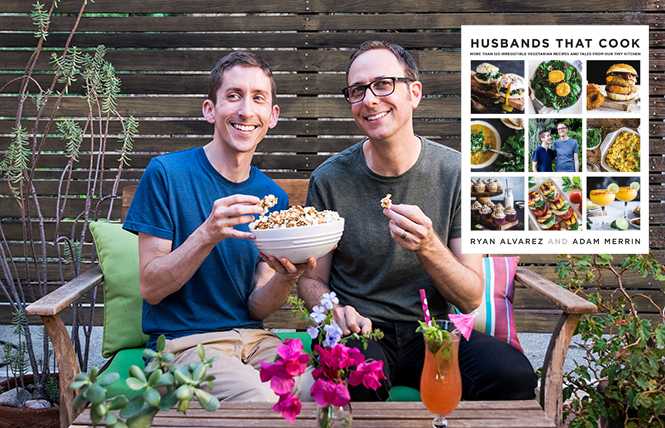 In 2015, spurred in part by the enthusiastic response their potluck dishes and birthday treats garnered from friends when they socialized, Ryan Alvarez and Adam Merrin started a recipe blog, Husbands That Cook. That's now also the title of their book.
Viewing 1 thru 12 of 1189 Stories
The recent news of the two-year lease extension to historic LGBTQ bar The Stud had fans cheering. To help pay their rent and bills, the bar's collective owners are competing in a $50,000 grant opportunity funded by Federal Express.
The New York dance party Brüt returned to the Bay Area at The Great Northern (119 Utah St.), thanks to Brian Kent Productions. Hotties of all kinds showed up to dance, flirt and enjoy St. Patrick's Day weekend.
Feeling blue? Here's some stuff to do. Nightlife revelry awaits you.
Divas nightclub, one of the last vestiges from the days when Polk Street was a major gay and transgender hangout, will close its doors at the end of March.
Blow Buddies, a private gay sex club that's operated in South of Market since 1988, could be in danger of closure. The owner is trying to sell the building, which is located at 933 Harrison Street.
Costumes are encouraged on March 23, when Congregation Shaar Zahav, San Francisco's synagogue for LGBTQ Jews, families and friends, celebrates Purim, a joyous holiday which is Judaism's answer to Halloween.
One of the annual projects of the San Francisco Bay Area Leather Alliance is producing the Leather Alliance Weekend, which took place February 28 through March 3. The weekend included the San Francisco Bootblack and Mr. San Francisco Leather 2019 contest.
Aguilas El Ambiente, the local organization dedicated to creating a supportive, culturally sensitive environment for gay/bisexual Latinos, hosted a festive Carnival party at the LGBT Center on February 28.
Even after last week's multitude of Leather events, more fun awaits in the San Francisco Bay Area for leather and other kinksters.
Spring into nightlife fun as hunks, punks, drags, kings and DJ queens entertain your every eve.
Ann and Maxine Weldon from Bakersfield, performed in clubs beginning in the 1950s, and developed relationships with their gay audiences that came to benefit both the audience and the performers.
Cast members from the touring production of the classic musical Hello, Dolly! took to Brava Theater's stage at One Night Only, the latest Richmond/Ermet Aid Foundation fundraiser for local nonprofits.
Viewing 1 thru 12 of 1189 Stories