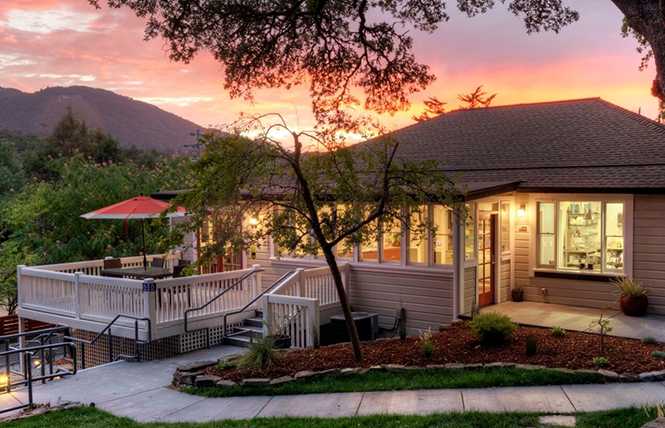 Even though Out There is a very urban person, we know that it's very important to get out of the big city every now and then. So we try to get away, and high on our list of destinations are the resorts, eateries and wineries of Sonoma County.
Viewing 1 thru 12 of 11244 Stories
San Francisco Ballet's second and third programs opened during the rains of last week and made many people glad they'd braved the downpours.
The received wisdom, at least for some, is that Impressionist master Claude Monet is too easy, but, as with all great artists, he only makes it look that way.
The Diane B. Wilsey Center for Opera, the thoroughly renovated fourth floor and basement of the Beaux Arts-designed Veterans Building, opened to enthusiastic praise three years ago. It is home to the 299-seat Diane and Ted Taube Atrium Theater.
Out There goes out & about to arts & cultural events five nights out of seven most weeks. It's a good way to stay involved, be a part of the city, see different neighborhoods and get out of our own personal bubble.
"Violet" is in bloom, and it's a sight to behold. Also, a joy to listen to.
Two forces are at war in "A White Girl's Guide to International Terrorism," a slow, soulful social drama and a hastily paced thriller.
Some Best Picture Oscar winners were instantly inexplicable choices — "The Greatest Show on Earth" (1952), "Crash "(2005) — while others are a reflection of their time. Many transcend their eras. Several are worth watching again.
The late Marlon Riggs (1957-94) captured a cultural movement in his 1989 music- and poetry-driven documentary "Tongues Untied: Black Men Loving Black Men."
In filmmaker Richard Yeagley's fly-on-the-wall documentary "The Sunday Sessions" (on DVD from FirstRun Features), behind-the-scenes footage reveals how a manipulative process works.
Take a bow. You're supporting the arts, with local and visiting talents bringing you their vision of the world.
In Germany's official entry for the Best Foreign Film Oscar "Never Look Away," director Florian Henckel von Donnersmarck takes us through a horrific episode from the WWII genocidal tragedy known as the Holocaust.
Stephen Sondheim's "A Little Night Music," inspired by an Ingmar Bergman movie, endures as one of his most successful shows. It's that "Send in the Clowns" musical, as marketers are quick to remind.
Viewing 1 thru 12 of 11244 Stories