"Bloody Bloody Andrew Jackson" is a rock musical originally produced in the year of Obama's first election and now onstage at the Custom Made Theatre Co., through Oct. 27.
Viewing 1 thru 12 of 11610 Stories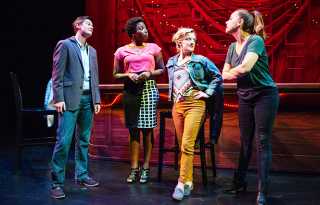 Autumn's brisk beauty is reflected in the bounty of arts events, including authors, artists and queer horror films.
After more than 200 years, the perpetually hip writing team of Mozart and Da Ponte still has a hit on their hands. "The Marriage of Figaro" opened at the War Memorial Opera House last week, and it's funnier and timelier than ever.
In his provocative and darkly funny new feature-length biopic "Where's My Roy Cohn?" director Matt Tyrnauer once again displays a remarkable ability to rummage around in our country's recent past.
From its very title, Caleb Crain's second novel, "Overthrow," is comedy of the highest order.
Out There has famously thirsty ears, but here are three CDs that have lately quenched them.
As Sloan De Forest shows in TCM's "Dynamic Dames: 50 Leading Ladies Who Made History" (Running Press, $23), today's gifted actresses continue to make noteworthy films.
"The necessity of procuring good intelligence is apparent and need not be further urged." — George Washington, 1777. Here are five homosexual authors through history who dabbled in espionage.
I was initially dismayed to see Ethan Mordden's latest book, "On Streisand" (Oxford Press, hardcover, $21.95).
During quick breaks between scenes in the thrilling Berkeley Rep production of Suzan-Lori Parks' audacious new drama "White Noise," we hear the play's titular sleep-inducing sound.
"Bathroom Stalls & Parking Lots" is the latest film from auteur Thales Correa, now available on DVD.
In a city where Halloween is taken really seriously, the Castro Theatre has film fare to bring out the ghoul in you.
Curtain up, light the lights, we've got nothing but arts at their heights, with an extra helping of the visual, thanks to Open Studios, and the literary, as Litquake stirs up the Bay.
Viewing 1 thru 12 of 11610 Stories