Native San Franciscan playwright Lauren Yee has had a winning streak on home turf this winter, with major productions of both her loose, kooky "King of the Yees" at the San Francisco Playhouse, and her basketball-themed drama "The Great Leap" at ACT.
Viewing 1 thru 12 of 11296 Stories
You can judge both the book and the subject by the cover of Pete Buttigieg's new autobiography, "Shortest Way Home: One Mayor's Challenge and a Model for America's Future" (Liveright).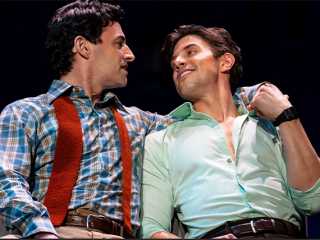 Arts events this week range form classy concerts to visually stunning art exhibits, music of the ages and beyond.
March goes out like a lion, at least on the San Francisco music scene this year.
Books tend to pile up on the Arts desk. Here are some interesting volumes worth calling attention to, with attendant squibs.
Playwright Bess Wohl gives deliciously malicious spin to fast-foodery in her comedy "American Hero," now in director Allie Moss' funny, fine-grained production at the Custom Made Theatre Company.
The American Film Institute named Humphrey Bogart (1899-1957) the #1 male legend of the 20th Century.
David Thomson, who lives and teaches in San Francisco, has been called the best writer on film in English, having authored almost 30 books on the subject, from biographies to chronicles about Hollywood.
"Warm" (dBpm), the first proper solo album of all original material by Jeff Tweedy of Wilco and Uncle Tupelo fame, is the kind of musical project that will please his fans.
With "Transit," opening Friday, acclaimed German director Christian Petzold completes a trilogy of films that's not for everyone.
San Francisco Symphony announces 2019-20 season The announcement by the San Francisco Symphony and Michael Tilson Thomas of the 2019-20 season marks the track for the departing Music Director's final victory lap at Davies Symphony Hall.
Books, films, musicals, art exhibits. Choose wisely, or recklessly. Either way, you'll enjoy yourself.
Viewing 1 thru 12 of 11296 Stories