AIDS and LGBTQ lobbyist Laurie McBride dies
Wednesday Dec 16, 2020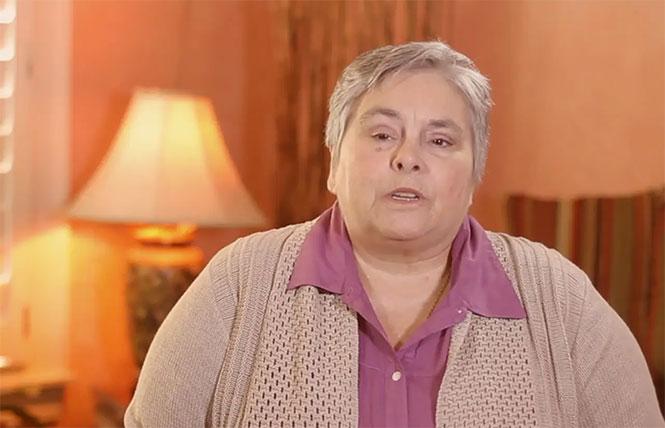 Laurie McBride, the highly regarded longtime advocate for people with HIV/AIDS and LGBTQ equality, died December 4 of a heart attack, according to her beloved wife Donna Yutzy, whose comment was posted on Facebook by friend Julia Mullen.
Ms. McBride, who lived in Magalia (Butte County, California), was recovering from a stroke, as she pecked out on Facebook November 7. "Laurie McBride: HAD STROKE OCT 12. Lost right side. Still in rehab. Also lost kidneys so now on dialysis 3 times a week. Getting excellent care here in Chico (30 minutes from our home in Magalia). Donna visits every day. Sending group post cuz typing w/left hand sucks. Below is an update from Donna about it all. YAY Biden/Harris — let healing for all begin!"
Yutzy reported that, "Laurie is doing remarkably well in rehab," with movement in her right arm and leg. "She is in either physical therapy or occupational therapy 6 hours a day. She is learning to walk. ... She is in really good spirits. Her Germanic stubbornness is paying off ... she's working really, really hard to recover as much as she can. She is feeling better by the day and is starting to find her 'spa prison' annoying on occasion. So it's really motivating her to come home! The bottom line ... Laurie is on-target to make a remarkable recovery. We are both doing well and have settled into this new routine for the time being. I fully expect Laurie to be back online and talking to you all in the near future."
Ms. McBride came home November 22: "I'M HOME!!!!! Settling in. Still mostly paralyzed on the right side, although I can now move my arm pretty well, and open/close my fist. Can stand and pivot. But only walk with LOTS of help. Onward!
"Donna is amazing. So supportive. Depend on her for most everything," she added. "She is my rock. Typing is still an ordeal — left-handed, etc. So no more group emails until I can use my right hand again ... THANK YOU all for notes of support ... greatly appreciated!"
Ms. McBride was born on June 8, 1949 in Los Angeles, attended C.K. McClatchy High School in Sacramento and earned her Bachelor of Arts degree from the University of the Pacific in 1971. She served as secretary for the Golden Gate Business Association from 1982 to 1983, after which she became president from 1984 to 1986. She also served as president of the GGBA Foundation (now Horizons) from 1983 to 1984. Ms. McBride married Yutzy on May 17, 1985.
Ms. McBride came to the attention of AIDS and gay rights advocates in 1984 when she chaired the Community Partnership on AIDS for two years. In 1986 and 1987, she co-chaired the successful grassroots No on 69 and No on 64 — known as the LaRouche initiative that would quarantine and limit employment for people with HIV/AIDS. From 1988 to 1990 she co-chaired Mobilization Against AIDS. From 1990 to 1991, she was vice president of the National Stonewall Democratic Club. And then, in 1990, Ms. McBride's life became even more hectic when she joined the Lobby for Individual Freedom & Equality, or LIFE Lobby, as executive director.
LIFE AIDS Lobby was formed in 1985 by several statewide gay, AIDS, and political groups out of the desperate need for representation in the state Capitol. The anti-gay right wing had their conservative friends in the White House with Ronald Reagan; in Congress with Representative William Dannemeyer; and in Sacramento with Traditional Values head the Reverend Lou Sheldon. Gays had to rely on straight liberal elected officials such as then-Assembly Speaker Willie Brown, then-Assemblyman Art Agnos and then-state Senator David Roberti, who fortuitously used openly gay aide Stan Hadden to craft legislation to encourage a coordinated approach to local AIDS programs and services.
Among those who fought Proposition 64 was 27-year-old law student John Duran, who had been galvanized into action by the AIDS-related death in June 1985 of his close friend Scott Fleener. Duran volunteered as an attorney for ACT UP in Orange County, during which he encountered Sheldon and his religious zealots and supporters such as the White Aryan Resistance. Duran joined the board of the LIFE AIDS Lobby and wound up serving as co-chair from 1988 to 1992. He and Ms. McBride drafted groundbreaking AIDS and gay rights legislation, including the gay rights Assembly Bill 101.
"Laurie and I drove together across the state of California to get our community behind AB 101 — the employment non-discrimination bill for LGBT people back in 1990. We met activists in Bakersfield, Stockton, and Fresno and rallied them to the cause," Duran said. "Laurie was a lesbian warrior. She fought for her brothers with AIDS. So many gay men alive today are deeply indebted to Laurie for saving their lives. My heart goes out to her wife Donna. She was one of a kind. Gentle and fierce at the same time."
By then Ms. McBride was overseeing such a diverse organization of about 80 groups. Log Cabin Republicans founder Frank Ricchiazzi sat next to ACT UP/LA's Connie Norman at statewide meetings. Bob Craig, publisher of Frontiers News Magazine, was LIFE Lobby's treasurer, having given the first check to hire staff, and became close with Ms. McBride, giving her a regular column to push legislation.
Changes
Things changed in 1998. The Republican dominance of California politics ended with the election of moderate-to-conservative Democrat Gray Davis as governor and the miraculous new three-drug cocktail was turning HIV/AIDS from a likely death sentence to a chronic manageable disease. With gay rights and AIDS on their way to being "handled," people stopped contributing to LIFE Lobby and it folded in 1999.
Later, Ms. McBride described LIFE's "organization of organizations" to this reporter as "groundbreaking work by a bunch of brilliant, dedicated activists who paved the way for non-discrimination laws and eventually marriage equality, not to mention the creation of sane HIV/AIDS policy in California, which was a blueprint for the Ryan White CARE Act nationally. On issue after issue, the heavy lifting was done by LIFE Lobby staff and board members — and the activation of organizations around the state."
When LIFE died, Ms. McBride moved on, becoming chief of staff to California Assembly Majority Leader Kevin Shelley from 2000 to 2002, then becoming assistant secretary of state when Shelley was elected secretary of state in 2003. Meanwhile, Ms. McBride kept up her political activism via the National Stonewall Democrats and the Sacramento Stonewall Democratic Club. In 2007, she was elected Northern California co-chair of the California Democratic Party's LGBT Caucus.
"We have a pretty good slate of ideas about how to make the caucus more meaningful and responsive to the clubs and the community statewide," Ms. McBride told the Bay Area Reporter about work she and co-chair Jess Durfee, chair of the San Diego County Democratic Party, had planned. Ms. McBride remained active in educating people about AIDS, including coming to West Hollywood in 2017 to speak at the Paul Starke Warrior Awards on World AIDS Day, preceded by a clip of her from the Legends of Courage project.
"It's important to talk tonight, on World AIDS Day, about how we fought, how we dug in and how each of us found our place on the front lines, how the epidemic changed us, and how we changed the world," Ms. McBride said. "Because traditional medicine didn't want to spend money on us, AIDS became the first disease where treatment and research dollars were allocated by legislation.
"And in lobbying, we learned once again that we had to do everything. ... [E]very way that HIV/AIDS pushed us, we pushed back," she added. "We changed the way people with a disease organize, we changed the very nature of the doctor-patient relationship, we changed the way experimental drugs are tested and handed out. We fought back a host of punitive legislation — and we fought for treatment and research funding. We fought discrimination and won our rights. We are proven agents of change. That's a hell of a legacy, not just to honor, but to live up to."
Gay Assemblyman Evan Low (D-Campbell), the new chair of the Legislative LGBTQ Caucus, told the Blade in an emailed statement:
"Laurie McBride was a true warrior for the LGBTQ+ community and a fierce ally during the HIV/AIDS epidemic. While she might not be a household name, Laurie's leadership on numerous political campaigns and advocacy organizations saved countless lives. It should also be noted that much of this work took place at a time when not a single openly out person held elected office. Laurie was an activist who knew how to craft public policy, and her commitment to equality shaped hearts and minds across California, laying a foundation for the progress we've seen in recent years. Her work also led to greater protections for LGBTQ+ workers here in California and across the country. We want to offer our condolences to Laurie's wife, Donna, and express our gratitude for Laurie's trailblazing life."
This article was originally published in the Los Angeles Blade. Check it out online for more photos and video.
Help keep the Bay Area Reporter going in these tough times. To support local, independent, LGBTQ journalism, consider becoming a BAR member.