Election outcomes, racial justice focus of Horizons panel
Wednesday Nov 18, 2020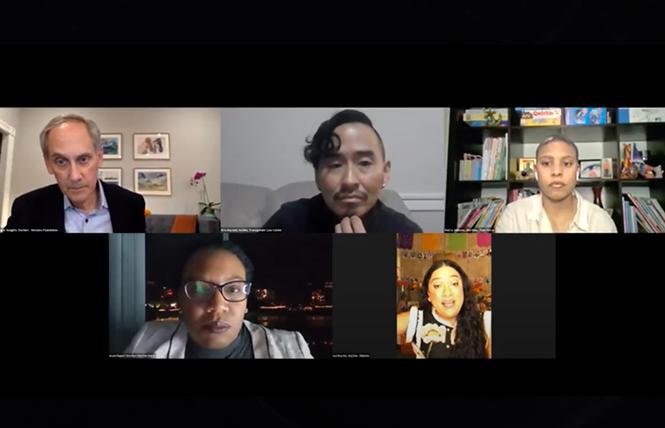 Panelists on Horizons Foundation's virtual State of the Movement panel were pleased with the presidential election results, but pointed out that much work remains in the areas of racial and economic justice.
Horizons has, since its inception 40 years ago, given grants to a wide range of LGBTQ nonprofits and programs. Viewers were able to submit questions to the panel in advance as well as during the discussion itself.
"In the past four years many of us have felt as though we were living in historic times, for pretty much all of the wrong reasons," Horizons President Roger Doughty said as he opened the November 12 panel. "Because it has been a time of grave retrenchment, of resurgent white supremacy, of callousness, of treating truth as though it were merely an option, and this past year it has only been more so, with the devastating pandemic, with intense hardship for millions of people in the U.S. alone, not to mention around the world."
But there have been victories, Doughty noted, such as the Bostock decision, a landmark Supreme Court ruling in June that held that Title VII of the 1964 Civil Rights Act protects LGBTQ employees from discrimination in employment. Doughty also pointed to the record number of LGBTQ people, especially trans people, who were elected to public office in the recent elections. He added that this was a time of renewed hope because of President-elect Joe Biden and Vice President-elect Kamala Harris.
Doughty asked panelist Imani Rupert-Gordon, executive director of the National Center of Lesbian Rights, what she thought the most critical implications of the recent election were.
"We've seen the current administration strip protections for LGBTQ people," she said, referring to President Donald Trump. "This incoming administration has made commitments to be the most LGBTQ-inclusive administration ever. I am here for it and super excited."
She noted that Harris' chief of staff is Karine Jean-Pierre, a queer Black woman, and that Biden has committed to having 40% of his team made up of people from communities that are underrepresented, such as people of color, LGBTQ people, and persons with disabilities.
"This is really huge," Rupert-Gordon said. "This is also the first time we've heard a president-elect thank gay and transgender people. This is the very first victory address that has mentioned transgender people."
Rupert-Gordon compared this to Trump, who has appointed many anti-LGBTQ judges to the federal courts.
Isa Noyola, deputy director of Mijente, said that she was excited to see so many people and organizations from communities that have often been left behind running for political office.
Another speaker said that the queer community needs to stay vigilant.
"Knowing that we will see backlash, knowing that we will likely see increased hate violence, and for the trans community, we know that one form it's going to take is that we're going to see more anti-trans legislation at the state level than we have ever seen before," said Kris Hayashi, executive director of the Transgender Law Center. "We also know that nearly half the country supported a continuation of the Trump administration, so ... we need to stay strong to really shift and change the culture of hate, intolerance and violence that has been deepened by the Trump administration."
"The status quo was not the winning strategy this election," added Kierra Johnson, incoming executive director of the National LGBTQ Task Force, pointing to the fact that traditionally conservative states like Georgia and Arizona have become battleground states. Both went to Biden this year.
"We have to be really mindful of what it means to invest in people of color strategies, to invest in trans folk's strategies, to invest in working people's strategies, to invest in rural strategies for the long haul, understanding that that's the rural strategy, not doing it for a couple of months or even a couple of years," Johnson added.
Pressing issues
Doughty then directed questions to individual panelists. Rupert-Gordon was asked what she and NCLR thought were the most pressing issues and concerns for LBT women now.
"We have to be inclusive and we have to be intersectional, that is the only way any of this works," she said. "Absolutely every issue is an LGBTQ issue. One of the issues that we are paying particular attention to right now is the foster care system."
Rupert-Gordon feels that particular attention must be paid to how children are taken away from their families. She said this most likely happens to LGBTQ people and LGBTQ women of color.
"In our current foster care system, poverty is often confused with neglect," she said. "If LGBTQ people are less likely to be deemed as fit parents, then what does that say for LGBTQ parents that are looking to get their kids back? So we are starting to work with other programs that are starting to help keep families intact. And if poverty is the problem, then what would it look like to provide funding for families so they could take better care of their children?"
She referred to Fulton v. Philadelphia, a Supreme Court case that will determine whether or not adoption agencies that receive public funding will be allowed to discriminate against LGBTQ people on the basis of religious exemptions. The justices recently heard oral arguments in that case.
"We suspect it's going to have broader implications for LGBTQ parents having their children taken away, but also getting their children back, and also adoption and foster care," Rupert-Gordon added. "So religious exemptions are going to be really big, and something we're going to be paying attention to. There's a racial justice component that's often being left out of there, and I want to make sure that we highlight that."
Doughty then turned his attention to Hayashi, mentioning that the trans community has endured both relentless attacks and tremendous progress. He asked Hayashi about the Trans Agenda for Liberation, a document that can now be viewed on TLC's website. The report talks about centering trans people of color in leadership positions and making sure that people have the power to define themselves and have access to health care.
Hayashi said that issues such as violence against trans women of color as well as access to health care and food were issues that have worsened for the trans community under the Trump administration. He also said that larger, global social justice movements, including movements within the LGBTQ community, often forget about trans people. But trans people, he was quick to point out, take care of each other.
"What we've also seen during this time is that wins that I thought were so far off for our communities and for our people have been made possible," he said. "From the calls to defund the police, to abolish [Immigration and Customs Enforcement] to invest in our communities, in our health and our well being. What we're also seeing during this time is that what is possible is so much more than I have ever seen before. It is really about us investing in the leadership of Black, Indigenous people of color communities, of women, of trans women and femmes, of trans and nonbinary folks, of migrants, people with disabilities, people living with HIV, of youth and elders, of investing in the leadership of some of the communities who have been most targeted and under attack in this time."
Noyola was asked about issues facing the Latino/a communities.
"The criminalization of our communities continues," Noyola said. "The targeting by police, the targeting by the state, detention centers continue to be filled, we continue to see LGBTQ youth being profiled and targeted in various ways. The Latinx community is a part of all that. We're fighting alongside everyone else."
She sees opportunities in the climate justice movement, the reproductive justice movement, and in making the connections between racial justice, reproductive justice, and queer and trans justice.
"We need more of that," Noyola said. "We need more Latinx folks to stand up for Black lives, we need queer and trans folks to stand up against police violence."
She also noted that there was a tremendous effort being made to get out the Latino/a vote for the two Democratic U.S. Senate candidates in the Georgia runoffs. Those elections on January 5 will determine control of the Senate. Democrats need to win, she noted, to expand the courts and pass the Equality Act.
Mijente has also come out against deportations, ending detention centers, and other human rights violations, she said.
Racial justice
How the LGBTQ community has embraced and failed to stand up for racial justice within the movement was another of the topics brought up during the panel. Rupert-Gordon said that the community has to work hard to ensure that anti-racism is part of the movement. This was the only way to achieve equality, she said.
"We need system change," she said. "Not just change in one person representing the community."
Johnson said that racism needs to be called out, even if it takes place among those left of center.
"We love to talk about the racism on the right. We've got to talk about internalized racism, we've got to talk about people who say all the right things then treat grantees like they're consultants," she said. "It is an epidemic. We've got to create more spaces and places to have the challenging conversations."
Members of the audience asked questions about what can be done regarding the rightward tilt of the Supreme Court. Expanding the court and implementing term limits for the justices were among the responses.
The panelists were also asked what they thought the biggest challenges facing the LGBTQ community were over the next 10 years.
"I hope that we think about those that we don't see," said Noyola. "Those that are inside detention, those that are on the border, those that are fleeing violence, those that are in communities that are not visibilized, because I don't think we can think of the full vision of liberation that our ancestors talked about without that. My hope is that we can all find our humanity inside of that."
"When I think of the movement I see us being more inclusive and intersectional," added Rupert-Gordon. "I want to see a greater commitment to racial justice, to gender justice, to disability justice, to economic justice, and all forms of oppression in our fight for LGBT equality because this should be for all of us."
The entire discussion took just over 75 minutes. The event has been archived and can now be seen on You Tube.
Help keep the Bay Area Reporter going in these tough times. To support local, independent, LGBTQ journalism, consider becoming a BAR member.
Comments on Facebook