Political Notebook: Even with ballot wins, SF faces budget turmoil
Wednesday Nov 18, 2020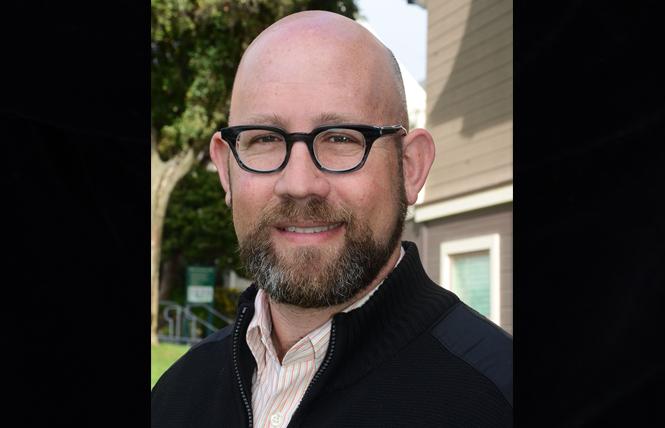 Despite San Francisco voters adopting a slew of revenue-generating local propositions on the November 3 ballot, the city is bracing for more budget turmoil over the coming months. The COVID pandemic has reduced the city's coffers, so City Hall officials need to cut $115.9 million from the current fiscal year budget after already filling a $1.5 billion deficit when they passed a two-year budget in September.
The pain caused by the health crisis is likely to be felt over the next several fiscal years, which normally start on July 1. Some of the ballot measures that voters approved will go into effect January 1 and provide some fiscal relief, while others will be phased in over the next several years.
"I think they will help us get through what are going to be a very difficult few years but certainly aren't going to solve anything close to all of our problems," said gay District 8 Supervisor Rafael Mandelman, who backed all of the revenue-focused ballot measures.
Some of the approved ballot propositions will in fact add to the city's costs, as they call for the creation of new city departments or oversight bodies. And Mandelman acknowledged he is adding to the problem by calling for the city to defer collecting a cannabis tax it imposes.
"We are going to have to make some real cuts and it is going to be real painful," acknowledged Mandelman, who serves on the board's budget and finance committee. "Right now, we need to find $115 million between now and the end of the fiscal year, but that number could increase during that time."
Proposition F, which passed with 67.49% of the vote, does away with the payroll expense tax businesses pay and replaces it with a gross receipts tax. It is projected to bring in $97 million a year.
Proposition I, the real estate transfer tax adopted with 57.56% of the vote, raises the rates paid when property priced at $10 million or more is sold. It is estimated to net $196 million annually.
Approved with 65.07% of the vote was Proposition L, which imposes a tax on those businesses whose highest-paid managerial employee earns more than 100 times the median compensation paid to their employees in San Francisco. It is estimated to bring in between $60 to $140 million annually but doesn't kick in until January 2022.
The city could see federal financial assistance with the election of Democratic former vice president Joe Biden to be the country's next president. But how much is likely to be determined by the winners of two January 5 runoff U.S. Senate races in Georgia, as the victors will decide which party controls Congress's upper chamber.
"I would feel more confident about that if we knew the results of the Georgia Senate races," said Mandelman. "I know it is going to be a peculiar few years, so anything Biden wants to do, unless we win those Georgia Senate races, is going to require Majority Leader Senator Mitch McConnell (R-Kentucky)."
Police, sheriff props adopted
Proposition E, which does away with the requirement in the city's charter that the San Francisco Police Department maintain a minimum of 1,971 full-duty sworn police officers, was approved by 71.36% of voters.
And at close to 70%, voters also favored Proposition D to create a new oversight board and Office of Inspector General for the sheriff's department. Its author, District 10 Supervisor Shamann Walton, praised its passage in a November 16 email to his constituents, noting he had heard from people in custody about being abused by sheriff department personnel.
"Parent and families shared their treatment and staff even provided input about the injustices they have endured and witnessed," wrote Walton. "This is why we had to advance sheriff oversight. Together, we wrote and pushed forward this justice reform initiative and together we can make a difference!"
Business, housing, park measures win
More than 60% of voters approved Proposition H, aimed at addressing a glut of vacant storefronts in the city. It allows for more uses to move into ground floor commercial spaces, such as nonprofits, social service agencies, and store pop-ups, while also reducing the neighborhood notification rules for allowed businesses and speeding up the permitting process.
Garnering close to 74% of the vote, Proposition K authorizes the city by ordinance to own, develop, construct, rehabilitate, or acquire up to 10,000 residential units of low rent housing projects within the city for the purpose of providing affordable rental housing.
The city will have more money to house and provide mental health services to the homeless, repair roads, and upgrade park facilities due to the passage of Proposition A. Nearly 71% of voters backed the $487.5 billion bond, which earmarks $239 million for park improvements across the city.
"This is a major milestone for our park system and will benefit communities for years to come," noted Drew Becher, a gay man who is CEO of the nonprofit SF Parks Alliance.
With 61.33% of voters backing Proposition B, the city's public works department will be split into two so there is a dedicated department for sanitation and streets. It also establishes new commissions to oversee public works and the new sanitation and streets department.
School, rail transit taxes pass
A slightly lower school parcel tax than the one passed two years ago that was tied up in court also won voters' backing. Proposition J, which replaces the $320 per parcel tax adopted in 2018 with a $288 per parcel tax that will be adjusted for inflation each year, received 74.44% of the vote.
It will net an estimated $48.1 million each year for the San Francisco Unified School District to use toward teacher salaries. People age 65 or older are exempt from the tax, which sunsets on June 30, 2038.
More than 73% of voters in San Francisco also agreed to fund the regional Caltrain rail service from San Jose through the Peninsula and into San Francisco by passing Measure RR. It authorizes a 30-year one-eighth cent sales tax to provide roughly $100 million a year for the transit agency. Due to the demands of civic leaders in San Francisco and Santa Clara counties, it also restructures the governance of the rail service.
Web Extra: For more queer political news, be sure to check http://www.ebar.com Monday mornings for Political Notes, the notebook's online companion. This week's column reported on the electoral troubles faced by two gay Central Valley mayoral candidates.
Keep abreast of the latest LGBTQ political news by following the Political Notebook on Twitter @ http://twitter.com/politicalnotes
Got a tip on LGBTQ politics? Call Matthew S. Bajko at (415) 829-8836 or e-mail m.bajko@ebar.com
Help keep the Bay Area Reporter going in these tough times. To support local, independent, LGBTQ journalism, consider becoming a BAR member.
Comments on Facebook