News Briefs: SF art project marks 50 years of Pride
Wednesday Nov 11, 2020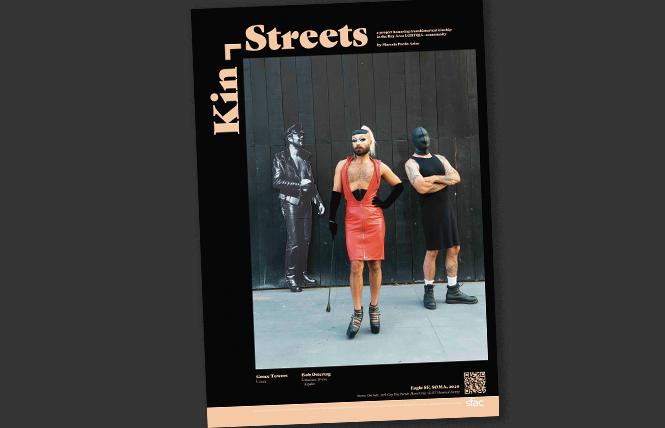 The San Francisco Arts Commission's 2020 Art on Market Street Poster Series continues, this time with a celebration of the city's 50th anniversary of LGBTQ Pride.

The third artist in the series is Marcela Pardo Ariza, who identifies as genderqueer. Their project is "Kin Streets," which is a series of staged photographs featuring members of the Bay Area queer community alongside images of the past.

According to a news release from the commission, Ariza mined the archives of the GLBT Historical Society (before it was shuttered due to the pandemic) for images of past Pride celebrations. Those images were printed life-size and juxtaposed with Bay Area queer people, establishing a trans-historical relationship (i.e., transcending historical boundaries) between the queer community of the past and the LGBTQ community of today.

"In this series I wanted to focus on highlighting gestures of care, intergenerational connection, and tender touch," Ariza stated in the release. "I wanted to work to honor those who have literally and metaphorically walked the city streets before us to make space for those of us who now call these streets a queer home."

Denise Bradley-Tyson, the acting director of cultural affairs, noted that Ariza's series honors San Francisco's queer history.

"Our city has a legacy of being a supportive home for LGBTQ people who can be and express themselves," she stated. (Mayor London Breed announced November 6 that after a comprehensive search, Ralph Remington, from Tempe, Arizona, has been named the new director of cultural affairs. He's expected to start the job in January.)

Tenderloin Tessie to-go for Thanksgiving
Tenderloin Tessie, which provides annual holiday dinners for those in need, will go ahead with its Thanksgiving meal, but this year's will be to-go due to the coronavirus pandemic.

Michael Gagne, president of the all-volunteer group's board, wrote in an email that meals will be available for pick-up Thursday, November 26, from 1 to 4 p.m. at First Unitarian Church, 1187 Franklin Street in San Francisco.

Gagne said that volunteers will distribute masks, gloves, and hand sanitizer to each person waiting in line. There will be hand-washing stations and portable toilets.

The same plan will be in place for Tessie's Christmas dinners on December 25, he stated.

Leather district focus groups
The San Francisco Leather & LGBTQ Cultural District is presenting several focus groups in the coming weeks. Officials noted in an email to supporters that these virtual meetings will determine which cultural district projects the city will fund over the next three years.

All the focus groups meet via Zoom from 6 to 8 p.m.

A meeting on tenant protection and land use will be held Tuesday, November 17. This will allow participants to share their ideas on both tenant protection (residential and business) and land use regulations to promote and protect culturally relevant businesses.

A leather focus group takes place Thursday, November 19.

Finally, a kink focus group will be held Tuesday, December 1.

For more information and to sign up, go to https://sfleatherdistrict.org/focus/

COVID delays SFO Milk terminal construction
San Francisco International Airport announced plans November 9 to postpone additional construction projects as a result of reduced passenger activity and revenues caused by the ongoing COVID-19 pandemic.

According to a news release, projects affected include the final phase of Harvey Milk Terminal 1, which will construct a new north check-in lobby area. Originally slated for completion in April 2023, this phase will be postponed by at least six months. SFO already completed the first nine gates of Harvey Milk Terminal 1 in July 2019 and opened an additional nine gates and south check-in lobby in May. The next phase, which will add seven more gates and a post-security connection to the International Terminal, will proceed with a planned completion date of May 2021.

SFO will also postpone a portion of the Courtyard 3 Connector project, which consists of pre- and post-security connecting walkways between Terminal 2 and Terminal 3, along with mixed-use office space. The connecting walkways will be completed as originally planned in October 2021, but the interior construction of office space will be postponed. The release stated that SFO is also postponing, in part or full, over 20 smaller projects that were intended to provide upgrades to terminal and support facilities.

By postponing these projects, SFO will defer approximately $550 million of debt service resulting from issuance of airport general revenue bonds, which are used to finance construction projects at SFO.

In April, SFO announced the postponement of the $1 billion Terminal 3 West project for a period of at least six months, also a result of reduced passenger activity and revenues caused by the COVID-19 pandemic. In October, this project postponement was extended for at least six more months.
D'Alessandro named to US travel hall of leaders
Travel industry leader Joe D'Alessandro, president and CEO of the San Francisco Travel Association, will be inducted into the U.S. Travel Association Hall of Leaders during a virtual meeting November 18.

Distinguished leaders are named to U.S. Travel's Hall of Leaders for "sustained, noteworthy contributions that have positively impacted the travel industry and raised industry-wide standards," according to a news release from the organization.

D'Alessandro, a gay man, has led San Francisco Travel since 2006 and is an avid ambassador for the city's culture and heritage. Prior to the pandemic, his success in destination management attracted an increasing number of visitors annually to the city — surging 30% since 2009 — and he has addressed city challenges, such as homelessness, with purpose and compassion, the release stated.

"Joe has been a passionate and committed leader to furthering San Francisco's representation as a world-class travel destination," Mayor London Breed stated. "His work has supported the expansion of Moscone Center, which has helped San Francisco retain our strong position in drawing conventions and supporting our local jobs and economy."

Of course, COVID-19 has put a damper on visitors and conventions this year. Various meetings have largely moved online, such as the AIDS 2020 conference in June. Events such as the Pride parade also took place in virtual space, while hotel, restaurant, and nightlife options have been severely affected by the virus.

Joining D'Alessandro in becoming a member of the Hall of Leaders will be Ernest Wooden Jr., president and CEO of the Los Angeles Tourism and Convention Board. The Southern California city, like just about everywhere else, has also seen a significant drop in visitors because of the health crisis.

Help keep the Bay Area Reporter going in these tough times. To support local, independent, LGBTQ journalism, consider becoming a BAR member.
Comments on Facebook