News Briefs: Horizons to hold virtual State of the Movement panel
Wednesday Nov 4, 2020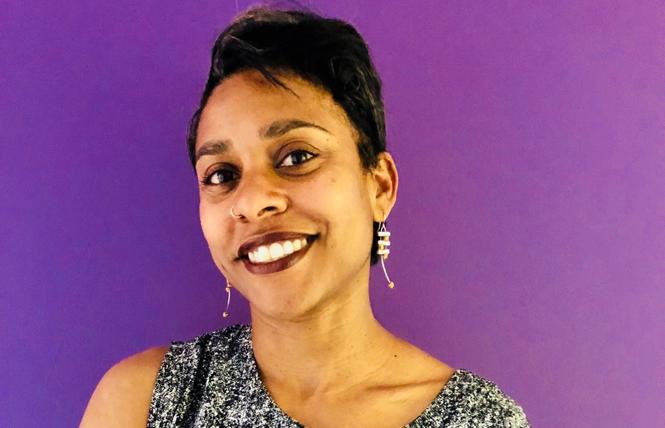 Horizons Foundation will hold its annual State of the Movement discussion virtually this year, and it promises to be an interesting discussion, coming just a week after the election.
The event takes place Thursday, November 12, from 5 to 6:15 p.m.
Roger Doughty, president of Horizons, noted that as the pandemic rages on and calls for racial justice ring louder than ever, it's important to figure out where the LGBTQ community is headed.
Community leaders scheduled to participate include Kierra Johnson, the incoming executive director of the National LGBTQ Task Force; Kris Hayashi, executive director of the Transgender Law Center; Isa Noyola, deputy director of Mijente; and Imani Rupert-Gordon, executive director of the National Center for Lesbian Rights. Doughty will moderate the discussion.
The panel will be recorded and the audio will be captioned, organizers noted.
To register for this free event, click here.
AIDS/LifeCycle launches new event
The San Francisco AIDS Foundation and the Los Angeles LGBT Center have announced a new event, TogetherRide, that lets participants ride at their own pace by setting personal mileage goals and raise funds for the two organizations.
The two nonprofits typically hold the AIDS/LifeCycle bike ride, whereby participants pedal hundreds of miles from San Francisco to Los Angeles each June. This year's event was canceled due to the pandemic, and officials said the 2021 ride has also been scrapped.
"TogetherRide is a new way to ride and connect with our vibrant, diverse, and resilient community between now and the end of June — bringing people together even while we're physically apart," AIDS/LifeCycle ride director Tracy Evans stated in a news release. "Whether you're 70 or 7 years old, whether you're committed to raising $3,000 or $300, or whether you're able to pedal 545 miles or 54.5 miles, your individual contribution matters to the whole with every mile, every moment, every dollar set at your own pace."
The AIDS/LifeCycle is challenging cyclists globally to pedal 1.2 million miles collectively, which represents the 1.2 million people in the U.S. living with HIV and AIDS. Organizers have set June as the deadline for all riders — ranging from longtime AIDS/LifeCycle participants to home exercise bike enthusiasts, road cyclists, mountain bikers, indoor cyclists, bike commuters, and even tricyclists — to fulfill the ambitious challenge.
People can download the TogetherRide smartphone app, which helps them track their miles, check their progress, earn badges when a fundraising milestone is attained, and fundraise directly with their friends, family, and social media networks.
Joe Hollendoner, SFAF CEO, stated COVID-19 has "deeply impacted San Francisco's progress toward ending the HIV epidemic."
Lorri Jean, CEO of the LA center, noted that the need for HIV/AIDS services and care "is as critical as ever."
"TogetherRide gives everyone the opportunity to get connected and help continue the fight against HIV and AIDS," she added.
The AIDS/LifeCycle raised $16 million in 2018, split between SFAF and the LA center. With the rides canceled this year and next, organizers are hoping for support through the new TogetherRide.
For more information, visit http://www.togetherride.org
SF settles with gay activist over First Amendment case
The city of San Francisco has settled a lawsuit with a gay man who was briefly taken into custody in 2019 after he held up a sign stating a district attorney candidate was "corrupt."
Michael Petrelis settled his lawsuit against the city for $13,000, he announced in an October 31 news release. The San Francisco City Attorney's office confirmed the settlement.
The incident occurred November 6, 2019, the day after Election Day. At that time, nobody knew who would win the city's hotly contested race for district attorney, which after multiple rounds of ranked-choice voting was between then-interim district attorney Suzy Loftus and then-deputy public defender Chesa Boudin. (Boudin ultimately won the race.)
The director of the elections department was going to announce new election tallies at a news conference around 4:30 p.m.
"Shortly after the beginning of the press conference, Mr. Petrelis stood peacefully and silently behind speaker John Arntz, the city's director of elections, holding two small paper signs containing the message 'SUZY IS CORRUPT' (referring to Ms. Loftus)," stated a February news release from Donald Wagda, Petrelis' attorney. "Mr. Petrelis' signs were in 'exact accordance' with City Hall building policies governing carrying of signs inside City Hall, according to the allegations set forth in the lawsuit.
"Shortly after Mr. Petrelis arrived holding his signs behind Mr. Arntz, a sheriff's deputy interrupted the press conference to express her disagreement with the message of the signs, saying 'Please. Gimme a break.' Three sheriff's deputies then arrested Mr. Petrelis, pushing and dragging him out of the press conference and causing him physical injury," Wagda added.
Petrelis stated he was pleased with the settlement.
"This is a victory for the First Amendment inside San Francisco City Hall," he stated.
He added that half of the money he receives will be distributed in $100 increments to LGBTQ and AIDS campaigns and individuals in Alabama, Cuba, Kenya, and Russia.
John Coté, communications director for City Attorney Dennis Herrera, wrote in an email that it was in the taxpayers' interest to settle the suit, which had been filed in United States District Court for the Northern District of California.
"It was cheaper to simply resolve this rather than use taxpayer resources to fight in court," he wrote. "There was no admission of liability on the part of the city or any city employee."
Petrelis was a candidate this year for the BART District 9 seat but lost Tuesday to gay incumbent Bevan Dufty.
SF DPH: Get your flu shot
Flu season is here and local health officials urge people to get their flu shot.
With COVID-19 and flu season overlapping, it is more important than ever to get a flu vaccine, noted the San Francisco Department of Public Health. Everyone ages 6 months and older should get their flu vaccine this fall, officials said, adding that the flu vaccine protects everyone's health — it prevents individuals from getting sick, limits the spread of flu from person to person, and reduces the chance of hospitalization.
Already, there has been at least one reported case of someone co-infected with the flu and COVID-19 in the Bay Area (Solano County), alarming public health officials.
According to the Centers for Disease Control and Prevention, nearly 57.2% of adults in California did not get a flu shot last year.
In the Bay Area, flu shots are widely available at doctor's offices, clinics, and pharmacies. In San Francisco, people can find a vaccine site by going to https://vaccinefinder.org/
DPH also has flu information available online.
In addition to getting a flu shot, DPH reminds people to protect yourself and your loved ones by: wearing your mask; coughing or sneezing into a tissue or your elbow or arm; washing your hands regularly with soap and water; or using an alcohol-based hand sanitizer; avoiding touching your eyes, nose, and mouth; and staying at home if you are sick.
In the East Bay, flu vaccine information is available via the Alameda County Public Health Department.
City College series on transmasculinity
As part of its fall semester virtual programming, the Queer Resource Center at City College of San Francisco is highlighting the experiences and wisdom of transmasculine and masculine of center communities through T-House, a new event series.
According to a news release, T-House will serve as a community gathering space for transmasculine and masculine of center communities regardless of specific gender identity or affectional orientation. All events are open to the public and free.
Upcoming sessions include: November 5: Transmasculinities in Fiction, a community discussion and workshop; November 12: Navigating Trans Health Care; November 19: Transmasculine Resilience and Community Care Workshop; December 3, community movie night; and December 10, Hanukkah party and semester send-off.
For more information, go to https://t-house.carrd.co/
Generations celebration goes virtual
The second annual Generations Celebration event, presented by the University of Washington's AgePride HealthyGen Center and the National LGBTQ+ Health and Longevity Center, will be held virtually and is open to people of all ages.
The free event takes place Wednesday, November 18, from 4 to 5 p.m. Pacific Time.
Multiple speakers will share their experiences. It will be emceed by performer Aleksa Manila, who will be joined by Lady A, drag chanteuse Arnaldo, and longtime lesbian activist Grethe Cammermeyer, who challenged the military's anti-gay policy years ago.
For more information and to register, go to http://genevents.org/2020-conference-gala/
Help keep the Bay Area Reporter going in these tough times. To support local, independent, LGBTQ journalism, consider becoming a BAR member.
Comments on Facebook