Confessions of a manatee
Tuesday May 7, 2019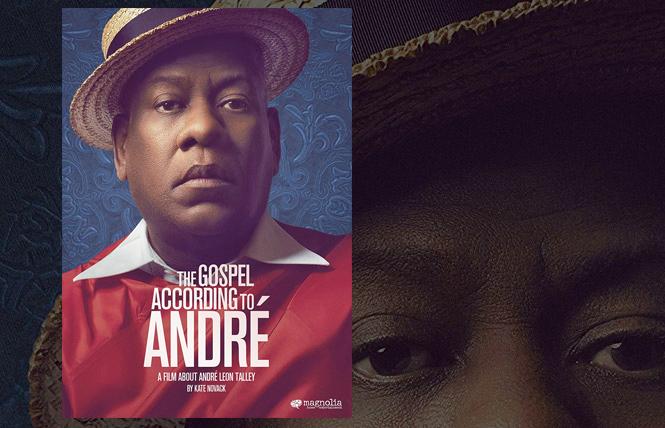 "I live for beauty and style. Fashion is fleeting; style remains. Beauty can be a flower or a gesture. You must cultivate your own aesthetic." These are the opening philosophical musings of Andre Leon Talley, the genial, flamboyant subject of the new documentary "The Gospel According to Andre," released on DVD by Magnolia Home Entertainment. Talley is a pop culture mainstay as the dapper legendary high priest of fashion, soaring into Met galas or television soundstages with his lavish billowing capes, multi-colored kaftans, and eye-popping jewelry, giving his unconventional opinions on today's fashion mores and misdemeanors. The film allows him to bolster this persona, but we rarely witness any vulnerability or candid disclosures behind this larger-than-life invented image.

Born in Jim Crow-era Durham, North Carolina, Talley was raised by his disciplined grandmother Bennie Smith, a lifelong domestic maid. She was Talley's Polaris, who taught him to strive for excellence, believing success was the best revenge. His "moral code to dress well" began at an early age. He observed African American women coiffed in their finery (especially hats) for church. He discovered Vogue in the public library, and fashion became an escape to how he wished life should be, a valuable lesson for the boy who would be pelted by rocks by white students on Sundays when he shortcut across the Duke campus to buy magazines.

Watching Julia Child inspired him to learn French, and he obtained a graduate degree in French studies from Brown University. He became friends with nearby Rhode Island School of Design undergraduates, who opened his eyes to style, liberating him to be who he became. He immigrated to New York in 1974, volunteering at the Metropolitan Museum's Costume Institute run by the imperious Diana Vreeland, who noticed his talent right away. She taught him the language of clothes. He saw her (always respectfully addressed as Mrs. Vreeland) with the same starry eyes as his grandmother. Many years later when he bought the deceased Bennie's house, he redecorated some of the rooms as homage to Vreeland.

He became a receptionist at Andy Warhol's Interview magazine, later writing for it. His first assignment was Karl Lagerfeld, who liked him and gave him free shirts and scarves. He danced every night at Studio 54, eschewing the club's sex and drugs, according to friend Fran Lebowitz. In 1978, he became the editor of Women's Wear Daily in Paris. He finally secured his dream job as Vogue's editor in 1983, knowing more about fashion history than editor-in-chief Anna Wintour, his protector and advocate. He became a "black superhero," breaking down racial walls in haute couture, not with loud protests about being black and proud, but being himself and developing his own style with little regard for others' opinions. He even wore a pink alligator coat with a turban on his self-described manatee 6'6" frame.

Talley produced some notorious Vogue issues, especially 1996's "Gone With the Wind" satire, with Naomi Campbell as Scarlett O'Hara, and whites such as John Galliano playing servants. He wished his grandmother could have seen the 2013 issue with Michelle Obama on the cover. His critics spewed offensive remarks, calling him Queen Kong, or speculating the only reason Vreeland employed him was because he slept with her (LOL). He endured due to "his faith and ancestors." "Keep cultivating your own garden" is his mantra, fulfilling his own promise to become a survivor, hoping at almost 70 that he isn't a "dried-up well."

The documentary features interviews with Wintour, Tom Ford, Marc Jacobs, Whoopi Goldberg. Black Eyed Peas singer will.i.am. christens him the "Nelson Mandela of couture, the Kofi Annan of what you got on." But Talley's ruminating aloud about his life at his White Plains, NY estate is the principal attraction. The archival footage of groundbreaking fashion shows, Talley fitting journalist Tamron Hall's dress for the final Obama State Dinner, and his superlatives about Melania Trump's inaugural wardrobe are captivating, yet so much is left unsaid.

Director Kate Novack, who produced the documentaries "First Monday in May" (on Wintour) and "Page One" (on the NY Times), gives us an endearing portrait of Talley but either didn't press him or was unsuccessful in her attempts to address the elephant in the room, namely his sexuality. Not that there is any doubt Talley is queer, as viewer's gaydar barometers will reach stratospheric heights at his campy remarks/attire. Instead, we are told, "Listen, I have no love life. I've never had a love life. I've never fallen in love, experienced love. The moment has passed." These are almost the same sad words shoe designer Manolo Blahnick uttered about his romantic attachments in the documentary made about him, armor to protect against any prying revelations. It's a shame, since Talley is so forthcoming about his racial struggles. One can only imagine how Talley's story would be an inspiration to young fashionista LGBTQ people of color. Similar to Blahnick, Talley's work is his life. Though hardly gospel with its lack of transparency, audiences will relish this grandiose, urbane, fearless portrait.
Comments on Facebook