News Briefs: SF Pride grand marshals named
Wednesday Mar 20, 2019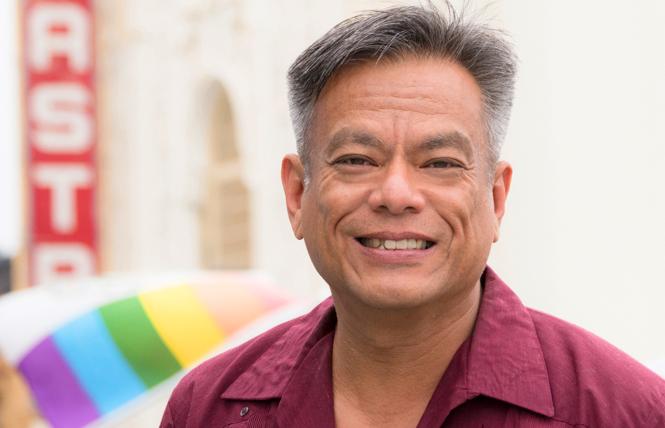 The San Francisco LGBT Pride Celebration Committee announced three community grand marshals for the 2019 San Francisco Pride parade that were selected by the public.

Vince Crisostomo and Mrs. Vera of Verasphere were named individual grand marshals, while the nonprofit API Equality — Northern California was selected as the organizational grand marshal.

SF Pride spokesman Fred Lopez told the Bay Area Reporter that public balloting collected 2,757 votes.

Crisostomo, 58, told the B.A.R. that he was thrilled with the recognition.

"I came out in 1979, it's been 40 years," he said. "I've done a lot of work in the community. I don't think it would have meant as much" had he received the honor earlier.

Currently, Crisostomo is the program manager for the Elizabeth Taylor 50-Plus Network at Strut, the men's health center in the Castro that is part of the San Francisco AIDS Foundation.

Infected with HIV in 1987, Crisostomo said, "I spent most of my adult years thinking I'd die."

Crisostomo lives in San Francisco and is a member of the mayor's Long-Term Care Coordinating Council.
Mrs. Vera of Verasphere is a drag persona created by Michael Johnstone and his partner, David Faulk. Faulk fabricates the costumes from recycled materials and is Mrs. Vera. According to their website, Mrs. Vera and Johnstone act as ambassadors at events and festivals to remind people to value difference and celebrate the eccentric aspects of daily life. They often engage friends to participate in group performances.

API Equality — Northern California is a grassroots organization that formed in 2004 as a response to a 6,000-person anti-marriage equality rally held by Chinese Christian leaders. Currently, its mission is to "amplify our voices and increase visibility of our communities," its website states. "We inspire and train leaders, establish intergenerational connections, and document and disseminate our histories."

SF Pride officials said that additional honorees and celebrity grand marshals will be announced in April.

This year's Pride parade and celebration is June 29-30. The theme is "Generations of Resistance." For more information, visit www.sfpride.org.

Openhouse Spring Fling
Openhouse, the LGBT senior housing nonprofit, will hold its annual Spring Fling benefit brunch and tea dance Sunday, April 7, beginning at 11 a.m. at the Ritz-Carlton, 600 Stockton Street in San Francisco.

This year's honorees will be Ronald S. Johnson, who will receive the Trailblazer Award for his four decades of national HIV/AIDS advocacy and activism, and Neil Sims, who will receive the Founders Award for his contributions to LGBTQ seniors by serving on the Openhouse board for 12 years. He previously served as a commissioner at the San Francisco Department of Aging and Adult Services.

Organizers said the dress code is "just be you," and the event will feature speakers and performers.

Tickets are $275 and can be purchased online via https://secure.givelively.org/event/openhouse/spring-fling-2019

Trans Day of Visibility in South Bay
The South Bay Trans Day of Visibility will be held Saturday, March 30, from 1 to 6 p.m. at the San Jose City Hall Rotunda, 200 E. Santa Clara Street.

City Councilwoman Dev Davis is sponsoring the event, which will include informational tables, workshops, and resources.

A project of the Billy DeFrank LGBTQ Community Center, this will be the 10th event that celebrates diversity. The DeFrank center's Trans Men's Group and friends coordinates the project, which has evolved into a daylong conference. There is no cost to attend, though donations are welcome.

HIV testing will be available. Additionally, there will be art displays, games, and a chance to meet others. The event is open to all ages, though organizers recommend children be 12 and over. There will not be any activities specifically for kids.

There will be an after-party and show at Renegades bar, 501 W. Taylor Street in San Jose, from 8 to 10 p.m. A $20 donation is requested, but no one will be turned away for lack of funds. Attendees must be 21 or over.

For more information, visit http://southbaytdov.org/show/ or www.defrank.org.

City arts groups seek members for Prop E working group
The San Francisco Arts Commission, Grants for the Arts, and the Mayor's Office of Housing and Community Development have announced they are now seeking people to serve on a community working group for the implementation of Proposition E.

Under Prop E, which passed last year with nearly 75 percent of the vote, up to 1.5 percent of the money from the 8 percent base hotel tax that the city already collects will be dedicated to arts and cultural functions. The current hotel tax, which includes a 6 percent tax surcharge for hotel rooms that is not part of the ballot measure, had previously been available for any public purpose.

The city agencies said in a news release that earlier this month, the arts commission and the city administrator approved the Cultural Services Allocation Plan, which outlines four priority areas that the Arts Impact Fund will support. This new $2.5 million endowment addresses the needs in the arts and culture sector. It does not include other areas that Prop E will fund, such as Grants for the Arts, cultural equity endowment, cultural centers, and cultural districts, which have their own fund administrators and processes.

CSAP outlines the next steps the city will take to meet the community's desires for both timely access to funding and an extended period for assessing community need. As part of that process, a community working group will be formed and that's what volunteers can apply for.

In a call for panelists, the arts commission said it is looking for people based in the Bay Area who represent a wide range of sectors with expertise in one or more of the following: education, real estate development, nonprofit management, and small business practices. Selected participants will have demonstrated that they have a deep understanding of equity frameworks and should provide cross-sector experience within the arts. People must be able to participate in the initial meetings scheduled for May 16-17.

The deadline to apply is April 1. For more information, go to https://www.sfartscommission.org/panelists.

GAPA 2019 scholarships now open
The Gay Asian Pacific Alliance Foundation has announced that it is accepting applications for its 2019 scholarships and that high school seniors, undergraduate, graduate, and trade/vocational school students can now apply.

According to a news release, the scholarships range from $1,000 to $5,000; several may be awarded in a calendar year. In addition, one outstanding applicant will be awarded the Donald Masuda Scholarship (co-funded with the Lacuna Giving Circle.)

Applicants should have a strong history of activism with the Asian Pacific Islander and/or LGBTQ communities, however, people don't need to identify as either to apply.

Eligible applicants must apply online using an email account hosted by, or associated with, Google because the required documents are attached to Google Forms.

The deadline for applications is June 30 at 11:59 p.m. (Pacific Time). Candidates will be notified of their status by early September.

For eligibility requirements and the application, visit https://gapafoundation.org/scholarships.

Olympic skater Rippon coming to SF
Gay Olympic ice skater Adam Rippon will be in San Francisco next month, to appear in conversation with Michelle Meow as part of "The Michelle Meow Show" and the Commonwealth Club.

Rippon came out in 2015, before competing for the 2018 Winter Olympics in South Korea. He won a bronze medal at the games in the team event. He used his place on the global stage to speak out in support of LGBTQ rights and the freedom to be oneself. He announced his retirement from competitive figure skating in November 2018.

At the forum, which will include "The Michelle Meow Show" co-host John Zipperer, Rippon is expected to discuss his life, figure skating, and the causes he cares about.

The event takes place Sunday, April 28, at 1 p.m. at the club's Taube Family Auditorium, 110 The Embarcadero in San Francisco (check-in at noon). Tickets are $15 for club members, $25 for non-members, and $10 for students.

For more information, visit www.commonwealthclub.org.

Exhibit looks at 150 years of state Capitol
The California State Capitol Museum has opened a new exhibit that looks at the 150-year history of the Golden State's Capitol in Sacramento.

"Building a Legacy — 150 Years of the California State Capitol" opened this week. It examines both the construction and restoration of one of the state's greatest structures.

"More than a million visitors from around the world come to see our state Capitol every year, and now, they'll get the opportunity to learn about why they should take great pride in the state Capitol building and learn about some of its hidden stories," John Fraser, capital district superintendent of the California State Parks, said in a news release.

According to the release, the Capitol has served as home to the state Legislature and governor since it was first occupied in 1869. Visitors will discover why the Capitol was almost not built at all, some of the major challenges faced during construction, and how it was nearly torn down to make way for a newer structure. The public will have the opportunity to see never-before-exhibited artifacts and objects connected with the building's history.

The exhibit will be open to the public through March 20, 2020. It is accessible seven days a week between 9 a.m. and 5 p.m. (except Thanksgiving, Christmas, and New Year's holidays) and is free.

The California State Capitol Museum is located at 1315 10th Street in Sacramento. The exhibit is located in the first floor exhibit rooms in the historic west wing.

For more information, contact the museum at (916) 324-0333 or visit www.capitolmuseum.ca.gov.
Comments on Facebook