NYC to have Pride of a lifetime for Stonewall 50
Wednesday Feb 27, 2019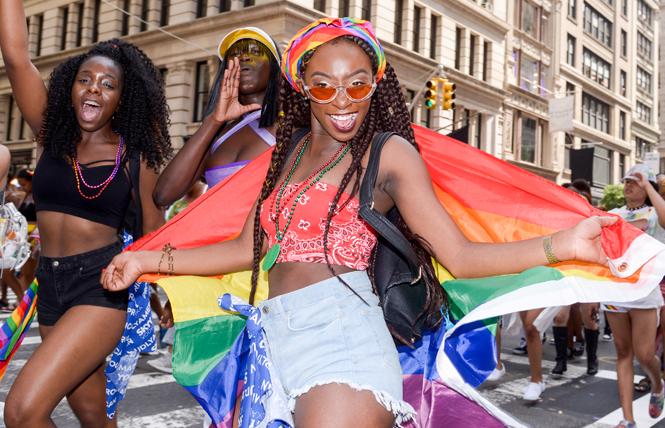 There's no question: New York City Pride, combined with WorldPride for the 50th anniversary of the Stonewall uprising, is going to be historic.

That's one reason why the Big Apple is gussying itself up with rainbows and getting the entertainment ready to welcome as many as 4 million Pridegoers from around the world who are expected to descend on the city and its five boroughs in June.

The anniversary of the Stonewall riots that ignited the modern gay liberation movement also marks the first time that World Pride will be hosted in the United States.

Lesbian rocker Melissa Etheridge is set to headline WorldPride's closing at a free concert in Times Square June 30. (For more information on all the events, visit https://bit.ly/2XsGvmI.)

"All eyes will be on New York and that benefits everybody," said Cathy Renna, a 53-year-old lesbian native New Yorker who is the media consultant for Heritage of Pride Inc., which produces NYC Pride.

"It's going to be the largest Pride event ever in history. Period. End of story. Which is extraordinary in and of itself," said Renna. "It's really going to be an extraordinary and historic month."

Staten Island is also gearing up for the event.

"They are doing an amazing job to put on some absolutely spectacular events," Marcy Carr, 54, a pansexual woman who is the operations director at the Pride Center of Staten Island, said about NYC Pride organizers.

Staten Island will kick-off WorldPride events May 10, said Carr, who is also a board member and regional director for InterPride, which produces WorldPride.

Stacy Lentz, 48, is a lesbian and co-owner of the Stonewall Inn (https://thestonewallinnnyc.com). She previously told the Bay Area Reporter that the iconic bar is going to be "crazy" during June.

"The whole city is going to come together to celebrate this once-in-a-generation time period," said Lentz.

Events are not limited to Manhattan.

"You have a month and a half of amazing events going on throughout all the boroughs. No matter when you get here you will have plenty of stuff to see and do," Carr added.

Everyone is excited to have the world come and celebrate in New York.

"So, I think that it's going to be amazing," said Lentz.
Stonewall
"This is where the fight began," said Lentz of the bar in Greenwich Village. "The whole entire city offers something special because of what happened here in 1969."

On June 28, 1969, police raided the Stonewall Inn, but tired of homophobic and transphobic harassment, LGBT people fought back. The initial uprising lasted for six days, and 50 years later, visitors from around the world come to Stonewall to honor what happened in the bar that fateful night that unleashed a movement.

LGBT communities continue to be inspired to stand up for their rights, launching Pride celebrations in cities and small towns around the world. Many cities, including San Francisco, started their Pride events in 1970 to commemorate the first anniversary of Stonewall.

"We are going to be a safe haven and be able to educate different countries and show them how it's going to be done," said Lentz, noting that in some countries LGBT people are still being killed for being queer.

Due to its historical significance, the park fronting the bar was named the country's first LGBT national monument in 2016 and is overseen by the National Park Service. The bar itself became the nation's first LGBT historic landmark in 2000.

"Telling the Stonewall story about what happened in 1969 is a critical element," said Lentz. "I think that through all these events and through all the events at WorldPride having everything being told here is going to be incredible to keep that story alive and keep reminding people that it's OK to be gay."

There will be plenty of events at the Stonewall Inn, said Lentz and Kurt Kelly, a 59-year-old bisexual man who is another one of the four investors who took over the bar in 2006.

"Everyone can expect to be accepted and proud because this is their home," said Kelly.

Renna said the bar has been a pivotal location for generations of LGBTQs.

"The Stonewall Inn has always been that kind of epicenter for us," said Renna. "It's a great opportunity for people to explore their queer history wherever they are from."

Plenty of Pride
The five New York borough Pride organizations — NYC Pride, Brooklyn Twilight Pride (http://brooklynpride.org) , Staten Island PrideFest (http://www.pridecentersi.org) , 1 Bronx Pride Parade and Festival (https://goo.gl/DtZ3nU) , and Queens Pride (http://www.queenspride.org) — are working together to produce an incredible month and a half of events throughout the greater New York area leading up to NYC Pride/WorldPride/Stonewall 50 June 30.

Additionally, Harlem Pride (https://harlempride.org), YouthPride and an alternative Pride parade, Reclaim Pride Coalition (https://reclaimpridenyc.org) will also be holding their own celebrations.

In addition to commemorating Stonewall 50, Harlem Pride will also observe the 100th anniversary of the Harlem Renaissance and the 10th anniversary of the neighborhood's own Pride celebration.

"It is important to celebrate Stonewall 50," wrote Carmen Neely, a self-described same-gender loving woman who is the president of Harlem Pride, in an email interview with the Bay Area Reporter. "It is also important to celebrate the glorious LGBTQ members of the Harlem Renaissance and the countless others who were advocating for LGBTQ rights long before Stonewall."

Transgender former Army intelligence analyst Chelsea Manning, convicted of leaking secret information to WikiLeaks, and gay playwright and veteran HIV/AIDS activist Larry Kramer have joined forces to produce the Reclaim Pride Queer Liberation March June 30.

The grassroots coalition plans to kick-off its march at the Stonewall Inn to "address the many social and political battles that continue to be fought locally, nationally, and globally" according to the Reclaim Pride Coalition's website.

New York's cultural institutions and community organizations are also getting in on the celebration, creating a variety of events under the Stonewall 50 Consortium (http://www.fb.com/stonewall50consortium).

Earlier this month, the New York Library opened its series of exhibits and programs, "Love & Resistance: Stonewall 50" (http://www.nypl.org/events/exhibitions/stonewall50).

WorldPride brings a whole new element to NYC Pride celebrations from opening and closing ceremonies to a human rights conference.

"There are elements of that that will make it extremely unique," said Renna, who is excited about the conference and the many international contingents that will march in the parade.

"New York is a really amazing place to have it: It's the home of the United Nations. It's an international city in so many ways," she said. "I think that it's going to really draw some extraordinary people."

The conference will bring together a wide range of LGBT advocates from activists to journalists to policy makers to discuss LGBT rights around the world June 24-25.

Lentz and Renna acknowledged that while Pride is a celebration, its roots of resistance haven't dissipated with time.

"There is still very much the sense that gathering and being visible is really still important and it's still very political," Renna said about Pride, noting the state of LGBT rights in the United States and around the world Stonewall 50 is more relevant than ever.

"We are celebrating history, but we are also talking about resistance still, equality still," said Lentz. "I think that we need to start looking for what's going to come out of this. Where are we going as a community on a global level?"

What to do
For up-to-the-minute happenings during the celebrations, stop by the pop-up LGBT Visitors Center that will open sometime this spring on Christopher Street near the Stonewall Inn. The center will be open to visitors throughout the summer, said Renna.

There will be something for everyone, from culture vultures to history buffs to Broadway enthusiasts to foodies to festival and party goers during Pride Month.

Best of all, many of the events during Stonewall 50 are free to attend.

Escape Manhattan for a day by taking the free Staten Island Ferry. The adventure will take you to two different historical homes where lesbian legends resided. The Alice Austen House is the family home of Alice Austen, a turn of the century photographer who lived with her female companion for many years (https://aliceausten.org). It has views of New York's skyline. Black lesbian feminist activist and poet Audre Lorde and her family called Staten Island home for 20 years. It is from this house, now the Audre Lorde Residence (http://www.nyclgbtsites.org/site/audre-lorde-residence), where she created her most prolific works and launched the Kitchen Table: Women of Color Press.

In New York, partygoers can enjoy PrideFest, Pride Island, a VIP Rooftop Party and Femme Fatale, among other celebrations.

Queers will be able to geek out at the popular Cosplay Pride and foodies will be able to enjoy a special LGBT chef driven culinary fundraiser, Savor Pride.

Head uptown to Harlem to enjoy a series of events hosted by Harlem Pride throughout June.

Some of the Harlem highlights are the history of the "Jewel Box Revue," a trans, gender-nonconforming appreciation reception, and the Harlem Pride Celebration Day, which attracts up to 8,000 people annually.

The Jewel Box Revue is one of the earliest traveling drag shows that was gay-owned, unlike its counterparts, Finnochio's and Club 82 of the 1940s and 1950s in San Francisco and New York, respectively. The event is being produced in association with the Apollo Theater's Live Wire program.

"There are so many places to go and there are so many things to do in New York," said Renna. "The fact that it will be amplified to really accentuate the LGBTQ community is going to make it just extraordinary."

Where to stay
NYC Pride and WorldPride have partnered with 12 hotels (https://2019-worldpride-stonewall50.nycpride.org/visitor-info/hotels) offering 10 to 20 percent discounts.
Renna also expects Airbnb and staying with friends and family to be popular options for Pridegoers, she said.

Some hotels include Aloft Harlem (http://www.marriott.com/hotels/travel/nyclh-aloft-harlem), Hotel Le Bleu (http://www.hotellebleu.com) in Brooklyn, Kimpton Eventi (http://www.hoteleventi.com), the Roxy (http://www.roxyhotelnyc.com), and the Hyatt Union Square (https://goo.gl/3VERpg).

For a unique budget stay in New York, I suggest the Jane (http://www.thejanenyc.com).

Where to eat
Whenever I visit New York, I tend to stay in the Chelsea neighborhood near Union Square and the Village, which offers a bevy of dining options.

During a recent trip I enjoyed Momofuku Nishi (https://nishi.momofuku.com), Kyma (https://kymarestaurants.com), and brunch at Fred's at Barney's NYC (http://www.barneys.com/store/freds-downtown/R-store-904) in New York City.
Restaurateur David Chang's popular Momofuku Nishi is family-style Asian-American fusion. The food is delicious and well worth the reservation.

Kyma is a popular Greek restaurant with great cocktails. Reservations are a must to get into this hot spot, but you might get lucky nabbing a seat at the bar.

If you can't get a reservation at the Blue Box Cafe at Tiffany's, Fred's is another New York institution atop Barney's, the luxury department store that serves a delightful brunch. Reservations are required.

Getting around
It's easy to get into New York by subway or train from all three of the area's major airports. Get a Metro card and you'll be zipping around the city like a local. There is an additional $5 fee for the air train connection between John F. Kennedy and the subway.

Otherwise, ride hailing companies and taxies are plentiful throughout the city, five boroughs, and New Jersey.

Come visit
"This is really going to be a kind of a once-in-a-lifetime experience," said Renna.

Stonewall Inn's Kelly and Lentz believe that LGBT travelers should visit New York anytime, especially for NYC Pride/WorldPride/Stonewall 50 because of New Yorkers' welcoming attitude and diversity.

"I've been all over the country and I have not found a place that is so welcoming as New York," said Kelly.

Added Lentz, "It's that fabric that doesn't just make up the rainbow flag but the fabric that makes up the international flag."

New York City Pride/WorldPride/Stonewall 50 is starting to take shape. Keep an eye on this website to help make your adventure memorable: https://bit.ly/2rHq05K.

For more information, visit https://bit.ly/2XsGvmI.
Comments on Facebook