News Briefs: Amara La Negra to headline SF Pride
Wednesday Feb 20, 2019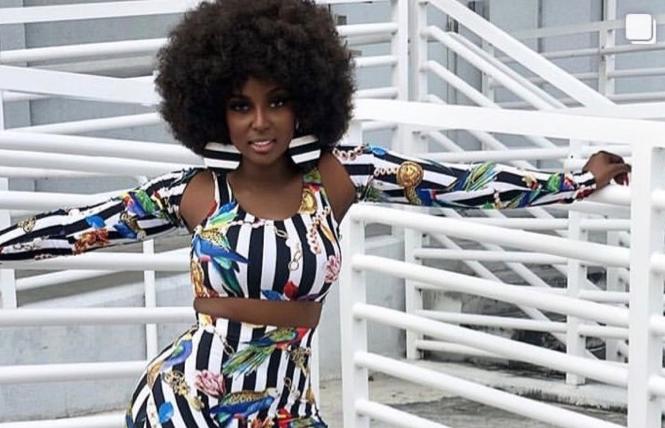 Musician and television personality Amara La Negra has been announced as the first entertainer who will headline this year's San Francisco LGBT Pride celebration.
According to a news release from the San Francisco LGBT Pride Celebration Committee, La Negra will appear on multiple stages at the 49th annual Pride celebration.
La Negra, 28, is a star of Miami Afro-Latin culture. She is an international entertainer and performs a variety of musical genres, particularly rhythms hailing from the Caribbean. She's a break-out star of "Love and Hip Hop: Miami." She also appeared in the film "Fall Girls," which premiered on BET in January.
"We are thrilled to welcome Amara La Negra to our Pride celebration," George F. Ridgely Jr., SF Pride executive director, said in the release. "Her talent is undeniable, and her messages of self-confidence and determination resonate with many in our communities."
La Negra, an ally to the LGBT community, will release her new EP, "Unstoppable," this month. She describes it as a Spanglish presentation of her growth as a musical artist.
In the release, she commented, "I'm just so happy because I've worked so hard for a moment like this." She was referencing her EP's release and her other projects.
She will appear on SF Pride's Don Julio Latin stage, in addition to the main stage, on Sunday, June 30.
SF Pride officials said that more performers, as well as special guests and celebrity grand marshals, will be announced as the event approaches. The main stage is accepting submissions of interest to perform until March 15. For more information, visit www.sfpride.org/main-stage.
Pride weekend is June 29-30. This year's theme is "Generations of Resistance."
Queer women to debate an 'L World'
Three out women from different generations will talk about "Creating the L World" at a panel discussion Wednesday, February 27, from 6:30 to 8 p.m. at the San Francisco LGBT Community Center, 1800 Market Street, Room 204.
Hosted by Team Q of the United Democratic Club, longtime community leader and former Alice B. Toklas LGBT Democratic Club co-chair Louise "Lou" Fisher will moderate a conversation with Kate Kendell, Christine Sun, and Angelic Williams. The women will discuss the history and future of the LGBTQ rights movement.
Kendell, who represents a baby boomer perspective, recently left the National Center for Lesbian Rights, where she had been its longtime executive director.
In an email, Kendell, who is recovering from foot surgery, said she thinks the event is important.
"The idea that 'those who are ignorant of their history are doomed to repeat it' is not some tired trope," Kendell wrote. "The LGBTQ community has a rich and complex history and we all benefit from that history. We also have new generations of leaders who are coming up more fierce and courageous than any generation prior. It is an exciting time to have us all engage."
Sun, a Gen X member, is the legal and policy director of the American Civil Liberties Union of Northern California. She also serves on the board of Asian Americans Advancing Justice/Asian Law Caucus.
Williams, a millennial, is the founder of MyUmbrella, a social networking app for the LGBTQ community. She is also the leader of the San Francisco chapter of Black Women Talk Tech. She has created digital innovations to empower underrepresented members of the queer community.
The event is free and open to the public.
Early bird tickets for Soiree
Drag queen and hostess Juanita MORE! returns as entertainment director for the San Francisco LGBT Community Center's annual gala, Soiree, and discount dinner tickets are available until February 28.
This year's event will be held Saturday, April 13, at Terra Gallery, 511 Harrison Street. Dinner is at 5 p.m.; the party begins at 8:30.
Organizers said that the evening will celebrate the community. It will include an open bar, raffle, live auction, and dancing. DJ Lady Ryan will be spinning.
Soiree can help the center raise over $100,000 in funds to expand its programs and services, officials said.
Discounted dinner tickets are $249 (they go up to $295 March 1). Tickets for the party only are $95. To purchase tickets, visit www.sfcenter.org.
Shanti gets Dignity Health grant
The Shanti Project was one of several organizations that recently received grants from Dignity Health St. Mary's Medical Center.
A February 12 news release from Dignity Health said that the nonprofit received $57,000 for the care and justice alliance program, which supports HIV/AIDS clients with health and legal interventions through Shanti, the Justice and Diversity Center of the Bar Association of San Francisco, and the AIDS Legal Referral Panel.
The grant was part of more than $100,000 that was awarded to local agencies this year.
"Community partners help us care for our patients outside the hospital's walls," John Allen, St. Mary's Medical Center president, said in the release. "These partnerships align closely with our mission and meet the unique health needs of San Francisco."
In addition to Shanti, La Casa de las Madres received $40,000 for the domestic violence high-risk program in partnership with the Rally Family Visitation Center and the San Francisco Police Department.
The group 18 Reasons received $20,880 for free six-week cooking and nutrition classes for 240 low-income adults and families to help address underlying causes of diet-related diseases and obesity. It is partnering with the YMCA and FoodsCo.
The community grants were awarded in January. St. Mary's has awarded yearly grants since the early 1990s to promote health and wellness in San Francisco.
AARP offers tax help
The AARP Foundation is providing free tax assistance and preparation through its Tax-Aide program.
Through April 15, volunteers will help low- and moderate-income taxpayers at almost 5,000 locations nationwide, including many in the Bay Area. There is no fee and AARP membership is not required.
"AARP Foundation Tax-Aide provides free tax assistance to those who need it most," said Daphne Kwok, AARP vice president of multicultural leadership, Asian-American and Pacific Islander audience strategy. "With the support of bilingual volunteers, some Tax-Aide locations offer assistance in additional languages to help taxpayers who don't speak English or speak English as a second language prepare their returns."
Tax-Aide volunteers are trained and IRS-certified each year to ensure they know about and understand the latest changes to the U.S. Tax Code. Last year, the program's volunteers helped 2.5 million people navigate complicated tax codes, ensure proper credits and deductions, and file their federal and state tax returns.
To find an AARP Foundation Tax-Aide location or for more information, including which documents to bring to the tax site, visit www.aarpfoundation.org/taxaide or call 1-888-227-7669. AARP Foundation Tax-Aide is offered in conjunction with the IRS.
Comments on Facebook