Valentimely - unusual and romantic events for the love holiday
Wednesday Feb 6, 2019
Thank Geoffrey Chaucer for making everyone celebrate Valentine's Day. The 14th Century author, famous for The Canterbury Tales, wrote a poem called "Parlement of Foules," in which he shares his somewhat critical opinion about the then-common concept of 'courtly love.'

This was the time of fairytale romance stories, when knights were expected to ride around on white horses, be handsome, and perform grand gestures to win the favor of their ladies.

Chaucer questioned if this was really a realistic ideal of 'romance. To give the concept an extra twist of tough love, he set the poem on the date that celebrated the tragic death of Saint Valentine, who performed illegal marriages for Christians persecuted in the Roman Empire.
Why make love difficult? But the poem backfired a little bit; Chaucer was a popular guy at the time, so his fans thought illegal marriages were the grandest romantic gesture of all, and now Valentine's Day is big, melodramatic ordeal. Thanks, Chaucer, although queer folk can appreciate the beauty of an illegal marriage.

Putting on a suit of armor and riding around on a white horse may not be a legitimate expectation these days, but it is possible to do something special on Valentine's Day. For those unfortunate souls who suffer the indignity of not being betrothed to a knight, many of the Bay Area's celebrations are equally delightful for anyone flying solo, or a group of friends who just want to go out and have fun.

Regardless of your relationship status, celebrate Saint Valentine for his renegade marriage ceremonies —which is just as relevant today as it was in the third century— and check out some of these fun events.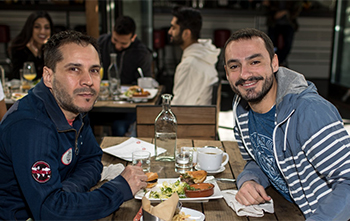 SATURDAY, FEBRUARY 9TH

Touch Of Love
For those who just need a good hug, stop by Touch of Love, a night of cuddling and healing interaction designed to honor the power of positive touch, and perhaps chase those anti-Valentines blues away. The Comfort & Joy community welcomes anyone who enjoys feel-good playtime with others, in groups or one-on-one, and there will be much dancing, caressing, massaging, and warm embracing all around. DJs will spin the tunes and there will of course be a room with black lights for a super-trippy experience. All genders are welcome, of course, and encouraged to participate, so remember to ask people about their preferred pronouns, please and thank you.
$20-$50. Sat 10pm-4:30am 60 6th St. https://touch_of_love.eventbrite.com
THURSDAY, FEBRUARY 14

Valentine's Day Comedy
Feeling sorry for yourself on Valentine's Day? Go hang out at a food bank and see how people can have real problems. Ashkenaz Music & Dance Community Center will host Love Thy Neighbor, a night of Valentine's Day comedy featuring sets by Sampson McCormick, Clara Bijl, Nicole Tran, and Lisa Geduldig. The show is a benefit for Alameda County Community Food Bank, and attendees are encouraged to bring canned food items and grains like oatmeal. All ages welcome, so that means the comedians won't tell naughty jokes, much (Ashkenaz is an all-ages venue, but the comedy show is not recommended for kids). $15-$20. Feb 14, 8pm, 1317 San Pablo Ave., Berkeley ashkenaz.com


Juanita's Family Dinner
What would we do without Juanita MORE? Would we know how to love? Would we be able to make friends? Juanita is the heart and soul of San Francisco, as she works tirelessly to raise funds for the needy while encouraging the masses of San Francisco to meet and chit-chat over drinks. For her Valentine's Day "family dinner," Juanita will serve a $35 prix-fixe meal of spaghetti and meatballs, with all sorts of sides. Don't worry if you don't have a date; dessert is chocolate cake, and that's almost as satisfying as a warm embrace from a loving partner.
$35. Feb. 14, 6pm-9pm. 620 Jones St. www.juanitamore.com
Amanda King
Jazz vocalist Amanda King will perform her cabaret show, Movie Musical Magic at Feinstein's at the Nikko on Valentine's Day, one show only. Her concert celebrates "the songs that made movies and movies that made songs," according to Feinstein's info. Also, Feinstein's has a Sloppy Joe sandwich on the dinner menu, and if a night of show tunes and Sloppy Joes isn't a recipe for romance, what is?
$30-$55. Doors 6:30pm, show 8pm. Feinstein's at Hotel Nikko, 222 Mason St. www.feinsteinsatthenikko.com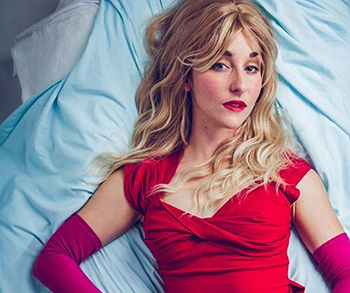 The Pleasure Project
Can the clitoris save humanity? This is the deeply investigative query posed by The Pleasure Project, a theatrical experience starring comedian and bad-ass feminist Ava Bogle. Sex, religion, politics, aliens posing as humans, nuclear annihilation; it's all part of the magic. And if the jokes and high-concept social statements don't get your blood pumping, the sex toy raffle should do the trick.
$15. 8pm, Z Below at Z Space, 450 Florida St. www.zspace.org


Queer Prom at Jolene's
Get out that old prom dress, or go to Out of the Closet and buy one, because Jolene's is hosting a prom. Slow dances will be part of the evening, so if you don't have a date, just show up and look for a special someone standing against the wall, wistfully hoping to be asked to dance. Obviously, gender norms at this queer prom will be entirely the choice of each attendee, so wear a tux or a dress as you wish. Hopefully they will have a punch bowl spiked by that bad kid in class who was always up to no good.
Jolene's Bar and Restaurant, 9pm to 2am 2700 16th St. http://jolenessf.com
Comments on Facebook