Sparse turnout for info on Castro film shoot
Wednesday Jan 16, 2019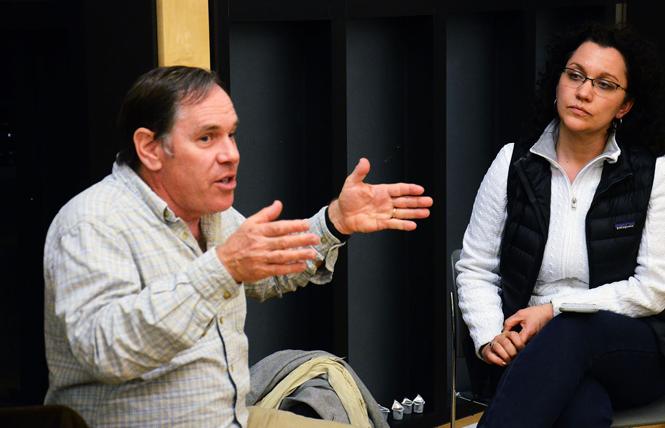 CBS Films will shoot scenes of a new movie, "The Phone," in the Castro next week, but residents didn't seem too concerned about the project as only a half-dozen showed up at a recent informational meeting.
The movie will film at the intersection of Sanchez and 16th streets January 23-25.
Representatives from the movie's locations department joined city officials January 9 at the Eureka Valley/Harvey Milk Memorial branch library for the meeting. They discussed how filming would impact normal neighborhood activities such as parking, how residents could get to and from their homes, as well as how the filming would affect students at Sanchez Elementary School, which is located at 325 Sanchez Street.
Speaking at the meeting were Manijeh Fata of the San Francisco Film Commission, along with Sharlene Duale, the film's co-locations manager, and Felix Gehm, the film's second unit location manager.
"Our office is working with the CBS Films production of 'The Phone,' and they're shooting for approximately 30 days in San Francisco," Fata said. "It's kind of a big deal that they're shooting entirely in the city — the rewards out of it are hiring a lot of locals."
Duale spoke about happy she was to have the production in the Bay Area because a number of locals were working on the film's crew. She described the movie as "a comedy about what can happen when you love your phone more than anything else in your life."
Gehm told people what they could expect in the Castro.
"During the actual filming of the scenes the actors may walk across the street, and we may have the camera in the middle of the street, so we're going to have a street closure on Sanchez, but if neighbors want to get into their driveways or garages, we're going to be able to facilitate that," said Gehm. "We're going to have local traffic only, and that'll be at 16th and Sanchez going toward Market Street."
Neighborhood resident Tom Wineland asked when the main shooting would be.
"The rough schedule is partly in the day and partly in the night," said Gehm. "We'll be permitting from 10 a.m. until midnight at the latest."
Wineland, who said that he lives directly across from Sanchez Elementary School, pointed out that there's a great deal of traffic congestion at the school every day.
"Unfortunately, a little girl got hit by a car trying to run to her mom's vehicle," he said. "This happened about a week ago, and the reason I bring that up is because the school needs to be notified."
"We're not going to be blocking traffic on 16th Street," Gehm said. "We're not over by the Sanchez school so we're not going to be interrupting traffic. There will be some officers there, who will keep the intersection of 16th and Sanchez flowing."
Duale added that the school would be notified about the shoot.
"If there are any residents here concerned about the parking, we've asked the production to provide parking to residents that are displaced," said Fata. "I don't think anything has been solidified as to where that would be, but it would be another lot where you could park if you were displaced by the filming."
"And you can email us at sflocations2019@gmail.com. That will be on the notification letter," said Duale.
"Filming can be a little disruptive in a neighborhood while it's going on," pointed out Richard Magary of Castro Merchants, a business group. "These folks live this and know how to deal with it and, almost without exception, I have found that they really take care of business. They get their shots, they get what they came for, but they also respect the neighborhood. They do thoughtful placement of where their trucks and equipment are. The police know how to let residents in, so make sure you show your ID."
"The team that works here locally wants to make friends in the neighborhood," said Duale. "We want to continue to work here, we want to return, so we want to work with any of your concerns."
Fata suggested that if any concerns come up during the filming, location managers were the people to speak to.
"I thought the meeting was great," Wineland, a gay man, told the Bay Area Reporter. "I think they answered everyone's questions. They were very professional."
Daniel Harley, who is also gay, was pleased with the meeting.
"It went really well," he said. "I'm more interested in small businesses and how they will benefit from the filming."
Comments on Facebook