News Briefs: SF main library gets increased hours
Wednesday Jan 9, 2019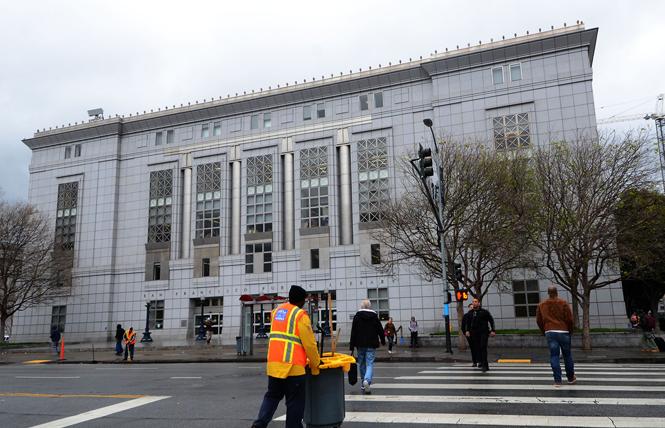 The San Francisco Public Library has announced that effective Saturday, January 12, the main library will have increased hours.
The main library, located at 100 Larkin Street, will stay open one hour later on Sundays and open one hour earlier on Mondays, adding a total of two hours to weekly library services. These changes will allow patrons doing weekend projects for school or work to have longer access to the library, as well as earlier entry on Monday mornings, at 9 a.m., according to a news release.
This is the first increase in open hours at the main library since it was built in 1996, officials said in the release.
In June 2017, all San Francisco library locations expanded hours to seven days a week, and with these new changes, the library has gone one step further. In addition to extending Sunday service until 6 p.m. at the main library, branches will also stay open until 6 p.m. on Sundays at the following locations: Golden Gate Valley, Western Addition, Richmond, Merced, Excelsior, and Potrero.
According to the news release, the Library Preservation Fund requires that the library perform an assessment of needs at five-year intervals to determine hours. The library, in conjunction with the controller's office, performed a comprehensive study that included surveys from patrons and library employees and engagement with community members at public hearings in each of the 11 supervisorial districts. After assessing this feedback, the library commission voted to adjust hours at 11 branches and the main library.
No additional hours were announced for the Eureka Valley/Harvey Milk branch in the Castro.
For a full listing of new library hours, visit http://www.sfpl.org/openhours.
Bayard Rustin Coalition event in Vallejo
The Bayard Rustin LGBT Coalition and the NAACP Vallejo branch will hold a screening of "You Don't Have to Ride Jim Crow" Saturday, January 12, from 11 a.m. to 2 p.m. at the Vallejo Naval and Historical Museum, 734 Marin Street.
Filmmaker Robin Washington, who directed the movie, will be in attendance and take questions afterward, along with Mandy Carter and Anne ("Mama") Shine of the Bayard Rustin LGBT Coalition.
The film is the story of a group of people who challenged segregated seating in 1947 after the NAACP victory in Morgan v. Virginia and decades later went back to retrace their steps as elders. The 1946 U.S. Supreme Court case was a 7-1 decision that Virginia's state law enforcing segregation on interstate buses was unconstitutional.
At 3 p.m. the short film, "Bayard and Me," by the late Rustin's partner, Walter Naegle, will be shown.
For more information, visit https://www.facebook.com/events/323755778441132/.
Rainbow center crab feed tickets on sale
The Rainbow Community Center in Concord will hold its 13th annual crab feed benefit Saturday, March 2, and tickets are now on sale.
The crab feed will take place at the Pleasant Hill Senior Center, 233 Gregory Lane in Pleasant Hill. The evening starts with a champagne reception from 5:30 to 6 p.m., followed by the dinner and program.
The center is also seeking donations for the event. All donations will help the center raise critical funds to support its services throughout the year. Businesses and individuals who make donations of goods and services will be acknowledged on the center's website and social media feeds, as well as in the event program. Donations are tax-deductible to the extent allowable by law.
Organizers said that they are expecting over 225 attendees.
Tickets are $70. To purchase tickets or for more information, visit www.rainbowcc.org and click on "Events," then "Annual Events."
Housing meeting coming up
Three San Francisco departments will convene a meeting, A Conversation on Housing and Community Development, Tuesday, January 22, from 5:30 to 7:30 p.m. at Kelly Cullen Community, 220 Golden Gate Avenue.
The meeting, organized by the Mayor's Office of Housing and Community Development, Office of Economic and Workforce Development, and the planning department, is designed to gather input from stakeholders to inform development of six strategic plans.
Those include the HIV Housing Plan, which focuses on housing-related programs for people living with HIV; the Consolidated Plan, the main MOHCD plan that identifies affordable housing and community development needs and priorities; and the Housing Affordability Strategy, which provides a framework to evaluate how the city's housing policies and plans work together.
Other plans to be discussed are an Analysis of Impediments to Fair Housing, the OEWD Workforce Strategy Framework, and the Community Stabilization Strategy.
Organizers said this is an opportunity for all San Franciscans, and especially residents of the Tenderloin and District 6, to share their opinions and experiences related to housing and social service needs, barriers to fair housing, and improving housing affordability.
Contact the reporter at c.laird@ebar.com.
Comments on Facebook