Commentary: Resist: Getting ready for Act III
Wednesday Jan 9, 2019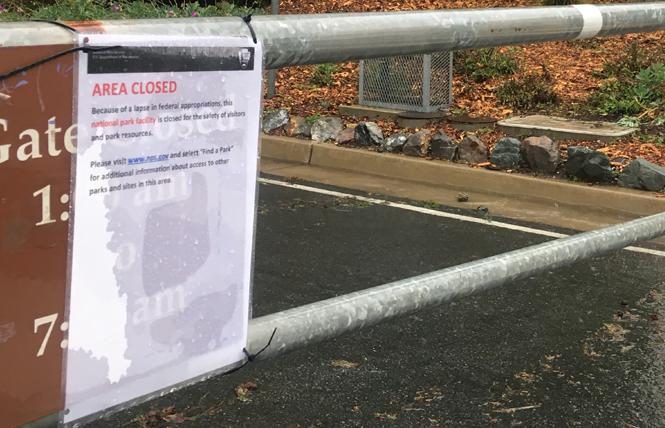 While 2019 marks the third — and hopefully final — act of the current regime in Washington, like any good theatrical villain, it shows little inclination to go quietly or easily.
As this column goes to press, the partial government shutdown that began December 21 continues — notwithstanding the transfer of control of the House of Representatives from the fash to the Democratic Party — thanks to the current occupant of the White House's promise to veto any spending authorization bill that doesn't fund a border wall and comments from some of his minions that the closure could last for months unless the Democrats yield on the issue, which (to no one's greater shock and pleasure than my own) they are so far refusing to do.
To date, the brunt of the shutdown has been borne by federal employees who were either furloughed without pay or are being forced to work in their "essential" jobs (e.g. Transportation Security Administration airport screeners) without pay until the logjam is broken. That pain is about to amp up in intensity this week, as the first scheduled payday for many of the furloughed workers is January 11. Barring a rapid resolution of the crisis and a superhuman effort by returning HR workers that check date is likely to slip.
If the prospect of losing their housing and being unable to feed their families because of one man's racist obsessions isn't enough to bring federal workers into the streets, it's hard to imagine what would be. Given that, now is the time for local activists to start planning and executing our response.
As we learned during the #OccupyICESF action last year, the federal government is leery of using its own Gestapo to clear demonstrators from its facilities and is hesitant to order its servants to cross a blockade line. Those are vulnerabilities that should be exploited. Imagine what would happen if all key federal installations in the city were blockaded simultaneously and organizers issued a simple statement: "We're staying until the regime goes. Period."
No compromise, no "optics," no "how will this play in 2020?" concerns. Just a demand that is both simple and unequivocal enough for even broadcast media to understand, especially since if the regime goes, the shutdown will end, and everyone affected can start getting paid again.
If Mayor London Breed really wanted to save money and burnish her tattered "progressive" credentials, she could do so simply by making it clear that the San Francisco Police Department will no longer do the dirty work of Immigration and Customs Enforcement and other agencies by clearing out those who physically occupy federal facilities. Of course, given that SFPD officers are apparently free to sport racist (and arguably, fascist) emblems like "Blue Lives Matter" on their guns in violation of department policies without consequences (as this column reported on July 11, 2018), the chance of this happening is only slightly less likely than me being voted Miss Universe, but I am eagerly awaiting the day when my cynicism about Breed is proved wrong.
Women's March redux
On Saturday, January 19, the Women's March will return to the Bay Area. Sadly, for the second year in a row, organizers of the San Francisco and Oakland marches are making it impossible for attendees to go to both due to their conflicting scheduled start times.
The Oakland march will begin at 10 a.m. at the Lake Merritt Amphitheater and proceed at 11 to Frank Ogawa Plaza, aka Oscar Grant Plaza, in front of City Hall in Oakland. The route is slightly less than a mile with an uphill portion at the beginning and two difficult curb cuts that may cause accessibility challenges.
The San Francisco event is scheduled to start at 11:30 a.m. at Civic Center Plaza, with a 1.7-mile march down Market Street to Embarcadero Plaza beginning at 1:30. The route is mostly level, with some transit-related hazards on the street.
Reproductive rights are a priority for organizers of both marches this year, which is fortuitous, given that San Francisco will be plagued with our yearly infestation of anti-abortion activists January 26, when the Walk for Life crowd comes to town. Maybe this will be the year that we see some of the Women's March folks come back a week later to help counterprotest those who believe their invisible friend gives them power to override the reproductive decisions of others.
This girl can dream. And she does.
Got a tip? Email me at christina@diedoardolaw.com.
Comments on Facebook