Beautiful dreamers
Tuesday Mar 26, 2019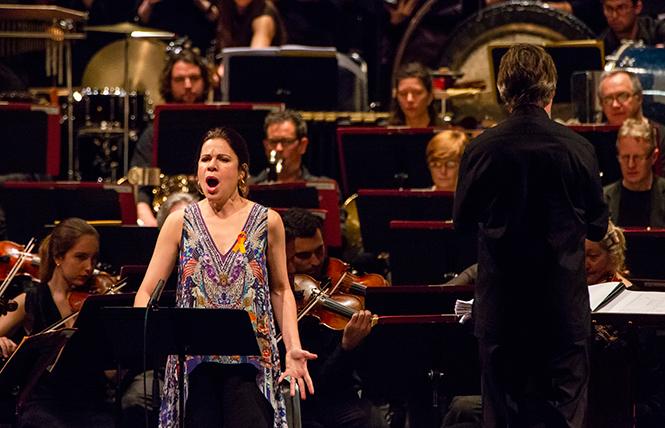 In a divided society, everything is politicized, including the arts, which is not necessarily a bad thing. Few forms of expression can provoke or enlighten better than music, dance, or theatre. Two recent concerts in Berkeley and San Francisco offered different musical takes on contemporary and historic North America, but each shared a common theme. There's room (and rights) for all under the "beautiful for spacious skies."

At least there should be, and that is the most powerful message in the oratorio "Dreamers," by Berkeley-based Peruvian composer Jimmy Lopez and Pulitzer Prize-winning Cuban American playwright Nilo Cruz. Commissioned by Cal Performances at UC Berkeley, the Sunday afternoon world premiere capped conductor Esa-Pekka Salonen's three-concert residency at Zellerbach Hall with the Philharmonia Orchestra, London.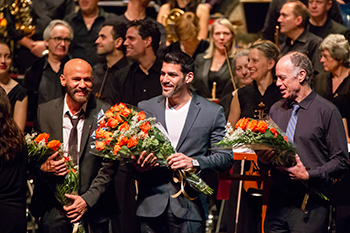 Recently announced Music Director Designate of the San Francisco Symphony, Salonen is currently Principal Conductor & Artistic Director of the Philharmonia and Conductor Laureate for both the Swedish Radio Symphony Orchestra and the L.A. Philharmonic. He's a conductor without borders, and one of our finest composers; he was a sympathetic natural leading the first performance of "Dreamers."

The six-movement oratorio featured clear-voiced and dramatically nuanced soprano Ana Maria Martínez, the UC Berkeley Chamber Chorus (Dr. Wei Cheng, music director) and vocal ensemble Volti (Robert Geary, artistic director). The mixed chorus was easily heard and understood, bold and surprisingly well-balanced behind the sonorous Philharmonia.

Opening movements of "Dreamers" evoke a spiritual landscape that underpins the work, giving a spiritual dimension to the human urge to seek and migrate. Arguably, much primeval searching was necessarily more concerned with hunting and gathering than mystical questing, but Cruz's words are lyrical and eloquent, and Lopez cushions them in rich neo-Romantic harmonies. When the words gain modern relevance, the orchestra muscles up and the fervent moral heart of the work is revealed.

The composer and librettist interviewed UC student "Dreamers," protected by the DACA program (Deferred Action for Childhood Arrivals), to find insights. Their testimonials, cries of righteous anger and pain pack a forceful punch. Respect and love for parents, dispossessed children, and empathy for the oppressed motivate them to succeed and inspire listeners. They may be preaching to the choir in Northern California, but immigration is a vastly complex subject, and it is important to be confronted by real people, not political pawns, with relevant personal stories to tell.

"Dreamers" loses steam when the music turns melodic soundtrack, even with accomplished and transparent scoring and some impressive musical highlights. When it gets passionate, the energy is intense. The early buzz surrounding the premiere was justified, and the performers were triumphant.

Salonen is known to be tech-savvy, and Cal Performances is state-of-the-art, so the exciting event was streamed live, and is archived for a month on YouTube and calperformances.org/livestream.

The second half of the concert, a thrilling and cogent reading of the complete Stravinsky "The Firebird" ballet, is also available for streaming, with the lovely encore, Ravel's "Enchanted Garden" from his "Ma mere l'Oye" ("Mother Goose"), included.
Coming home

On the Saturday night before the Philharmonia's Sunday matinee, a different group of American dreamers was celebrated by the famous "orchestra of voices" Chanticleer at the San Francisco Conservatory of Music. Following a successful 11-concert European tour across eight countries, the ensemble returned home to present a concert fittingly called "Spacious Skies," featuring an American smorgasbord of choral repertoire.

Spanning three centuries and covering genres from pop and jazz to spirituals, with music by one of America's original composers, William Billings, and by modern writers like Mason Bates, Libby Larsen, and Steven Stucky, the program roamed enthusiastically from "sea to shining sea."

Not every arrangement convinced. Putting a doo-wop spin on a lovely standard like "Willow Weep for Me" proved too cute by half, and spirituals resonate better without "American Idol" embellishments. But when Chanticleer settles in for a gorgeous "Lost in the Stars" by American immigrant Kurt Weill, or adds emotional depth to Mason Bates' stirring arrangement of Peter Gabriel's "Washing of the Water," the group's perfect pitch and good taste are better displayed.

Modern songs fit easily alongside traditional folk songs and fascinating pieces commissioned over an amazing 40-plus years. There are new faces onstage and in the audience, maybe too young to remember founder Louis Botto, but his legacy flourishes with Music Director William Fred Scott.

Essential American composer Stephen Foster was represented by only one number, a rowdy romp through "Camptown Races." His "Beautiful Dreamer" would have been a perfect choice for an encore.
Comments on Facebook