Gay New Year's circuit parties in Mexico and Atlanta defy COVID health precautions
Friday Jan 1, 2021
In events that have been harshly criticized in social media and by LGBT publications, hundreds of gay men, many from California, traveled to circuit parties near Puerto Vallarta, Mexico and in Atlanta over the New Year's Eve holiday week. Photos and accounts of the events show few, if any, precautions were taken by attendees. In related Puerto Vallarta events, a small cruise boat sank.

The White Party New Years Weekend 2021: Unity events took place in Nuevo Vallarta, with large gatherings on Los Muertos Beach from Dec 29 to Jan 1.

The EventBrite page reads, "Event Health and Safety Guidelines: Limited Event Capacity; Temperature Checks; Mandatory Masks required for entry to all venues; ALL State Health Guidelines strictly enforced for ALL guests. We are doing our part to keep guest safe and encourage you to do your part as well."

Yet, videos and photos of the event revealed few, in any face masks worn by attendees. Photos of a beach gathering at Los Muertos Beach in Puerto Vallarta show no one wearing face masks.

Some men were briefly videotaped having sex on the beach at night.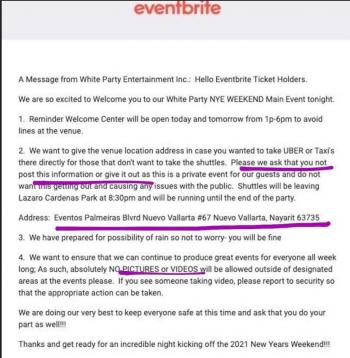 As reported in the Los Angeles Blade, the parties moved locations after authorities in Jalisco cancelled the original venues.

"Per the current state government mandate related to COVID-19, all private and public events of more than 8 people are strictly forbidden. All public festivities in the state of Jalisco have been cancelled, including the previously promoted White Party Weekend at Mantamar Beach Club & Sushi," an official wrote on behalf of the Puerto Vallarta Tourism Board in an emailed statement to The Blade.

"Local authorities are aware of all previously planned events and are prepared to respond in a timely manner should any activity take place that is in opposition to local mandates."

The Blade also noted that "Puerto Vallarta Regional Hospital had reached 100% total bed capacity, overwhelmed with COVID-19 patients, as the state of Jalisco's health officials reported a 65% positivity rate in coronavirus testing."

Instead of cancelling events, Jeffrey Sanker Productions moved them to other venues, and in a message sent to ticket holders, tried to keep the revised parties a secret by asking patrons to not takes photos or videos.

"We want to ensure that we can continue to produce great events for everyone all week long," the revised instructions state. "As such, absolutely NO PICTURES or VIDEOS will be allowed outside of designated areas at the events please."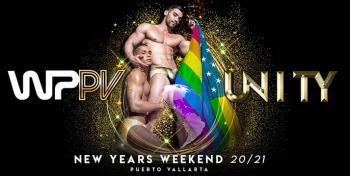 Those who couldn't resist showing off their defiance of health precautions were mostly critiqued on Instagram, Facebook and elsewhere. Some were forced to shut down their Instagram accounts after posting pictures from Puerto Vallarta.

Criticism of the partiers was compiled in The Blade's coverage.

"You needn't look further than that Instagram feed to keep track of where the hottest available clubs and promoters are holding court. The comments are chock full of 'COVIDIOTS!' and, 'So many selfish people.' Other popular call outs include, 'You are the reason I haven't had a weekend off since March,' or 'You are the reason thousands are dying a day.'"

A persistent group of men in the Instagram account GaysOverCOVID has been sharing photos and videos of unmasked large gatherings in an attempt to shame party-goers at these and other events.

As writer Alex Abad-Santos tweeted, a member of the "Circuit Bitches" social media group posted a warning to those who expose gay men's party gatherings, declaring a $500 bounty to whomever exposes the owner of the GaysOverCOVID account.

"Seeing how they like to put everybody under pressure," one person wrote, "let's see how they feel like now that the pressure is on them. Let it be known we are coming for them."

That statement/threat was made by San Franciscan Lan Vu, who sells fans, face masks and circuit party gear on his website, FabulousMe.

Insider.com quoted Vu's Facebook post, ""For so long, they have been hiding behind a screen to call out fellow gays, making our community divisive as ever. If they believe what they're doing is right, why be a coward and not let us know who they really are."

Despite the threat, replies ranged from dismissive to outright catty. Others joined (a la 'I am Spartacus,') with many claiming to be the owner of the 'GaysOverCovid' account owners, who have since created multiple back-up accounts.

(UPDATE: Rolling Stone has published a feature on the GasyOverCovid controversy, and the website Huck published James Grieg's essay about the larger issues within the gay male community.

Some party patrons remain confident in their decisions. The L.A. Blade article quoted an attendee of the Mexico parties, who asked to remain anonymous:

"The best party with the hottest sex will be held at an estate in Puerto Vallarta and I'm going. I don't have Covid. Like, I can't infect someone with something I don't have," he said. "If I get it I'll let you know, but who cares. I'm 23 years old and a girl's gotta live."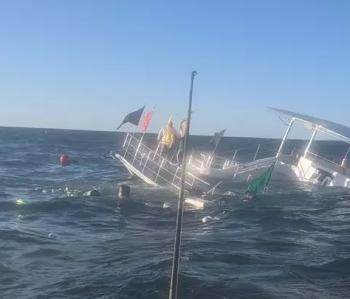 Like the Titanic
In related events from the parties, writer Abad-Santos posted a video on Twitter of a small cruise boat capsizing. Sixty passengers were rescued on Dec. 31 after the boat sank near Playa Quimixto.

Emilio Blanco, a visitor from Chicago, Illinois, shared photos from the disaster with Out and About PV, and said, "I think the crew just didn't know how to maneuver the catamaran very well, the sea was not very rough nor was it too windy."

"It was like the Titanic, it went all down slowly."





Georgia on our minds
The Sanker events aren't the only circuit parties being criticized. In Atlanta, a full weekend of dance parties are scheduled at Believe Music Hall from January 1-3.

The event description, which mentioned 'masks required,' reads:

"Celebrate the first Night of the New Year at 'Confession' in the Believe Music hall while dancing to the amazing beats of DJ Edgar Velazquez (MEX) while loosing [sic] yourself in an acoustically mastered music palace with a spectacle of lights, lasers, special effects and the #1 sound system in the world."

The acknowledgements of health precautions read, "Mask and temperature check is mandatory upon entry. Due to COVID, we are at a limited capacity so get your tickets early!"

Additionally, the EventBrite invite adds, "Refunds will be issued (minus service fee) only if the city of Atlanta closes down venues or clubs because of COVID-19 before the event date."

Previous circuit parties held in September 2020 in Atlanta were criticized, as reported by Pink News: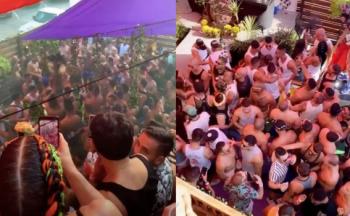 "Across digital flyers and social media posts, the organizers of Peach Party Atlanta 2020 urged attendees to come wearing face coverings and practice social distancing. Yet, as much as the four-day festival was billed as a dialled-down affair, video footage taken at the sold-out circuit parties showed a vastly different story.

"Despite signs instructing partygoers to maintain a distance as well as wear masks, the dance area was rammed with countless men pressed up against one another, and barely anyone was wearing a mask."

As The Advocate reported in October 2020, one attendee of an Atlanta circuit party died. Pandemic guidelines were not being enforced at the event, which was "packed" with hundreds of guests to "overcapacity at times."

Despite the surge in COVID cases and deaths nationwide, producer Jeffrey Sanker is planning to continue with his annual Palm Springs White Party April 23-26, with events at the Hilton Hotel and the Palm Springs Convention Center.

UPDATE: Four men died in the Puerto Vallarta area over the New Year holiday weekend.

35-year-old Dustin Terry Childs and 32-year-old Austin Jordan Hales were found on December 31 in their condominium in Zona Romantica, the gay tourist area near Playa Los Muertos.

Queerty sourced the local Spanish language news outlet Debate, which also reported that also on Dec. 31, paramedics were called to the Sheraton Bouganvilla after a man, later identified as Kevin Page, fell from a fifth story balcony to his death.

And Vallarta Daily reports a fourth fatality, that an unidentified man had drowned. "The body was seen off the beach near the Hyatt Diva Hotel, Camino Real," the website states. "The man was fully dressed, so it is believed that he was not on the beach before being found in the sea, however, it is unknown if he fell from a boat, since there is no report of a missing person."


Help keep the Bay Area Reporter going in these tough times. To support local, independent, LGBTQ journalism, consider becoming a BAR member.