Opening Night of Berkeley Repertory Theatre's new musical Paradise Square was followed by a festive cast party, where patrons, directors, producers and numerous local arts luminaries celebrated.
Rain or shine, each week includes a lot going on in the San Francisco Bay Area for leather and other kinksters.
Far too frequently, the leather communities tend to honor and revere tops and doms in a way they do not always bottoms and subs. I've increasingly seen this play out in the non-kinky gay men's world as well.
Follow a popular New Year's resolution into 2019; sweat off a bit of winter weight on the dance floor, or stack it on at a food truck outside the club. No judgment.
On January 18 and 19 Broadway legends Donna McKechnie and Andrea McArdle will reunite for an evening of song at Feinstein's at The Nikko. The two performers will pay tribute to two songwriting giants: Stephen Sondheim and the late Marvin Hamlisch.
Despite inclement weather, some solid stand-by nightlife events are still standing. Shake it off, get indoors to get wet.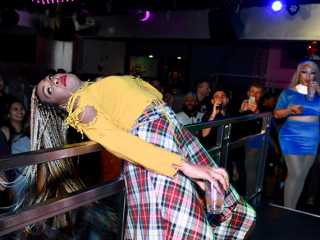 The Café, the Castro's dance nightclub with a view, hosted its first iCandy Friday night of 2019, and some amateur booty-shakers took to the platform as well.
I'm going to make this column a self-indulgence reflecting my hoped-for outcomes for 2019 for leatherfolk, kinksters, and anyone who resides outside the societal norms for sexuality and relationships.
The new year begins with a lot going on in the San Francisco Bay Area for leather and other kinksters.
Continue into the new year with annual favorites, visiting celebrity acts, and lovely local hangouts.
Despite the chilly Monday night, celebrations for New Year's Eve filled Castro district bars, including Beaux, Twin Peaks, The Café, The Midnight Sun, The Edge and more.
The new year brings on some new entertainments in nightlife, including New Year's Eve parties. But mostly it's more of the same, kind of like Groundhog Day, but with booze.