Our prolific photographer Steven Underhill attended hundreds of events last year. Here are our favorites from 2019.
Kink off, er kick off, your new year at some of the many events going on in the San Francisco Bay Area for leather and other kinksters.
Are you ready for a new year of nightlife fun? It's arriving, ready or not. Will our '20s be roaring with flappers and bootleg gin? Doubtful. More like floppers on TikTok and bootleg vapes. Either way, Happy New Year.
The Richmond/Ermet Aid Foundation's 18th annual holiday benefit concert included stellar performances by Sheryl Lee Ralph, Lisa Vroman, David Hernandez, Shawn Ryan, Kim Nalley, Steve Knill and more.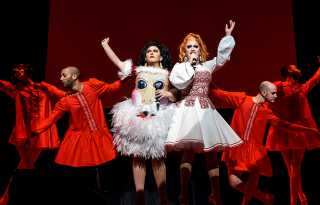 Drag superstars BenDeLaCreme and Jinkx Monsoon will join forces onstage on December 28 at the Victoria Theater for a post-Christmas Christmas show. The show is part of a national and UK tour.
Lea DeLaria brings her one-of-a-kind stage persona to Feinstein's at The Nikko (on Dec. 28 & 28), where she'll sing, tell jokes, and be her characteristically outrageous self.
On Saturday December 21, cabaret chanteuse Connie Champagne returns to Martuni's to perform a Christmas concert as the iconic Judy Garland. Playing Garland has been a big part of Champagne's singing career.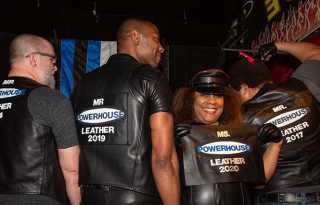 The Powerhouse also held its inaugural Ms. Powerhouse Leather contest recently. I'm using both new contests here as an illustrative point that San Francisco's leather bars are now officially shared space. Welcome to the modern queer leather bar.
Ho, ho homemade holiday happy nightlife events don't need unwrapping.
The tenth annual Drag Queens on Ice, held on December 5 at the Safeway Holiday Ice Rink in SF's Union Square, included talents in celebrating a decade of iced queen fun.
Inside, upside and around the holidays, there are still plenty of events in the San Francisco Bay Area for leather and other kinksters.
The San Francisco AIDS Foundation's eleventh annual Santa Skivvies Run drew participants out in festive holiday undergear on December 9 for the brisk short run fundraiser around the Castro.