From drag shows to dancing bears, game nights and beer busts, cubcakes, mangos and other treats, your choices for Best Nightlife Events truly represents a diverse menu of options.
Springing into nightlife events. Wet or warm, dry or tight, shake it up like a cocktail, or mocktail, if you prefer.
Cast members of the national touring production of Falsettos enjoyed raves for their opening night performance at the Golden Gate Theatre. The after-party at the Phoenix Hotel included local notable celebrities.
From bar events to sober meetings, café chats to seriously sexy settings, there's always a lot going on in the San Francisco Bay Area for leather and other kinksters.
Singer-actress Alysha Umphress, who plays Feinstein's at the Nikko on April 12 and 13, remembers the exact date that she flew to San Francisco for her first gig at the club: It was November 8, 2016.
Divas, the Polk district bar and nightclub that had long been a safe haven for the transgender community, will be closing its doors on March 30. The bar will celebrate its many years of service to the community with a closing night party.
On some level, creating community is a numbers game. The more times you try, the more times you succeed. Sometimes you have to throw lots of stuff against the wall to see what sticks.
The New York dance party Brüt returned to the Bay Area at The Great Northern (119 Utah St.), thanks to Brian Kent Productions. Hotties of all kinds showed up to dance, flirt and enjoy St. Patrick's Day weekend.
Feeling blue? Here's some stuff to do. Nightlife revelry awaits you.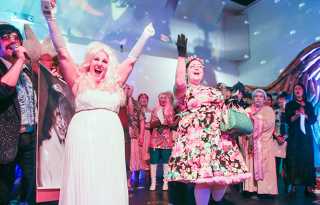 Costumes are encouraged on March 23, when Congregation Shaar Zahav, San Francisco's synagogue for LGBTQ Jews, families and friends, celebrates Purim, a joyous holiday which is Judaism's answer to Halloween.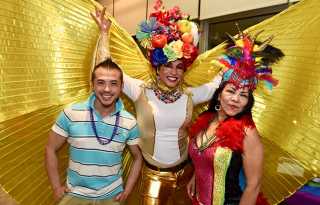 Aguilas El Ambiente, the local organization dedicated to creating a supportive, culturally sensitive environment for gay/bisexual Latinos, hosted a festive Carnival party at the LGBT Center on February 28.
Even after last week's multitude of Leather events, more fun awaits in the San Francisco Bay Area for leather and other kinksters.