Going Out, June 25-July 1, 2021
Thursday Jun 24, 2021
Now that in-person events are quickly becoming the norm, our ever-evolving listings will mutate. We're focusing on in-place events for now. Happy Pride etc.!


ARTS
DANCE, OPERA, THEATRE

Alvin Ailey American Dance Theatre
Cal Performances presents the world premiere of Jamar Roberts' Holding Space, streaming thru Sept. 8. $5-$60. https://calperformances.org/

Armistead Maupin's Tales of the City, The Musical
American Conservatory Theatre presents online screenings of the vibrant musical adaptation of the best-selling novels, about MaryAnne Singleton and the colorful people she meets in her new San Francisco apartment. $19-$49. June 21-27. https://www.act-sf.org

Fresh Meat Festival
20th anniversary free online concert of dance, music, performance by trans and queer artists, including new works and favorites from past years; thru June 27. https://freshmeatproductions.org/ (Read our interview with producer-choreographer Sean Dorsey)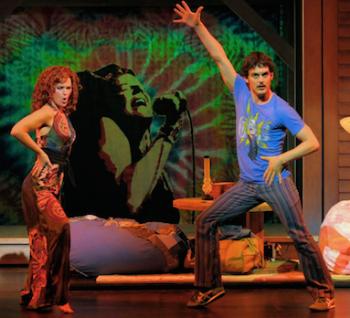 The Latrell Show
Online production Brandon Kyle Goodman's solo show, a dark comedy that explores the mental aerobics of being Black and Queer in America by way of a hilarious and opinionated talk show host, Latrell Jackson; produced by IAMA Theatre in LA; streams thru June 27. www.iamatheatre.com/

New Conservatory Theater Company
LGBT theater company presents TransNational Cabaret, with six performers from across the U.S. Also, podcast drama-comedies In Good Company, actor monologues, messages from playwrights, exercises to practice mindfulness and original material from Conservatory students. www.nctcsf.org

Not My First Pandemic
In-person workshop performances of Cesar Cadabes' new solo show about a gay Filipino man traveling from Hawaii to San Francisco as he recalls the AIDS pandemic. $15-$30. June 24-26, 8pm. 2781 24th St. https://www.brava.org/

Out of Site: Haight Ashbury
Tina D'Elia hosts and performs Seth Eisen's charming collaborative performance-walking tour (written by Michelle Carter) of notable LGBTQ spaces in SF's Haight-Ashbury district. $15-$125. Sat. & Sun. thru July 25. www.eyezen.org

Robert Moses' Kin
The acclaimed local dance company celebrates its 25th anniversary season with new video dances; five new works since March; also free online events and paid master classes. Also, new outdoor performances at the historic Flood Bldg., 870 Market at Powell streets, thru June, 10am-1pm, Tuesdays, Thursdays and Saturdays. https://www.robertmoseskin.org

SF BATCO
San Francisco Bay Area Theatre Company streams weekly new plays, readings, arts talks, improv and more; hosted by Rodney Earl Jackson, Jr., and Marcelo Javier. They've also returned to in-person shows. https://www.twitch.tv/sfbatco
MUSIC
Noe Music
Online concerts in many genres; classical, folk, early music. https://www.noemusic.org/

Old First Concerts
Enjoy live streaming and archived music concerts of classic, and contemporary music. July 9, 8pm: a tribute to the late jazz musician Michael Brecker. July 16, 8pm: pianist Sarah Cahill.https://www.oldfirstconcerts.org

Ross McKee Foundation Concerts
Summer season online concerts include Marcos Silva on June 25. $20-$55. on YouTube. http://www.rossmckeefoundation.org/

San Francisco Bach Choir
Weekly online concerts of classical music and other genres. https://sfbach.org/

San Francisco Gay Men's Chorus
New: Pride Showcase 2021, Wired. Also, video of the May 22 outdoor mini-concert. Also, SFGMC celebrates Asian American Pacific Islander Heritage Month with songs from their 2017 Paradise Found spring concert, and a 'Behind the Curtain' chat with Kumu Patrick Makuakāne, director of the Nā Lei Hulu I Ka Wēkiu hula dance troupe. Also, enjoy other concerts with guest performers joining the Behind the Curtain series and Summer Reruns. https://www.sfgmc.org/sfgmctv

San Francisco Performances
After several programs in celebration of their 40th anniversary were cancelled, SFP offers memorable classical concerts from the past, all recorded at the Herbst Theater between 2004-2008, with new and recent concerts to come. http://sfperformances.org/

San Francisco Symphony Plus
Digital Soundbox includes programs curated by Esa-Pekka Salonen; additional programs curated by Julia Bullock, Destiny Muhammad, Nico Muhly, and Claire Chase; new episodes of Currents series, exploring Indian Classical, Native American, Zimbabwean, Persian, and Klezmer musical cultures. https://www.sfsymphonyplus.org/

Seth Concert Series
Broadway, film and TV actor-singers perform intimate concerts online (live at 12pm PT and re-streamed at 5pm PT on Sundays) with pianist and musical theatre expert Seth Rudetsky. https://thesethconcertseries.com/

SF Jazz Fridays at Five
Jazz concerts will bring you good vibes. The acclaimed venue brings their concert series online with talented musicians. https://www.sfjazz.org

SONiA disappear fear
The talented queer singer-songwriter performs a concert commemorating the Stonewall Uprising. Free on her Facebook page, June 28, 11:30am and 5:30pm PT. https://www.facebook.com/disappear.fear

Sounds of Broadway
24/7 radio station plays classic Broadway songs, with interviews and trivia shows, too. https://soundsofbroadway.com/

Spencer Day @ Feinstein's at the Nikko
Singer-songwriter, pianist and audience-harmer Day returns to the elegant nightclub. June 23-26. $85. 8pm. Hotel Nikko, 222 Mason St. https://www.feinsteinssf.com

Stern Grove Festival
The free outdoor concerts return for the 84th year. June 27 Pride show with Perfume Genius, Madame Gandhi, Honey Mahogany, LadyRyan and Sir JoQ. July 4: SF Symphony; more thru August. 19th Ave. at Sloat Blvd. Reservations required. https://www.sterngrove.org/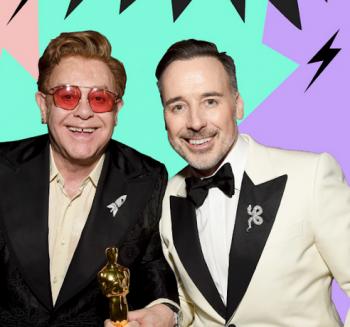 Tom Goss
The prolific gay singer-songwriter continues to put out new music, fun videos, and collaborations. http://tomgossmusic.com/

YouTube Pride 2021
Elton John and David Furnish cohost an online concert with Olly Alexander, Demi Lovato, Trixxie Mattel, Daniel Howell, Peppermint, and other talents. June 25. 12pm PT. https://www.youtube.com/watch?v=86A_QrYhvAw


MOVIES, TV
(For expanded streaming online films and TV listings, see older event listings)

Frameline Films
Watch new and acclaimed independent LGBT films, plus artist talks online and some events in theaters! Frameline45 tickets (June 10-27) are now on sale. Some events in-person at The Roxie and Castro Theatre. Most films also online. Full festival passes $95-$115. https://frameline.org (Read our article on the full schedule)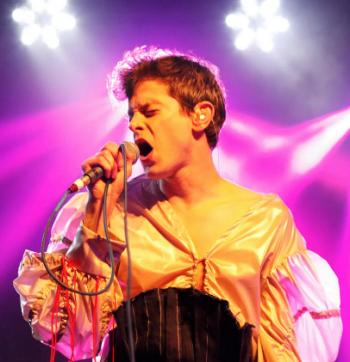 MUSEUMS & GALLERIES
ArtHaus 25th Anniversary
Gallerists James Bacchi and Annette Schutz celebrate their gallery's silver anniversary with a group retrospective exhibit. 228 Townsend St. http://www.arthaus-sf.com/main-gallery/

Asian Art Museum
Exhibits include Afruz Amighi: My House, My Tomb, Awaken: A Tibetan Buddhist Journey Toward Enlightenment, Jenifer K Wofford: Pattern Recognition, a mural that celebrates Asian American artists, Lost at Sea: Art Recovered from Shipwrecks, and Chang Dai-chien: Painting from Heart to Hand. Among the outdoor exhibits is Don't Mess With Me, a vibrant colorful mural by Mumbai-based street artist Jas Charanjiva. Fri-Mon 10am-5pm. Thu 1pm-8pm. 200 Larkin St. asianart.org

Berkeley Art Museum/Pacific Film Archive
Reopening; new: Quilts, Blankets, and Tapestry: Contemporary Art and Textiles, Ron Nagle: Handsome Drifter, Folk and Modern Art in Postcolonial India) and art films streamed online. 2155 Center St., Berkeley. www.bampfa.org

California Academy of Sciences
The fascinating science museum includes live creatures (aquarium, terrarium) and educational exhibits. Mon-Sat 9:30am-5pm. Sun 11am-5pm. 55 Music Concourse Drive, Golden Gate Park. https://www.calacademy.org/

Cartoon Art Museum
The Fisherman's Wharf gallery features contemporary and historic original cartoon, comic and graphic novel art exhibits, including A Treasury of Animation and Emerging Artists Showcase: Lawrence Lindell, plus books and prints for sale. Sat & Sun 11am-5pm. 781 Beach St. https://www.cartoonart.org

Catherine Clark Gallery
Stephanie Syjuco's video installation Native Resolution, plus other works. In-person limited attendance. 248 Utah St. https://cclarkgallery.com/
Chabot Space & Science Center
Online programs (the center is closed to the public) include live science programs each Wed., 10:30am, virtual telescope viewings each Sat. 9pm. chabotspace.org

Chinese Cultural Center
Women: From Her to Here, an in-person and online exhibit focusing on women Asian diasporic cultures, including diverse gender and sexual identities, with video and film works, mixed media installation, photography, painting, featuring Bay Area filmmaker Madeleine Lim; New York-based spoken word performance artist and activist Brad Walrond; Bay Area-based Tina Takemoto, Chelsea Ryoko Wong, and Heesoo Kwon; Nicole Pun from Hong Kong; three artists from Taiwan; Beijing-based Luka Yuanyuan Yang; and the archives of the Queer Reads Library in collaboration with Mixed Rice Zines. Pride events through June. https://www.cccsf.us/

Conservatory of Flowers
Online Zoom classes, and beautiful indoor and outdoor floral exhibits in the classic arboretum; special events and parties return soon 100 JFK Drive, Golden Gate Park. Free/$12. www.conservatoryofflowers.org

Contemporary Jewish Museum Events & Exhibits
The spacious downtown museum includes Julie Weitz' Golem: A Call to Action, thru Dec. 5. Also, Levi Strauss: A history of American Style, Stephen Berkman's Predicting the Past: Zohar Studios, The Lost Years, an immersive photography installation about a mythical 19th-century Jewish photographer. Free/$16. 736 Mission St. thecjm.org

de Young Museum
Major exhibits include Uncanny Valley: Being Human in the Age of AI (through June 26), collections of American, African, Oceanic, costume arts and more. Tue-Sun 9:30am-5:15pm (extended to 7:45pm, Fridays and Saturdays through November for the Frida Kahlo exhibit). 50 Hagiwara Tea Garden Drive. deyoung.famsf.org

Exploratorium Events
Talks, and demos with a science theme, including comet-cam and more. June includes several Pride-themed online After Dark events: June 24, 7pm: Pride science with artist, historians and thinkers. www.exploratorium.edu

GLBT Historical Society events & exhibits
Re-opened June 4, Tue-Sun, 11am-5pm. New: Gilbert Baker's original rainbow flag on display. Online exhibits include Stories of Our Movement: Bay Area Reporter at 50; Events as well. Also, Legendary: African American LGBTQ Past Meets Present , Fighting Back, a series that brings together community leaders, experts, historians and activists to explore lessons from the past that might be useful in formulating resistance efforts today; Reigning Queens: the Lost Photos of Roz Joseph, curated by Joseph Plaster; Angela Davis: OUTspoken andLabor of Love about the first ten years of Pride events in San Francisco; Performance, Protest & Politics: The Art of Gilbert Baker, Pioneering Periodicals, 1940s-1950s, Picturing Kinship: Portraits of our Community by Lenore Chinn and 50 Years of Pride. Events online, too. 4127 18th St. www.glbthistory.org

Gregangelo Museum
Take online tours at the 27-room mansion filled with eccentric unusual interactive artworks and performances. www.gregangelomuseum.com

Harvey Milk Photo Center
View online exhibits of masterful photographic art. https://www.harveymilkphotocenter.org/

Immersive Van Gogh
Projected images of the Impressionist painter's works will dazzle in the spacious venue; thru May 31, now with scheduled Yoga classes. SVN West, Van Ness Ave. at Market. $25-$40 and up. Thru Sept. 6. vangoghsf.com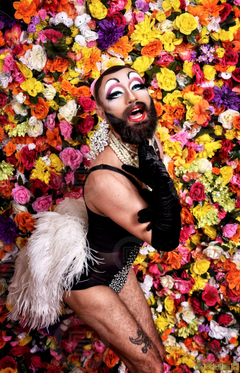 Legion of Honor
New: Last Supper in Pompeii: From the Table to the Grave exhibit, thru Aug. 29; European and ancient art, giant Renaissance landscapes and historic paintings, plus classical sculptures and contemporary works. From Degas, Manet, Caillebotte and Vuillard to Egyptian, Greek and Roman artifacts, the various collections will leave you awe-struck. Tue-Sun, 9:30am-5:15pm. Free/$15. legionofhonor.famsf.org

Minnesota Street Art Project
Multiple galleries host different artist exhibits; highlights: Anglim/Trimble's exhibits of works by Jerome Caja and Kara Maria. Also, Ever Gold's exhibit of Mieke Marple's 'Tarot Reckoning' paintings. 1275 Minnesota St. Visits by appointment/RSVP. https://minnesotastreetproject.com/

Mission Cultural Center for Latino Arts
The Just in Case Woman, a new interactive dance-themed exhibit and video installation; thru July 17. $5. 2869 Mission St. missionculturalcenter.org

MOAD
Museum of the African Diaspora screens award-winning films, with multiple talks and music performances online as well. https://www.moadsf.org/

Museum of Craft & Design
Imagining Data, a new multi-part online exhibit of nationwide installations, exhibits an with strikingly contemporary themes. https://curatorsquaredvirtualviews.com/imagining-data

Nancy Toomey Fine Art
Online exhibits. 1275 Minnesota St. nancytoomeyfineart.com

NIAD Exhibits
The art studio for developmentally disabled adults shares online exhibits and sells beautiful works of art; in-person window displays and weekly online exhibitions; this week: Carlota Rodriguez and Elena Rossi. www.niadartstore.org

Oakland Museum
The East Bay museum has reopened. Exhibits: You Are Here: California Stories on the Map (through 2022), Black Power and Dorothea Lange: Photography as Activism (both ongoing). 1000 Oak St., Oakland. museumca.org

Queer Visions @ Haight Street Art Center
New intimate exhibit displays memorabilia from The Stud bar, including many vintage pins, and artists of the Queer Ancestors Project, elder artists from Openhouse, and featuring the art of Paul
"Gidget" Sinclair and Dave "Artista" Fairall, designers and photographers from the Stud bar. Also, Lauren Tabek's photos from The Lexington, theatre posters of Cockettes and Divine shows by artist Todd Trexler, and noir-themed prints by artist and author Katie Gilmartin. Fri-Sun 12pm-6pm. Thursdays until 8pm. thru Aug. 15. 215 Haight St. https://haightstreetart.org

Re-Vamp: Photos by Gooch @ 111 Minna Gallery
New photo exhibition by the prolific local gay photographer. June 25, 6pm in-person and lifestream opening with works by painter Olympia Altimir; also, professional wrestler portraits by muralist Nicole Hayden. Also, June 26. 111 Minna St. https://111minnagallery.com

SF Museum of Modern Art
New: Diego Rivera's massive 1940 mural Pan American Unity, on display (opens June 28) during its restoration, before the July 31 mini murals festival. Also, video art pioneer Nam June Paik retrospective, the first U.S. show of this size, with 200 items and beguiling installations; thru Oct. 3. Also, view Pop, Abstract, and Figurative art collections; Warhol, Rosenquist, Lichtenstein, to name a few. Also, Furite Histories: Theater Gates and Cauleen Smith (thru May 23); Assembly of Images on Histories of Race and Representation, thru April. Bay Area Walls mural project, the outdoor vertical garden and (mid-March Contemporary optics with Olafur Eliasson's sparkling One way color tunnel. Free/$25; reserved, timed ticketing. Mon 10am-5pm. Thu 1pm-8pm. Fri-Sun 10am-5pm. 151 Third St. www.sfmoma.org

Solemn Anthems
Political art show of works by Andy Mister, who pairs drawings of recent political uprisings with landscapes, connecting physical, ideological, and environmental terrain. Rebecca Camacho Presents, 794 Sutter St. www.rebeccacamacho.com

A Spirit of Disruption
San Francisco Art Institute celebrate its 150th birthday with an extensive exhibition of a diverse array of alumni; thru July 3. Read the BAR article at https://www.ebar.com/arts_&_culture/art/303008 https://sfai.edu/features/spirit/

Walt Disney Family Museum
Located in The Presidio, the museum dedicated to the art of Disney films, with online exhibits and events, including the Happy Haunts Tour. 104 Montgomery St. www.waltdisney.org

When the Conference Heard from the Street: Scenes from the Sixth International Conference on AIDS, 1990
New exhibit of photos and text by photographer Rick Gerharter, journalists Liz Highleyman and Tim Kingston at San Francisco Main Library, 6th floor, Skylight Gallery. On view: June 26 to October 9. 100 Larkin St. https://sfpl.org/

Yerba Buena Center for the Arts
Various exhibits indoors and out; re-opened to limited capacity. https://ybca.org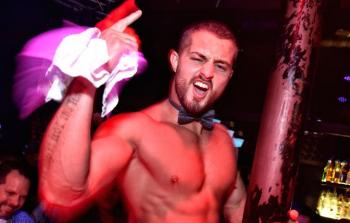 NIGHTLIFE
Bearracuda @ Public Works
Ursine dance party for the big and furry and their fans, with DJs David Harness and Paul Goodyear. June 26. $50. 9pm-3am. 161 Erie St. www.bearracuda.com

Big Gay Pride Car Wash @ Alkali Rye, Oakland
The Baloney burlesque boys, gals and their pals provide a hilariously sexy in-car experiences, with food and drinks on sale. June 27. $30. 1pm-4pm. www.sipalkalirye.com

Bootie Mashup
Adriana A and guest DJs blend pop hits to danceable grooves in live-streams, In-person nights return June 19 at DNA Lounge, 375 11th St. https://www.twitch.tv/BootieMashup. Also, DNA Lounge weekly webcasts (and DNA Pizza's open for take-out). https://www.dnalounge.com/

Boy Division
DJ Xander hosts the Twitch online edition of the New Wave retro-fun dance party. www.twitch.tv/deejayxander

Club Papi, Drag Brunch at Beaux
Outdoor nightlife's back at the popular Market St. club, with drag entertainers, gogo studs, drinks and food. Sat & Sun, 2pm & 4pm. https://www.beauxsf.com/

Disco Daddy @ SF Eagle
DJ Bus Station John's groovy retro-disco, Hi-Nrg and R&B dance party returns with a seven-hour Pride celebration at the historic leather bar! June 27. $10. 7pm-2am. 398 Harrison St. www.sfeagle.com www.facebook.com

DJ Don Baird @ The Hole in the Wall
The fave local rock DJ returns to the SoMa 'friendly neighborhood gay bikers' bar; Thursdays and Fridays. 1369 Folsom St. https://blackwolfmetal.com/ Also, listen online: https://www.twitch.tv/donbaird

Drag Brunch at Curio
Rexy hosts 12pm & 2pm drag shows (with Kylie Minono, Kipper Snacks, Bionka Simone) with brunch. 775 Valencia St. https://www.curiobarsf.com/

Ghetto Disco @ The EndUp
Deanne and Phil B and Hawthorne DJ the return of the popular dance music night. $10-$250. June 25. Doors 12am, bar open 6am. 401 6th St. at Harrison. www.eventbrite.com

Global Black Pride
Online event with headliners including Billy Porter and Kalen Allen. "We are excited to be bringing this event together to celebrate—virtually, our community, culture and diversity within the Black LGBTQI movement across the globe." June 25, 8am-7pm PT. https://www.gbgmc.org/global-black-pride/

Hard French @ El Rio
Carlos Souffront, Jeffrey Sfire, Brown Amy and Vin Sol spin R&B grooves on the patio at the historic Mission bar. June 26. $20. 2pm-7pm. 3158 Mission St. www.elriosf.com www.eventbrite.com

Jolene's
The SoMa queer nightclub and restaurant has re-opened, now with later hours Fri & Sat 6pm-12am. Sunday brunch 11am-5pm. Mask up, make a reservation. 2700 16th St. http://jolenessf.com/index.html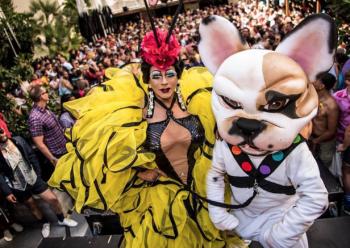 Juanita MORE!'s Pride Party @ Jones
Since 2005, the always sold-out popular event returns, with our reigning Empress as host, with a special performance by Kaleena Zanders. Proceeds benefit the SF Queer Nightlife Fund and SF's Imperial Court (See our interview with MORE! in this week's issue). June 27. $30-$60. 12pm-10:30pm. 620 Jones St. juanitamore.com

Kool Aid @ The Endup
Whitney Mixter and MD's afternoon to evening women's event features DJs Lady Ryan, China G and Val G. June 26. $25. 2pm-7pm. 401 6th St. at Harrison. www.eventbrite.com

Muévelo @ Que Rico, Oakland
Valentino Presents' new East Bay Latin club only opened last week, but is already a hit. Enjoy the new nightclub's weekly dance party with DJed grooves, drag divas, and gogo studs. June 25. $10 and up, 9:30pm-3am. 381 15th St., Oakland. www.quericonightclub.com

Oasis
In-person shows return at the grand re-opening June 26 with a new drag show; Princess. June 27, Pride with DJs Ion & Omar, plus guest bartender Heklina. July 1, 6pm: Piano Bar Open Mic with Joe Wicht. Also, enjoy online shows like the new 'DQVC,' a drag shopping show, Stir Crazy with Elsa Touche, Hunks n' Housewives with Pablo, Minority corner with James Arthur M., Pump & Thrust, the Baloney Guys' new sexy exercise show; Drag TV with Vanilla Meringue, Militia Scunt's the Beat, Bingo, James Arthur M's Minority Korner, plus upcoming and archival footage from the venue's best shows. www.sfoasis.com

Pan Dulce @ Beaux
The weekly Latin dance night returns, as have other events at the popular Castro nightclub. 2344 Market St. www.beauxsf.com

Polyglamorous @ Great Northern
The groovy dance party returns June 26, 2pm-2am, with supersets by David Harness, Brown Amy, Daisy Cutter, Beya and Mark OBrien. $10-$50. 119 Utah St. https://polyglamorous.club/ Also, enjoy DJ Mark O'Brien's six-year music mix online.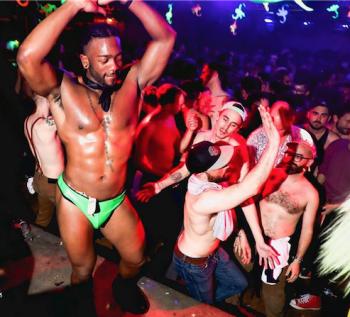 Port Bar, Oakland
Wednesdays are a Drag shows at 9pm, 10pm,11pm; Sunday Brunch, Big Gay Trivia, Pose episode watch, and more outdoor events at the Oakland bar. 2023 Broadway. www.portbaroakland.com|

Powerhouse Bar
Enjoy outdoor drinks and dining at the popular SoMa bar, re-opened. 1347 Folsom St. https://www.powerhousebar.com/

Pride @ Oasis
The award-winning cabaret and drag nightclub is back, with DJs Ion and Omar, a redesigned rooftop lounge, guest bartender Heklina! $5. June 27, 12pm-6pm. 298 11th St. www.sfoasis.com

Princess @ Oasis
The award-winning cabaret and drag nightclub is back! Enjoy the grand re-opening, and a new drag show cohosted by Kochina Rude and Lisa Frankenstein, with a dozen-plus performers, dancing and celebrations. June 26. $20. 10pm-3am. 298 11th St. www.sfoasis.com

Project Rungay @ Dirty Habit
Kaikai Bee MCs a drag fashion show, with judges Empress Juanita MORE! and Emperor David Glamamore; brunch and unlimited cocktails. $150 and up. June 26. 1pm-4pm. 12 4th St. www.eventbrite.com

Queers on the Pier
Heal the Bay Aquarium's online party and fundraiser, with aquatic-themed drag acts Ricky 'Merkin, Coochiano Pavornaughtti, Beyond Existence, Katinka, and Annie Malé. $18. June 25 7pm-9pm. https://www.eventbrite.com

Red Hots Burlesque
Enjoy drag and strip shows, music acts and more in online performances.
http://redhotsburlesque.com/

Russell Deason's Happy Hour in Exile
The Bestie-winning pianist and cabaret singer brings his martini bar ambiance into your home; Mondays 5:30pm-7pm. www.facebook.com

Sanctuary @ 55 Natoma
Gus Presents returns with an eight-hour Pride dance night, with DJs Micky Friedmann and Phil Romano, gogo studs, all in a new venue. $30-$60. 10pm-6am. 55 Natoma St. www.guspresents.com

The Sherry Vine Variety Show
The sassy drag queen known for hilarious queer covers of pop songs hosts an online show with fab guests. https://www.sherryvine.com/

Sonoma County Pride
June 26 "Rainbow City" in-person entertainment at the County Fairgrounds with Todrick Hall, Morgan McMichaels, Bright Lights and other acts. https://www.sonomacountypride.org/

Suavecito @ Space 550
Valentino Presents and Club Papi present a new weekly Latin dance night with DJs Mike, Mr. Bigggs, and Lola; Sonora Tropicana band, drag acts by Dorys, Ms.Lola, Delilah BeFierce and Betty Fresas; gogo guys galore, three dance rooms, outdoor lounge. Saturdays, $15-$25. 9:30pm-3am. 550 Barneveld Ave. www.suavecitosf.com

Sundance Saloon Online Live
Sundance Saloon offers online dance lessons and dancing every Sunday night. Beginning classes are aimed at novices. Learn how to dance while you shelter in place from 6-9pm. 6pm: beginning line dance for complete novices; 7pm: intermediate line dance; 8:15pm: line dance mini-marathon. www.sundancesaloon.org

Thirst Trap Thursdays at Dirty Habit
New weekly event on the heated 5th floor outdoor terrace of Hotel Zelos, $5 benefits the SF Queer Nightlife Fund. 5pm-10pm. 12 4th St. https://www.viceroyhotelsandresorts.com/zelos/dirty-habit

Trixxie Carr
The wacky and talented singing performer hosts online shows, including her 'Neon Gothic Unicorn.' (at www.sfoasis.com) http://trixxiecarr.com/

Twisted @ The EndUp
Stay up late with DJ Paolo's 2am-sunrise set at the famed SoMa club. $45. Doors 2am; bar opens at 6am. 401 6th St. at Harrison.
www.eventbrite.com

Versus
New queer game show hosted by drag performer Deven Green and musician Ned Douglas. https://watch.revry.tv/details/33707

White Horse Bar
Enjoy outdoor dining and drinks at the famous Oakland bar. 6551 Telegraph Ave., Oakland.

PODCASTS, RADIO
Being Seen
GLAAD's new podcast focuses on the Black gay and queer male experience, hosted by Darnell Moore, producer of Being Seen and singer, actor and activist, Lawrence "Miss Lawrence" Washington. www.beingseenpodcast.com

In the Key of Q
Podcast with interviews and music selections by LGBTQ musicians. https://www.inthekeyofq.com/

LGBT Asylum Project Podcast
Creator and host of the LGBTQ Asylum podcast is 28-year-old Sayid Abdul, a queer Uighur refugee who was granted political asylum in 2018. https://www.lgbtasylumproject.org/

Midnight Mass Podcast
Peaches Christ presents an online audio show with Michale Varrati about horror and cult movies; on Apple and Spotify. http://store.peacheschrist.com/

Out in the Bay
The long-running LGBT radio show, offline for a few years, has returned with new podcast episodes, and an extensive archive. Host Eric Jansen welcomes artists, community leaders and celebrities. New: author Lauren Hough (Leaving Isn't the Hardest Thinghttps://www.outinthebay.org/

Planet Classroom
Instructional podcasts on a variety of issues, including LGBT subjects. https://www.planetclassroom.world/browse/

Probably True
Podcast with queer stories, "a smutty-but-charming collection of personal misadventures." https://www.probablytruepodcast.com/

The Qube
E3 Radio's black LGBTQ radio show and podcast. https://e3radio.fm/the-qube/


Queer Powers
Indie channel of chats radio shows, vintage zine archives and drag shows. https://www.queerpowers.com/

A Queer Serial
New series of LGBT-themed podcasts with voice actors such as Sam Pancake (Transparent, Gilmore Girls), @lgbt_history's Matthew Reimer, Radical Faeries' Will Roscoe and Joey Cain, and Chicago performers Salvio Gado and Jon Martinez, along with real recordings of pioneers including transgender entertainer Christine Jorgensen, civil rights activist Bayard Rustin, and lesbian journalist Edythe Eyde. https://www.mattachinepod.com/

Queer Nightlife Talks
Blog and links to talks among Bay Area nightlife organizers and producers, with community input and opinions. Tune in, offer assistance or thoughts. sfqueernightlifefund.org

Queercore Podcast
The QueerCore Podcast, hosted by August Bernadicou, elucidates radical, LGBTQ activists' histories; a spotlight on the catalysts who fought in the front-lines, in the back-lines and in the trenches of civil rights. The QueerCore Podcast is an opportunity for them to tell their stories in their own words, including Phyllis Lyon, Don Kilhefner, Jack Fritscher, drag rocker Jayne County, Vanguard Editor Keith St. Clare, a Theater of the Ridiculous oral history, and veteran gay rights activist and prolific author Perry Brass. New: the Rev. Ed Hansen, veteran activist Martha Shelley; community activist Gene Fedorko, pioneering LA gay dance club owner Jewel Thais-Williams, and punk drag rock sensation Jayne County. https://www.queercorepod.com/

Taimi Talks
LGBTQ personalities (Jason Wimberly, Chris Mosier, Monique Heart and others) share guest-talks on various topics, with/on the Taimi app. (Apple Store or Google Play). https://taimi.com/



Do you have an event to add? Email events@ebar.com

Help keep the Bay Area Reporter going in these tough times. To support local, independent, LGBTQ journalism, consider becoming a BAR member.



Comments on Facebook