Election night(life) watch parties
Sunday Nov 1, 2020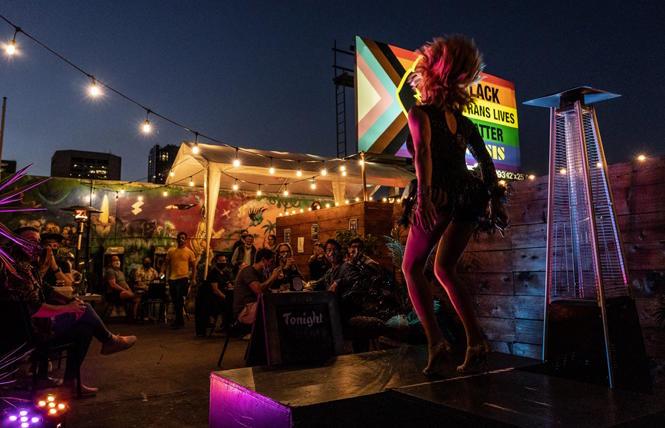 Want to ease the anxiety of the upcoming election? Some nightclubs and organizations without political affiliations will host online —and in-person— watch parties and related events. Here's a quick roundup to consider for your evening's choices. Although the (nail-biting) prognosticators says it may be days before national results are counted, we're definitely going to need to commune with friends, if only online.

And while no matter what the results, the urge to flock to Castro Street should be avoided. Yes, bars and restaurants' outdoor parklets may be open, while others are boarding up their windows in anticipation of violence and vandalism. Consider supporting them after the dust settles, so to speak.

We'll let our News section focus on the political specifics, but suffice it to say that the Bay Area Reporter fully endorses Joe Biden and Kamala Harris. For full endorsements, .

And now, here are your candidates for November 3 online watch parties.

Roryography Dance Night
Exercise is a great remedy for anxiety, and dancing is a fun way to break a sweat. Before the votes get counted, rev up with Roryography Election Night, an interactive dance class led by Rory Davis, choreographer of countless Baloney and drag shows. 6pm-6:30pm.
Facebook event page
Zoom invite

SF Oasis
SF Oasis will host an intimate, socially distant election watch party at the SoMa nightclub. Cocktails and delicious dinners from Basil Canteen will be available for purchase. Tables are first come first served in parklet and rooftop areas. 5pm-9pm. 298 11th St.
www.sfoasis.com
Facebook event page
Taco Tuesday at La Frontera, Oakland
Valentino Carrillo (of East Bay LGBT Latin nightlife fame) recently opened a Mexican restaurant that, despite COVID, has managed to gain a flock of socially-distanced patrons who enjoy what we're told has a tasty menu. Eating is therapy of a sort, so enjoy the food, drinks on the outdoor patio, and parklet dining areas. 5pm-12am. 4481 International Blvd., Oakland.
https://www.lafronteraoakland.com/
Facebook event page

Electionpalooza
The San Francisco AIDS Foundation and Strut will host an election watch party online, with laughs to get you through it. Hosts include local drag queen Juicy Liu, writer, comedian, and playwright Luna Malbroux, writer-performer and Strut's community events manager Baruch Porras-Hernandez, and SFAF's Ande Stone, who will hold our hands (virtually), laugh and hopefully not cry!
Facebook event page
RSVP: www.eventbrite.com

Election Night at Manny's
The Mission center for social justice, literary and political events also serves tasty food and drinks.

"We've all been waiting for this moment for years," say organizers on their Facebook event page. "To honor a special once-in-a-lifetime occasion, we will be providing an election night dining experience on the 16th block of Valencia, outside of Manny's; a safe and social-distanced opportunity to have dinner while watching the election results come in."

While the event is sold out, the 15th to 16th street block will be closed to vehicular traffic. But don't gather in large groups and wear a facemask! If you do manage to get a ticket, the Manny's Election Night Dining Experience will donate 50% of proceeds to their neighbor, The Roxie - the longest independently-owned movie theater is San Francisco. $18-$108 admission, with limited seating. Stay for the long haul from 5:30pm-11:30pm. 3092 16th St.
www.welcometomannys.com
Facebook event page

For individual Bay Area candidate online watch party updates, read this week's Political Notebook.

Stars in the House Marathon
If watching election results and prognostications roll in proves too stressful, enjoy a combination of arts fundraising and show biz escapism with the Stars in the House Marathon. Cohosts Seth Rudetsky and his husband James Westley welcome dozens of actors, singers, producers, composers and celebrities in their ongoing series of shows, with proceeds going to The Actors Fund. Read the TimeOut NY article or go directly to the website www.starsinthehouse.comor YouTube Channel.

Help keep the Bay Area Reporter going in these tough times. To support local, independent, LGBTQ journalism, consider becoming a BAR member.
Comments on Facebook