Homing's In: nightlife, arts & community events Sept. 17-26
Thursday Sep 17, 2020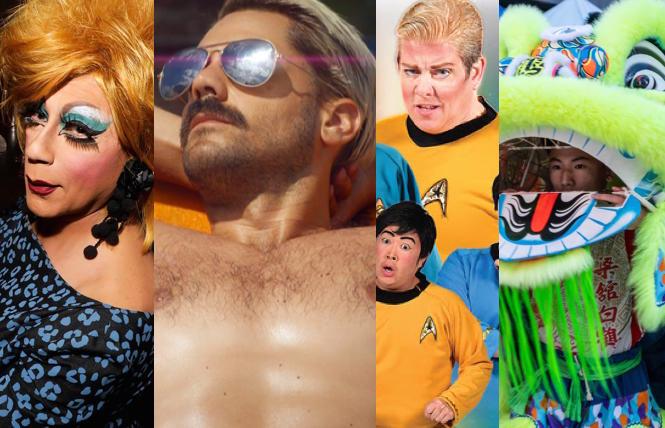 Danceable, musical, literary and filmic fun fills your interwebs with continued hope, healing and hum-dingin' fun. Zoom in, log on, click away.

ARTS
Amy Siewert: Imagery
Dance is the most vibrantly physical of art forms, and we miss it. Until we can enjoy it live, check out some amazing short dance films by Siewert's beautiful deft dancers. www.asimagery.org

An Act of God
Palo Alto Players' online performances of David Javerbaum's comic play; God (assisted by Her devoted angels) answers some of the deepest questions that have plagued mankind since Creation, such as: why did She decide to create the universe, which sports team does God choose when they all pray to Her for a win? Thru Sept. 20. https://paplayers.org

Artspan's Open Studios
Online version of the annual multi-artists weeks-long exhibits and studio tours, with talks, panels, live studio tours. https://www.artspan.org/home

Author Events at Alley Cat Books
The bookstore, while physically closed, hosts online events with acclaimed authors. the store is also taking mail order book purchases. www.alleycatbookshop.com

Author Events at Booksmith
The popular Upper Haight bookstore hosts talks and readings with mainstream fiction, nonfiction authors. https://www.booksmith.com

Benjamin
Quirky, anxiety-fueled gay rom-com directed by Simon ("Nevermind the Buzzcocks") Amstell and starring Colin Morgan (Merlin, The Happy Prince), is now available on DVD and digital platforms including Kino Now.

A Boy and His Tiger
The Cartoon Art Museum pays tribute to the comic art of Bill Watterson, creator of the popular Calvin and Hobbs series. Bid on print, T-shirts, bags and more. Artwork created by professional artists, graphic novelists, illustrators and animators was created and auctioned off on eBay, and the remainder will be sold throughout the spring. www.cartoonart.org

Broadway on AirBnB
Promotional-sponsored performances by a variety of talents: Tittus Burgess, cast members from Moulin Rouge, Mrs. Doubtfire, and more, plus dance, yoga, tarot and circus classes. $10-$50. www.airbnb.com

Broadway Performers
For Broadway fans, Tony-winning performers and the super-sexy Broadway Bares benefits, visit Broadway Cares/Equity Fights AIDS' YouTube channel for hours of amazing performances. Donation options are linked as well. https://www.youtube.com/channel/

Contemporary Jewish Museum Events & Exhibits
View virtual exhibits (like Predicting the Past: Zohar Studios, The Lost Years) and online events. https://thecjm.org/
Dance Brigade
Hemorrhage: An Ablution of Hope will be performed outdoors in real space! Dance Brigade is known for its use of drumming, text, explosive modern dance, and content-driven art. Sept 26, 2pm. at 24th St. BART Station Plaza. https://dancemissiontheater.org/2020/08/30/sept-27-hemorrhage-an-ablution-of-hope/

Dancing Together Apart
Women's dance-film project with 20 Dancers over 40 days from all up and down the West Coast of the United States, from Portland to L.A., who participated in the work focusing on our current struggles with the COVID pandemic, Black Lives Matter protests and police violence. https://www.dancingtogetherapart.org/

Different Stars
Musical show with a current theme: How do these emotions collide during time spent alone in quarantine? When James opens a box of artifacts from his first breakup, after months of self-isolation during COVID-19, he reckons with memories that haunt him of a first queer love gone awry; starring James Jackson, Jr., Victoria Huston-Elem, Danielle Buonaiuto, and Karl Saint Lucy. The premiere, directed by Raquel Cion, will benefit QORDS, a music-centered summer camp for LGBTQ youth with a special focus on queer and transgender youth of color living in the American South. https://www.differentstars.live/

Disclosure
Sam Feder's documentary about transgender depictions in film and television, revealing how Hollywood, including Laverne Cox, Lilly Wachowski, Yance Ford, Jen Richards, Mj Rodriguez, Jamie Clayton, and Chaz Bono. www.netflix.com

Fifty Years of Pride
Presented by the GLBT Historical Society and the San Francisco Arts Commission (SFAC) Galleries, with the support of San Francisco Pride, 50 Years of Pride features 100 photographs to celebrate five decades of San Francisco Pride, one of the city's most beloved public festivals. View an online version of the exhibition on the GLBT Historical Society's website with the physical exhibition opening later in the year after the city's shelter-in-place order has been relaxed. Thru April 2021 at City Hall. www.glbthistory.org

Films and Art at BAM/PFA
The Berkeley Art Museum/Pacific Film Archive show online exhibits (Ron Nagle: Handsome Drifter, Folk and Modern Art in Postcolonial India) and art films, including Spaceship Earth, The Cordillera of Dreams and more. www.bampfa.org

Films at The Roxie
Watch independent and classic films online at the Roxie's virtual cinema. Sept 4, the homoerotic Beau Travail in a newly restored print, plus Mr. Soul, Made in Bangladesh, Epicenter and other films.
https://www.roxie.com

Frameline44 Films
The LGBT International Film Festival is scheduled for Sept 17-27 online, but you can enjoy a selection of paid and free content, including on-demand Frameline Distribution films, Frameline Youth In Motion films and curriculum, the Frameline Voices catalog on YouTube, and the Frameline Completion Fund. In-person, the world premiere of D'Arcy Drollonger's drag farce Sh*t and Champagne at Concord's Solano Drive-In (Sept 17). www.frameline.org
The Garden Left Behind
Winner of SXSW's Audience Award and named one of the best LGBTQ films of all time by Rotten Tomatoes,
Flavio Alves's moving drama of an undocumented Mexican trans woman in New York City can be viewed online. https://www.cinematropical.com/

Garrin Benfield
Enjoy live and recorded home sets performed by the gay singer-composer. Garrin's YouTube channel

GayBingeTV
Streaming channel for independent LGBT short, feature and documentary films.
https://www.gaybingetv.com/

Gay Men's Sketch/Hot Draw
Mark I. Chester hosts three gay men's sketch events a week, with sexy male models posing and works shared via Zoom. Ongoing events - Tues. Gay Men's Sketch in exile. 6:30pm. Fri. Hot Draw! in exile. 6:30pm. Sun. Gay Men's Sketch in exile aux. - 2pm. instagram.com/gaymenssketch instagram.com/hotdrawsf

The Goes Wrong Show
BBC sketch comedy show is now on Amazon Prime. See promo trailer.

The Golden Girls, a Puppet Parody
the favorite sitcom is performed by puppets, directed by Jonathan Rockefeller; 16 episodes starting Sept. 14. https://thatgoldengirlsshow.com/

Gregangelo Museum
Take online and in-person tours (using all safety protocols with 'The Riddle of the Sphinx,' a new outdoor show) at the 27-room mansion filled with eccentric unusual interactive artworks and performances. https://www.gregangelomuseum.com/

Holy Trinity
Named to Indiewire's "Fabulous LGBTQ Films Not To Miss," Holy Trinity is the story of a sex-positive dominatrix in Chicago who discovers a newfound (and drug-induced) talent for speaking to the dead. Molly Hewitt wrote, directed and stars in this wild ride of queer spirituality and alternative sexuality. https://www.fullspectrumfeatures.com/trinity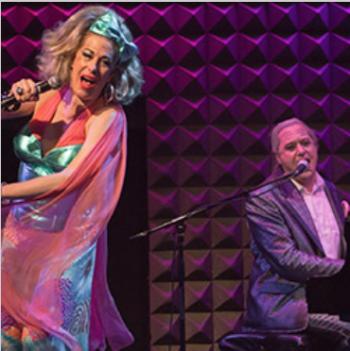 Homo Say What
Acclaimed documentary explores the origins of homophobia against men that became institutionalized in the 1950s and how that continues to negatively affect all genders and sexualities to this day. https://homosaywhatfilm.com/

House of Cardin
The acclaimed documentary about fashion designer Pierre Cardin's online. http://houseofcardin.com/

In Good Company
New Conservatory Theatre Center's new podcast drama-comedy, with playwrights and producers dealing with COVID in a realistic story. https://www.nctcsf.org/In-Good-Company-Podcast

Jimmy Carter, Rock & Roll President
Mary Wharton's new documentary charts the mostly forgotten story of how Carter, a lover of all types of music, forged a tight bond with musicians Willie Nelson, the Allman Brothers, Bob Dylan and others. The surprisingly significant role that music played throughout Carter's life and in his work becomes a thread in this engaging portrait of one of the most enigmatic Presidents in American history. https://www.cafilm.org/

Jim Provenzano at Dog Eared Books
The local gay author (me) discusses his (my) seventh novel, Finding Tulsa (gay film director reconnects with his teenage crush from a production of Gypsy), with author/artist Baruch Porras-Hernandez. Sept 22. 8pm PST. Online via Zoom. RSVP on www.eventbrite.com https://dogearedbookscastro.com/

Kiki & Herb: Seeking Asylum!
Justin Vivian Bond and Ken Mellman resurrect their acclaimed kooky cabaret show Sept 24, 4pm PST. Also Available via the Joe's Pub YouTube and The Public's website through November 5. https://publictheater.org/productions/season/fall-2020/kiki--herb-seeking-asylum/

The Klipptones
Local jazz-pop band performs weekly streaming concerts; Fridays, Sundays and Mondays. https://www.facebook.com/klipptones/live

LGBTQ Films on Revry
The global queer streaming network screens free and subscription-paid feature films, documentaries, short films and episodic series. https://revry.tv/

LGBTQ Films on Tubi
The free streaming service showcases several queer films, including God's Own Country (2017) - won directing award at Sundance; Hearthstone (2016) — won directing award at TIFF; Jeffrey (1995) — starring Patrick Stewart; Latter Days (2003); Lip Service (2012, series); Love is All You Need? (2016) — starring Emily Osment; Poison (1991) - directed by Todd Haynes, Sundance Grand Jury Prize winner; Saved! (2004) — starring Mandy Moore and Macaulay Culkin, and others.
https://tubitv.com/

Literary Pop
Celebrate the moments when literature and pop culture collide. Come and listen as poets, fiction writers, essayists, comedians and storytellers share work inspired by their pop culture obsessions. Featuring Cynthia French, Calvin Cato, Benny Avalos and host Wonder Dave. Sept 12, 7pm, PST. https://www.eventbrite.com/e/literary-pop-tickets-113005795376

Litquake on Lockdown
Listen in on author talks and readings. https://www.litquake.org/

Live From London
Online festival of the world's finest vocal music, including the Bay Area's Chanticleer. Thru Oct. 3. $15-$100. https://www.chanticleer.org|https://www.chanticleer.org>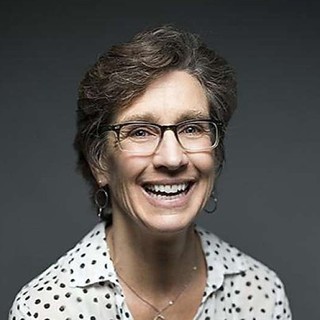 Lucy Jane Bledsoe
The author of the acclaimed Lava Falls n conversation with Christina Quintana (The Heart Wants) and Naomi J. Williams (Landfalls); hosted by Booksmith. https://www.booksmith.com/event/virtual-lucy-jane-bledsoe

Mallory O'Meara on Uncovering the Creature
Mallory O'Meara, author of Lady From the Black Lagoon, discovered the story of Milicent Patrick when digging into some knowledge about her favorite hollywood monster, 1954's The Creature of the Black Lagoon. Mallory's book dives in Milicent's life as a artist and an actor, tracing back to her creation of the most recognizable monster in motion pictures, but like many women who work in cinema, she was never given the credit. presented by Bati Cine & El Cine. www.eventbrite.com
The Marsh Stream
The theatre producer known for acclaimed solo shows presents a variety of programming at 7:30pm nightly on MarshStream, its newly launched Broadcast Platform, even interactive Bingo game nights. http://themarsh.org/marshstream/

Marga Gomez' 'Spanking Machine'
The popular comic performs her new "queer Cuban comedy-drama," Thru Oct. 11. http://brava.org/ http://www.margagomez.com/

Mr. Soul
New documentary about Ellis Haizlip, the 1970s Black TV host who brought Black actors, activists, musicians, and community leaders to TV screens. https://www.mrsoulmovie.com/

Museum Collections
Many local museums and galleries host expanded online exhibits of classic and modern art, plus short films and 'Artist at Home' interviews. Check them out.
Oakland Museum museumca.org
SF MOMA www.sfmoma.org
de Young and Legion of Honor www.famsf.org
Asian Art Museum https://asianart.org

Music and Dance at Cal Performances
Watch videos of dances (Mark Morris, Mariinsky Ballet, Meredith Monk) and classical and modern music courtesy of the Berkeley-based performing arts organization. www.calperformances.org Also on YouTube and Spotify.

Never the Sinner
Exit Cafe's online discussion of the play about Nathan Leopold and Richard Loeb, the 1920s 'spree killer' murderers. https://www.facebook.com/exittheatresf/live/

New Conservatory Theater Company: Offstage But Online
Temporarily shuttered, queer theater company NCTC is now building a digital playground for your viewing pleasure that will feature the new podcast drama, actor monologues, messages from playwrights, exercises to practice mindfulness and original material from Conservatory students. Quarantine is a Drag Trivia Night, with J. Conrad Frank (Katya Smirnoff-Skyy).
https://www.nctcsf.org/onstage-to-online
www.facebook.com/nctcsf
https://www.youtube.com/user/NCTCSF

NIAD Exhibits
The art studio for developmentally disabled adults shares online exhibits and sells beautiful works of art.
www.niadartstore.org

Old First Concerts
Enjoy live streaming and archived music concerts of classic, and contemporary music. August 28 at 8 pm - San Francisco International Piano Festival - All Beethoven Program. https://www.oldfirstconcerts.org

Opera online
San Francisco Opera streams productions of several new and classic works. https://sfopera.com/ Also, New York's Metropolitan Opera shares their amazing productions online. www.metopera.org

Order of Magnitude
Benjamin Grosser's dizzying art collage/documentary about Facebook cofounder Mark Zuckerberg, with extensive footage of his varying interviews over the past years. Streaming through Sept. 28. Artist talk Sept 17, 5pm at https://www.twitch.tv/tttelematiccc Film at https://www.tttelematiccc.com/order-of-magnitude
OutFest 2020
View LGBT films and artist discussion panels online. https://outfest.org/alwayson/

OutShine Film Festival
Florida's LGBT film festival goes online (with local drive-in features, too). Thru Aug 30, with some archived events. https://www.outshinefilm.com/

Play at Home
Berkeley Repertory Theatre presents a bunch of short play scripts you can download and perform at home, featuring works by Julia Cho, Peter Sinn Nachtrieb, Miranda Rose Hall, Ricardo Pérez González and several others. www.playathome.org

Prideland
New interview series; Out, Proud & Southern: Dyllón Burnside's Story; recounts his own experience coming out in the South and travels to the heart of Alabama to meet Carmarion D. Anderson, a barrier-breaking transgender woman of color and the Alabama State Director of the Human Rights Campaign. www.pbs.org

The Prince
Sebastián Munoz' searing gay prison drama set in a repressive 1970s Chilean prison streams online. https://www.kinolorber.com/

Promo Homo TV
Veteran journalist Nicholas Snow hosts an online series of video interviews with LGBT actors, directors, authors and community activists. https://promohomo.tv

Proud
Philippe Faucon's three-part dramatic film about French gay lives in 1981, 1999 and 2013. https://kinomarquee.com/

Putting On
Season 2 of the gay reality show airs (starring Israeli-born underwear model, Instagram star, and entrepreneur, On Mekahel); Sundays at 4pm & 7pm. https://revry.tv/

Queen of the Capital
Josh Davidsburg's vivacious and inspiring documentary follows Muffy Blake Stephyns, a drag performer with high aspirations. Muffy and her everyday persona, Daniel, navigate the drag and bureaucratic worlds of Washington, D.C., while following her dream to lead a colorful group of philanthropic drag performers. $10. https://ondemand.drafthouse.com/film/queen-of-the-capital/

Queer East Film Festival
Mini-festival of LGBT Asian films. https://queereast.org.uk/

A Queer Serial
New series of LGBT-themed podcasts with voice actors such as Sam Pancake (Transparent, Gilmore Girls), @lgbt_history's Matthew Reimer, Radical Faeries' Will Roscoe and Joey Cain, and Chicago performers Salvio Gado and Jon Martinez, along with real recordings of pioneers including transgender entertainer Christine Jorgensen, civil rights activist Bayard Rustin, and lesbian journalist Edythe Eyde. https://www.mattachinepod.com/seasontwo

QueerWords Podcast
Wayne Goodman's online audio discussions with many notable LGBTQ fiction, poetry authors, essayists and journalists. https://queerwords.org/

Rialto
New dramatic gay Irish film about a downward-spiraling man and his new hustler friend. $10. Sept. 24-26.https://watch.eventive.org/rialto/play/5f53ae91560f0803ecb24a68

Reno 9-1-1
The wacky cop comedy show returns for 13 episodes on Quibi. https://quibi.com/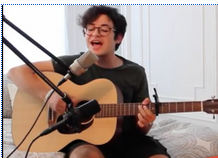 San Francisco Gay Men's Chorus
Enjoy concerts and films, plus guest performers joining their Behind the Curtain series and Summer Reruns (Lisa Vroman, Billy Porter, Chasten Buttegieg, Wilson Cruz, Adam Rippon, Britney Coleman, Laura Benanti, Andrew Lippa). Crescendo: Voices Rising gala recaps and songs and more. New: Associate Artistic Director Mitch Gali and Julian Hornik discuss LGBTQ youth and the importance of artistic self-expression. https://www.sfgmc.org/sfgmctv

San Francisco Performances Presents Front Row CD Archive Online Series
After several programs in celebration of their 40th anniversary were cancelled, instead, SFP offers memorable classical concerts from the past, all recorded at the Herbst Theater between 2004-2008. Concerts are audio only. http://sfperformances.org/

Seth Concert Series
Broadway, film and TV actor-singers perform intimate concerts online with pianist and music genius Seth Rudetsky. $20-$25. Sept 20 & 21: Judy Kuhn. https://thesethconcertseries.com/

SF BATCO
San Francisco Bay area Theatre Company streams weekly new plays, readings, arts talks, improv and more. https://www.twitch.tv/sfbatco

SF Jazz Fridays at Five
Cool jazz will bring you good vibes. The acclaimed venue brings their concert series online with talented musicians. Sept 11m Red Baraat. https://www.sfjazz.org

SF Mime Troupe
Enjoy the theatre company's new radio serial-style production of Tales of the resistance, thru Oct. 24. Each series will have 2 episodes, which cycle through the Summer 2020, culminating in a finale where all 4 storylines converge. https://www.sfmt.org/talesoftheresistance

Smothered
Jason Stuart and Mitch Hara's two-man comedy film, now on Amazon Prime, YouTube, Revry. https://www.smotheredtv.com/

Smuin Contemporary Ballet
The local dance company streams notable works, including Helen Pickett's Oasis, Brennan Wall's Nocturne, Rex Wheeler's Sinfonietta and an ongoing Hump Day Ballets series. https://www.smuinballet.org/

Snowflake
Indie film dramatizes modern day political divides in the LGBTQ Community, made by writer, director and star, Jack Tracy. https://vimeo.com/ondemand/snowflakefilm

The Sons of Tennessee Williams
Fascinating documentary film about gay-run Mardi Gras crews, from their early years to today. https://vimeo.com/ondemand/sonsoftennesseewilliams

Stars in the House
Musical genius and affable host Seth Rudetsky —with his husband James— hosts Zoom chats with Broadway, film and TV stars galore. One of the first online fundraisers, your donations help performers of all kinds, from actors to lighting crew members. Broadway may be closed, but you can enjoy living room concerts and chats with favorite stars. www.starsinthehouse.com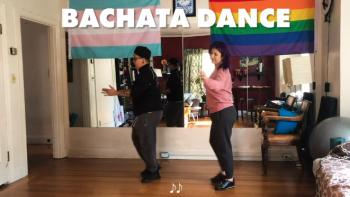 Stay Fresh at Home
Fresh Meat Productions' new online weekly series of talks and classes to support your wellness, embodiment, breath and connection, with singing, dance and lessons in various topics. http://freshmeatproductions.org/

SummerStage Anywhere
The New York City outdoor concerts shift to online performances, through August. https://cityparksfoundation.org/summerstage-anywhere/

Surviving the Silence
World premiere of the documentary about the pre-'Don't Ask Don't Tell' struggle of Colonel Patsy Thompson, who was forced to expel Army hero Colonel Margarethe Cammermeyer for being a lesbian. In addition to revealing this untold story, Surviving the Silence explores Thompson's 30+ years of a closeted life with now-wife Barbara Brass. Together, they candidly share how they wrestled with heart-wrenching choices in public and in private. https://filmfestivalflix.com

Terrence McNally: Every Act of Life
Screening of the American Masters documentary about the the late gay playwright. http://www.pbs.org/wnet/americanmasters

Theatre Rhino
The local gay theatre company presents online performances of solo and other plays, including works (mostly) written and performed by John Fisher. Sept 17, 8pm: Straight. All plays archived online. www.therhino.org

Virtual Streaming Room With Cinema SF
Cinema SF, owners of the historic Balboa and Vogue Theaters, are keeping the spirit of movie-going alive with a series of virtual movie screenings and online chats. Proceeds from the screenings will go towards keeping the theaters alive so they can reopen after the shutdown ends. https://www.cinemasf.com/

We Players' Audio Dramas
the innovative site-specific theatre company presents podcast-style audio re-interpretations of their recent productions, including Wonder Storytime with Alice and Friends, and The Odyssey. www.weplayers.org

Where the Bears Are
New online comedy show with two mature gay men. https://youtu.be/5TQnRDc15i0

Wild & Scenic Film Festival
Animals worldwide have reclaimed urban spaces, as you may have seen in the news. But we need to face how our damage to the environment and abuse of wild animals may have aided the spread of disease. While we contemplate that, enjoy films of animals in the wild. Peninsula Open Space Trust (POST) hosts an ongoing series of nature films and talks. openspacetrust.org

Word for Wordcast
The theatre company known for fascinating word-for-word stage adaptations of classic short stories and novellas performs E.M. Forster's dystopian futuristic "The Machine Stops" in podcast three-part format, through Oct. 1. Free/donations. http://www.zspace.org/pod

WQUR: Queer Quarantine Radio
BenDeLaCreme, Jinkx Monsoon, Peaches Christ and Major Scales perform old-time radio-style thriller detective programs. https://anchor.fm/wqur
NIGHTLIFE
Bootie Mashup
Adriana A and guest DJs blend pop hits to danceable grooves in livestreams, Tuesdays-Saturdays. https://www.twitch.tv/BOOTIEMASHUP

Boy Division
DJ Xander hosts the Twitch online edition of the New Wave retro-fun dance party. www.twitch.tv/deejayxander

Digital Pride Fest
Enjoy drag and cabaret performances with Tom Goss, Bright Light, Bright Light, Divina De Campo, Trinity the Tuck, Pearl & Precious Brady-Davis, Deven Greeen & Handsome Ned, Miz Cracker, Desmond is Amazing, Manila Luzon and many more. www.digitialpridefest.com

Do Re #MeToo
Evening of music and comedy featuring an extravaganza of incredible feminists performing some of the most horribly sexist songs ever written; hosted by Lizz Winstead (AAF founder and co-creator of The Daily Show), and features Margaret Cho, Peppermint (RuPaul's Drag Race, Broadway's Head Over Heels), Tony Winner Laura Benanti (Gypsy, Into the Woods), Kathy Valentine (The Go-Go's), Nina Gordon & Louise Post of Veruca Salt, Bethany Thomas, Laura Jane Grace (Against Me!), Ambrosia Parsley, Holly Miranda, Jackie Venson, Sally Timms (The Mekons), Jill Hopkins-Olewnik (Making Beyoncé podcast)Donations benefit Abortion Access Front (AAF). Sept 17. https://www.crowdcast.io/e/ladrvujh/register

Drag Alive from The Stud
Every Saturday night The Stud, San Francisco's oldest queer bar, will host Drag Alive. Vivvyanne Forevermore and Jillian Gnarling bring you a virtual Stud to help support the staff, performers and the goals for a future venue. Party with the crew of The Stud at Twitch TV: https://www.twitch.tv/dragalive

Drag Queen Bingo
Benefit for the Young Actors Theatre Camp, with prizes. Aug 10, 6pm. http://www.campyatc.com/bingo

Drag Queen Mukbang
Online episodic mini-series of drag performers in a show sponsored by Jack Daniel's new brand, Tennessee Fire, with Patrick Starr, Gia Gunn, Eugene Lee Yang and Laganja Estranja. Saturdays. www.jackdaniels.com

Frolic Quarantine
The fun pursuit party goes virtual. Don your animal gear and enjoy a variety of DJ mixes. Monthly, first Saturdays. http://frolicparty.com/
Juanita MORE! MORE! MORE!
Legendary drag performer and DJ Juanita MORE! stars in a one-night-only virtual fundraising charity event. Featuring epic lip-sync performances to her greatest hits, a thumping late-night DJ set, and a finale you have to see to believe, all in support of Mama G's Thanksgiving Street Dinner, SF LGBT Center, and ACLU. Sept. 19, 6pm PST on Zoom, Facebook and YouTube. https://juanitamore.com/

Lockdown Comedy
Lisa Geduldig hosts the online version of her popular comedy show, this month with Wendy Liebman, Matt Kirshen, Sampson McCormick, Lisa Geduldig, Arline Geduldig (her witty mother!). Sept 17. $10-$20. 7pm PST. lockdowncomedyseptember17.eventbrite.com

The Monster Show
One of the longest running drag shows in the Castro, The Monster Show has made The Edge bar a Thursday night destination. The Monster show now comes to Twitch TV, where the performers will entertain you while they raise money for bar employees. https://www.twitch.tv/monstershowsf

Oasis TV
The SoMa nightclub's Pride programming includes in-person rooftop and outdoor street events, online new and archival footage from the venue's best shows. Sept 18: Star Trek Live! Also, The Golden Girls Live. Cyberotica: the Rock Musical, Sex and the City Live, Buffy the Vampire Slayer Live, AbFab Live., Above and Beyond the Valley of the Ultra Showgirls, Debbie Does Dallas, Bitch Slap and D'Arcy Drollinger's weekly Monday 'Hot Trash.' Also, Meals on Heels, drag dinner delivery. New content uploaded regularly. sfoasis.com/

Pillows
Glamamore's long-running Monday night party at Powerhouse can also be found at Twitch TV. The party is called Pillows and has been a staple of the bar for years and is currently being hosted by Mary Vice. It's better than Monday Night Football! Check it out every Monday at 9pm. https://www.twitch.tv/cashmonetdrag

Quarant-Tea
One of the first local nightlife fundraisers, the SF Queer Nightlife Fund presents DJs spinning hours of music for your now possibly obsessive housecleaning activities. https://www.twitch.tv/sfqueernightlifefund

Quarantinis with Katya
Katya Smirnoff-Skyy sings and hosts weekly Thursdays online cocktail parties. www.facebook.com/katya.smirnoffskyy

Queerpowers.com
A new LGBTQ+ platform developed by two San Franciscans on the first day of the Covid-19 quarantine. enjoy live drag shows, queer house parties, political broadcasts and other LGBTQ content from all over the world, uploaded hourly. Founded and curated by former Google employee Katie Bush and former Apple employee Anders Howerton. https://www.queerpowers.com/

Real Bad Merch.
The popular fundraiser dance parties won't happen in person, but you can buy T-shirts, masks and hankies online. https://www.realbad.org

Red Hots Burlesque
enjoy drag and strip shows, music acts and more in online performances.
http://redhotsburlesque.com/
Russell Deason's Happy Hour in Exile
The Bestie-winning pianist and cabaret singer brings his martini bar ambiance into your home; Mondays 5:30pm-7pm. www.facebook.com

SF Eagle
The famed leather bar now features wacky karaoke, DJs and other entertainments. https://www.twitch.tv/sfeaglebar

Sampson McCormick
The acclaimed comic shares insightful witty perspectives of a Black gay man in short clips and "Church Boy," a new 40-minute recorded show. http://www.sampsoncomedy.com Sampson's YouTube channel

SMILF (Straight Men I'd Like to Friend) Comedy Show
Wonder Dave and Marcu Williams host a night of straight comics, plus gay trivia for the bros, including Ophira Eisenberg. Sept. 19, 7pm. pay what you can. https://www.eventbrite.com

Sundance Saloon Online Live
Sundance Saloon offers online dance lessons and dancing every Sunday night. Beginning classes are aimed at novices. Learn how to dance while you shelter in place from 6-9pm. 6pm: beginning line dance for complete novices; 7pm: intermediate line dance; 8:15pm: line dance mini-marathon. http://www.sundancesaloon.org/

Sunday Funday at Port Bar Oakland
Yes, the bars with tasty cocktails and limited to-go and dine-out dishes is open. Sunday Sunday 12pm-8pm. Fri & Sat 3pm-12am. Tue 5pm-12am. 2023 Broadway, Oakland. https://www.portbaroakland.com/

Who's Your Mami Comedy
The latest edition of the now-online comedy show features Irene Tu, Betsy Salkind, Danielle Perez, Calvin Cato, and host Marga Gomez. $10. Sept 17, 7pm PST on Zoom. http://brava.org/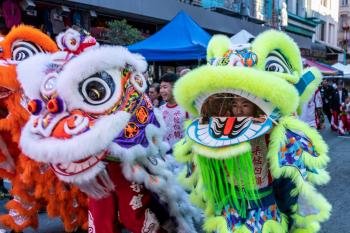 COMMUNITY
American Humanist Association
The non-faith organization's annual conference goes online. Aug. 8. https://conference.americanhumanist.org/index.php/register2020

Autumn Moon Festival
Online experience to celebrate the festival's 30th anniversary and showcase San Francisco Chinatown's rich culture and history. Sept. 18, 7pm-9pm. www.moonfestival.org

Castro Country Club's Virtual Gratitude Meetings and Check-in
Castro Country Club, the safe space for queers in recovery, will be holding virtual meetings on Sundays at 1 pm until they are able to reopen. The Zoom meeting room will open at 12:30 and the meeting room will remain open for at least 30 minutes thereafter for hanging out and fellowship.
https://www.facebook.com/pg/CastroCountryClub/events/ Join the Zoom meeting at https://zoom.us/794362233 Meeting ID: 794 363 233

Conservatory of Flowers
Online Zoom classes, and outside, while it's closed, see a special giant rainbow made entirely of Legos; through Sept 21. https://conservatoryofflowers.org/exhibits-events

Daily Services at Grace Cathedral
Grace Cathedral, the welcoming and affirming Episcopalian congregation atop Nob Hill, will be holding online services weekday mornings at 9am and Sunday mornings at 11am. Grace is also hosting online Bible study and other events. www.gracecathedral.org

Events at Cal Academy
Science talks, lectures, demos and exhibits go online. https://www.calacademy.org/

Exploratorium Events
Talks, and demos with a science theme, including comet-cam and more. www.exploratorium.edu

Fighting Racism
Join fundraising support and civil rights activism through various groups: The George Floyd Memorial Fund
(https://www.gofundme.com/f/georgefloyd, The Minnesota Freedom Fund (https://minnesotafreedomfund.org/), Black Lives Matter (https://blacklivesmatter.com/), Campaign Zero (https://www.joincampaignzero.org).

GLBT Historical Society events & exhibits
Three years ago the GLBT Historical Society launched Fighting Back, a series which brings together community leaders, experts, historians and activists to explore lessons from the past that might be useful in formulating resistance efforts today. The series is continuing online with the moniker "Fighting Back: Lessons From AIDS for Covid-19." The series hopes to find ways to transform their possible feelings of anger, despair or anxiety into action, and to find models for building community and solidarity in the midst of this pandemic. $5 donation. Online exhibits include Reigning Queens: the Lost Photos of Roz Joseph, curated by Joseph Plaster; Angela Davis: OUTspoken, Labor of Love about the first ten years of Pride events in San Francisco; Performance, Protest & Politics: The Art of Gilbert Baker, Pioneering Periodicals, 1940s-1950s, Picturing Kinship: Portraits of our Community by Lenore Chinn and 50 Years of Pride.
https://www.glbthistory.org/fighting-back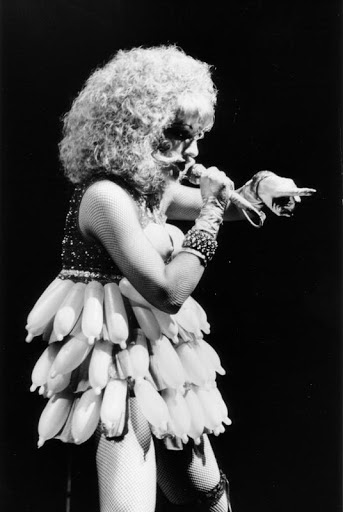 GLIDE Services
Online services with the spiritual center of healing, faith, justice and community for everyone. https://www.glide.org/church/

Hispanic Heritage Month
Revry's array of online films, activist chats and more, including Latinx LGBTQ personalities on the show The Q Agenda. https://revry.tv/

Job Services at LGBT Center
Learn new job search skills, work on your resume and more in online workshops. https://www.sfcenter.org/program/employment_services/

John Lewis 'Good Trouble'
Luther Burbank Center for the Arts invites its patrons to join in a nationwide watch, in collaboration with over 60 of the nation's arts and cultural institutions, of the riveting new documentary, John Lewis: Good Trouble, which looks at the impact of Lewis's life and work. Luther Burbank Center for the Arts audiences will be able to rent the film directly from Magnolia Pictures, then take part in a live virtual conversation about John Lewis's remarkable legacy. Sept. 21. 4pm. https://njpac-org.zoom.us/webinar/register/WN_cHsB_NYRSuGYSJi44k8XIA

Keshet
The Jewish LGBTQ organization's online events include discussions, author talks and celebrations. Sept 10, 4pm PST: Author/educator Abby Stein discusses 'Coming Out as a Spiritual Obligation.' Sept 15, 4pm PT, Raffi Freedman-Gurspan, Deputy States Director with the All On The Line campaign of the National Redistricting Action Fund.
https://www.keshetonline.org

LGBT Asylum Project Podcast
Creator and host of the LGBTQ Asylum podcast is 28-year-old Sayid Abdul, a queer Uighur refugee who was granted political asylum in 2018. Sayid speaks authentically and truthfully to the US asylum process, and he and his guests engage listeners in gripping, critical stories that bring urgency to a crisis affecting millions; available on Spotify and Apple's Podcast. https://www.lgbtasylumproject.org/

LGBTQ&A
Jeffrey Masters hosts a series of weekly podcasts with community notables; sponsored by The Advocate and GLAAD. https://podcasts.apple.com/us/podcast/lgbtq-a/id1151561226

Manny's Live
Community leaders, authors, activists and politicians join online discussions. Voter registration campaigns and more. www.welcometomannys.com

National AIDS Memorial
The National AIDS Memorial launches a new web platform that features the entire AIDS Quilt's 48,000 panels online, with a new initiative to share stories from 40 years of the pandemic from then to now. July-ongoing. Opening is coordinated with the annual International AIDS Conference. https://aidsmemorial.org/

Out in the Bay
The long-running LGBT radio show, offline for a few years, has returned with new podcast episodes, and an extensive archive. Host Eric Jansen welcomes artists, community leaders and celebrities. New: the music and life of Liberace. Archived: producer Truc Nguyen shares intimate stories and solutions to the quarantine no-sex life. Imani Rupert-Gordon, the National Center for Lesbian Rights's new executive director, discusses her life and her vision for NCLR. https://www.outinthebay.org/

Outdoor Dance Classes
Stretch, spin, sing your body electric in outdoor, distanced playground-set SF/mission and West Oakland dance class fin Hip Hop, Salsa, Cuban and other styles. Also online classes. https://dancemissiontheater.org/

Queercore Podcast
The QueerCore Podcast, hosted by August Bernadicou, elucidates radical, LGBTQ activists' dark histories; a spotlight on the catalysts who fought in the front-lines, in the back-lines and in the trenches of civil rights. The QueerCore Podcast is an opportunity for them to tell their stories in their own words, including Phyllis Lyon, Don Kilhefner, Jack Fritscher and others. New: drag rocker Jayne County. https://www.queercorepod.com/

Queer Nightlife Talks
Blog and links to talks among Bay Area nightlife organizers and producers, with community input and opinions. Tune in, offer assistance or thoughts. sfqueernightlifefund.org

San Francisco Pride board voting
Members' election to vote on SF Pride board members. Thru Sept. 18. https://sfpride.org/

Shabbat Services With Congregation Shaar Zahav
During the Covid-19 shutdown Congregation Shaar Zahav, San Francisco's synagogue for LGBTQ Jews and friends, will stream their Shabbat (Sabbath) services via Zoom. Friday nights at 7:30 pm and Saturday mornings at 10 A.M. https://shaarzahav.org/services/

Sound On
MTV News brings together leading voices for "Sound On," a roundtable series igniting essential conversations through a BIPOC lens. Panelists dive into the topics of gender identity, white supremacy, allyship & more. https://www.youtube.com/watch?v=JPc5wy-iROM

Taimi Talks
LGBTQ personalities (Jason Wimberly, Chris Mosier, Monique Heart and others) share guest-talks on various topics, with/on the Taimi app. (Apple Store or Google Play). https://taimi.com/

Worship With Rev. Dr. Megan Rohrer
Rev. Dr. Megan Rohrer of Grace Lutheran Church, the first openly transgender pastor to be ordained in the Lutheran church, will be offering a variety of online services and events during the Covid-19 shutdown. For kids stuck at home there will be Kids Dance Parties on Zoom until May 1. Pastor Rohrer will also hold their Sunday services online via Facebook live at their Facebook page.
https://www.facebook.com/pg/meganrohrer/events/

Zoom Baking Classes
Join a variety of notable chefs for fun tutorials on baking. Fridays 10am PT/1pm ET.
www.24sixlife.com/baking-zoom-room

Do you have an event to add? Email events@ebar.com

Help keep the Bay Area Reporter going in these tough times. To support local, independent, LGBTQ journalism, consider becoming a BAR member.