Nightlife, Arts and Community Events Continue Online During Shutdown
Friday Apr 10, 2020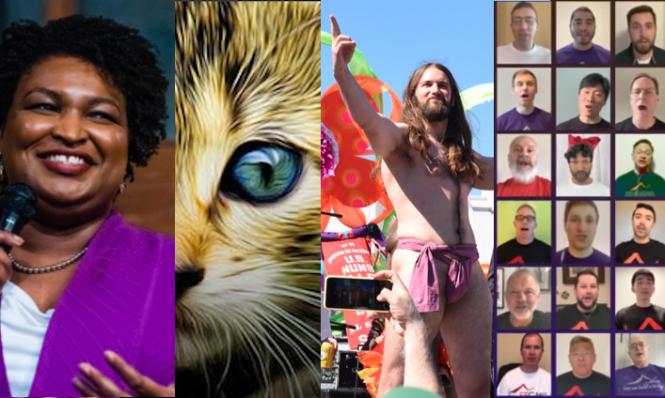 Nightlife and community gatherings are a big part of queer culture, but all that has gone away with the advent of the COVID-19 shutdown. Undaunted, many of the Bay Area's most beloved performers, party promoters and events producers have found a new way to bring their magic to the masses. Thanks to the internet, you can still party with your favorite drag queens, or even attend a virtual religious service.

Please note, some of these events are accepting donations to help keep their venues afloat during the shutdown. Here is Bay Area Reporter's list of the best online events.

NIGHTLIFE
Drag Alive from The Stud
Every Saturday night The Stud, San Francisco's oldest queer bar, will host Drag Alive. Vivvyanne Forevermore and Jillian Gnarling bring you a virtual Stud to help support the staff, performers and the bar itself, which its collective is working hard to keep alive. Party with the crew of The Stud at Twitch TV: https://www.twitch.tv/dragalive

Pillows
Glamamore's long running Monday night party at Powerhouse can also be found at Twitch TV. The party is called Pillows and has been a staple of the bar for years and is currently being hosted by Mary Vice. It's better than Monday Night Football! Check it out every Monday at 9pm here: https://www.twitch.tv/cashmonetdrag

Polesexual
The saucy acrobatic cabaret show's also online, Sundays at 7 P.M. with host Dakota Pendent. You may not be able to slip some cash to the performers, but you donate online tips.


The Monster Show
One of the longest running drag shows in the Castro, The Monster Show has made The Edge bar a Thursday night destination. The Monster show now comes to Twitch TV, where the performers will entertain you while they raise money for bar employees.
https://www.twitch.tv/monstershowsf

Oasis TV
Oasis, the beloved SOMA nightclub, is another venue that's shuttered for the duration of the shutdown. That isn't stopping co-owner D'Arcy Drollinger from bringing some of Oasis' finest entertainers to your computer screen. Archival footage from the venue's best past shows are being uploaded to Oasis TV, the club's YouTube page, such as Sex and the City Live, The Golden Girl's Live, Buffy the Vampire Slayer Live, Star Trek Live and AbFab Live. There will also be original shows like Above and Beyond the Valley of the Ultra Showgirls, Debbie Does Dallas and Bitch Slap.

New content will be uploaded regularly.
https://sfoasis.com/
https://www.facebook.com/sfoasis/

And be sure to keep an eye on Drollingers's own Facebook page for info on Sextitude, his dance class which streams Sundays at 1:30pm for the duration of the shutdown: https://www.facebook.com/darcydrollinger

Digital Dragfest
More than 60 stars of RuPaul's Drag Race and other LGBTQ artists perform a series of online shows. Singing, dancing, cooking, anything goes. Each three-minute show features a once in a lifetime live experience. Viewers will have the opportunity to interact with the artists, tip them, and even be awarded prizes and giveaways. Tickets for each show start at $10 and are extremely limited. Shows continue through April 30. A portion of the proceeds will be donated to GLAAD.
https://www.digitaldragfest.com/

Sundance Saloon Online Live
Sundance Saloon offers online dance lessons and dancing every Sunday night. Beginning classes are aimed at novices. Learn how to dance while you shelter in place from 6-9pm.
6pm: beginning line dance for complete novices; 7pm: intermediate line dance; 8:15pm: line dance mini-marathon. Through April 26.
http://www.sundancesaloon.org/

Quarant-Tea
One of the first local nightlife fundraisers, the Queer Nightlife Fund presents DJs spinning hours of music for your now possibly obsessive housecleaning activities.
https://www.twitch.tv/sfqueernightlifefund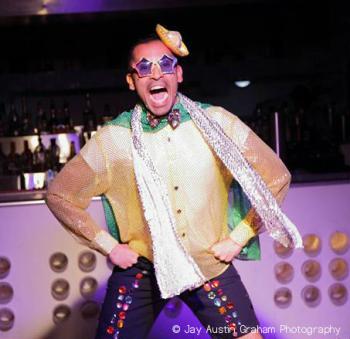 You Betta Work Comedy Fiesta
Fresh from his second Besties win, ebullient comic Jesus U Betta Work hosts a group-chat comedy night on April 17, 7:30 P.M. Pacific Time. Annick Adelle, Justin Lucas, Michelle March, Eddie Yu-Chieh Su and Jonathan Cerda-Rowell join in the night, with their own Venmo links for tips.
https://www.facebook.com/events/492400244973819


ARTS
San Francisco Gay Men's Chorus
What's more inspiring than the San Francisco Gay Men's Chorus? Birthed out of tragedy, the Chorus has uplifted our spirits with decades of concerts, a moving documentary film, a hugely popular group song performed as a tribute to Covid-19 first responders, and now a TV channel of streaming choral concerts, plus guest performers like Laura Benanti, Billy Porter and Kristin Chenoweth joining their Behind the Curtain series.
https://www.sfgmc.org/sfgmctv

An Evening With Peaches Christ and Her Home Movies
Drag superstar Peaches Christ will host an online show in which she'll screen her short films Season of the Troll, A Nightmare on Castro Street, and Whatever Happened to Peaches Christ? This is the first time these films have been seen online and Peaches will be doing a live Q & A throughout the event. The suggested donation to attend is $10, with a portion of the proceeds going towards The Stud. Thursday April 23 at 6pm EDT
http://store.peacheschrist.com/

Dance Place Virtual Adult Classes
Dance Place out of Washington DC offers online dance classes for those who'd like to be lighter on their feet. Through April 30, one of Dance Place's adult class teachers will teach you how to move to the music weekdays at 3:30 PM Pacific Time and Saturdays at 8:15 AM pacific time. Al different types of dance will be taught. Studio manager Kevin White will be part of the live stream to answer questions and to offer words of encouragement.
https://www.facebook.com/DancePlaceDC/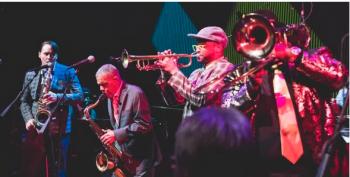 SF Jazz Fridays at Five
Cool jazz will bring you good vibes. The acclaimed venue brings their concert series online with the peppy Pink Martini April 10 5pm-6pm; Preservation Hall Jazz Band April 17, and more talented musicians lined up through May.
https://www.sfjazz.org

Xena Warrior Princess With Lucy Lawless
SyFy Channel will air all six seasons of Xena: Warrior Princess every Thursday from morning until afternoon. Xena herself, Lucy Lawless, will be hosting wrap sessions after each block; special guests are expected to appear. Rumor has it that Renee O'Connor, who played Xena's love interest and stalwart friend Gabrielle, might be on hand for a reunion. Screenings start Thursday April 16, and every Thursday thereafter.
https://www.syfy.com/

New Conservatory Theater Company: Offstage But Online
Temporarily shuttered, queer theater company NCTC is now building a digital playground for your viewing pleasure that will feature actor monologues, messages from playwrights, exercises to practice mindfulness and original material from Conservatory students.
Check out NCTC's website, their Facebook page, and their YouTube channel on a regular basis for new content.
https://www.nctcsf.org/onstage-to-online
https://www.facebook.com/nctcsf
https://www.youtube.com/user/NCTCSF

Broadway Performers
For Broadway fans, Tony-winning performers and the super-sexy Broadway Bares benefits, visit Broadway Cares/Equity Fights AIDS' YouTube channel for hours of amazing performances. Donation options are linked as well.
https://www.youtube.com/channel/UCu13RTPnsShX1uvU7Xypwrg

Bold Strokes Books Author Series
The publisher of 100s of LGBTQ novels and other genre books presents readings and discussions with some of their prolific authors. All events are free, and you can buy books as well.
http://www.boldstrokesbooks.com/bookathon
Southern Exposure Silent Auction
Let's not forget the visual arts. Southern Exposure's annual fundraiser, now online-only, features works by more than 100 artists. That could help you beautify your home, since you're spending more time there.
https://cbo.io/bidapp/index.php?s&slug=soex

San Francisco Performances Presents Front Row CD Archive Online Series
After several programs in celebration of their 40th anniversary were cancelled, instead, SFP offers memorable classical concerts from the past, all recorded at the Herbst Theater between 2004-2008. Concerts are audio only.

Available free online on Thursday April 16: Trio Medieval, an assortment of 12 pieces arranging from anonymous English and Italian 13th century songs to contemporary pieces written for the trio by Gavin Bryars, Andrew Smith and Sungji Hong.

Available free online on Thursday, April 23: Sergio and Odair Assad, guitars.
http://sfperformances.org/

Fighting Back With the GLBT Historical Society
Three years ago the GLBT Historical Society launched Fighting Back, a series which brings together community leaders, experts, historians and activists to explore lessons from the past that might be useful in formulating resistance efforts today. The series is continuing online with the moniker "Fighting Back: Lessons From AIDS for Covid-19." The series hopes to find ways to transform their possible feelings of anger, despair or anxiety into action, and to find models for building community and solidarity in the midst of this pandemic. The program for April 22 is Healthcare Workers on the Front Lines, while April 29 offers Fighting the Stigma of Disease. Both programs start at 6pm.
https://www.glbthistory.org/fighting-back

Virtual Streaming Room With Cinema SF
Cinema SF, owners of the historic Balboa and Vogue Theaters, are keeping the spirit of movie-going alive with a series of virtual movie screenings and online chats.
Proceeds from the screenings will go towards keeping the theaters alive so they can reopen after the shutdown ends.
https://www.cinemasf.com/

Cat Video Fest and more at The Roxie
Cats, now and purr-ever! Not the film, but short videos featuring adorable felines, should lift your spirits. Watch these and other films online at the Roxie's virtual cinema.
https://www.roxie.com

Easter with The Sisters
The Sisters of Perpetual Indulgence's Easter celebrations will take place this weekend, along with the annual irreverent Hunky Jesus and Foxy Mary contests.
https://www.instagram.com/sfsisters/

Queerpowers.com
A new LGBTQ+ platform developed by two San Francisco queers on the first day of the Covid-19 quarantine. Live drag shows, queer house parties, political broadcasts and other LGBTQ content from all over the world are uploaded hourly. Founded and curated by former Google employee Katie Bush and former Apple employee Anders Howerton.
https://www.queerpowers.com/
COMMUNITY
Castro Country Club's Virtual Gratitude Meeting and Check-in
Castro Country Club, the safe space for queers in recovery, will be holding virtual meetings on Sundays at 1 pm until they are able to reopen. The Zoom meeting room will open at 12:30 and the meeting room will remain open for at least 30 minutes thereafter for hanging out and fellowship.

Next meeting is on April 19. For information on possible future meetings, or for info on how to log on via mobile devices, please check out the Castro Country Club's Facebook page. https://www.facebook.com/pg/CastroCountryClub/events/
Join the Zoom meeting at
https://zoom.us/794362233 Meeting ID: 794 363 233

Timely Talks at Manny's
The community talk space and coffee shop continues its important series of timely community and cultural talks, including author Dave Eggers (April 14, 6pm), a community forum on serving LGBT seniors amid the pandemic (April 15, 6pm), Managing anxiety and promoting wellness forum (April 17, 6pm) and a Fair Fight Reception with political strategist Stacey Abrams (April 28, 5pm).
https://www.welcometomannys.com/

Shabbat Services With Congregation Shaar Zahav
During the Covid-19 shutdown Congregation Shaar Zahav, San Francisco's synagogue for LGBTQ Jews and friends, will stream their Shabbat (Sabbath) services via Zoom. Friday nights at 7:30 pm and Saturday mornings at 10 A.M.
https://shaarzahav.org/services/

Daily Services at Grace Cathedral
Grace Cathedral, the welcoming and affirming Episcopalian congregation atop Nob Hill, will be holding online services weekday mornings at 9am and Sunday mornings at 11am. Grace is also hosting online Bible study and other events.
https://gracecathedral.org/

Worship With Rev. Dr. Megan Rohrer
Rev. Dr. Megan Rohrer of Grace Lutheran Church, the first openly transgender pastor to be ordained in the Lutheran church, will be offering a variety of online services and events during the Covid-19 shutdown. For kids stuck at home there will be Kids Dance Parties on Zoom until May 1. Pastor Rohrer will also hold their Sunday services online via Facebook live at their Facebook page.
https://www.facebook.com/pg/meganrohrer/events/

Andrea Bocelli Easter Concert
Direct from Milan's amazing Duomo Cathedral, the famed classical vocalist will perform a solo concert in the vaunted church on April 12 at 10A.M Pacific Time.
https://www.youtube.com/AndreaBocelli

Stay healthy and stay indoors as much as possible.

Editor's note: If you liked this article, help out our freelancers and staff, and keep the B.A.R. going in these tough times. For info, visit our IndieGoGo campaign.
Comments on Facebook