Nightlife Events Feb. 6-13, 2020
Wednesday Feb 5, 2020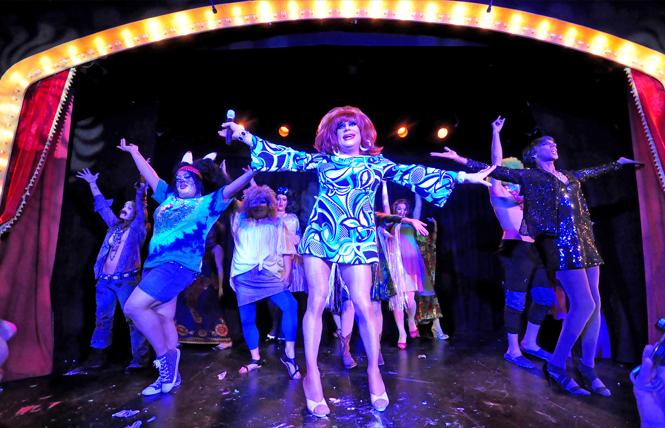 Like what you see? See what you like? Along with new nights, we bid a fond farewell to a popular drag night.

Vote for your favorites places, people, businesses and nightlife stuff in our annual Besties Readers Survey! https://www.surveymonkey.com/r/besties2020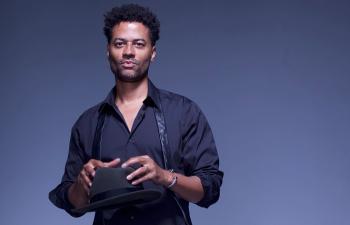 THU 6
Beso Latinx @ Jolene's
Von Kiss hosts a new night at the queer nightclub. 9pm-2am. 2700 16th St. at Harrison. www.jolenessf.com

Dee's Keys @ Beaux
Weekly live piano and open mic night with Dee Spencer. 4pm-8pm. 2344 Market St. www.beauxsf.com

Eric Benét @ Yoshi's Oakland
The smooth crooner performs a four-night gig at the elegant restaurant-nightclub. $54-$115. 8pm. Two shows nightly Feb 7-9. 510 Embarcadero West, Oakland. www.yoshis.com

Events @ Steamworks, Berkeley
The stylish bathhouse's DJed events take place Thursdays-Sundays, 10pm late; Sundays 1pm-7pm. $7-$62, plus annual memberships $160. Open 24/7, every day. 2107 4th St., Berkeley. (510) 845-8992. www.steamworksbaths.com

Friends Live @ Oasis
The popular sitcom gets a deserved drag parody, with Caleb Haven Draper, Carol Ann Walker, Emily France, Titus Androgynous, Sue Casa, Paul Grant, Hovannes, Cassie Wassie, Kirk Saraceno, L Ron Hubby and Anne Norland. $27.50-$50. 7pm. Thu-Sat 7pm thru March 14. 298 11th St. www.sfoasis.com

Game Night @ Pause Wine Bar
Johnny Rockitt hosts a weekly night of trivia and other games. 8pm-10pm. 1666 Market St. www.yieldandpause.com

Gregory Porter, Ledisi @ Fox Theatre, Oakland
The jazz, soul and gospel vocalists share a concert; Xiomara opens. $50-$120. 8pm. 1807 Telegraph Ave., Oakland. www.apeconcerts.com

Gym Class @ Hi Tops
Enjoy whiskey shots from jock-strapped hotties and sexy sports videos at the popular sports bar. 10pm-2am. 2247 Market St. 551-2500. www.HiTopsSF.com

Junk @ Powerhouse
MrPam and Dulce de Leche cohost the weekly underwear strip night and contest, with sexy prizes. $5. 10pm-2am. 1347 Folsom St. www.powerhousebar.com

Link Link Circus @ The Chapel
Actor-producer Isabella Rossellini presents her whimsical multimedia performance talk about the links between humans and animals, with live animals. $45-$65. 8:30pm. Feb 3-6, 10 & 11. 777 Valencia St. www.thechapelsf.com

Long Island Thursdays @ White Horse Bar, Oakland
Enjoy cheap drinks at the historic gay bar. 9pm-2am. 6551 Telegraph Ave, (510) 652-3820. www.whitehorsebar.com

Martini Thursdays @ Trax
The Haight gay bar offers cheap gin & vodka cocktails. 1437 Haight St. www.traxbarsf.com

The Monster Show @ The Edge
The weekly drag show with themed nights and hilarious fun. $5. 9pm-2am. 4149 18th St. at Collingwood. www.edgesf.com

Paula West @ Feinstein's at the Nikko
The popular local singer returns to the elegant nightclub with her band for a multiple-night residency of concerts. $65-$85 ($20 food/drink min.). Thu-Sat 8pm; Sun 5pm thru Feb 16. Hotel Nikko, 222 Mason St. www.feinsteinssf.com

Queer Karaoke @ Club OMG
KJ Dana hosts the weekly singing night; unleash your inner American Idol; first Thursdays are Costume Karaoke; third is Kinky Karaoke 8pm. 43 6th St. www.clubomgsf.com

Queeraoke @ Tamarack, Oakland
Dana Morrigan hosts the 1st & 3rd Thursdays queer karaoke night, 7:30pm-1am. No cover. 1501 Harrison St., Oakland. www.tamarackoakland.com

Rice Rockettes @ Lookout
Local and visiting Asian drag queens' weekly show with DJ Philip Grasso. $5. 10:30pm show. 3600 16th St. www.lookoutsf.com

Rock Fag @ Hole in the Wall
Enjoy hard rock and punk music from DJ Don Baird at the wonderfully divey SoMa bar. Also Fridays. 7pm-2am. 1369 Folsom St. 431-4695. www.hitws.com

Thursday Night Live @ SF Eagle
Rock bands play at the famed leather bar. Feb 6: Freak Accident, Lolly Gaggers and Middle-Aged Queers. $8. 9pm-12am. 398 12th St. at Harrison. www.sf-eagle.com

Tubesteak Connection @ Aunt Charlie's Lounge
Disco guru DJ Bus Station John spins grooves at the intimate retro music night. $5. 10pm-2am. 133 Turk St. at Taylor. www.auntcharlieslounge.com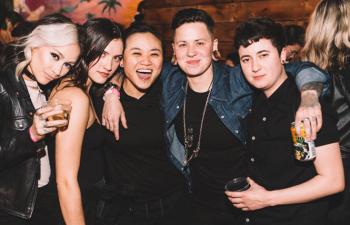 FRI 7
After Dark @ Exploratorium
Enjoy cocktails and science demos at the hands-on museum. Feb 7: The Science of Cocktails; Feb 13: Sexplorations and Aphrodisiacs. Evening hours Fri & Sat, weekly 6:15 and 7:30pm. $20. Pier 15, Embarcadero at Green St. www.exploratorium.edu/

Bear Happy Hour @ Midnight Sun
Hairy men and their pals enjoy 2-for-1 drinks and no cover. 4067 18th St. 861-4186. www.midnightsunsf.com

Bear Trap @ Lone Star
DJ Munecas spins grooves at the famed bear bar. $5. 9pm-2am. 1354 Harrison St. www.lonestarsf.com

Beards & Booze @ The Edge
Beers, bears, cubs, snacks and grooves. $5. 9pm-2am. 4149 18th St. www.edgesf.com

La Bomba Latina @ Club OMG
Drag show with DJ Jaffeth. $5. 9pm-2am. 43 6th St. www.clubomgsf.com

Drag & Dinner @ Hamburger Mary's
Enjoy burgers and a drag show with MC Jillian Gnarling, Shane Thomas, Roxy-Cotton Candy, Barbie Bloodgloss, Cash Monet. $5 show. 10pm. Also Saturdays. 531 Castro St. www.hamburgermarys.com

Drag Alive @ The Stud
Happy hour cabaret and drag show. $20-$30. 7pm. 299 9th St. www.studsf.com

DTF Fridays @ Port Bar, Oakland
Various DJs play house music, and a few hotties gogo dance at the gay bar's popular weekly event. 9pm-2am. 2023 Broadway. www.portbaroakland.com

Friday Nights at the Ho @ White Horse Bar, Oakland
Dance it up at the historic (and still hip) East Bay bar. 9pm-2am. 6551 Telegraph Ave. http://whitehorsebar.com

Gaymer Night @ SF Eagle
Video screens with electronic games, board games and more. 8pm-2am. 398 12th St. www.sf-eagle.com

Gogo Fridays @ Toad Hall
Hot dancers grind it at the Castro bar with a dance floor and patio. 4146 18th St. www.toadhallbar.com

Happy Friday @ Midnight Sun
The popular video bar ends each work week with hot gogo guys (starting at 9pm) and drink specials; also Saturday nights. 4067 18th St. 861-4186. www.midnightsunsf.com

IYKYK @ White Horse, Oakland
If You Know, You Know; weekly DJed and often live music at the historic East Bay bar. 9pm-2am. 6551 Telegraph Ave., Oakland. www.whitehorsebar.com

Manimal @ Beaux
Gogo-tastic dance night starts off your weekend. $5. 9pm-2am. 2344 Market St. www.beauxsf.com

Ms. SF Leather Meet & Greet @ SF Eagle
Contestants for the leather title meet fans and friends. 7pm-9pm. 398 12th St. www.sf-eagle.com

Piano Bar @ Martuni's
Musician extraordinaire Joe Wicht leads tasteful sing-along selections. 5:30-8:30pm. 4 Valencia St.

Ror:Shok @ SF Eagle
Rock and drag at the famed leather bar. 9pm-2am. 398 12th St. www.sf-eagle.com

Rose & Javi @ Trax
The Haight gay bar's weekly music video and cocktails night. 9pm-1am. 1437 Haight St. http://www.traxbarsf.com/

SF Beer Week @ Pier 35
Opening night gala for a festival of beer dinners, tastings, tap takeovers and educational events. $80-$125. 6pm-10pm. 1454 The Embarcadero. https://drinkbaybeer.com/

Skate Night @ Church on 8 Wheels
Groove on wheels at the former Sacred Heart Church-turned disco roller skate party space, hosted by John D. Miles, the "Godfather of Skate." 7pm-11pm. Sat afternoon sessions 1pm-2:30pm and 3pm-5:30pm. $10. Kids 12 and under $5. Skate rentals $5. 554 Fillmore St. at Fell. www.churchof8wheels.com

Stank @ Powerhouse
Don't forget to not shower before the odor-erotic armpit-sniffing kink night, with DJs Trever Pearson and Sindri. $5. 9pm-2am. 1347 Folsom St. www.powerhousebar.com

Swagger Like Us @ The Stud
Bapari, 8ulentina, and DavOmakesbeats DJ the dance party. $10. 10pm-3am. 299 9th St. www.studsf.com

Uhaul @ Jolene's
The popular women's dance party returns at the new nightclub, now weekly. 10pm-2am. 2700 16th St. at Harrison. www.jolenessf.com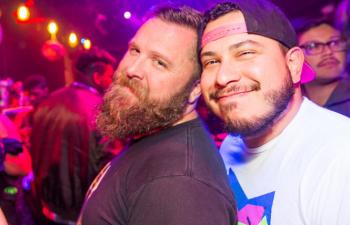 SAT 8
Beardhaus @ Lone Star
DJs Marek, Prince Wolf and Ben Holder spin at the Burner-style night at the famed bear bar. $5. 9pm-2am. 1354 Harrison St. www.lonestarsf.com

Bearracuda @ SF Eagle
Beary dance night, with BLUF Leather Lounge, too. 9pm-2am. 398 12th St. www.sf-eagle.com

Bootie @ DNA Lounge
Resident DJs and guests spin at the mash-up DJ dance party, with Adrian A, Mysterious D; four rooms of different sounds and multiple DJs; The Monster Drag Show hosted by Sue Casa. $10-$15 and up. 9:30pm-3am. 375 11th St. www.bootiesf.com www.dnalounge.com

Bounce @ Lookout
Dance music with a view at the Castro bar. 9pm-2am. 3600 16th St. www.lookoutsf.com

Brunch @ Jolene's
Enjoy DJed grooves, chicken & waffles, veggie scrambles and more, with brunch cocktails, at the new queer bar. 11am-3pm. Also Sundays. 2700 16th St. www.jolenessf.com

Dance Party @ White Horse Bar, Oakland
DJed grooves at the historic East Bay gay bar. 9pm-2am. 6551 Telegraph Ave, (510) 652-3820. www.whitehorsebar.com

House Party @ Powerhouse
Groovy monthly night with sofas & rugs moved in, plus DJ Sean McMahon. $5. 9pm-2am. 1347 Folsom St. www.powerhousebar.com

Lips and Lashes Brunch @ Lookout
Weekly show with soul, funk and Motown grooves hosted by Carnie Asada, with DJs Becky Knox and Pumpkin Spice. The yummy brunch menu starts at 12pm, with the show at 1:30pm. 3600 16th St. www.lookoutsf.com

The Final Mother @ Oasis
Heklina's popular weekly drag show comes to an end! Enjoy your last chance to see this favorite night, with two shows (11:15 & 12:45), featuring Matthew Martin, Florida Mann, D'Arcy Drollinger, Sue Casa, Tito Soto, Baloney, 1 Erection, Intensive Claire, KaiKai B Michaels, Miss Rahni, Nicki Jizz, Pussy Diet, Qween, Rock M. Sakura, Snaxx, Taco Zamora and WooWoo Monroe. $20. 10pm-2am. 298 11th St. www.sfoasis.com

Nitty Gritty @ Beaux
Josh Carmichael with DJ Salazer host the tattoo appreciation night. $10. 9pm-2am. 2344 Market St. www.beauxsf.com

Nudie Nubies @ The Stud
Women's burlesque show with 'Ultimate Reveal' theme. 5pm-8pm. 299 9th St. www.studsf.com

Princess @ The Stud
Disco dance party and drag show with DJs Pinche, Kat Wilderness and Static, dragsters Nicki Jizz, Jota Mercury and others. $10-$15. 9pm-2am. 299 9th St. www.studsf.com

Reunion @ Jolene's
Black queer day party with hip hop and R&B throwbacks. 3pm-8pm. 2700 16th St. at Harrison. www.jolenessf.com

Shake It Up @ Port Bar, Oakland
DJ Lady Char spins dance grooves; gogo studs, and drink specials. 2023 Broadway. (510) 823-2099. www.portbaroakland.com

Stallion @ Midnight Sun
DJ Bill Dupp, intimate dance floor, gogo cuties, all in the heart of the Castro. 8pm-2am. 4067 18th St. www.midnightsunsf.com

Sugar @ The Café
Weekly dance night at the renovated nightclub with a view. $10. 9pm-2am. 2369 Market St. www.cafesf.com

T4T @ Jolene's
Trans dance night with Just Shannon. 10pm-2am. 2700 16th St. at Harrison. www.jolenessf.com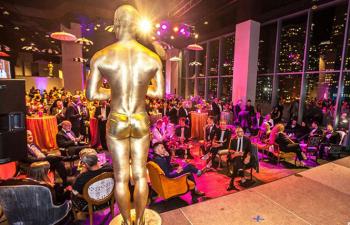 SUN 9
Academy of Friends
@ Commonwealth Club
40th annual gala Oscar Awards viewing party in a new location with terrific views. Enjoy international foods, champagne, wine, entertainment between broadcast segements and a silent auction of lavish items. $150 (young professionals 21-29), $250 and up. VIP 4pm. Gen. admission 5pm-10pm. 110 The Embarcadero. www.academyoffriends.org

Americana Bands @ Ivy Room, Albany
Thee Old Country, Secret Emchy Society and Beckylin & Her Druthers play. $10. 4pm. 860 San Pablo Ave., Albany. www.ivyroom.com

Beer Bust @ Lone Star
Weekly benefits for various local nonprofits, with fresh local food served on the patio. $10-$15. 3pm-8pm. 1354 Harrison St. www.lonestarsf.com

Beer Bust @ SF Eagle
The popular daytime party, where $10-$15 gets you all the beer you can drink, supporting worthy causes. Feb 9, meet and vote for Emperor candidate William Bulkley. 3pm-6pm. 398 12th St. at Harrison. www.sf-eagle.com

Beverage Benefit @ The Edge
Fundraiser and fun, with proceeds going to local nonprofits. $10. 4pm-7pm. 4149 18th St. www.edgesf.com

Big Gay Beer Bust @ The Cinch
Benefits and plenty of beer at the historic neighborhood bar. 3pm-7pm. 1723 Polk St. www.cinchsf.com

Big Top @ Beaux
Enjoy an extra weekend night at the Castro nightclub, plus local DJs and gogo guys and gals. $8. 8pm-2am. 2344 Market St. www.Beauxsf.com

Blessed @ Port Bar, Oakland
Amoura Teese and Ava Lashay cohost a weekly drag show. 2023 Broadway. www.portbaroakland.com

Bounce @ Lookout
Weekly dance and cavorting night with a view. $5. 9pm-2am. 3600 16th St. www.lookoutsf.com

Cake @ The Café
Qbar-in-Exile presents the official after-party for the Academy of Friends gala, with DJs Parks, Kidd and Cip, gogos and fun. 6pm-2am. 2369 Market St. www.cafesf.com

Chest @ Powerhouse
Nipple-play and chest appreciation 4pm-9pm. 1347 Folsom St. www.powerhousebar.com

Dirty Musical Sundays @ The Edge
Sing along at the popular musical theatre night, with a bawdy edge; also Mondays and Wednesdays (but not as dirty). 7pm-2am. 2 for 1 cocktail, 5pm-closing. 4149 18th St. at Collingwood. www.edgesf.com

Domingo De Escandal @ Club OMG
Weekly Latin night with drag shows hosted by Vicky Jimenez and DJ Carlitos. (Comedy Open Mic 5:30pm). 7pm-2am. 43 6th St. www.clubomgsf.com

Drag Brunch @ Hamburger Mary's
Tasty food, bottomless mimosas and drag shows. Seating 11am, show 12pm. Also Saturdays. 531 Castro St. www.hamburgermarys.com

Drunk Drag Red Carpet Party @ Oasis
Enjoy the Academy Awards viewing party with sassy commentary and drag acts Miss Shugana, Madd Dogg 20/20, Roxy-Cotten Candy, Guicho Domingo, Militia SF, Divine Celiane and Christian Mingle. $10-$15. 4pm-10pm. 298 11th St. www.sfoasis.com

Glam Sundays @ Valencia Room
New weekly house, funk, soul T-dance with guest-DJs and no cover. 3pm-9pm. 647 Valencia St. www.glamsundays.com www.thevalenciaroom.com

Jock @ The Lookout
Enjoy the weekly jock-ular fun, with DJed dance music at sports team fundraisers. 12pm-1am. 3600 16th St. www.lookoutsf.com

The L-Word @ El Rio
Weekly screenings of the revived lesbian TV series. 9pm. 3158 Mission St. http://www.elriosf.com/

Queer Tango @ Finnish Hall, Berkeley
Same-sex partner tango dancing, including lessons for newbies, food and drinks. $5-$10. 3:30pm-6:30pm. 1970 Chestnut St, Berkeley. www.finnishhall.org

Renegade @ Atlas
The weekly cruisy semi-private party. $5-$20. 6pm-10pm. Now also Truck Tuesdays, and Thursdays, 9pm-2am. 415 10th St. www.atlas-sf.com

Sleepless Nights @ The Chapel
Tribute concert to the music of Graham Parsons, with Tarnation, Whateverglades, Sweet Chariot, and other bands. $20. 5pm. 777 Valencia St. www.thechapelsf.com

Sundance Saloon @ Space 550
The popular two-stepping line-dancing, not-just-country music night, with free lessons. 5pm-10:30pm. Also Thursdays 6:30pm-10:30pm. 550 Barneveld Ave. www.sundancesaloon.org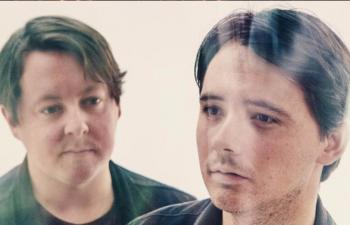 MON 10
Karaoke Night @ Lookout
All-day songfest, 8pm-2am. 3600 16th St. www.lookoutsf.com

Karaoke @ SF Eagle
Sing out, Louise, at the famed leather bar. 9pm-2am. 398 12th St. www.sf-eagle.com

KQ League Night @ Detour
Game tournament at the renovated former Brewcade bar/restaurant. 7:30pm-11pm. 2200 Market St. www.detoursf.com

Mancrush Mondays @ Port Bar, Oakland
Drink & draw night with sexy male models; BYO art materials. 2st & 3rd Mondays. No cover, but 1-drink min. 2023 Broadway. www.portbaroakland.com

Munro's at Midnight @ Midnight Sun
Drag night with Mercedez Munro. No cover. 10pm. 4067 18th St. www.midnightsunsf.com

Music Mondays @ Pause Wine Bar
Marcus Rivers plays live music at the stylish wine bar; weekly 8pm-10pm. 1666 Market St. www.yieldandpause.com

Pillows @ Powerhouse
Glamamore's crafts and drag night. 9pm-2am. 1347 Folsom St. www.powerhousebar.com

Queer Karaoke @ Ivy Room, Albany
Weekly queer, trans and non-binary folk, friends and allies sing-along with host Dana Morrigan. No cover. 8pm. 860 San Pablo Ave., Albany. www.ivyroom.com

Tender @ Great American Music Hall
British duo performs their moody electro-pop; Xylo opens. $17-$42 (with dinner). 8pm. 859 O'Farrell St. www.slimspresents.com

Underwear Night @ 440
Strip down to your skivvies at the popular men's night. 9pm-2am. 440 Castro St. www.the440.com

Vamp @ Beaux
Women's weekly night with a sultry vampire theme; goth, red & black, lingerie attire welcome but not required; bondage and BDSM demos, too. DJs Olga T and Jayne Grey. $5-$15. 8pm-2am. 2344 Market St. www.beauxsf.com

Van Morrison @ Yoshi's Oakland
The R&B-rock master performs at the elegant restaurant-nightclub. $120. 8pm. Also Feb 11 & 12. 510 Embarcadero West, Oakland. www.yoshis.com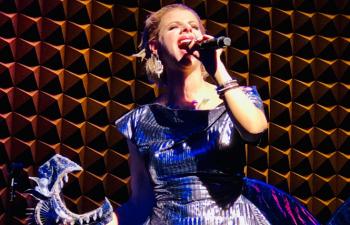 TUE 11
Cock Shot @ Beaux
The weeknight party gets going with DJ Chad Bays. No cover. 9pm-2am. 2344 Market St. www.beauxsf.com

Drag Bingo @ Club 1220, Walnut Creek
Holotta Tymes and Saki Samora cohost the East Bay game night. 7pm. 1220 Pine St., Walnut Creek. www.club1220.com

Gaymer Night @ Midnight Sun
Weekly fun night of games (video, board and other) and cocktails. 8pm-12am. 4067 18th St. http://www.midnightsunsf.com/

High Fantasy @ Aunt Charlie's Lounge
Weekly drag and variety show at the intimate bar, with live acts and lip-synching divas, plus DJed grooves. $5. Shows at 10:30pm & 12am. 133 Turk St. at Taylor. www.auntcharlieslounge.com

Karaoke Night @ The Stud
Sing For Your Life with LaLa and Remi; no cover, plus raffle prize drawings. 8pm-2am. 399 9th St. www.studsf.com

Karaoke Cocktails @ Ginger's
The new basement tribute to the old Ginger's Trois hosts weekly singing fun. 8pm-12am. 86 Hardie Place. www.gingers.bar

Retro Night @ 440 Castro
Jim Hopkins plays classic pop oldies, with vintage music videos. 9pm-2am. 44 Castro St. www.the440.com

Rizo @ Feinstein's at the Nikko
The Grammy-winning comic songstress and cabaret master returns with her eclectic set of pop, rock and standard classics. $45-$60 ($20 food/drink min.). 7:30pm. Hotel Nikko, 222 Mason St. www.feinsteinssf.com

Sing Out @ Encore Karaoke Lounge
Home of drag shows, and hilaraoke karaoke. 9pm-1am. 1550 California St.

Trivia Night @ Hi Tops
Play the trivia game at the popular sports bar. $5. 9pm. 2247 Market St. www.HiTopsSF.com

Trivia Night @ Port Bar, Oakland
Big gay trivia night at the East Bay bar with host Robert Perez; drinks specials and prizes. 8pm. Broadway. www.portbaroakland.com

Truck Tuesdays @ Atlas
Super-cruisy night at the new semi-private club. $10-$20. 9pm-2am. 415 10th St. www.atlas-sf.com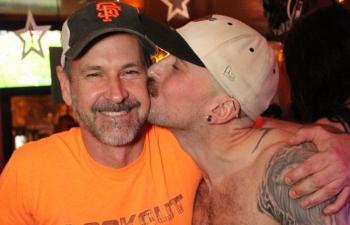 WED 12
Bondage-a-Gogo @ The Cat Club
The weekly gay, bi, straight, whatever fetish-themed kinky dance night. $7-$10. 9:30pm-2:30am. 1190 Folsom St. www.bondage-a-go-go.com www.catclubsf.com

Bottoms Up Bingo @ Hi Tops
Play board games and win offbeat prizes at the popular sports bar. 9pm. 2247 Market St. www.HiTopsSF.com

Castro Karaoke @ Midnight Sun
Sing out with host Bebe Sweetbriar; 2 for 1 well drinks. 8pm-2am. 4067 18th St. www.midnightsunsf.com

Cocktail Time @ Ginger's
Enjoy drinks at the intimate downstairs tribute to the original dive bar. Tue & Wed 6pm-9pm. Thu-Sat 5pm-2am. 86 Hardie Place.

Follies & Dollies @ White Horse Bar, Oakland
Weekly drag show at the historic gay bar. 9:30pm-11:30pm. 6551 Telegraph Ave. www.whitehorsebar.com

Freeball Wednesdays @ The Cinch
Free pool and drink specials at the historic neighborhood bar. 8pm-1am. 1723 Polk St. www.cinchsf.com

GAYmes @ Port Bar, Oakland
Board games night; Baila Conmigo, queer Latinx fundraiser (2nd Wed.), Wet & Wild drag shows (1st & 4th Wed.). 2023 Broadway. www.portbaroakland.com

Juicy @ Lookout
DJed grooves, strong drinks; 6pm-11pm. 3600 16th St. http://www.lookoutsf.com

Karaoke Night @ Club 1220, Walnut Creek
Sing along at the East Bar gay bar; dance nights on weekends, and drag shows, too. 9pm-1am. 1220 Pine St., Walnut Creek. https://www.club1220.com/

Miss Kitty's Trivia Night @ Wild Side West
The weekly fun night at the Bernal Heights bar includes prizes, hosted by Kitty Tapata. No cover. 7pm-10pm. 424 Cortland St. www.wildsidewest.com

Musical Wednesdays @ The Edge
Sing along to shows tunes on video, lip-synched and live, at the Castro bar, with host Brian Kent; trivia contest, and prizes. 7pm-12am. 4149 18th St. at Collingwood. www.edgesf.com

NSA @ Club OMG
Weekly underwear party at the intimate mid-Market nightclub. $1 well drinks for anyone in underwear from 9pm-10pm. 43 6th St. http://www.clubomgsf.com

Pan Dulce @ Beaux
Drag divas, gogo studs, DJed Latin grooves and drinks at the Hump Day fiesta, open Christmas night. 9pm-2am (free before 10:30pm). 2344 Market St. www.clubpapi.com www.beauxsf.com

Trivia Night @ Detour
Games and arcade fun at the renovated former Brewcade bar/restaurant. 7pm-11pm (free game play 7pm-8pm). 2200 Market St. www.detoursf.com

Wayback Wednesdays @ Midnight Sun
Vintage music, videos by request and tasty cocktails, followed by Karaoke night with BeBe Sweetbriar. 4067 18th St. 861-4186. www.midnightsunsf.com

Wrangler Wednesdays @ Rainbow Cattle Company, Guerneville
Wear your jeans and meet new folks at the Russian River gay bar. 16220 Main St., Guerneville. www.queersteer.com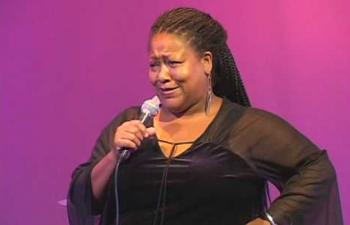 THU 13
Dancing @ Badlands
The Castro bar's intimate dance floor and gogo guys, with drink specials. 9pm-2am. 4121 18th St. http://www.sfbadlands.com/

Fuego @ The Watergarden, San Jose
Weekly DJed sex party with Latin videos and musics, free salsa bar, half-price lockers, at the famed South Bay bath house. 4pm-12am. 1010 The Alameda, San Jose. www.thewatergarden.com

Homobiles @ Ivy Room, Albany
Queer rock, plus Pls Pls Me and LeFemmeBear. $8-$10. 8pm. 860 San Pablo Ave., Albany. www.ivyroom.com

Horrorpops @ Slim's
Danish psychobilly sextet performs; also, The Quakes and Frank & Deans. $30. 8pm. 333 11th St. www.slimspresents.com

Junk @ Powerhouse
MrPam and Dulce de Leche cohost the weekly underwear strip night and contest, with sexy prizes. $5.10pm-2am. 1347 Folsom St. www.powerhousebar.com

Polythene Pam @ El Rio
Queer and trans folk, pop and original music; also Shawna Virago, Scorpio Moon and Soft Vowel Sounds perform. No cover. 8pm-10pm. 3158 Mission St. www.elriosf.com

The Monster Show @ The Edge
The weekly drag show with host Sue Casa, themed nights and hilarious fun. $5. 9pm-2am. 4149 18th St. at Collingwood. www.edgesf.com

My So-Called Night @ Beaux
Carnie Asada hosts a weekly '90s-themed video, dancin', drinkin' night, with VJs Jorge Terez. Get down with your funky bunch, and enjoy 90-cent drinks. '90s-themed attire and costume contest. No cover. 9pm-2am. 2344 Market St. www.beauxsf.com

Nap's Karaoke @ Virgil's Sea Room
Sing out loud at the weekly least judgmental karaoke in town, hosted by the former owner of the bar. No cover. 9pm. 3152 Mission St. www.virgilssf.com

Puff @ The Stud
The monthly cannabis appreciation night takes on Valentine's Day, with love in the air; DJ Sergio Fedasz, host DJ Dank and a drag show and stoner raffle. $10. 6pm-9pm. 299 9th St. www.studsf.com

Queer Karaoke @ Club OMG
Weekly singing night; unleash your inner American Idol; first Thursdays are Costume Karaoke; 3rd is Kinky Karaoke 8pm. 43 6th St.

Rebel Girl @ Jolene's
Women's dance night. 9pm-2am. 2700 16th St. at Harrison. www.jolenessf.com

Thump @ White Horse, Oakland
Weekly electro music night with DJ Matthew Baker and guests. 9pm-2am. 6551 Telegraph Ave. www.whitehorsebar.com

Thursday Night Live @ SF Eagle
Rock bands play at the famed leather bar. $8. 9pm-12am. 398 12th St. at Harrison. www.sf-eagle.com

Tubesteak Connection @ Aunt Charlie's Lounge
Disco guru DJ Bus Station John spins grooves at the intimate retro music night. $5. 10pm-2am. 133 Turk St. at Taylor. www.auntcharlieslounge.com

TwerkBack Thursday @ Port Bar, Oakland
DJ Deft plays hip hop grooves, gogos at 10pm, with hosts Mahlae Balenciaga and Amoura Teese. 2023 Broadway. www.portbaroakland.com

Who's Your Mami Comedy @ Brava Studio
Diame Amos, Sampson McCormick, Dominique Gelin, Baruch Porras-Hernandez host Marga Gomez will keep you laughing at the popular monthly comedy series. $10-$15. 8pm. 2773 24th St. www.brava.org www.margagomez.com

Want your nightlife event listed?
Email events@ebar.com, at least two weeks before your event.
Comments on Facebook