Nightlife Events Jan. 16-23, 2020
Wednesday Jan 15, 2020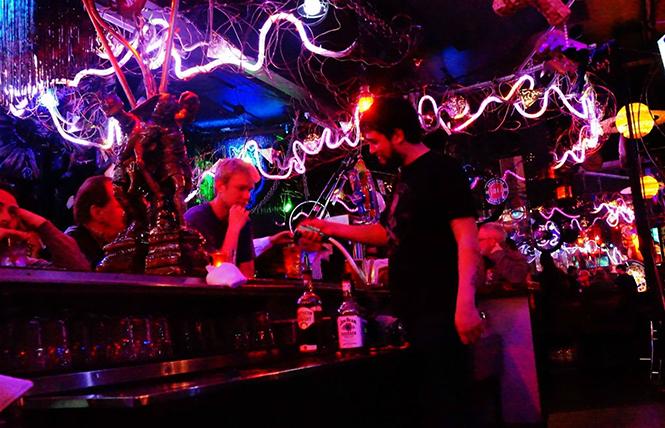 What if you went to a bar or nightclub you've never visited before? Would you feel nervous, self-conscious? Out of place? Disrupt the dress codes, and unspoken ageism and race codes at Bay Area bars and clubs. Be the unexpected.


THURSDAY 16

After Dark @ Exploratorium
Enjoy cocktails and science demos at the hands-on museum. Jan 16: Tactile dome fun. Evening hours Fri & Sat, weekly 6:15 and 7:30pm. $20. Pier 15, Embarcadero at Green St. www.exploratorium.edu/

Dee's Keys @ Beaux
Weekly live piano and open mic night with Dee Spencer. 4pm-8pm. 2344 Market St. www.beauxsf.com

Events @ Steamworks, Berkeley
The stylish bathhouse's DJed events take place Thursdays-Sundays, 10pm late; Sundays 1pm-7pm.. $7-$62, plus annual memberships $160. Open 24/7, every day. 2107 4th St., Berkeley. (510) 845-8992. www.steamworksbaths.com

Junk @ Powerhouse
MrPam and Dulce de Leche cohost the weekly underwear strip night and contest, with sexy prizes. $5. 10pm-2am. 1347 Folsom St. www.powerhousebar.com

Long Island Thursdays @ White Horse Bar, Oakland
Get snockered with cheap drinks at the historic gay bar. 9pm-2am. 6551 Telegraph Ave, (510) 652-3820. www.whitehorsebar.com

Martini Thursdays @ Trax
The Haight gay bar offers cheap gin & vodka cocktails. 1437 Haight St. www.traxbarsf.com

The Monster Show @ The Edge
The weekly drag show with themed nights and hilarious fun. $5. 9pm-2am. 4149 18th St. at Collingwood. www.edgesf.com

Queer Karaoke @ Club OMG
KJ Dana hosts the weekly singing night; unleash your inner American Idol; first Thursdays are Costume Karaoke; third is Kinky Karaoke 8pm. 43 6th St. www.clubomgsf.com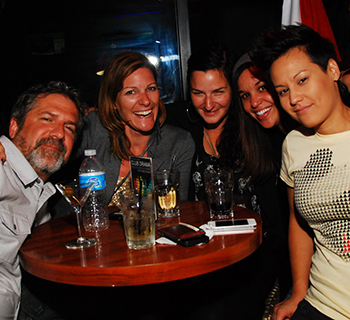 Queeraoke @ Tamarack, Oakland
Dana Morrigan hosts the 1st & 3rd Thursdays queer karaoke night, 7:30pm-1am. No cover. 1501 Harrison St., Oakland. www.tamarackoakland.com

Rice Rockettes @ Lookout
Local and visiting Asian drag queens' weekly show with DJ Philip Grasso. $5. 10:30pm show. 3600 16th St. www.lookoutsf.com

Rock Fag @ Hole in the WallrnEnjoy hard rock and punk music from DJ Don Baird at the wonderfully divey SoMa bar. Also Fridays. 7pm-2am. 1369 Folsom St. 431-4695. www.hitws.comrnwww.clubomgsf.com

Sharon McNight @ Feinstein's at the Nikko
The cabaret legend performs at the upscale nightclub. $45-$65 ($20 food/drink min.). 8pm. Hotel Nikko, 222 Mason St. www.feinsteinssf.com

That's So Ravin' @ The Stud
Rave DJs Chrissy, Siobhan Aluvalot & Chuck Gunn. $5. 9pm-2am. 299 9th St. www.studsf.com

Thursday Night Live @ SF Eagle
Rock bands play at the famed leather bar. $8. 9pm-12am. 398 12th St. at Harrison. www.sf-eagle.com

Tubesteak Connection @ Aunt Charlie's Lounge
Disco guru DJ Bus Station John spins grooves at the intimate retro music night. $5. 10pm-2am. 133 Turk St. at Taylor. www.auntcharlieslounge.com
FRIDAY 17

Bear Happy Hour @ Midnight Sun
Hairy men and their pals enjoy 2-for-1 drinks and no cover. 4067 18th St. 861-4186. www.midnightsunsf.com

Beards & Booze @ The Edge
Beers, bears, cubs, snacks and grooves. $5. 9pm-2am. 4149 18th St. www.edgesf.com

La Bomba Latina @ Club OMG
Drag show with DJ Jaffeth. $5. 9pm-2am. 43 6th St. www.clubomgsf.com

Daddy Saddle @ Lone Star
Jimmy Swear guest-DJs at the bear bar. $5. 9pm-2am. 1354 Harrison St. www.lonestarsf.com

Drag & Dinner @ Hamburger Mary's
Enjoy burgers and a drag show. $5 show. 10pm. Also Saturdays. 531 Castro St. www.hamburgermarys.com

Dru Hill @ Yoshi's Oakland
Sisqo, Nokio, Jazz and new member Tao perform songs from their fourth album, and singles. $54-$95. 8pm & 10pm. Also Jan 18 & 19. 510 Embarcadero West, Oakland. www.yoshis.com

DTF Fridays @ Port Bar, Oakland
Various DJs play house music, and a few hotties gogo dance at the gay bar's popular weekly event. 9pm-2am. 2023 Broadway. www.portbaroakland.com

Fretland @ The Lost Church
The Americana band performs at the intimate music venue; Dawn Riding also plays a set. $12-$15. 8:15pm. 65 Capp St. www.thelostchurch.com

Friday Nights at the Ho @ White Horse Bar, Oakland
Dance it up at the historic (and still hip) East Bay bar. 9pm-2am. 6551 Telegraph Ave. http://whitehorsebar.com

Gaymer Night @ SF Eagle
Video screens with electronic games, board games and more. 8pm-2am. 398 12th St. www.sf-eagle.com

Glama's Follies @ Oasis
Premiere of Glamamore's new drag night, with dJ Juanita MORE!, Dulce De Leche, Tracii Onyx, Voodonna Black. Mary Vice and more. $10. 10pm-2am. 298 11th St. www.sfoasis.com

Gogo Fridays @ Toad Hall
Hot dancers grind it at the Castro bar with a dance floor and patio. 4146 18th St. www.toadhallbar.com

Happy Friday @ Midnight Sun
The popular video bar ends each work week with hot gogo guys (starting at 9pm) and drink specials; also Saturday nights. 4067 18th St. 861-4186. www.midnightsunsf.com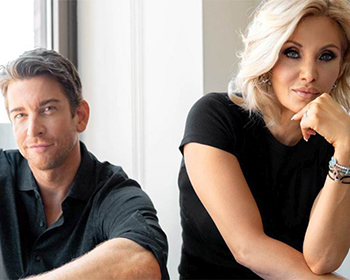 IYKYK @ White Horse, Oakalnd
If You Know, You Know; weekly DJed and often live music at the historic East Bay bar. 9pm-2am. 6551 Telegraph Ave., Oakland. www.whitehorsebar.com

Jocko Homo @ SF Eagle
Patrons and contestants strip down to jock straps for a Battle of the Bulges contest, with host Suppositori Spelling and DJ Phil B. 9pm-2am. 398 12th St. www.sf-eagle.com

Manimal @ Beaux
Gogo-tastic dance night starts off your weekend. $5. 9pm-2am. 2344 Market St. www.beauxsf.com

Orfe & Andy Karl @ Feinstein's at the Nikko
The Tony-nominated Broadway couple (Saturday Night Fever, Rocky, Legally Blonde) perform songs from their new album, Legally Bound, plus favorite show tunes. $70-$90 ($20 food/drink min.). 8pm. Also Jan. 18. Hotel Nikko, 222 Mason St. www.feinsteinssf.com

Piano Bar @ Martuni's
Musician extraordinaire Joe Wicht leads tasteful sing-along selections. 5:30-8:30pm. 4 Valencia St.

Red Room Orchestra @ The Chapel
Concert of the music from the film Boogie Nights. $40 9pm. Jan 18: music of the films Wild at Heart and Twin Peaks. 777 Valencia St. www.redroomorchestra.com www.thechapelsf.com

Rose & Javi @ Trax
The Haight gay bar's weekly music video and cocktails night. 9pm-1am. 1437 Haight St. http://www.traxbarsf.com/

Skate Night @ Church on 8 Wheels
Groove on wheels at the former Sacred Heart Church-turned disco roller skate party space, hosted by John D. Miles, the "Godfather of Skate." 7pm-11pm. Sat afternoon sessions 1pm-2:30pm and 3pm-5:30pm. $10. Kids 12 and under $5. Skate rentals $5. 554 Fillmore St. at Fell. www.churchof8wheels.com

Uhaul @ Jolene's
The popular women's dance party returns at the new nightclub, now weekly. 10pm-2am. 2700 16th St. at Harrison. www.jolenessf.com

Wuhfff @ Powerhouse
Pedal Pups' sexy AIDS LoifeCycle Ride fundraiser. $5. 9pm-2am. 1347 Folsom St. www.powerhousebar.com

You Betta Work Comedy ¡Fiesta! @ San Mateo County Pride Center
Jesus U Betta Work hosts the monthly LGBT comedy show. Pay-what-you-can. 7:30pm. 1021 S. El Camino Real, San Mateo. www.jesusubettawork.com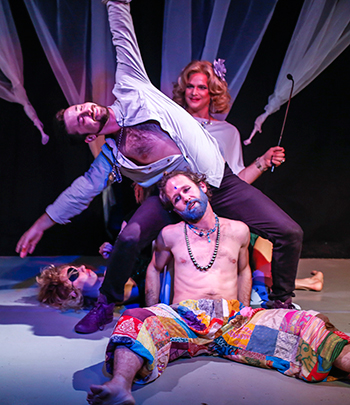 SATURDAY 18

Beatpig @ Powerhouse
Juanite MORE! and crew's m,onthly party; gogos, drag and diversity with DJ Stanley Frank. $5. 9pm-2am. 1347 Folsom St. www.powerhousebar.com

Bootie @ DNA Lounge
Resident DJs and guests spin at the mash-up DJ dance party, with Adrian A, Mysterious D; four rooms of different sounds and multiple DJs; The Monster Drag Show hosted by Sue Casa. $10-$15 and up. 9:30pm-3am. 375 11th St. www.bootiesf.com www.dnalounge.com

Bounce @ Lookout
Dance music with a view at the Castro bar. 9pm-2am. 3600 16th St. www.lookoutsf.com

Brunch @ Jolene's
Enjoy DJed grooves, chicken & waffles, veggie scrambles and more, with brunch cocktails, at the new queer bar. 11am-3pm. Also Sundays. 2700 16th St. www.jolenessf.com

Cabaret @ Pause Wine Bar
Enjoy wine/beverage, food and a saucy vaudeville-style cabaret show with Dottie Lux and pals. $15-$50. 7pm. 1666 Market St. www.yieldandpause.com

Dance Party @ White Horse Bar, Oakland
DJed grooves at the historic East Bay gay bar. 9pm-2am. 6551 Telegraph Ave, (510) 652-3820. www.whitehorsebar.com

Fake and Gay @ The Stud
DJs UMRU, Adam Kraft, performers Beverly Chills, Johnny Del Rey, Militia Towers. $10. 9pm-3am. 299 9th St. www.studsf.com

Harvey Milk Gala @ Harvey Milk Center
Gala benefit fundraiser with performers, food, drinks. $20-$500 (table for four). 50 Scott St. www.societycabaret.com
Lips and Lashes Brunch @ Lookout
Weekly show with soul, funk and Motown grooves hosted by Carnie Asada, with DJs Becky Knox and Pumpkin Spice. The yummy brunch menu starts at 12pm, with the show at 1:30pm. 3600 16th St. www.lookoutsf.com

Macho Macho @ SF Eagle
Latinx studs into leather and their pals, with caliente gogos, lucha libre studs nd Latin/rock music. $5-$10. 9pm-2am. 398 12th St. www.sf-eagle.com

Mother @ Oasis
Heklina's popular weekly drag show, with wild acts and music tribute themes, celebrates its five-year anniversary with a cavalcade of drag performers. $15. 10pm-2am. 298 11th St. www.sfoasis.com

Nitty Gritty @ Beaux
Josh Carmichael with DJ Salazer host the tattoo appreciation night. $10. 9pm-2am. 2344 Market St. www.beauxsf.com

Reddroxx Winter Onesieland @ Lone Star
Union suits, long underwear, onesies and less are the dress code at the fun bear party, with DJ BRD. $5. 9pm-2am. 1354 Harrison St. www.lonestarsf.com

Shake It Up @ Port Bar, Oakland
DJ Lady Char spins dance grooves; gogo studs, and drink specials. 2023 Broadway. (510) 823-2099. www.portbaroakland.com

So You Think You Can Lap Dance? @ Oasis
Pearl Marill's improv dance talent show where the audience judges the dancers, with host Martha T. Lipton (failed actress). $25-$35. 7pm. 298 11th St. www.sfoasis.com

Stallion @ Midnight Sun
DJ Bill Dupp, intimate dance floor, gogo cuties, all in the heart of the Castro. 8pm-2am. 4067 18th St. www.midnightsunsf.com

Sugar @ The Café
Weekly dance night at the renovated nightclub with a view. $10. 9pm-2am. 2369 Market St. www.cafesf.com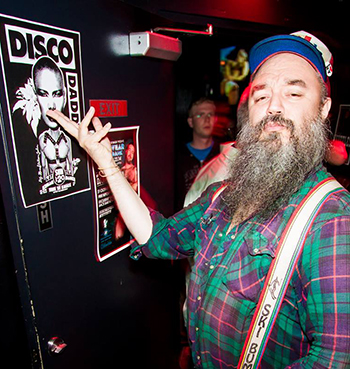 SUNDAY 19

Beer Bust @ Lone Star
Weekly benefits for various local nonprofits, with fresh local food served on the patio. Jan 20 with DJ Paul Goodyear. $10-$15. 3pm-8pm. 1354 Harrison St. www.lonestarsf.com

Beer Bust @ SF Eagle
The popular daytime party, where $10-$15 gets you all the beer you can drink, supporting worthy causes. 3pm-6pm. 398 12th St. at Harrison. www.sf-eagle.com

Beverage Benefit @ The Edge
Fundraiser and fun, with proceeds going to local nonprofits. $10. 4pm-7pm. 4149 18th St. www.edgesf.com

Big Gay Beer Bust @ The Cinch
Benefits and plenty of beer at the historic neighborhood bar. 3pm-7pm. 1723 Polk St. www.cinchsf.com

Big Top @ Beaux
Enjoy an extra weekend night at the Castro nightclub, plus local DJs and gogo guys and gals. $8. 8pm-2am. 2344 Market St. www.Beauxsf.com

Blessed @ Port Bar, Oakland
Amoura Teese and Ava Lashay cohost a weekly drag show. 2023 Broadway. www.portbaroakland.com

Bounce @ Lookout
Weekly dance and cavorting night with a view. $5. 9pm-2am. 3600 16th St. www.lookoutsf.com

Dirty Musical Sundays @ The Edge
Sing along at the popular musical theatre night, with a bawdy edge; also Mondays and Wednesdays (but not as dirty). 7pm-2am. 2 for 1 cocktail, 5pm-closing. 4149 18th St. at Collingwood. www.edgesf.com

Disco Daddy @ SF Eagle
Groovy retro T-dance fun with DJ Bus Station John, who celebrates his 59th birthday. $5-$7. 7pm-2am. 398 12th St. www.sf-eagle.com

Domingo De Escandal @ Club OMG
Weekly Latin night with drag shows hosted by Vicky Jimenez and DJ Carlitos. (Comedy Open Mic 5:30pm). 7pm-2am. 43 6th St. www.clubomgsf.com

Drag Brunch @ Hamburger Mary's
Tasty food, bottomless mimosas and drag shows with Kylie Minono, Patty McGroin and other talents. Seating 11am, show 12pm. Also Saturdays. 531 Castro St. www.hamburgermarys.com

Fur for All @ Powerhouse
Hairy men appreciation night with Sister Mary Ralph & Mutha Chucka. $5. 9pm-2am. 1347 Folsom St. www.powerhousebar.com

Glam Sundays @ Valencia Room
New weekly house, funk, soul T-dance with guest-DJs and no cover. 3pm-9pm. 647 Valencia St. www.glamsundays.com www.thevalenciaroom.com

Jock @ The Lookout
Enjoy the weekly jock-ular fun, with DJed dance music at sports team fundraisers. 12pm-1am. 3600 16th St. www.lookoutsf.com

L-Word @ El Rio
Weekly screenings of the revived lesbian TV series. 9pm. 3158 Mission St. http://www.elriosf.com/

Loving Janis @ Feinstein's at the Nikko
Concert tribute to Janis Joplin, with vocalist Kyra Gordon and special guest Mimi Fox. $35-$50 ($20 food/drink min.). 7pm. Hotel Nikko, 222 Mason St. www.feinsteinssf.com

Queer Tango @ Finnish Hall, Berkeley
Same-sex partner tango dancing, including lessons for newbies, food and drinks. $5-$10. 3:30pm-6:30pm. 1970 Chestnut St, Berkeley. www.finnishhall.org

Renegade @ Atlas
The weekly cruisy semi-private party. $5-$20. 6pm-10pm. Now also Truck Tuesdays, and Thursdays, 9pm-2am. 415 10th St. www.atlas-sf.com

Shaun Haines DCCC Kickoff @ El Rio
Fundraiser for the local activist's Democratic Committee campaign. $5 and up. 4pm. 3158 Mission St. www.elriosf.com

Studio 51 @ Oasis
Co-owner, director and drag star D'Arcy Drollinger celebrates 51 years with a retro disco party, DJ Omar and '70s celeb nightlife ambiance. No cover. 8pm-1am. 298 11th St. www.sfoasis.com

Sundance Saloon @ Space 550
The popular two-stepping line-dancing, not-just-country music night, with free lessons. 5pm-10:30pm. Also Thursdays 6:30pm-10:30pm. 550 Barneveld Ave. www.sundancesaloon.org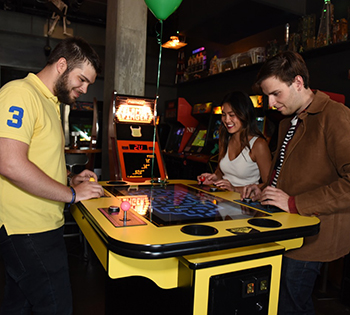 MONDAY 20

Karaoke Night @ Lookout
All-day songfest, 8pm-2am. 3600 16th St. www.lookoutsf.com

Karaoke @ SF Eagle
Sing out, Louise, at the famed leather bar. 9pm-2am. 398 12th St. www.sf-eagle.com

KQ League Night @ Detour
Game tournament at the renovated former Brewcade bar/restaurant. 7:30pm-11pm. 2200 Market St. www.detoursf.com

Mancrush Mondays @ Port Bar, Oakland
Drink & draw night with sexy male models; BYO art materials. 2st & 3rd Mondays. No cover, but 1-drink min. 2023 Broadway. www.portbaroakland.com

Munro's at Midnight @ Midnight Sun
Drag night with Mercedez Munro. No cover. 10pm. 4067 18th St. www.midnightsunsf.com

Music Mondays @ Pause Wine Bar
Marcus Rivers plays live music at the stylish wine bar; weekly 8pm-10pm. 1666 Market St. www.yieldandpause.com

Pillows @ Powerhouse
Glamamore's crafts and drag night. 9pm-2am. 1347 Folsom St. www.powerhousebar.com

Queer Karaoke @ Ivy Room, Albany
Weekly queer, trans and non-binary folk, friends and allies sing-along with host Dana Morrigan. No cover. 8pm. 860 San Pablo Ave., Albany. www.ivyroom.com

Underwear Night @ 440
Strip down to your skivvies at the popular men's night. 9pm-2am. 440 Castro St. www.the440.com

Vamp @ Beaux
Women's weekly night with a sultry vampire theme; goth, red & black, lingerie attire welcome but not required; bondage and BDSM demos, too. DJs Olga T and Jayne Grey. $5-$15. 8pm-2am. 2344 Market St. www.beauxsf.com

Victor Wooten @ Yoshi's Oakland
The five-time Grammy winning bassist and cofounder of Bela Fleck and the Flecktones performs with his new band. $29. 8pm & 10pm. Also Jan 21, 8pm & 10pm. 510 Embarcadero West, Oakland. www.yoshis.com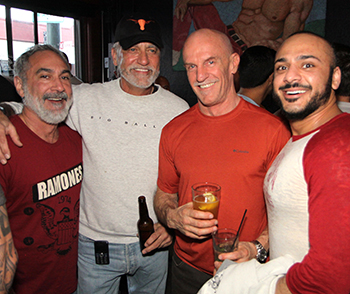 TUESDAY 21

Cock Shot @ Beaux
The weeknight party gets going with DJ Chad Bays. No cover. 9pm-2am. 2344 Market St. www.beauxsf.com

Drag Bingo @ Club 1220, Walnut Creek
Holotta Tymes and Saki Samora cohost the East Bay game night. 7pm. 1220 Pine St., Walnut Creek. www.club1220.com

Gaymer Night @ Midnight Sun
Weekly fun night of games (video, board and other) and cocktails. 8pm-12am. 4067 18th St. http://www.midnightsunsf.com/

High Fantasy @ Aunt Charlie's Lounge
Weekly drag and variety show at the intimate bar, with live acts and lip-synching divas, plus DJed grooves. $5. Shows at 10:30pm & 12am. 133 Turk St. at Taylor. www.auntcharlieslounge.com

Karaoke Night @ The Stud
Sing For Your Life with LaLa and Remi; no cover, plus raffle prize drawings. 8pm-2am. 399 9th St. www.studsf.com

Karaoke Cocktails @ Ginger's
The new basement tribute to the old Ginger's Trois hosts weekly singing fun. 8pm-12am. 86 Hardie Place. www.gingers.bar

Retro Night @ 440 Castro
Jim Hopkins plays classic pop oldies, with vintage music videos. 9pm-2am. 44 Castro St. www.the440.com

Sing Out @ Encore Karaoke Lounge
Home of drag shows, and hilaraoke karaoke. 9pm-1am. 1550 California St.

Trivia Night @ Hi Tops
Play the trivia game at the popular sports bar. $5. 9pm. 2247 Market St. www.HiTopsSF.com

Trivia Night @ Port Bar, Oakland
Big gay trivia night at the East Bay bar with host Robert Perez; drinks specials and prizes. 8pm. Broadway. www.portbaroakland.com

Truck Tuesdays @ Atlas
Super-cruisy night at the new semi-private club. $10-$20. 9pm-2am. 415 10th St. www.atlas-sf.com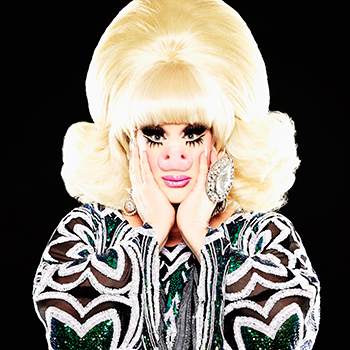 WEDNESDAY 22

Bondage-a-Gogo @ The Cat Club
The weekly gay, bi, straight, whatever fetish-themed kinky dance night. $7-$10. 9:30pm-2:30am. 1190 Folsom St. www.bondage-a-go-go.com www.catclubsf.com

Bottoms Up Bingo @ Hi Tops
Play board games and win offbeat prizes at the popular sports bar. 9pm. 2247 Market St. www.HiTopsSF.com

Castro Karaoke @ Midnight Sun
Sing out with host Bebe Sweetbriar; 2 for 1 well drinks. 8pm-2am. 4067 18th St. www.midnightsunsf.com

Cocktail Time @ Ginger's
Enjoy drinks at the intimate downstairs tribute to the original dive bar. Tue & Wed 6pm-9pm. Thu-Sat 5pm-2am. 86 Hardie Place.

Follies & Dollies @ White Horse Bar, Oakland
Weekly drag show at the historic gay bar. 9:30pm-11:30pm. 6551 Telegraph Ave. www.whitehorsebar.com

Freeball Wednesdays @ The Cinch
Free pool and drink specials at the historic neighborhood bar. 8pm-1am. 1723 Polk St. www.cinchsf.com

GAYmes @ Port Bar, Oakland
Board games night; Baila Conmigo, queer Latinx fundraiser (2nd Wed.), Wet & Wild drag shows (1st & 4th Wed.). 2023 Broadway. www.portbaroakland.com

Juicy @ Lookout
DJed grooves, strong drinks; 6pm-11pm. 3600 16th St. http://www.lookoutsf.com

Karaoke Night @ Club 1220, Walnut Creek
Sing along at the East Bar gay bar; dance nights on weekends, and drag shows, too. 9pm-1am. 1220 Pine St., Walnut Creek. https://www.club1220.com/

Miss Kitty's Trivia Night @ Wild Side West
The weekly fun night at the Bernal Heights bar includes prizes, hosted by Kitty Tapata. No cover. 7pm-10pm. 424 Cortland St. www.wildsidewest.com

Musical Wednesdays @ The Edge
Sing along to shows tunes on video, lip-synched and live, at the Castro bar, with host Brian Kent; trivia contest, and prizes. 7pm-12am. 4149 18th St. at Collingwood. www.edgesf.com

NSA @ Club OMG
Weekly underwear party at the intimate mid-Market nightclub. $1 well drinks for anyone in underwear from 9pm-10pm. 43 6th St. http://www.clubomgsf.com

Pan Dulce @ Beaux
Drag divas, gogo studs, DJed Latin grooves and drinks at the Hump Day fiesta, open Christmas night. 9pm-2am (free before 10:30pm). 2344 Market St. www.clubpapi.com www.beauxsf.com

SoMa Bar Crawl @ South of Market Bars
Enjoy a tour of the few remaining gay SoMa bars; meet at Powerhouse, 7pm, to the Lone Star, Hole in the Wall, and Eagle; each 4th Wed. 1347 Folsom St. www.powerhousebar.com

Trivia Night @ Detour
Games and arcade fun at the renovated former Brewcade bar/restaurant. 7pm-11pm (free game play 7pm-8pm). 2200 Market St. www.detoursf.com

Wrangler Wednesdays @ Rainbow Cattle Company, Guerneville
Wear your jeans and meet new folks at the Russian River gay bar. 16220 Main St., Guerneville. www.queersteer.com


THURSDAY 23

Dancing @ Badlands
The Castro bar's intimate dance floor and gogo guys, with drink specials. 9pm-2am. 4121 18th St. http://www.sfbadlands.com/

Drag Her @ Oasis
Mano Agapion and Nicole Byer perform and record their RuPaul's Drag Race commentary podcast, with guest Peaches Christ. Free. 10pm. 298 11th St. www.sfoasis.com

Fuego @ The Watergarden, San Jose
Weekly DJed sex party with Latin videos and musics, free salsa bar, half-price lockers, at the famed South Bay bath house. 4pm-12am. 1010 The Alameda, San Jose. www.thewatergarden.com

Game Night @ Pause Wine Bar
Johnny Rockitt hosts a weekly night of trivia and other games. 8pm-10pm. 1666 Market St. www.yieldandpause.com

Gym Class @ Hi Tops
Enjoy whiskey shots from jock-strapped hotties and sexy sports videos at the popular sports bar. 10pm-2am. 2247 Market St. 551-2500. www.HiTopsSF.com

Junk @ Powerhouse
MrPam and Dulce de Leche cohost the weekly underwear strip night and contest, with sexy prizes. $5.10pm-2am. 1347 Folsom St. www.powerhousebar.com

Lady Bunny @ Oasis
Oh, no, she's back! New York's biggest wig owner and Wigstock founder performs her Pig in a Wig show, full of raunchy jokes, bad lip-synching and politically incorrect hilarity. $27-$50. 7pm. Also Jan 24. 298 11th St. www.sfoasis.com

The Monster Show @ The Edge
The weekly drag show with host Sue Casa, themed nights and hilarious fun. $5. 9pm-2am. 4149 18th St. at Collingwood. www.edgesf.com

My So-Called Night @ Beaux
Carnie Asada hosts a weekly '90s-themed video, dancin', drinkin' night, with VJs Jorge Terez. Get down with your funky bunch, and enjoy 90-cent drinks. '90s-themed attire and costume contest. No cover. 9pm-2am. 2344 Market St. www.beauxsf.com

Nap's Karaoke @ Virgil's Sea Room
Sing out loud at the weekly least judgmental karaoke in town, hosted by the former owner of the bar. No cover. 9pm. 3152 Mission St. www.virgilssf.com

Queer Karaoke @ Club OMG
Weekly singing night; unleash your inner American Idol; first Thursdays are Costume Karaoke; 3rd is Kinky Karaoke 8pm. 43 6th St.

Thump @ White Horse, Oakland
Weekly electro music night with DJ Matthew Baker and guests. 9pm-2am. 6551 Telegraph Ave. www.whitehorsebar.com

Thursday Night Live @ SF Eagle
Rock bands play at the famed leather bar. Jan 23: Goat Rhythm, Butt Problems, and Neckroveck. $8. 9pm-12am. 398 12th St. at Harrison. www.sf-eagle.com

Tubesteak Connection @ Aunt Charlie's Lounge
Disco guru DJ Bus Station John spins grooves at the intimate retro music night. $5. 10pm-2am. 133 Turk St. at Taylor. www.auntcharlieslounge.com

TwerkBack Thursday @ Port Bar, Oakland
DJ Deft plays hip hop grooves, gogos at 10pm, with hosts Mahlae Balenciaga and Amoura Teese. 2023 Broadway. www.portbaroakland.com


Want your nightlife event listed?
Email events@ebar.com, at least two weeks before your event.
Event photos welcome.
Comments on Facebook