Nightlife Events Jan. 9-16, 2020
Wednesday Jan 8, 2020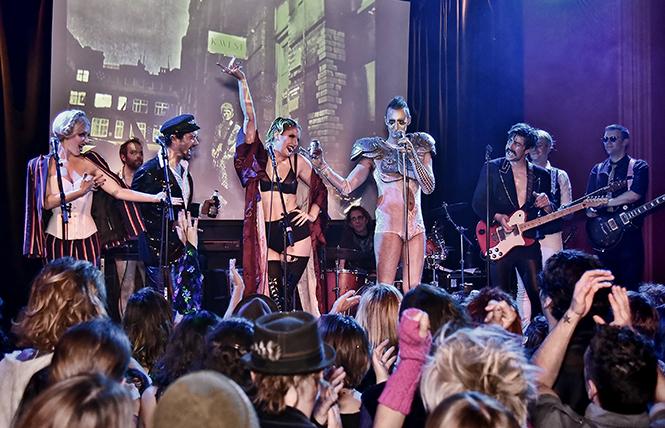 Now is the winter of our discotheque, or disco, but no techno. Anyway, shake a tail-feather to cool comedy, dancing bears and Bowie tributes.


THURSDAY 9
After Dark @ Exploratorium
Enjoy cocktails and science demos at the hands-on museum. Jan 9: Water demos and hands-on mobile exhibits. Jan 16: Tactile dome fun. Evening hours Fri & Sat, weekly 6:15 and 7:30pm. $20. Pier 15, Embarcadero at Green St. www.exploratorium.edu/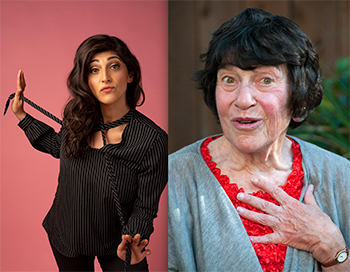 Comedy @ Ashkenaz, Berkeley
Lisa Geduldig (Kung Pao Kosher Comedy producer) welcomes comics Zahra Noorbakhsh, Lynn Ruth Miller and Aundre the Wonderwoman at the event's last night. $15-$25. 8pm. 1317 Ave., Berkeley. www.koshercomedy.com www.ashkenaz.com

Comedy Showcase @ Oasis
Anthony Zuccaro hosts with headliner Nick Sahoyah and six more comics. $10. 7pm. 298 11th St. www.sfoasis.com

Dee's Keys @ Beaux
Weekly live piano and open mic night with Dee Spencer. 4pm-8pm. 2344 Market St. www.beauxsf.com

Events @ Steamworks, Berkeley
The stylish bathhouse's DJed events take place Thursdays-Sundays, 10pm late; Sundays 1pm-7pm.. $7-$62, plus annual memberships $160. Open 24/7, every day. 2107 4th St., Berkeley. (510) 845-8992. www.steamworksbaths.com

Junk @ Powerhouse
MrPam and Dulce de Leche cohost the weekly underwear strip night and contest, with sexy prizes. $5. 10pm-2am. 1347 Folsom St. www.powerhousebar.com

Long Island Thursdays @ White Horse Bar, Oakland
Get snockered with cheap drinks at the historic gay bar. 9pm-2am. 6551 Telegraph Ave, (510) 652-3820. www.whitehorsebar.com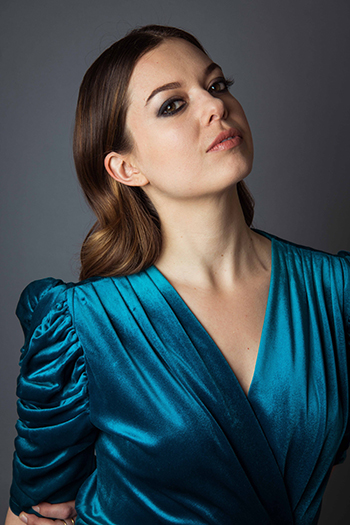 Margo Seibert @ Feinstein's at the Nikko
The Broadway performer brings her cabaret concert —including songs from her debut album, 77th Street— to the elegant nightclub. $35-$55 ($20 food/drink min.). 8pm. Hotel Nikko, 222 Mason St. www.feinsteinssf.com

Martini Thursdays @ Trax
The Haight gay bar offers cheap gin & vodka cocktails. 1437 Haight St. www.traxbarsf.com

The Monster Show @ The Edge
The weekly drag show with themed nights and hilarious fun. $5. 9pm-2am. 4149 18th St. at Collingwood. www.edgesf.com

Queer Karaoke @ Club OMG
KJ Dana hosts the weekly singing night; unleash your inner American Idol; first Thursdays are Costume Karaoke; third is Kinky Karaoke 8pm. 43 6th St. www.clubomgsf.com

Queeraoke @ Tamarack, Oakland
Dana Morrigan hosts the 1st & 3rd Thursdays queer karaoke night, 7:30pm-1am. No cover. 1501 Harrison St., Oakland. www.tamarackoakland.com

Rice Rockettes @ Lookout
Local and visiting Asian drag queens' weekly show with DJ Philip Grasso. $5. 10:30pm show. 3600 16th St. www.lookoutsf.com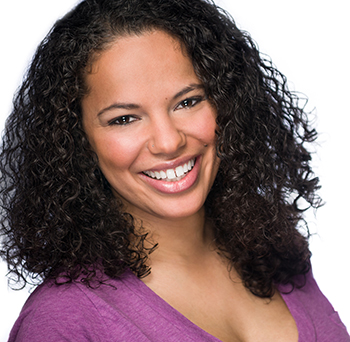 Rock Fag @ Hole in the Wall
Enjoy hard rock and punk music from DJ Don Baird at the wonderfully divey SoMa bar. Also Fridays. 7pm-2am. 1369 Folsom St. 431-4695. www.hitws.com
www.clubomgsf.com

Thursday Night Live @ SF Eagle
Rock bands play at the famed leather bar. $8. 9pm-12am. 398 12th St. at Harrison. www.sf-eagle.com

Trans Filmmaker Benefit
@ Saint Joseph's Arts Society
Benefit for the Provincetown Film Society's trans-inclusive filmmakers' funding. $250. 7pm-11pm. (celebrity discussion panels and forum, Jan 10, 10am-5pm). 1401 Howard St. http://www.provincetownfilmsociety.org

Tubesteak Connection @ Aunt Charlie's Lounge
Disco guru DJ Bus Station John spins grooves at the intimate retro music night. $5. 10pm-2am. 133 Turk St. at Taylor. www.auntcharlieslounge.com

Willie Nelson & Family @ The Fillmore
The iconic country singer performs with his band and family members. $85. 8pm. 1805 Geary St. at Fillmore. www.thefillmore.com

Who's Your Mami Comedy @ Brava Theatre
Women's comedy night with Marga Gomez and Chelsea Bearce, Dhaya Lakshminarayanan, Justin Lucas, Glory Magaña and drag king duo 'Sheesh and Schlong.' $10-$15. 8pm. 2773 24th St. www.brava.org
FRIDAY 10

Andie Main, Torio Van Grol
@ Brava Cabaret
The two comics perform and celebrate the release of their debut comedy albums; Curtis Cook, Emily Catalano, and JoAnn Schinderle also perform; part of SF Sketchfest. $22. 10pm. 2781 24th St. www.brava.org www.sfsketchfest.com

Bear Happy Hour @ Midnight Sun
Hairy men and their pals enjoy 2-for-1 drinks and no cover. 4067 18th St. 861-4186. www.midnightsunsf.com

Beards & Booze @ The Edge
Beers, bears, cubs, snacks and grooves. $5. 9pm-2am. 4149 18th St. www.edgesf.com

Black Flag @ Cornerstone, Berkeley
The seminal punk band (minus Henry Rollins) performs; Linecutters opens. $20-$25. 8:30pm. 2367 Shattuck Ave., Berkeley. www.blackflagband.com www.cornerstoneberkeley.com

La Bomba Latina @ Club OMG
Drag show with DJ Jaffeth. $5. 9pm-2am. 43 6th St. www.clubomgsf.com

Cubcake @ Lone Star
DJ Stefonik spins grooves at the cubs, bears and treats special black party, with dark cruisy mabiance, rummy bears and Cubcake T-shirts for sale. $5. 9pm-2am. 1354 Harrison St. www.lonestarsf.com

David Bowie Birthday Bash @ The Chapel
The First Church of the Sacred Silversexual perform their ninth annual concert of complete albums The Rise and Fall of Ziggy Stardust and the Spiders from Mars; Jan 11 Aladdin Sane, plus encores, drag stars; Bowie attire appreciated. $25-$35. 9pm. 777 Valencia St. www.thechapelsf.com

Drag & Dinner @ Hamburger Mary's
Enjoy burgers and a drag show. $5 show. 10pm. Also Saturdays. 531 Castro St. www.hamburgermarys.com

DTF Fridays @ Port Bar, Oakland
Various DJs play house music, and a few hotties gogo dance at the gay bar's popular weekly event. 9pm-2am. 2023 Broadway. www.portbaroakland.com

Friday Nights at the Ho @ White Horse Bar, Oakland
Dance it up at the historic (and still hip) East Bay bar. 9pm-2am. 6551 Telegraph Ave. http://whitehorsebar.com

Gaymer Night @ SF Eagle
Video screens with electronic games, board games and more. 8pm-2am. 398 12th St. www.sf-eagle.com

Gogo Fridays @ Toad Hall
Hot dancers grind it at the Castro bar with a dance floor and patio. 4146 18th St. www.toadhallbar.com

Happy Friday @ Midnight Sun
The popular video bar ends each work week with hot gogo guys (starting at 9pm) and drink specials; also Saturday nights. 4067 18th St. 861-4186. www.midnightsunsf.com

Jay & Silent Bob Reboot Roadshow @ Fox Theatre, Oakland
Kevin Smith and Jay Mewes cohost the screening of their new film, with live comedy. $35-$65. 8pm. 1807 Telegraph Ave., Berkeley. www.apeconcerts.com
Jonathan Butler @ Yoshi's Oakland
The veteran R&B singer, guitarist, composer performs with his band at the elegant restaurant-nightclub. $34-$74. 8pm & 10pm. Also Jan, 11 & 12. 510 Embarcadero West, Oakland. www.yoshis.com

Katya Smirnoff-Skyy, Joe Wicht @ Oasis
Showtunes Made Me Gay!, an extra-gay open mic piano bar night. 7pm. 298 11th St. www.sfoasis.com

Lick It @ Powerhouse
Lance Holman's sexy party, with DJ Blackstone. $5. 9pm-2am. 1347 Folsom St. www.powerhousebar.com

Manimal @ Beaux
Gogo-tastic dance night starts off your weekend. $5. 9pm-2am. 2344 Market St. www.beauxsf.com

Piano Bar @ Martuni's
Musician extraordinaire Joe Wicht leads tasteful sing-along selections. 5:30-8:30pm. 4 Valencia St.

Pinkmas @ Museum of Ice Cream
Interactive holiday-themed food, crafting, and art exhibit; thru Jan. 12. $29-$38. 1 Grant Ave., www.museumoficecream.com

Porchlight @ Swedish Hall
Comedy and storytelling, with the theme of 'bullies,' with Arline Klatte, Beth Lisick, Bobcat Goldthwait, Bryan Safi, Erinn Hayes, Josh Gondelman, Marc Capelle, and Marcella Arguello.; part of SF Sketchfest. $28. 7:30pm. 2174 Market St. www.sfsketchfest.com

Rose & Javi @ Trax
The Haight gay bar's weekly music video and cocktails night. 9pm-1am. 1437 Haight St. http://www.traxbarsf.com/

Skate Night @ Church on 8 Wheels
Groove on wheels at the former Sacred Heart Church-turned disco roller skate party space, hosted by John D. Miles, the "Godfather of Skate." 7pm-11pm. Sat afternoon sessions 1pm-2:30pm and 3pm-5:30pm. $10. Kids 12 and under $5. Skate rentals $5. 554 Fillmore St. at Fell. www.churchof8wheels.com

Uhaul @ Jolene's
The popular women's dance party returns at the new nightclub, now weekly. 10pm-2am. 2700 16th St. at Harrison. www.jolenessf.com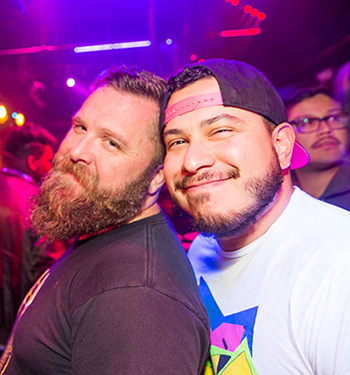 SATURDAY 11
Bearracuda, BLUF @ SF Eagle
Bears and leather-uniform men converge at the famous leather bar, with DJ Mateo Segade. $5-$10. 9pm-2am. 398 12th St. www.sf-eagle.com

Beard House @ Lone Star
DJs Jason Godfrey and Ben Holder spin Burner playa vibes. $5. 9pm-2am. 1354 Harrison St. www.lonestarsf.com

Bootie @ DNA Lounge
Resident DJs and guests spin at the mash-up DJ dance party, with Adrian A, Mysterious D; four rooms of different sounds and multiple DJs; The Monster Drag Show hosted by Sue Casa. $10-$15 and up. 9:30pm-3am. 375 11th St. www.bootiesf.com www.dnalounge.com

Bounce @ Lookout
Dance music with a view at the Castro bar. 9pm-2am. 3600 16th St. www.lookoutsf.com

Brunch @ Jolene's
Enjoy DJed grooves, chicken & waffles, veggie scrambles and more, with brunch cocktails, at the new queer bar. 11am-3pm. Also Sundays. 2700 16th St. www.jolenessf.com

Dance Party @ White Horse Bar, Oakland
DJed grooves at the historic East Bay gay bar. 9pm-2am. 6551 Telegraph Ave, (510) 652-3820. www.whitehorsebar.com

House Party @ Powerhouse
Groovy pad vibe with Ky and Juan Martinez, DJ Sean McMahon. $5. 9pm-2am. 1347 Folsom St. www.powerhousebar.com

Lips and Lashes Brunch @ Lookout
Weekly show with soul, funk and Motown grooves hosted by Carnie Asada, with DJs Becky Knox and Pumpkin Spice. The yummy brunch menu starts at 12pm, with the show at 1:30pm. 3600 16th St. www.lookoutsf.com

Mother @ Oasis
Heklina's popular weekly drag show, with wild acts and music tribute themes. Jan 11 is a Kylie Minogue night. $15. 10pm-2am. 298 11th St. www.sfoasis.com

Nitty Gritty @ Beaux
Josh Carmichael with DJ Salazer host the tattoo appreciation night. $10. 9pm-2am. 2344 Market St. www.beauxsf.com

Shake It Up @ Port Bar, Oakland
DJ Lady Char spins dance grooves; gogo studs, and drink specials. 2023 Broadway. (510) 823-2099. www.portbaroakland.com

Shamilton @ Oasis
Lip-syncing parody of Hamilton with an all-drag cast. $27.50-$50. 7pm. 298 11th St. www.sfoasis.com

Stallion @ Midnight Sun
DJ Bill Dupp, intimate dance floor, gogo cuties, all in the heart of the Castro. 8pm-2am. 4067 18th St. www.midnightsunsf.com

Sugar @ The Café
Weekly dance night at the renovated nightclub with a view. $10. 9pm-2am. 2369 Market St. www.cafesf.com

Writers With Drinks @ Make Out Room
Baruch Porras-Hernandez guest-hosts the night of wild storytelling, with Irene McCalphin aka Magnoliah Black, SNJV, Joe Wadlington, and Robert Andrew Perez; glitter and glam garb appreciated. $5-$20. 7pm. 3225 22nd St. www.makeoutroom.com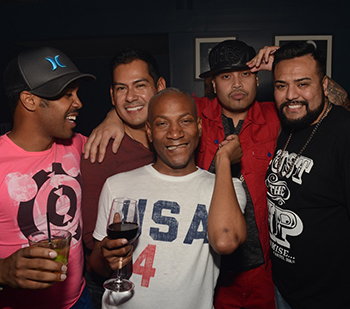 SUNDAY 12
Beer Bust @ Lone Star
Weekly benefits for various local nonprofits, with fresh local food served on the patio. Jan 20 with DJ Paul Goodyear. $10-$15. 3pm-8pm. 1354 Harrison St. www.lonestarsf.com

Beer Bust @ SF Eagle
The popular daytime party, where $10-$15 gets you all the beer you can drink, supporting worthy causes. 3pm-6pm. 398 12th St. at Harrison. www.sf-eagle.com

Beverage Benefit @ The Edge
Fundraiser and fun, with proceeds going to local nonprofits. $10. 4pm-7pm. 4149 18th St. www.edgesf.com

Big Gay Beer Bust @ The Cinch
Benefits and plenty of beer at the historic neighborhood bar. 3pm-7pm. 1723 Polk St. www.cinchsf.com

Big Top @ Beaux
Enjoy an extra weekend night at the Castro nightclub, plus local DJs and gogo guys and gals. $8. 8pm-2am. 2344 Market St. www.Beauxsf.com

Blessed @ Port Bar, Oakland
Amoura Teese and Ava Lashay cohost a weekly drag show. 2023 Broadway. www.portbaroakland.com

Bounce @ Lookout
Weekly dance and cavorting night with a view. $5. 9pm-2am. 3600 16th St. www.lookoutsf.com

Dirty Musical Sundays @ The Edge
Sing along at the popular musical theatre night, with a bawdy edge; also Mondays and Wednesdays (but not as dirty). 7pm-2am. 2 for 1 cocktail, 5pm-closing. 4149 18th St. at Collingwood. www.edgesf.com

Domingo De Escandal @ Club OMG
Weekly Latin night with drag shows hosted by Vicky Jimenez and DJ Carlitos. (Comedy Open Mic 5:30pm). 7pm-2am. 43 6th St. www.clubomgsf.com

Drag Brunch @ Hamburger Mary's
Tasty food, bottomless mimosas and drag shows with Kylie Minono, Patty McGroin and other talents. Seating 11am, show 12pm. Also Saturdays. 531 Castro St. www.hamburgermarys.com

Glam Sundays @ Valencia Room
New weekly house, funk, soul T-dance with guest-DJs and no cover. 3pm-9pm. 647 Valencia St. www.glamsundays.com www.thevalenciaroom.com

Jock @ The Lookout
Enjoy the weekly jock-ular fun, with DJed dance music at sports team fundraisers. 12pm-1am. 3600 16th St. www.lookoutsf.com

L-Word @ El Rio
Weekly screenings of the revived lesbian TV series. 9pm. 3158 Mission St. http://www.elriosf.com/

Queer Tango @ Finnish Hall, Berkeley
Same-sex partner tango dancing, including lessons for newbies, food and drinks. $5-$10. 3:30pm-6:30pm. 1970 Chestnut St, Berkeley. www.finnishhall.org

Renegade @ Atlas
The weekly cruisy semi-private party. $5-$20. 6pm-10pm. Now also Truck Tuesdays, and Thursdays, 9pm-2am. 415 10th St. www.atlas-sf.com

Sundance Saloon @ Space 550
The popular two-stepping line-dancing, not-just-country music night, with free lessons. 5pm-10:30pm. Also Thursdays 6:30pm-10:30pm. 550 Barneveld Ave. www.sundancesaloon.org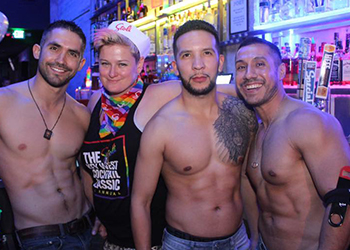 MONDAY 13
Karaoke Night @ Lookout
All-day songfest, 8pm-2am. 3600 16th St. www.lookoutsf.com

Karaoke @ SF Eagle
Sing out, Louise, at the famed leather bar. 9pm-2am. 398 12th St. www.sf-eagle.com

KQ League Night @ Detour
Game tournament at the renovated former Brewcade bar/restaurant. 7:30pm-11pm. 2200 Market St. www.detoursf.com

Mancrush Mondays @ Port Bar, Oakland
Drink & draw night with sexy male models; BYO art materials. 2st & 3rd Mondays. No cover, but 1-drink min. 2023 Broadway. www.portbaroakland.com

Munro's at Midnight @ Midnight Sun
Drag night with Mercedez Munro. No cover. 10pm. 4067 18th St. www.midnightsunsf.com

Music Mondays @ Pause Wine Bar
Marcus Rivers plays live music at the stylish wine bar; weekly 8pm-10pm. 1666 Market St. www.yieldandpause.com

Pillows @ Powerhouse
Glamamore's crafts and drag night. 9pm-2am. 1347 Folsom St. www.powerhousebar.com

Underwear Night @ 440
Strip down to your skivvies at the popular men's night. 9pm-2am. 440 Castro St. www.the440.com

Vamp @ Beaux
Women's weekly night with a sultry vampire theme; goth, red & black, lingerie attire welcome but not required; bondage and BDSM demos, too. DJs Olga T and Jayne Grey. $5-$15. 8pm-2am. 2344 Market St. www.beauxsf.com
TUESDAY 14
Boys of Bearlesque @ SF Eagle
Saucy strip show performed by bear-dudes; Emceed by Razcal with a Z (Mr. San Francisco Leather 2018) & Jessie Dahmer (Robert Connelly) 8pm-11pm. 398 12th St. www.sf-eagle.com

Cock Shot @ Beaux
The weeknight party gets going with DJ Chad Bays. No cover. 9pm-2am. 2344 Market St. www.beauxsf.com

Democratic Debate Viewing @ Oasis
Watch the Dem. Debates. 7pm. 298 11th St. www.sfoasis.com

Drag Bingo @ Club 1220, Walnut Creek
Holotta Tymes and Saki Samora cohost the East Bay game night. 7pm. 1220 Pine St., Walnut Creek. www.club1220.com

Gaymer Night @ Midnight Sun
Weekly fun night of games (video, board and other) and cocktails. 8pm-12am. 4067 18th St. http://www.midnightsunsf.com/

High Fantasy @ Aunt Charlie's Lounge
Weekly drag and variety show at the intimate bar, with live acts and lip-synching divas, plus DJed grooves. $5. Shows at 10:30pm & 12am. 133 Turk St. at Taylor. www.auntcharlieslounge.com

Karaoke Night @ The Stud
Sing For Your Life with LaLa and Remi; no cover, plus raffle prize drawings. 8pm-2am. 399 9th St. www.studsf.com

Karaoke Cocktails @ Ginger's
The new basement tribute to the old Ginger's Trois hosts weekly singing fun. 8pm-12am. 86 Hardie Place. www.gingers.bar

Lolly Gaggers, Ruckus, Carnaby 4 @ Golden Bull, Oakland
Indie, Psych, Garage rock night. $8. 9pm. 412 14th St. www.thegoldenbullbar.com

Retro Night @ 440 Castro
Jim Hopkins plays classic pop oldies, with vintage music videos. 9pm-2am. 44 Castro St. www.the440.com

Sing Out @ Encore Karaoke Lounge
Home of drag shows, and hilaraoke karaoke. 9pm-1am. 1550 California St.

Trivia Night @ Hi Tops
Play the trivia game at the popular sports bar. $5. 9pm. 2247 Market St. www.HiTopsSF.com

Trivia Night @ Port Bar, Oakland
Big gay trivia night at the East Bay bar with host Robert Perez; drinks specials and prizes. 8pm. Broadway. www.portbaroakland.com

Truck Tuesdays @ Atlas
Super-cruisy night at the new semi-private club. $10-$20. 9pm-2am. 415 10th St. www.atlas-sf.com
WEDNESDAY 15
Bondage-a-Gogo @ The Cat Club
The weekly gay, bi, straight, whatever fetish-themed kinky dance night. $7-$10. 9:30pm-2:30am. 1190 Folsom St. www.bondage-a-go-go.com www.catclubsf.com

Bottoms Up Bingo @ Hi Tops
Play board games and win offbeat prizes at the popular sports bar. 9pm. 2247 Market St. www.HiTopsSF.com

Castro Karaoke @ Midnight Sun
Sing out with host Bebe Sweetbriar; 2 for 1 well drinks. 8pm-2am. 4067 18th St. www.midnightsunsf.com

Cocktail Time @ Ginger's
Enjoy drinks at the intimate downstairs tribute to the original dive bar. Tue & Wed 6pm-9pm. Thu-Sat 5pm-2am. 86 Hardie Place.

Follies & Dollies @ White Horse Bar, Oakland
Weekly drag show at the historic gay bar. 9:30pm-11:30pm. 6551 Telegraph Ave. www.whitehorsebar.com

Freeball Wednesdays @ The Cinch
Free pool and drink specials at the historic neighborhood bar. 8pm-1am. 1723 Polk St. www.cinchsf.com

GAYmes @ Port Bar, Oakland
Board games night; Baila Conmigo, queer Latinx fundraiser (2nd Wed.), Wet & Wild drag shows (1st & 4th Wed.). 2023 Broadway. www.portbaroakland.com

Juicy @ Lookout
DJed grooves, strong drinks; 6pm-11pm. 3600 16th St. http://www.lookoutsf.com

Karaoke Night @ Club 1220, Walnut Creek
Sing along at the East Bar gay bar; dance nights on weekends, and drag shows, too. 9pm-1am. 1220 Pine St., Walnut Creek. https://www.club1220.com/

Miss Kitty's Trivia Night @ Wild Side West
The weekly fun night at the Bernal Heights bar includes prizes, hosted by Kitty Tapata. No cover. 7pm-10pm. 424 Cortland St. www.wildsidewest.com

Musical Wednesdays @ The Edge
Sing along to shows tunes on video, lip-synched and live, at the Castro bar, with host Brian Kent; trivia contest, and prizes. 7pm-12am. 4149 18th St. at Collingwood. www.edgesf.com

NSA @ Club OMG
Weekly underwear party at the intimate mid-Market nightclub. $1 well drinks for anyone in underwear from 9pm-10pm. 43 6th St. http://www.clubomgsf.com

Pan Dulce @ Beaux
Drag divas, gogo studs, DJed Latin grooves and drinks at the Hump Day fiesta, open Christmas night. 9pm-2am (free before 10:30pm). 2344 Market St. www.clubpapi.com www.beauxsf.com

Sharon McNight @ Feinstein's at the Nikko
The cabaret legend performs at the upscale nightclub. $45-$65 ($20 food/drink min.). 8pm. Also Jan 16. Hotel Nikko, 222 Mason St. www.feinsteinssf.com

Trivia Night @ Detour
Games and arcade fun at the renovated former Brewcade bar/restaurant. 7pm-11pm (free game play 7pm-8pm). 2200 Market St. www.detoursf.com

Wrangler Wednesdays @ Rainbow Cattle Company, Guerneville
Wear your jeans and meet new folks at the Russian River gay bar. 16220 Main St., Guerneville. www.queersteer.com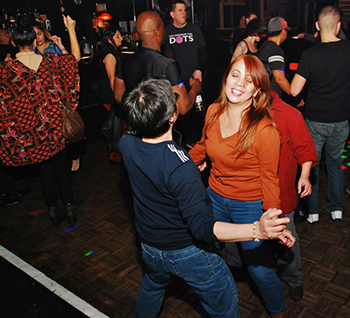 THURSDAY 16
Dancing @ Badlands
The Castro bar's intimate dance floor and gogo guys, with drink specials. 9pm-2am. 4121 18th St. http://www.sfbadlands.com/

Fuego @ The Watergarden, San Jose
Weekly DJed sex party with Latin videos and musics, free salsa bar, half-price lockers, at the famed South Bay bath house. 4pm-12am. 1010 The Alameda, San Jose. www.thewatergarden.com

Game Night @ Pause Wine Bar
Johnny Rockitt hosts a weekly night of trivia and other games. 8pm-10pm. 1666 Market St. www.yieldandpause.com

Gym Class @ Hi Tops
Enjoy whiskey shots from jock-strapped hotties and sexy sports videos at the popular sports bar. 10pm-2am. 2247 Market St. 551-2500. www.HiTopsSF.com

Junk @ Powerhouse
MrPam and Dulce de Leche cohost the weekly underwear strip night and contest, with sexy prizes. $5.10pm-2am. 1347 Folsom St. www.powerhousebar.com

The Monster Show @ The Edge
The weekly drag show with host Sue Casa, themed nights and hilarious fun. $5. 9pm-2am. 4149 18th St. at Collingwood. www.edgesf.com

My So-Called Night @ Beaux
Carnie Asada hosts a weekly '90s-themed video, dancin', drinkin' night, with VJs Jorge Terez. Get down with your funky bunch, and enjoy 90-cent drinks. '90s-themed attire and costume contest. No cover. 9pm-2am. 2344 Market St. www.beauxsf.com

Nap's Karaoke @ Virgil's Sea Room
Sing out loud at the weekly least judgmental karaoke in town, hosted by the former owner of the bar. No cover. 9pm. 3152 Mission St. www.virgilssf.com

Queer Karaoke @ Club OMG
Weekly singing night; unleash your inner American Idol; first Thursdays are Costume Karaoke; 3rd is Kinky Karaoke 8pm. 43 6th St.

Thump @ White Horse, Oakland
Weekly electro music night with DJ Matthew Baker and guests. 9pm-2am. 6551 Telegraph Ave. www.whitehorsebar.com

Thursday Night Live @ SF Eagle
Rock bands play at the famed leather bar. $8. 9pm-12am. 398 12th St. at Harrison. www.sf-eagle.com

Tubesteak Connection @ Aunt Charlie's Lounge
Turkay Day dance party, as disco guru DJ Bus Station John spins grooves at the intimate retro music night. $5. 10pm-2am. 133 Turk St. at Taylor. www.auntcharlieslounge.com

TwerkBack Thursday @ Port Bar, Oakland
DJ Deft plays hip hop grooves, gogos at 10pm, with hosts Mahlae Balenciaga and Amoura Teese. 2023 Broadway. www.portbaroakland.com


Want your nightlife event listed?
Email events@ebar.com, at least two weeks before your event.
Event photos welcome.
Comments on Facebook