Nightlife Events Aug. 1-8, 2019
Wednesday Jul 31, 2019
Pull up to the bumper for auto-motivated amusements; meaning, get yourself out to have fun.


THURSDAY 1
After Dark @ Exploratorium
Enjoy cocktails and science demos at the hands-on museum; tactile dome evening hours Fri & Sat, weekly 6:15 and 7:30pm. $20. Pier 15, Embarcadero at Green St. www.exploratorium.edu/

Awooga! @ The Stud
Anarchits art and variety show (10:30pm). $5. 9pm-2am. 399 9th St. www.studsf.com

Concerts & Comics @ Mountain Winery
Aug. 1: Kool & the Gang with Evelyn "Champagne" King. $60-$375. Most showtimes 7pm. 14831 Pierce Road, Saratoga. www.mountainwinery.com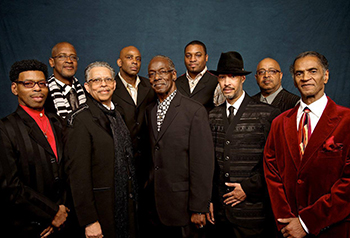 Dee's Keys @ Beaux
Weekly live piano and open mic night with Dee Spencer. 4pm-8pm. 2344 Market St. www.beauxsf.com

Dining Out for Abort the Ban @ Participating Restaurants
Raise funds for Planned Parenthood with a portion of your bill supporting women's reproductive rights. https://www.aborttheban.com/about

Junk @ Powerhouse
MrPam and Dulce de Leche cohost the weekly underwear strip night and contest, with sexy prizes. $5. 10pm-2am. 1347 Folsom St. www.powerhousebar.com

Long Island Thursdays @ White Horse Bar, Oakland
Get snockered with cheap drinks at the historic gay bar. 9pm-2am. 6551 Telegraph Ave, (510) 652-3820. www.whitehorsebar.com

Martini Thursdays @ Trax
The Haight gay bar offers cheap gin & vodka cocktails. 1437 Haight St. http://www.traxbarsf.com/

The Monster Show @ The Edge
The weekly drag show with host Sue Casa, DJ MC2, themed nights and hilarious fun. $5. 9pm-2am. 4149 18th St. at Collingwood. www.edgesf.com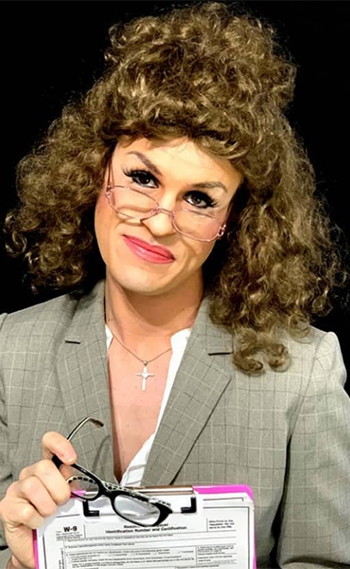 Nightlife @ California Academy of Sciences
Parties at the fascinating spacious nature and science exhibits. $12-$15. 6pm-10pm. 55 Music Concourse Drive, Golden Gate Park. www.calacademy.org

The Ohio Players @ Yoshi's Oakland
The epic soul/funk band performs at the stylish restaurant-nightclub. $34-$75. 8pm. Also Aug 2, 8pm & 10pm. 510 Embarcadero west, Oakland. www.yoshis.com

Patty From HR @ Oasis
Mo Patty Mo Problems, Michael Phllis' second comic solo show as a petulant Human Resources gal. $25-$45. 7pm. Thu-Sat thru Aug 3. 289 11th St. www.sfoasis.com

Queer Karaoke @ Club OMG
KJ Dana hosts the weekly singing night; unleash your inner American Idol; first Thursdays are Costume Karaoke; third is Kinky Karaoke 8pm. 43 6th St. www.clubomgsf.com

Rice Rockettes @ Lookout
Local and visiting Asian drag queens' weekly show with DJ Philip Grasso. $5. 10:30pm show. 3600 16th St. www.lookoutsf.com

Rock Fag @ Hole in the Wall
Enjoy hard rock and punk music from DJ Don Baird at the wonderfully divey SoMa bar, in its 25th year. Also Fridays. 7pm-2am. 1369 Folsom St. 431-4695. www.hitws.com

Sundance Saloon @ Space 550
The popular two-stepping line-dancing, not-just-country music night, with free lessons. $5. 6:30pm-10:30pm. Also Sundays 5pm-10:30pm. 550 Barneveld Ave. www.sundancesaloon.org

Thursday Night Live @ SF Eagle
Rock bands play at the famed leather bar. $8. 398 12th St. at Harrison. www.sf-eagle.com

Throwback Thursdays @ Qbar
Enjoy retro '80s soul, dance and pop classics with DJ Jorge Terez. No cover. 9pm-2am. 456 Castro St. www.QbarSF.com

Tubesteak Connection @ Aunt Charlie's Lounge
Disco guru DJ Bus Station John spins grooves at the intimate retro music night. $5. 10pm-2am. 133 Turk St. at Taylor. www.auntcharlieslounge.com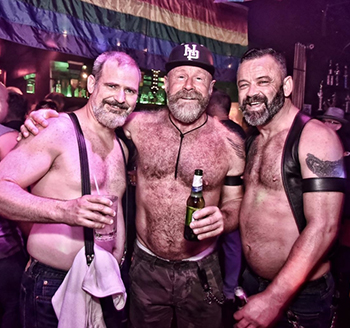 FRIDAY 2
Bear Happy Hour @ Midnight Sun
Hairy men and their pals enjoy 2-for-1 drinks and no cover. 4067 18th St. 861-4186. www.midnightsunsf.com

Beards & Booze @ The Edge
Beers, bears, cubs, snacks and grooves. $5. 9pm-2am. 4149 18th St. www.edgesf.com

La Bomba Latina @ Club OMG
Drag show with DJ Jaffeth. $5. 9pm-2am. 43 6th St. www.clubomgsf.com

Detention @ Oasis
Bad boy school theme with DJ Devin Jay, cohosts Icarus Ferriera and Christopher McCutcheon. $7. 9pm-2am. 298 11th St. www.sfoasis.com

Drag Alive @ The Stud
Drag and variety show, with locals and visitors. 6pm-8pm. 399 9th St. www.studsf.com

Drag & Dinner @ Hamburger Mary's
Enjoy burgers and a drag show. $5 show. 10pm. Also Saturdays. 531 Castro St. www.hamburgermarys.com

DTF Fridays @ Port Bar, Oakland
Various DJs play house music, and a few hotties gogo dance at the gay bar's popular weekly event. 9pm-2am. 2023 Broadway. www.portbaroakland.com

Events @ Steamworks, Berkeley
The stylish bathhouse's DJed events; Aug 2, Noche de Fuego with DJ Gera and Onyx hip hop (both 11pm-4am). Aug 3: Salacious DFP with DJs Robbie Martin, Little Rock, Mystic Ray (11pm-4am). Aug 4: Sunday Service with DJ Little Rock (1pm-8pm). Aug 5: Lights Out Mondays (4pm-12am). Aug 6: Boyz Night (under 25 free). Aug 7: Daddy Issues 4pm-12am. $5-$25. Open 24/7, every day. 2107 4th St., Berkeley. (510) 845-8992. www.steamworksbaths.com

Friday Nights @ Oakland Museum
Early evening weekly parties coordinated with Queer California: Untold Stories, a multimedia exhibition documenting California LGBT lives, with contemporary artwork, rare historical materials, film, photography, sculpture; thru Aug. 11. Free/$15. 5pm-9pm. 1000 Oak St. http://museumca.org/

Friday Nights at the Ho @ White Horse Bar, Oakland
Dance it up at the historic (and still hip) East Bay bar. 9pm-2am. 6551 Telegraph Ave. http://whitehorsebar.com

Gaymer Night @ SF Eagle
Video and board games galore at the famed leather bar. 8pm-2am. 398 12th St. www.sf-eagle.com

Gogo Fridays @ Toad Hall
Hot dancers grind it at the Castro bar with a dance floor and patio. 4146 18th St. www.toadhallbar.com

Happy Friday @ Midnight Sun
The popular video bar ends each work week with hot gogo guys (starting at 9pm) and drink specials; also Saturday nights. 4067 18th St. 861-4186. www.midnightsunsf.com

Hard Fridays @ Qbar
DH Haute Toddy's weekly electro-pop night with hotty gogos. $3. 9pm-2am (happy hour 4pm-9pm). 456 Castro St. www.QbarSF.com

Latin Explosion @ Club 21Latin Explosion @ Club 21
The popular Latin club with gogo guys galore and Latin music. $10-$20. 9pm-3am. 2111 Franklin St., Oakland. www.club21oakland.com

Manimal @ Beaux
Gogo-tastic dance night starts off your weekend. $5. 9pm-2am. 2344 Market St. www.beauxsf.com

Off the Grid @ Fort Mason
The weekly food truck fest returns, with 30-plus kinds of cuisines, desserts and drinks. Free. 5pm-10pm. 2 Marina Blvd. https://offthegrid.com

Piano Bar @ Martuni's
Musician extraordinaire Joe Wicht leads tasteful sing-along selections. 5:30-8:30pm. 4 Valencia St.

Ror:Shok @ SF Eagle
DJed music with Superinto.it, and a murder mystery drag show with hosts Johnny Rockitt and Rita Dambook. 398 12th St. at Harrison. www.sf-eagle.com

Rose & Javi @ Trax
The Haight gay bar's weekly music video and cocktails night. 9pm-1am. 1437 Haight St. http://www.traxbarsf.com/

Skate Night @ Church on 8 Wheels
Groove on wheels at the former Sacred Heart Church-turned disco roller skate party space, hosted by John D. Miles, the "Godfather of Skate." 7pm-11pm. Sat afternoon sessions 1pm-2:30pm and 3pm-5:30pm. $10. Kids 12 and under $5. Skate rentals $5. 554 Fillmore St. at Fell. www.churchof8wheels.com

Stank @ Powerhouse
Odorama, funky armpits and mansweat night with Steamworks and Spunk Lube goodies. $5. 10pm-2am. 1347 Folsom St. www.powerhousebar.com

(Sub)Mission: Cocktails & Comedy @ The Armory Club
Weekly stand-up comedy show in the basement of the SF Armory Club; grab a craft cocktail from the bar upstairs and prepare for a night of laughter with the right amount of kink. Doors open at 6:30. $15, 1799 Mission St., Shows start at 7pm and 9pm. (not wheelchair accessible) https://bit.ly/2IdEVj8

Tvod @ The Stud
Guest-DJs Mor Elian and Erica Mar, plus residents The Creatrix, Jason Polastri and Nihar. 4pm-?. 399 9th St. www.studsf.com

Uhaul @ Jolene's
The popular women's dance party returns at the new nightclub, now weekly. 10pm-2am. 2700 16th St. at Harrison. http://jolenessf.com/

Vibe Fridays @ Club BnB, Oakland
House music and cocktails, with DJs Shareef Raheim-Jihad and Ellis Lindsey. 9pm-2am. 2120 Broadway. (510) 759-7340. www.club-bnb.com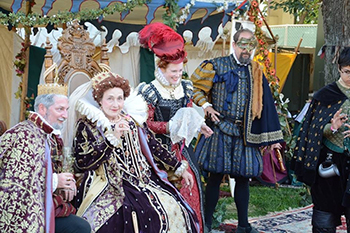 SATURDAY 3
Block Party @ SF Eagle
Tenderloin Tessie's fundraiser; volunteers needed, too. 2pm-7pm. 398 12th St. www.sf-eagle.com

Body Taboo Defiance @ Shelton Theater
The monthly late-night cabaret this time features Petit Cheri, Kippy Marks, Tracii Chambers, Patches Sullivan and Dottie Lux. $15-$50. 11pm doors/bar, 12am show. 533 Sutter St. www.redhotsburlesque.com

Bootie @ DNA Lounge
Resident DJs and guests spin at the mash-up DJ dance party, with Adrian A, Mysterious D; four rooms of different sounds and multiple DJs; The Monster Drag Show hosted by Sue Casa. $10-$15 and up. 9:30pm-3am. 375 11th St. www.bootiesf.com www.dnalounge.com

Bounce @ Lookout
Dance music with a view at the Castro bar. 9pm-2am. 3600 16th St. www.lookoutsf.com

La Bota Loca @ Club 21, Oakland
Banda Los Shakas performs live at the LGBT Latinx night. $10. 9pm-4am. 2111 Franklin St. www.club21oakland.com

Brunch @ Jolene's
Enjoy DJed grooves, chicken & waffles, veggie scrambles and more, with brunch cocktails, at the new queer bar. 11am-3pm. Also Sundays. 2700 16th St. www.jolenessf.com

Dance Party @ White Horse Bar, Oakland
DJed grooves at the historic East Bay gay bar. 9pm-2am. 6551 Telegraph Ave, (510) 652-3820. www.whitehorsebar.com

Drip @ El Rio
Queer & trans-friendly afternoon with DJs Shell Miller DJ Shellheart and Eli Chi. 2pm-8pm. 3158 Mission St. www.elriosf.com

GAMeBoiSF @ Rickshaw Stop
The monthly gay Asian K-pop and house dance party. $8-$15. 9:30pm-3am. 155 Fell St. www.rickshawstop.com

Go Bang! @ The Stud
Celebrate '70s and '80s disco with master DJs Steve Fabus, Sergio Fedasz, Joe Prince Wolf. $5-$10. 10pm-3am. 399 9th St. www.studsf.com

Lips and Lashes Brunch @ Lookout
Weekly show with soul, funk and Motown grooves hosted by Carnie Asada, with DJs Becky Knox and Pumpkin Spice. The yummy brunch menu starts at 12pm, with the show at 1:30pm. 3600 16th St. www.lookoutsf.com

Mother @ Oasis
Heklina's popular weekly drag show, with special guests and great music themes. Aug. 3 is a Katy Perry vs. Dua Lipa night. $10-$15. 10pm-3am (11:30pm show). 298 11th St. www.sfoasis.com

Nitty Gritty @ Beaux
Josh Carmichael with DJ Salazer host the tattoo appreciation night. $10. 9pm-2am. 2344 Market St. www.beauxsf.com

Playa in the Grove @ National AIDS Memorial Grove
Comfort and Joy returns to the Grove for a daytime party of dancing (DJs Jason Gofrey, Bus Station John and Hill Huerta, drag and hoop performances, facepainting, art installations and general frivolity. BYO picnic stuff, share food and drinks. 12pm-6pm. Nancy Pelosi Drive at Bowling Green, Golden Gate Park. https://www.facebook.com/events/2607839576109999/

The Playground @ Club BNB, Oakland
Dance night at the popular hip hop and Latin club. $5-$15. 9pm to 3am. 2120 Broadway. (510) 759-7340. www.club-bnb.com

Powerblouse @ Powerhouse
Juanita MORE!, VooDonna Black and Glamamore's monthly drag virgin makeover night. $5. 10pm-2am. 1347 Folsom St. www.powerhousebar.com

Qtease @ The Stud
Queer burlesque and cabaret show, and Miss Kitty Oaks' chat show. 6pm-8pm. 399 9th St. www.studsf.com

Rennaissance Faire & Fantasy Fest @ Discovery Meadow Park, San Jose
9th annual faire for Renaissance and fantasy cosplay galore (wear or rent costumes); with food, drinks, games, real-action jousting, craft booths, music and more. $8-$150. 10am-6pm. Also Aug. 4. 180 Woz Way, San Jose. www.facebook.com/valhallafaire

Saturgay @ Qbar
Stanley Frank spins house dance remixes at the intimate Castro dance bar. $3. 9pm-2am (weekly beer bust 2pm-9pm). 456 Castro St. www.QbarSF.com

Shake It Up @ Port Bar, Oakland
DJ Lady Char spins dance grooves; gogo studs, and drink specials. 'Thank U, Marsha' (4th Sat.) and Tinsel Teese's 'Kiki at the Port Bar' (8pm). 2023 Broadway. (510) 823-2099. www.portbaroakland.com

Stallion @ Midnight Sun
DJ Bill Dupp, intimate dance floor, gogo cuties, all in the heart of the Castro. 8pm-2am. 4067 18th St. www.midnightsunsf.com

Woof, Frolic @ SF Eagle
Pup play happy hour (3pm-6pm), followed by the full-out Furry dance party (8pm-2am). 398 12th St. at Harrison. www.sf-eagle.com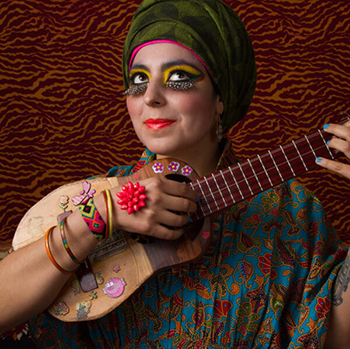 SUNDAY 4
Beer Bust @ SF Eagle
The popular daytime party, where $10-$15 gets you all the beer you can drink, supporting worthy causes. 3pm-6pm. 398 12th St. at Harrison. www.sf-eagle.com

Beer Bust @ Lone Star Saloon
Enjoy beer, bears, food and DJed beats at the weekly fundraiser for various local charities. $15. 4pm-8pm. 1354 Harrison St. www.lonestarsf.com

Beverage Benefit @ The Edge
Fundraiser and fun, with proceeds going to local nonprofits. $10. 4pm-7pm. 4149 18th St. www.edgesf.com

Big Gay Beer Bust @ The Cinch
Benefits and plenty of beer at the historic neighborhood bar. 3pm-7pm. 1723 Polk St. www.cinchsf.com

Big Top @ Beaux
Enjoy an extra weekend night at the fun Castro nightclub, plus hot local DJs and sexy gogo guys and gals. $8. 9pm-2am. 2344 Market St. www.Beauxsf.com

Blessed @ Port Bar, Oakland
Amoura Teese and Ava Lashay cohost a weekly drag show. 2023 Broadway. www.portbaroakland.com

Bounce @ Lookout
Weekly dance and cavorting night with a view. $5. 9pm-2am. 3600 16th St. www.lookoutsf.com

Dirty Musical Sundays @ The Edge
Sing along at the popular musical theatre night, with a bawdy edge; also Mondays and Wednesdays (but not as dirty). 7pm-2am. 2 for 1 cocktail, 5pm-closing. 4149 18th St. at Collingwood. www.edgesf.com

Drag Brunch @ Hamburger Mary's
Tasty food, bottomless mimosas and drag shows with Kylie Minono, Patty McGroin and other talents. Seating 11am, show 12pm. Also Saturdays. 531 Castro St. www.hamburgermarys.com

Drag King Contest @ Oasis
The 24th annual showcase of fabulous butch drag kings, with a 'Game of Bones' theme, cohosts Fudgie Frottage and Sister Roma, special guests Wang Newton! Starring: Leigh Crow, Madd Dogg 2020, Rebel Kings, Mason Dixon Jars, Arty Fishal, Jay Mercury, Will X. Uly. $20-$40. 7pm. 298 11th St. http://sfdragkingcontest.com/ www.sfoasis.com

Domingo De Escandal @ Club OMG
Weekly Latin night with drag shows hosted by Vicky Jimenez and DJ Carlitos. (Comedy Open Mic 5:30pm). 7pm-2am. 43 6th St. www.clubomgsf.com

Gigante @ Qbar
Frisco Robbie spins Latin and Hip-Hop grooves. $5. 9pm-2am (weekly beer bust 2pm-9pm). 456 Castro St. www.QbarSF.com

Jock @ The Lookout
Enjoy the weekly jock-ular fun, with DJed dance music at sports team fundraisers. 12pm-1am. 3600 16th St. www.lookoutsf.com
MoonAlice @ The Chapel
The band performs at Jerry Garcia birthday tribute, with the Mad Alchemy Liquid Light Show. No cover, 7pm. 777 Valencia St. www.thechapelsf.com

PoleSexual @ Powerhouse
Burlesque variety show with hosts Dakota Pendant and Ma Shugganuttz. $5. 10pm-2am. 1347 Folsom St. www.powerhousebar.com

Queer Tango @ Finnish Hall, Berkeley
Same-sex partner tango dancing, including lessons for newbies, food and drinks. $5-$10. 3:30pm-6:30pm. 1970 Chestnut St, Berkeley. www.finnishhall.org

Renegade @ Atlas
The weekly cruisy semi-private party. 6pm-10pm. $5-$10. Now also Thursdays, 9pm-2am. 415 10th St. www.atlas-sf.com

Sofia Viola, Dat Garcia @ Ashkenaz, Berkeley
Enjoy uplifting original music performed by the Argentinian singer-songwriters. $15-$20. 8pm. 1317 San Pablo Ave., Berkeley. www.ashkenaz.com

Sundance Saloon @ Space 550
The popular two-stepping line-dancing, not-just-country music night, with free lessons, celebrates its 21st anniversary; free admission. 5pm-10:30pm. Also Thursdays 6:30pm-10:30pm. 550 Barneveld Ave. www.sundancesaloon.org

Sunday Situation @ The Stud
DJ Gant Johnson plays groovy grooves. $? 5pm-2am. 399 9th St. www.studsf.com

Swagger Like Us @ El Rio
Booty-droppin' hip-hoppin' queer dance party. 2pm-8pm. 3158 Mission St. www.elriosf.com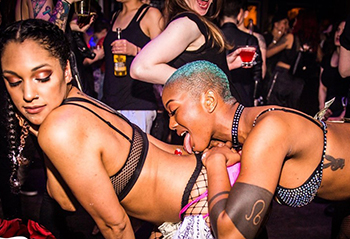 MONDAY 5
International Mondays @ Qbar
Enjoy world grooves all night. 9pm-2am. 456 Castro St. www.QbarSF.com

Karaoke Night @ SF Eagle
Sing along, with host Beth Bicoastal, plus prizes, local celeb judges, and $2 draft beer. 8pm-12am. 398 12th St. www.sf-eagle.com

Karaoke Night @ Lookout
All-day songfest, 8pm-2am. 3600 16th St. www.lookoutsf.com

Mancrush Mondays @ Port Bar, Oakland
Drink & draw night with sexy male models; BYO art materials. 2st & 3rd Mondays. No cover, but 1-drink min. 2023 Broadway. www.portbaroakland.com

Munro's at Midnight @ Midnight Sun
Drag night with Mercedez Munro. No cover. 10pm. 4067 18th St. 861-4186. www.midnightsunsf.com

Pillows @ Powerhouse
Glamamore's crafts and drag night. 9pm-2am. 1347 Folsom St. www.powerhousebar.com

Underwear Night @ 440
Strip down to your skivvies at the popular men's night. 9pm-2am. 440 Castro St. 621-8732. www.the440.com

Vamp @ Beaux
Women's night with a sultry vampire theme; goth, red & black, lingerie attire welcome but not required; bondage and BDSM demos, too. DJs Olga T and Jayne Grey. $5-$15. 8pm-2am. 2344 Market St. www.beauxsf.com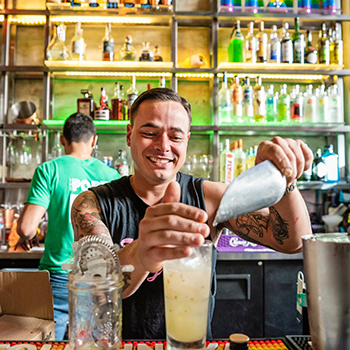 TUESDAY 6
Bands Night @ El Rio
Garage and surf rock live with Tanglers, the Mutilations and Laura Paragano. $8. 7pm-11pm. 3158 Mission St. www.elriosf.com

Cock Shot @ Beaux
The weeknight party gets going with DJ Chad Bays. No cover. 9pm-2am. 2344 Market St. www.beauxsf.com

Drag Bingo @ Club 1220, Walnut Creek
Holotta Tymes and Saki Samora cohost the East Bay game night. 7pm. 1220 Pine St., Walnut Creek. https://www.club1220.com/

Gaymer Night @ Midnight Sun
Weekly fun night of games (video, board and other) and cocktails. 8pm-12am. 4067 18th St. http://www.midnightsunsf.com/

High Fantasy @ Aunt Charlie's Lounge
Weekly drag and variety show, with live acts and lip-synching divas, plus DJed grooves. $5. Shows at 10:30pm & 12am. 133 Turk St. at Taylor. www.auntcharlieslounge.com

Karaoke Night @ The Stud
Sing For Your Life with LaLa and Remi; no cover, plus raffle prize drawings. 8pm-2am. 399 9th St. www.studsf.com

Karaoke Cocktails @ Ginger's
The new basement tribute to the old Ginger's Trois hosts weekly singing fun. 8pm-12am. 86 Hardie Place. https://www.gingers.bar/

Retro Night @ 440 Castro
Jim Hopkins plays classic pop oldies, with vintage music videos. 9pm-2am. 44 Castro St. www.the440.com

Sing Out @ Encore Karaoke Lounge
Home of drag shows, and hilaraoke karaoke. 9pm-1am. 1550 California St. #2. 775-0442.

TnT with the Meme Boys @ Powerhouse
Travis, Traci and Tyler cohost the game night. 9pm-2am. 1347 Folsom St. www.powerhousebar.com

Trivia Night @ Hi Tops
Play the trivia game at the popular sports bar. $5. 9pm. 2247 Market St. 551-2500. www.HiTopsSF.com

Trivia Night @ Port Bar, Oakland
Big gay trivia night at the East Bay bar with host Robert Perez; drinks specials and prizes. 8pm. Pose viewing party at 10pm. 2023 Broadway. www.portbaroakland.com

Vice Tuesdays @ Q Bar
Queer femmes and friends dance party with hip hop, Top 40 and throwbacks at the stylish intimate bar, with DJs Val G and Iris Triska. 9pm-2am. 456 Castro St. www.QbarSF.com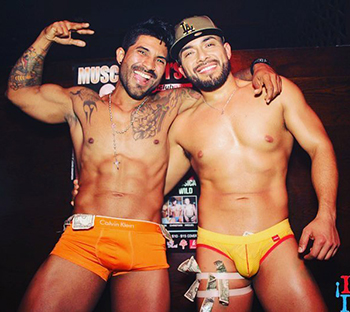 WEDNESDAY 7
Bondage-a-Gogo @ The Cat Club
The weekly gay/straight/whatever fetish-themed kinky dance night. $7-$10. 9:30pm-2:30am. 1190 Folsom St. www.bondage-a-go-go.com www.catclubsf.com

Bottoms Up Bingo @ Hi Tops
Play board games and win offbeat prizes at the popular sports bar. 9pm. 2247 Market St. 551-2500. www.HiTopsSF.com

B.P.M. @ Club BnB, Oakland
Olga T and Shugga Shay's weekly queer women and men's R&B hip hop and soul night, at the club's new location. 8pm-2am. 2120 Broadway, Oakland. www.bench-and-bar.com

Cabaret Karaoke @ Feinstein's at the Nikko
Dick Bright MCs the new karaoke night at the elegant nightclub. $12-$15. ($20 food/drink min.). Thru Sept. Hotel Nikko, 222 Mason St. www.feinsteinssf.com

Castro Karaoke @ Midnight Sun
Sing out with host Bebe Sweetbriar; 2 for 1 well drinks. 8pm-2am. 4067 18th St. 861-4186. www.midnightsunsf.com

Cocktail Time @ Ginger's
Enjoy drinks at the intimate downstairs tribute to the original dive bar. Tue & Wed 6pm-9pm. Thu-Sat 5pm-2am. 86 Hardie Place.

Follies & Dollies @ White Horse Bar, Oakland
Weekly drag show at the historic gay bar. 9:30pm-11:30pm. 6551 Telegraph Ave, (510) 652-3820. www.whitehorsebar.com

Freeball Wednesdays @ The Cinch
Free pool and drink specials at the historic neighborhood bar. 8pm-1am. 1723 Polk St. www.cinchsf.com

GAYmes @ Port Bar, Oakland
Board games night; Baila Conmigo, queer Latinx fundraiser (2nd Wed.), Wet & Wild drag shows (1st & 4th Wed.). 2023 Broadway. www.portbaroakland.com

Karaoke Night @ Club 1220, Walnut Creek
Sing along at the East Bar gay bar; dance nights on weekends, and drag shows, too. 9pm-1am. 1220 Pine St., Walnut Creek. https://www.club1220.com/

Miss Kitty's Trivia Night @ Wild Side West
The weekly fun night at the Bernal Heights bar includes prizes, hosted by Kitty Tapata. No cover. 7pm-10pm. 424 Cortland St. 647-3099. www.wildsidewest.com

Musical Wednesdays @ The Edge
Sing along to shows tunes on video, lip-synched, and live, at the Castro bar, with host Brian Kent; trivia contest, and prizes. 7pm-12am. 4149 18th St. at Collingwood. www.edgesf.com

NSA @ Club OMG
Weekly underwear party at the intimate mid-Market nightclub. $1 well drinks for anyone in underwear from 9pm-10pm. 43 6th St. http://www.clubomgsf.com

Pan Dulce @ Beaux
Drag divas, gogo studs, DJed Latin grooves and drinks at the Hump Day fiesta 9pm-2am (free before 10:30pm). 2344 Market St. www.clubpapi.com www.beauxsf.com

Queeraoke @ El Rio
Midweek drag rave and vocal open mic, with Dulce de Leche, Rahni Nothingmore, Beth Bicoastal, Ginger Snap and guests. 10pm. 3158 Mission St. http://www.elriosf.com/

Wrangler Wednesdays @ Rainbow Cattle Company, Guerneville
Wear your jeans and meet new folks at the Russian River gay bar. 16220 Main St., Guerneville. www.queersteer.com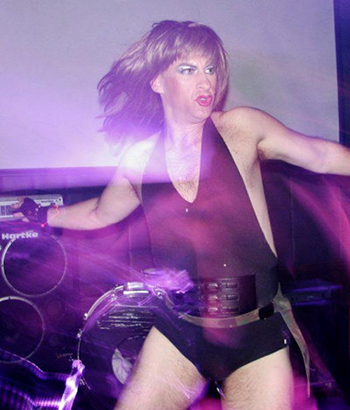 THURSDAY 8
Comedy @ Ashkenaz, Berkeley
Johnny Steele, Karen Ripley, Ian Williams and Lisa Gedudig share their wit and wisdom at the East Bay performing arts space. $15-$20. 8pm. 1317 San Pablo Ave., Berkeley. www.ashkenaz.com

Dancing @ Badlands
The Castro bar's intimate dance floor and gogo guys, with drink specials. 9pm-2am. 4121 18th St. http://www.sfbadlands.com/

Fade to Connie @ Oasis [correction: Aug. 9 only]
LA performer John Cantwell returns as Love Connie in a Roxy Music tribute of dance, drag and strangely beguiling multimedia. $27.50-$50. 7pm. 298 11th St. www.sfoasis.com

Fuego @ The Watergarden, San Jose
Weekly DJed sex party with Latin videos and musics, free salsa bar, half-price lockers, at the famed South Bay bath house. 4pm-12am. 1010 The Alameda, San Jose. www.thewatergarden.com

Gym Class @ Hi Tops
Enjoy whiskey shots from jock-strapped hotties and sexy sports videos at the popular sports bar. 10pm-2am. 2247 Market St. 551-2500. www.HiTopsSF.com

Junk @ Powerhouse
MrPam and Dulce de Leche cohost the weekly underwear strip night and contest, with sexy prizes. $5. 10pm-2am. 1347 Folsom St. www.powerhousebar.com

Latin Explosion @ Club 21
Latin beats, Lulu and Jacqueline's drag show, gogo hotties and a packed crowd. $10-$15. 9pm-4am. 2111 Franklin St. http://www.club21oakland.com/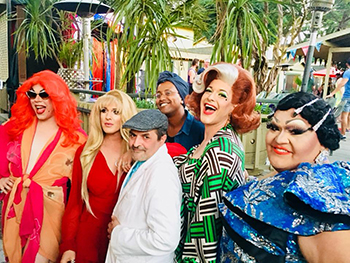 The Monster Show @ The Edge
The weekly drag show with host Sue Casa, DJ MC2, themed nights and hilarious fun. $5. 9pm-2am. 4149 18th St. at Collingwood. www.edgesf.com

My So-Called Night @ Beaux
Carnie Asada hosts a weekly '90s-themed video, dancin', drinkin' night, with VJs Jorge Terez. Get down with your funky bunch, and enjoy 90-cent drinks. '90s-themed attire and costume contest. No cover. 9pm-2am. 2344 Market St. www.beauxsf.com

Nap's Karaoke @ Virgil's Sea Room
Sing out loud at the weekly least judgmental karaoke in town, hosted by the former owner of the bar. No cover. 9pm. 3152 Mission St. 829-2233. www.virgilssf.com

Queer Karaoke @ Club OMG
KJ Dana hosts the weekly singing night; unleash your inner American Idol; first Thursdays are Costume Karaoke; 3rd is Kinky Karaoke 8pm. 43 6th St. www.clubomgsf.com

Some Are Camp @ R3, Guerneville Lodge
Juanita MORE!'s annual poolside parties at the Russian River, with one-day aprties, weekend camping options. Thru Aug. 11. $10$100. 16390 4th st., Guenreville. www.juanitamore.com

Thump @ White Horse, Oakland
Weekly electro music night with DJ Matthew Baker and guests. 9pm-2am. 6551 Telegraph Ave, (510) 652-3820. www.whitehorsebar.com

Thursday Night Live @ SF Eagle
Rock bands play at the famed leather bar. $8. 398 12th St. at Harrison. www.sf-eagle.com

Tubesteak Connection @ Aunt Charlie's Lounge
Disco guru DJ Bus Station John spins grooves at the intimate retro music night. $5. 10pm-2am. 133 Turk St. at Taylor. www.auntcharlieslounge.com

TwerkBack Thursday @ Port Bar, Oakland
DJ Deft plays hip hop grooves, gogos at 10pm, with hosts Mahlae Balenciaga and Amoura Teese. 2023 Broadway. www.portbaroakland.com


Want your nightlife event listed?
Email events@ebar.com, at least two weeks before your event.
Event photos welcome.
Comments on Facebook