Cazwell's cool, still catchy: Hip-Hop hunk's back at Oasis
Tuesday Jul 2, 2019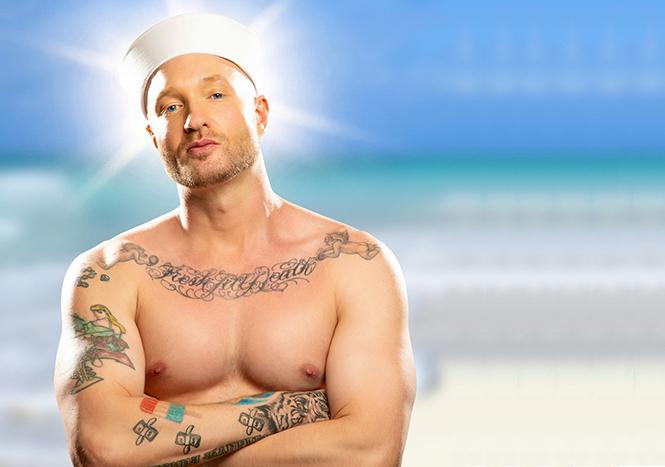 He's made ice cream trucks and lace pastel shorts sexy, he saw Beyoncé at Burger King, and now hip-hop gay hunk Cazwell returns to Oasis on Friday July 5 to simply say, "I Love You."

That's the title of Cazwell's new single, a plain-spoken tune about himself, sort of.

"After I made the beat, it just sounded like a love song, so I kind of let the song write itself," said Cazwell in an interview with the Bay Area Reporter.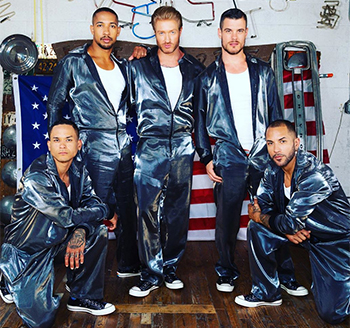 "I've definitely been inspired by self-love and taking care of myself lately, so even though I'm not in love or have a boyfriend or anything, I've been in a really good self-loving mood, and that definitely helped."

The video for the song includes a new look for the usually shaved-head singer; a male-fashioned toupee.

"This is my first time wearing a lace-front," said Cazwell of the hairdo. "I did wear a wig for Amanda LePore's 'Cotton Candy' video, and that was a similar circumstance when we were trying to emulate the 1950s. I think if you're trying to do a look from the '50s, hair is pretty essential."

Since its release, Cazwell said, "I got a super-positive reaction from the song and video; very different than previous work. I think people really feel the love and the positive message and they are also seeing a different side of me as an artist and a songwriter."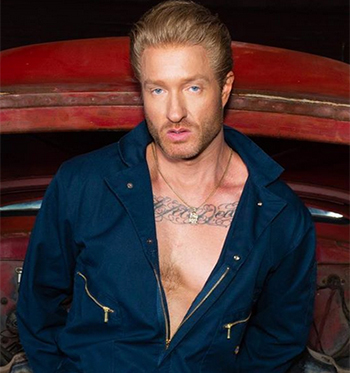 But what about the wig?

"Everyone was like, 'Oh my God, you look so good with hair! How long have you been growing it out?' But I recently posted an Instagram clip of me putting the wig on for the first time, so the cat is out of the bag!"

Get Into Him
Born in Worcester, Massachusetts, teenaged Luke Caswell moved to Boston, where he played some gigs DJing and rapping with Morplay. After moving to New York City in 1999, he started getting more gigs and recorded "All Over Your Face" with Amanda Lepore, from his 2006 debut album Get Into It. At the time, the sexual innuendo proved too much for Logo, the gay TV network.

The 2008 release of "I Seen Beyoncé (at Burger King)," a lighthearted tribute to the strange world of celebrity worship, gained more fans of his witty lyrical style.

Cazwell's bigger burst of fame arose after the 2010 release of his song, "Ice Cream Truck" and the video directed by Marco Ovando. One of the first pop/hip hop videos to feature a sumptuous array of booty-shaking male hunks in shorts —and not much else— "Ice Cream Truck" became instantly super-popular, with more than a million views in the first week after its premiere.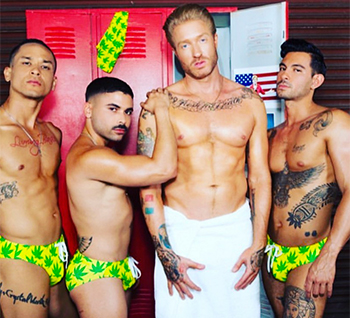 After his recent move to Los Angeles, Cazwell, now 47, continues to tour and perform with Peppermint (Don't miss their trans and gay anthem "Blend" on YouTube) and other entertainers and musicians, while regularly DJing at LA nightclubs.

For "I Love You," which features vocalist Bridget Barkan, the video visually tempts with garage mechanic studs and a shower scene.

Cazwell says, "My inspirations were music videos from the '80s and early '90s that try to emulate the '50s, also '80s movies that try to emulate the '50s, like Grease and Annie. 'Uptown Girl' by Billy Joel was the original inspiration, also Björk's 'It's Oh So Quiet.'"

Asked about his upcoming Oasis show, Cazwell commented, "You're going to get a really dope show with some new songs. San Francisco is my favorite place to play in the world. I always get a lot of love in San Francisco, and they can plan on getting the love in return."

As he's playing post-Pride and on July 4th weekend, I asked Cazwell about his thoughts on LGBT rights and our current situation.

"We've come so far!" he replied. "If our gay ancestors could see us now, I think they would be very happy after all the work that they put in. It's very important for gay kids to learn their history. I sit down all of my interns and I make them watch the films The Queen and Paris is Burning before we get to work. I'm feeling a stronger sense of unity due to this administration, and I actually feel a sense of pride and sticking together and fighting through this mess."

Cazwell performs new and favorite music at Oasis Friday July 5.
$15-$20. 10pm-2am. 298 11th St. www.sfoasis.com www.cazwell.com
Comments on Facebook