Clusterfest's GLBT comics shine
Tuesday Jun 18, 2019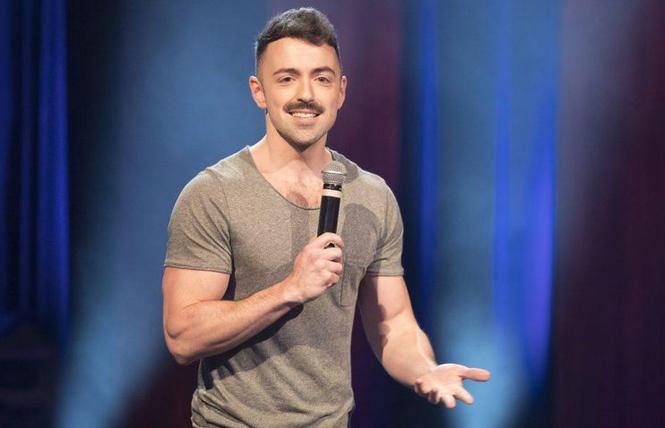 The third annual Clusterfest, presented by Comedy Central, takes over the Bill Graham Auditorium and Civic Center Plaza this Friday through Sunday. While the top of the bill features the likes of Amy Poehler and John Mulaney, the notably diverse three-day line-up features some of the most interesting queer comedians working today. Close to ten percent of the performers on the bill identify as LGBTQ.

Even a decade ago, the comedy club circuit had a straight-boys-club atmosphere that could make stand-up a tough pursuit for women and queers. But new generations of audiences and the emergence of podcasting as an alternative platform for comedians have brought a wider range of talents to both niche and national audiences.

Matteo Lane, currently featured on Netflix's The Comedy Lineup and a veteran of Stephen Colbert and Seth Myers' late night stages, says he's found mainstream club audiences remarkably open.

"When I started doing stand-up," he says of his early days in Chicago eight years ago, "I wanted to get on stage as much as I could. So I did the gay clubs, straight places. That didn't matter. I just wanted to practice. You can have all the funny ideas in the world, but the technical aspects of timing, the process of developing the delivery of a joke, that's what I fell in love with.

"I don't look at my material as being straight or gay. What do most comedians talk about? Dating, relationships, childhood. So sure, I'm gay. But that's not the subject."

Lane feels like he can translate his experiences as a gay man into stories and jokes that anyone can relate to. "I think it's all about communication. I'm very interested in understanding other people and trying to communicate with them at different levels. I just love connecting with people."

Translation, in fact, is a lifelong passion of Lane's. An opera singer prior to entering stand-up, he's fluent in Italian and Spanish and proficient in French and German. This past spring, Lane did a stand-up tour of Milan, Florence and Rome, performing his act in Italian.

Queer or straight, English or Italian, in a small club or a huge festival setting, Lane says he treats every audience the same.

"It's more important to feel comfortable with myself and what I'm doing on stage than to try to adjust the material to the audience," he says.

"This may sound ridiculous, but its almost like when Luke Skywalker was trying to learn the Force. Yoda has him lifting rocks with his mind and then he sees the X-Wing stuck in the water. He thinks he has to push harder, to do something different. But the rocks and the X-Wing are the same."

Matteo Lane will appear in Clusterfest programs at the following dates and times:
Fri., 9:30 pm (Todd Barry's Crowd Work show)
Sat., 4:45 pm (Chi Guys)
Sun., 3:45 pm (Romy & Michele's High School Reunion reading); 9 pm (Patton Oswalt show)

Talented folks
Here are some of the other queer comedy Jedis on hand to lift your spirits this weekend.
Jaboukie Young-White manages an unusual mix of tone and content in his comedy: He's simultaneously cheerful and woke. Whether slyly opining on racism, homophobia, politics or climate change, his ability to put across socially conscious material with puckish grins rather than disgruntled grimaces gives his act a refreshingly optimistic vibe.

His jokes are sharp, but he doesn't come across as a guy with an axe to grind. Which makes sense, given that the openly gay Chicago-born comic's career is off to a flying start. At 24 years old, he's the only comedian on most bills whose jokes about millennials are also his jokes about fuddy-duddy old people. While honing his chops in Windy City clubs, Young-White simultaneously began to develop a national profile through a very funny Twitter account (@jaboukie). He's written for Netflix' American Vandal and Nick Kroll's brilliant animated guide to puberty Big Mouth and, as of last year, became a regular correspondent on Trevor Noah's Daily Show.

Signature smile: "When I'm in Chicago, people think I'm half-black half-white. When I'm in New York, people think I'm Puerto Rican. But when I'm in CVS, people think I'm stealing."

Jaboukie Young-White at Clusterfest:
Fri., 8:15 pm (Clueless reading)
Sat., 2 pm (Getting Curious with Jonathan Van Ness); 4:45 pm (Chi Guys); 9:45 pm (Vino Diesel)
"I don't mean to brag," says Robin Tran in her debut Hulu comedy special, "But I think that I'm the best Vietnamese transgender lesbian comedian in the country."

The Orange County-based comic, did her first set during a 2004 high school talent show. She's grown into stand-up as she's grown into her own identity. The big break that led to her Hulu deal came during one of Jeff Ross' Roast Battle shows in which two comics compete in an insult duel found Tran dishing it out at least as well as she took it from Alex Duong: He scored points referring to her as "Ali Dong" while she riposted, "I'm just like Alex's girlfriend and family, because we all have a useless dick we want to get rid of."

Tran told the Hollywood Reporter that she didn't view trans jokes as inherently offensive or off-limits, so long as they don't come from a mean-spirited or dismissive place.

"Hey, I'm a human being and everybody gets made fun of, so do I not exist anymore." Tran's act is an intersectional traffic jam, with material on being a first-generation Asian American, a transwoman, and a lesbian.

Signature smile: "I'm at a really weird phase of my transition now. If someone is sexist toward me, I'm simultaneously insulted by the misogyny but inside I'm really glad they acknowledge me as a woman."

Robin Tran at Clusterfest:
Sat. 5:30 pm (Anthony Jeselnik show)
Sun. 3:45 pm (Romy & Michele's High School Reunion reading); 7 pm (Asian AF)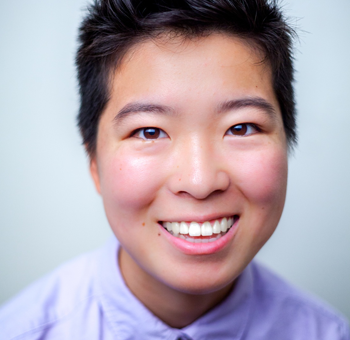 Local favorite Irene Tu recently debuted her latest solo show, Rest In Peace, Irene as the featured artist for the 22nd United States of Asian America Festival. Where past material has focused on her triple minority status, Tu has expanded her comic palette, finding nuanced oxymoronic humor in grappling with one's mortality while simultaneously striving to live one's best life.

A Berkeley graduate who studied science and engineering, Tu brings a cool, analytic persona to the her performances, occasionally tiptoeing into edgy terrain.

Signature smile: "Mao doesn't get the credit that he deserves. He killed 60 million more people than Hitler, he did a way better job at his job. Why is everyone talking about Hitler? I feel like that's racism."

Irene Tu at Clusterfest
Sat. 3:30 (with James Veitch)
Sun 7 pm (Asian AF)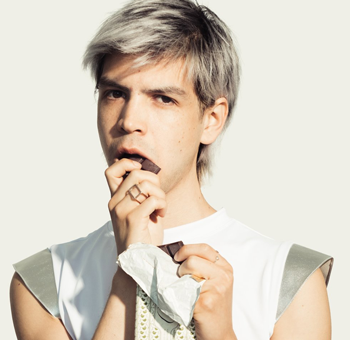 Julio Torres' spacey, deadpan comes off as a 21st-century update of Emo Phillips. His absurdist man-baby stage persona is occasionally sprinkled with a hint of borscht. Bleach-blond and unabashedly queer, Torres is the latest rising star from the Saturday Night Live galaxy.

Like Michael O'Donoghue, who created the classic 'Mister Bill' clips and Robert Smigel, known for 'The Ambiguously Gay Duo,' Torres is not a sketch player, but a behind-the-scenes genius, creating some of the show's most memorable video shorts. His most famous may be 2016's Wells for Boys, a fauxmercial for a Fisher-Price building set for sensitive, sulky, budding queer aesthetes.

A native El Salvadoran, Torres is one of the creators of HBO's new Spanish-language mock-horror series Los Espookys and has a solo special debuting on the service later this summer. Its called My Favorite Shapes and likely proves that its hip to be rhomboid.

Signature smile: "My favorite color is clear, followed by shiny."

Julian Torres at Clusterfest:
Sat., 2 pm (Getting Curious with Jonathan Van Ness); 6:45 pm (Los Espookys); 8:15 pm (John Mulaney show) 10:15 pm John Mulaney late show)

Other queer performers appearing at Clusterfest include Jonathan Van Ness, Fortune Feimster, Guy Branum, Tig Notaro, Big Freedia, Punkie Johnson, Peaches Christ, Trixie Mattel and Katya.

Comedy Central presents Clusterfest, Friday June 21- Sunday June 23. Civic Center Plaza Tickets: $119 (one day) $279 (three day). www.clusterfest.com
Comments on Facebook