Martha T. Lipton: The 'Failed Actress' will teach you how to be a thespian
Tuesday Jun 18, 2019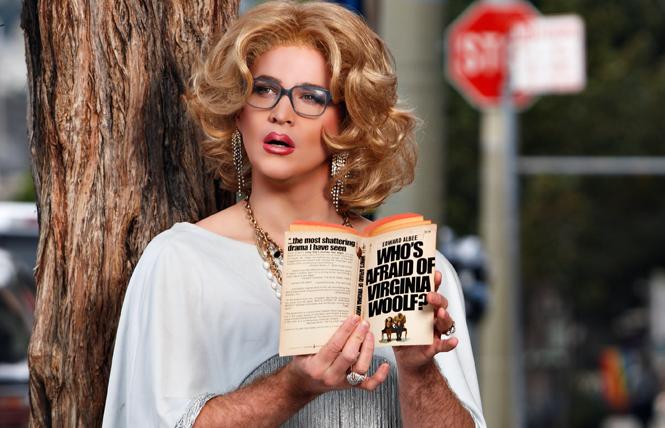 Alleged thespian Martha T. Lipton will be teaching an acting class in the Fez Room at Oasis on June 24. It will be a class like no other, because Lipton is a failed actress.

Acting Like An Actress: Martha's Salute To The Stage is, according to the actress, the culmination of 30-plus years of Martha's acting. Lipton promises an hilarious and sentimental evening that is part seminar, part drama class, and part demonstration. As part of the evening Lipton will pose the questions, "What is acting?" and "Why do we do it?"

According to her bio, Lipton hails from Fresno and teaches private acting classes in her paid parking space. She doesn't drive.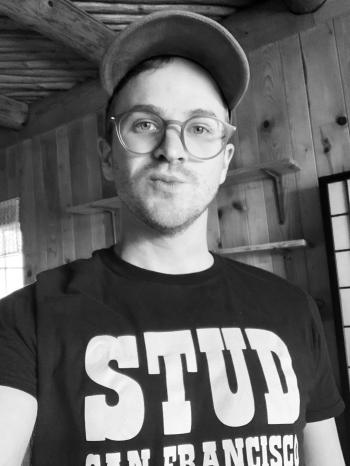 Martha T. Lipton is the brainchild of Evan Johnson, an actor and a real-life acting teacher. He's a graduate of Dell'Arte International School of Physical Theater and teaches stagecraft to young adults and seniors at Harvey Milk Center for the Arts.

"I've been holding the torch of theater my whole life," Johnson tells Bay Area Reporter. "My whole life I've been an actor and a performer. My parents nurtured that from a very young age."

Johnson describes the people he studied with at Dell'Arte as "eccentric bohemians up in Humboldt County."
"They highlight character focus comedy," he said. "So I got into the idea of creating funny characters and highlighting my own eccentricities and individualities; things about myself that I could highlight or accentuate for a laugh. Martha was certainly born out of that."

Johnson also performed with SF Boylesque.

"I had an awkward striptease where I tried to take my clothes off and be sexy but got caught in my pants, and the whole act became about a failed strip tease," he said. "At the very end of the number I'd finally drop my trousers and the number would be over and I'd have to hop off. That was a fun character when I first moved to San Francisco. It was a nice way to play with my sexuality."

Johnson was born in Humboldt County, but his family moved to El Dorado County, where he wasn't around gay culture. He enjoyed moving to San Francisco and finding gay audiences who could laugh at his humor.
"It's live performance that interests me," he said. "More so than acting on camera or starting a YouTube thing. It's more the immediate interaction with the audience. I really enjoy the laughter and the feeling of having people in the room sharing an experience and conducting that experience."

The inspiration to create Lipton came to Johnson from James Lipton, host of the Bravo TV series Inside The Actor's Studio. He thought that Martha and James might be divorced, but she kept his name for the celebrity status.

Johnson was dubbed "the failed actress" by the drag community of San Francisco.

"She is a community theater actress," said Johnson. "She's probably played a lot of minor roles. She says on her resume that she has starred in her own productions, but I don't know that she had ever been given a starring role elsewhere. She's a legend in her own mind, but I think that like me she's just full of enthusiasm. She's never going to be Meryl Streep, but she's certainly got enough enthusiasm to fill the entire room."

The show at Oasis will be a satire of an acting class. Johnson describes it as jumping right into the world of Martha, an opportunity to sit in her world and hop out of your chair.

"There will be acting exercises and demonstrations," he said. "Martha will be indulging the audience with her performing skills. I'll be doing some of my best acts from over the years and talking a bit about my life. I'll be revealing things that I never revealed before."

The show will be interactive. Johnson, as Martha, will be slapping nametags on everyone, either your own name or a character you'd like to be for the evening. There will be moments when the "class" gets up and forms a circle, but for those who would rather just observe, you can also "audit" the class.

"These are games and activities that I learned in theater classes my whole life," Johnson said. "I teach them in my day job. I wondered how some of these fun games would adjust and be made more entertaining in a nightclub setting. I think people will get a kick out of it."

Johnson added that he's been greatly inspired by the skill and tenacity of local drag legends such as Juanita MORE! and Mutha Chucka.

"It's so important that the stories keep getting told and that the traditions keep getting passed down," he said. "The transgender district of San Francisco is being recognized in the Tenderloin, it's really incredible that stories are being told and listened to that people have been saying for years. The widening and the broadening of the audience and people's acceptance is really inspiring and exciting."
Johnson is also excited to be celebrating the 50th anniversary of the Stonewall Rebellion, as well as twenty years since he came out. He said that he was able to come out because of those pioneers. He first came out as a young teenager entering high school in a conservative town, though he had a supportive family.

"I was so fortunate and blessed to have that road already paved for me, so it's incredible," he said. "Happy Stonewall."

Looking to the future, Johnson hopes to continue making shows. He wants to produce, direct and write more, and possibly perform less. He feels that the more he does behind the scenes, the more he can reach a lot of people.

And what's in Martha's future?

"The sky's the limit," Johnson said. "She's always available for birthday parties, corporate events, bar mitzvahs. I hope that Martha gets out and around town and that all her dreams come true. She's ready, willing and able."

Acting Like an Actress: Martha T. Lipton's Salute to the Stage, Monday, June 24, 8pm. $10. Oasis, 298 11th St. www.sfoasis.com
Comments on Facebook