Election 2020: SF props head to victory; CA school bond measure fails
Wednesday Mar 4, 2020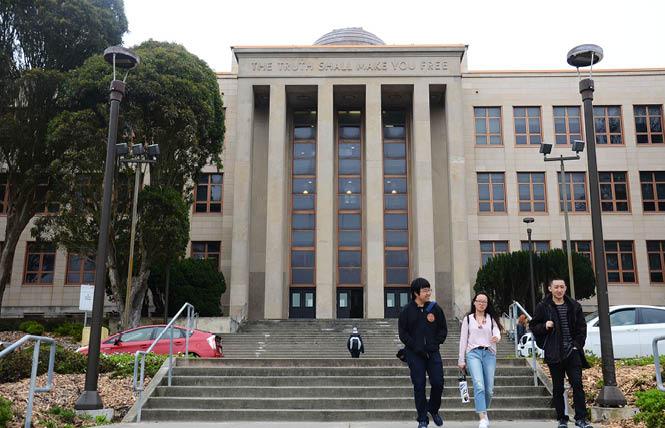 San Francisco voters liked the citywide propositions on the March 3 primary election ballot, and it looks like most, if not all of them, will pass. A statewide bond measure to fund schools was heading to defeat, however. At press time, there are still 104,000 ballots in San Francisco that are yet to be counted, according to election department officials.
City College bond
Proposition A requires 55% of the voters to approve it. At press time, yes votes are leading no votes 70.7 to 29.2%.
The measure authorizes $845 million in bonds to repair buildings at City College of San Francisco campuses — including earthquake retrofits — and improve energy efficiency.
Alex Randolph, a gay man who sits on the San Francisco City College Board of Trustees, said that getting 70% of the vote in favor of the bond measure "was a lot more than we could have hoped for."
"This is a once-in-a-generation opportunity to rebuild the buildings which haven't been touched since the 1960s and 1970s," Randolph told the Bay Area Reporter March 4. "An $845 million bond is very exciting to all of us."
Randolph said that the bond's passage reminds him of why he is proud to be a San Franciscan.
"We should all be proud to be in a city that invests in and cares about higher education," Randolph said.
Earthquake safety
Proposition B requires two-thirds of the voters to approve it — and it most certainly will, with 81% of voters voting in favor, according to unofficial returns.
The measure would authorize the city to borrow up to $628.5 million by issuing general obligation bonds for improvements to fire, earthquake, and emergency response systems.
In a news release early March 4, Mayor London Breed lauded the landslide passage of the earthquake safety and emergency response bond.
"We know we need to act now to ensure that we're as resilient as possible for the next major disaster," Breed said. "We know that it's not a matter of 'if,' but a matter of 'when' the next major earthquake will strike. This ESER bond will help our city make critical infrastructure investments so that we're prepared for the next earthquake or other natural disaster, and so our first responders can take care of our residents when it matters most."
Fire Chief Jeanine Nicholson, a lesbian whom Breed named to the post last year, said that the measure will help firefighters "respond immediately" in a crisis.
"From my experience as a firefighter and a paramedic, I know first-hand how important it is to have the infrastructure and facilities that allow our first responders to do their jobs," Nicholson said in the release. "This bond will provide the funding that we need to invest in public safety infrastructure and first responder facilities."
Retiree benefits
Proposition C had no opposition and requires a simple majority of voters to approve it. At press time, yes votes are leading no votes 68.1 to 31.8%.
Prop C would make retiree health care coverage available to certain city employees who previously worked for the Housing Authority based on their combined years of service and date of hire.
The city has had to hire former Housing Authority employees after the federal government asked the city to assume responsibility for some of the Housing Authority's administration.
If Prop C didn't pass, these few-dozen employees would not have had their previous work for the Housing Authority count toward their retiree medical benefits.
Vacancy tax
One of the more controversial measures on the ballot, Proposition D, requires two-thirds of voters to approve it. At press time, yes votes are leading no votes 68.1 to 31.9%.
Prop D is meant to address the city's retail vacancy crisis — particularly pronounced in neighborhoods such as the Castro and North Beach — by taxing owners or renters who keep ground floor retail and commercial spaces vacant at rates as low as $250 and as high as $1,000 per street-facing foot. Many longtime businesses joined progressive groups in supporting the proposition.
Office development limits
Proposition E requires a simple majority to approve it. At press time, yes votes are leading no votes 55.3 to 44.6%.
The proposition would tie the city's annual allotment for large office space projects (at least 50,000 square feet) to whether the city's affordable housing goals are being met.
It also sets a citywide goal of 2,042 units of affordable housing per year; office space footage would go down by the same percentage that the affordable housing goal is not met.
But because office projects pay fees to fund affordable housing, the city may lose up to $800 million in affordable housing fees over the next 20 years. Smaller businesses and nonprofits may be pushed out by the limits Prop E imposes, according to the controller's report.
CA Prop 13
Proposition 13 was the only statewide ballot proposition during the March primary. It requires a simple majority to pass and at press time, it looks like it won't, with no votes leading yes votes 55.9 to 44.1%.
It has nothing to do with that Prop 13 — the 1978 property tax reform measure that may be tweaked if proponents of the so-called split roll get a ballot measure approved for November. (That would affect commercial property taxes only, not residential.) This Prop 13 would authorize $15 billion in bonds to repair, modernize and construct public preschools, elementary schools, community colleges, and universities.
The money was broken down such that $9 billion would be used for public schools and $6 billion for higher education facilities.
It was supported by Governor Gavin Newsom and the teachers, school nurses, and firefighters unions and opposed by anti-tax groups such as the Howard Jarvis Taxpayers Association, which noted that the state could take the money out of its budget surplus without having to pay interest on it, as a bond would require.
Among San Francisco voters, though, Prop 13 passed 73.3 to 26.6%, according to unofficial returns.
Comments on Facebook